January 26, 2017 at 1:44 pm EST | by Lateefah Williams
Trump, the media, and the lack of civility in politics
Last Friday, Donald Trump was inaugurated as our nation's 45th president. He showed a tremendous lack of civility during the campaign and, unfortunately, he is continuing it into his presidency. Trump has been making racist, sexist, xenophobic, ablest and homophobic remarks since he began his candidacy for president.  Many people thought those remarks would cost him the election. However, Trump's bad behavior was rewarded with massive amounts of free media coverage. The media promoted Trump for ratings and only started to have buyer's remorse when it became clear that it helped create a monster that it could no longer control.
Now, the same media that jumped at the opportunity to constantly display Trump's disgusting antics wants the public to help ensure its right to freedom of the press. And, you know what, while some of us may believe that the country would not be in this situation if the media handled Trump differently during his campaign, it is imperative, for our sake, that the media have the access to provide an accurate portrayal of the Trump administration.
Trump's ascendancy goes far beyond the media. The public's acceptance of and desire to watch Trump's boorish behavior also played a major role. There are high-profile anti-bullying campaigns throughout the nation and many adults tell children not to bully other children, but those same adults have no problem bullying other adults. Then they act surprised when the youth emulate their behavior and use the same bullying tactics.
Trump's bullying has already impacted both our youth and society as a whole.  Immigrant children are being bullied because of Trump's xenophobic comments about Mexicans and Muslims. Transgender people are being bullied due to irrational fears concerning bathroom access, when all of the folks who are suddenly "scared" have been using restrooms with transgender people, without incident, for years.
Politics brings out an inordinate amount of bullies at the federal, state, and local levels. This may be due to the disproportionate amount of brash personalities that it attracts. While Trump's bullying is so over the top that it is impossible to miss, most political bullying is not as obvious to the public, but just as cruel and mean-spirited to its targets.
The ability to make jokes at others' expense does not apply equally, however.  While comedian Larry Wilmore was allegedly fired from his Comedy Central show for poor ratings, his dismissal shortly after making jokes about members of the press at the White House Correspondents' Dinner appears to be more than coincidental.  Keep in mind that tongue-in-cheek commentary about politicians is a common part of the speeches/comedy routines at this dinner — the only difference is that Wilmore made his jokes at the expense of the media and not the politicians. For some reason, members of the press were not able to laugh at themselves as easily as politicians are expected to laugh at themselves.
People of color and women cannot get away with the same things as white men.  My personal experience, as well as years of observing politics tells me this. The double standard in the way Hillary Clinton was treated versus previous male presidential candidates was astounding. The same qualities that would have conferred strength, competence and leadership in a man were seen as negative and attracted irrational hatred toward Clinton.
Some folks who previously attacked Hillary are now commenting about her grace during Trump's inauguration and wondering where those attributes were during her campaign for president. They were always there. Folks just did not want to see it because it did not fit the narrative that they believed based on years of unwarranted attacks and character assassination. Belittling and dehumanizing people is the way that society makes it acceptable to bully, intimidate, or harass people who are deemed to be different.
The increasing acceptance of bullying is now impacting the children of politicians. While it has always been policy that the First Children are off limits and should be given privacy, this standard is not being afforded to Barron Trump. It was not always afforded to Malia and Sasha Obama, either. This reflects our society's failure to police itself and to hold adults who bully children accountable.
We must fight to ensure that bullying and cruelty do not become the new societal norm. However, all signs indicate that it already is occurring.
Lateefah Williams is a periodic contributor to the Washington Blade. Reach her at Lateefah_Williams@msn.com.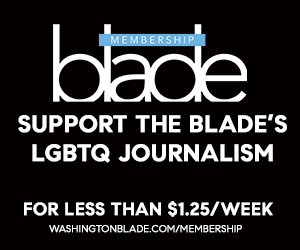 Sign Up for Blade eBlasts