D.C. Rise and Resist holds first meeting
Plans non-violent protests against Trump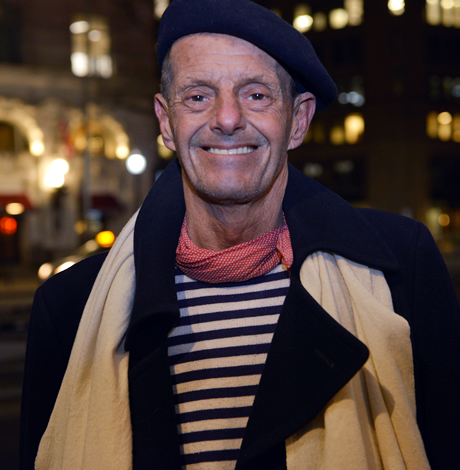 About 16 people turned out for a meeting at the D.C. Center for the LGBT Community on Monday night, Feb. 6, to launch Rise and Resist, a new D.C. direct action group that organizers say will stage creative and eye-catching non-violent protests against the administration of President Donald Trump.
Lead co-organizers Donald Aucoin, who was involved with the AIDS protest group ACT- UP in the 1980s, and transgender activist Willem Miller invited those attending the meeting to think about actions the group should take and formally propose them at the group's next meeting scheduled for President's Day on Feb. 20.
"I thought it went great for our first meeting, for sure," Aucoin told the Blade. "I had no expectation for the number of people that would show up. It's clear that something has begun and will continue on," he said.
Aucoin and Miller invited members of the community interested in becoming involved with Rise and Resist to contact the group by email at [email protected]. They said a listserv is being created to enable the group to contact supporters quickly about protest actions in the coming weeks and months.
Md. House of Delegates approves transgender rights bill
State Medicaid program would be required to cover gender-affirming treatment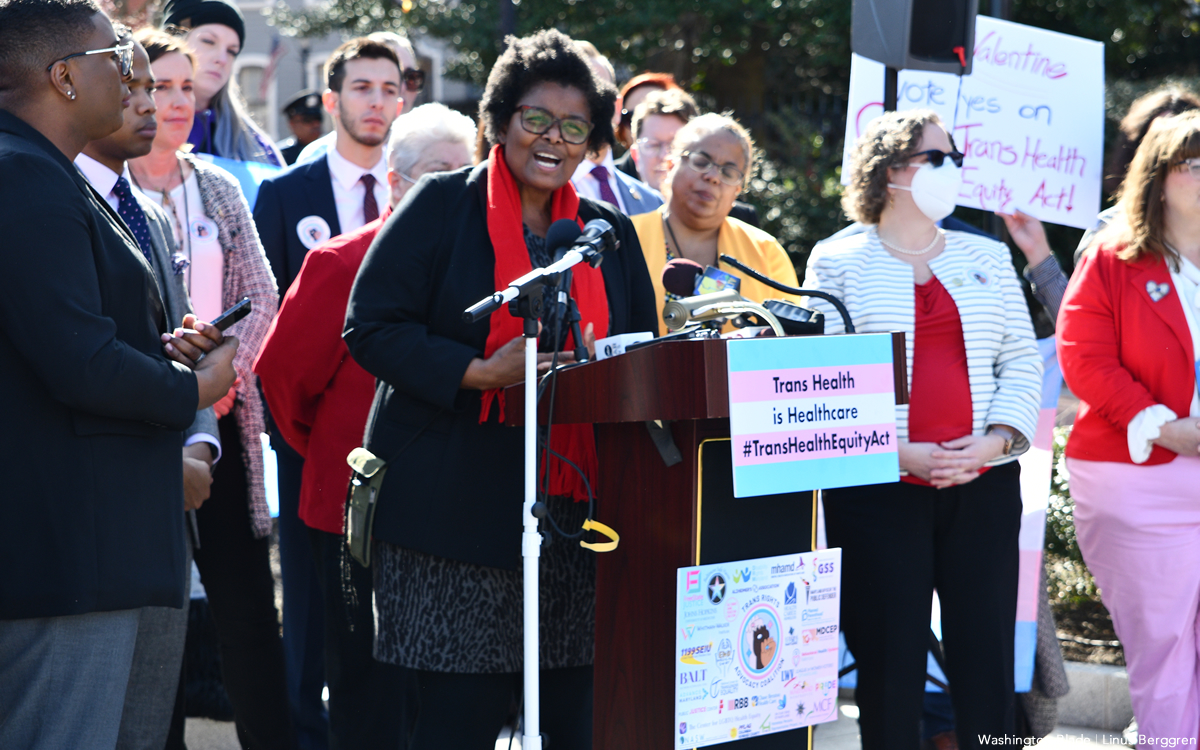 The Maryland House of Delegates on Saturday approved a bill that would require the state's Medicaid program to cover gender-affirming treatment for transgender people.
House Bill 283, or the Trans Health Equity Act, passed by a 93-37 vote margin. The measure now goes before the Maryland Senate.
"Proud that the MD House of Delegates passed the Trans Health Equity Act with such a strong majority," tweeted state Del. Anne Kaiser (D-Montgomery County), who introduced HB 283.
Proud that the MD House of Delegates passed the Trans Health Equity Act with such a strong majority. #TransHumanity pic.twitter.com/1E8MoDFQex

— Anne R. Kaiser (@DelegateKaiser) March 18, 2023
Capital Pride reveals 2023 Pride theme
This year will focus on 'peace, love, revolution'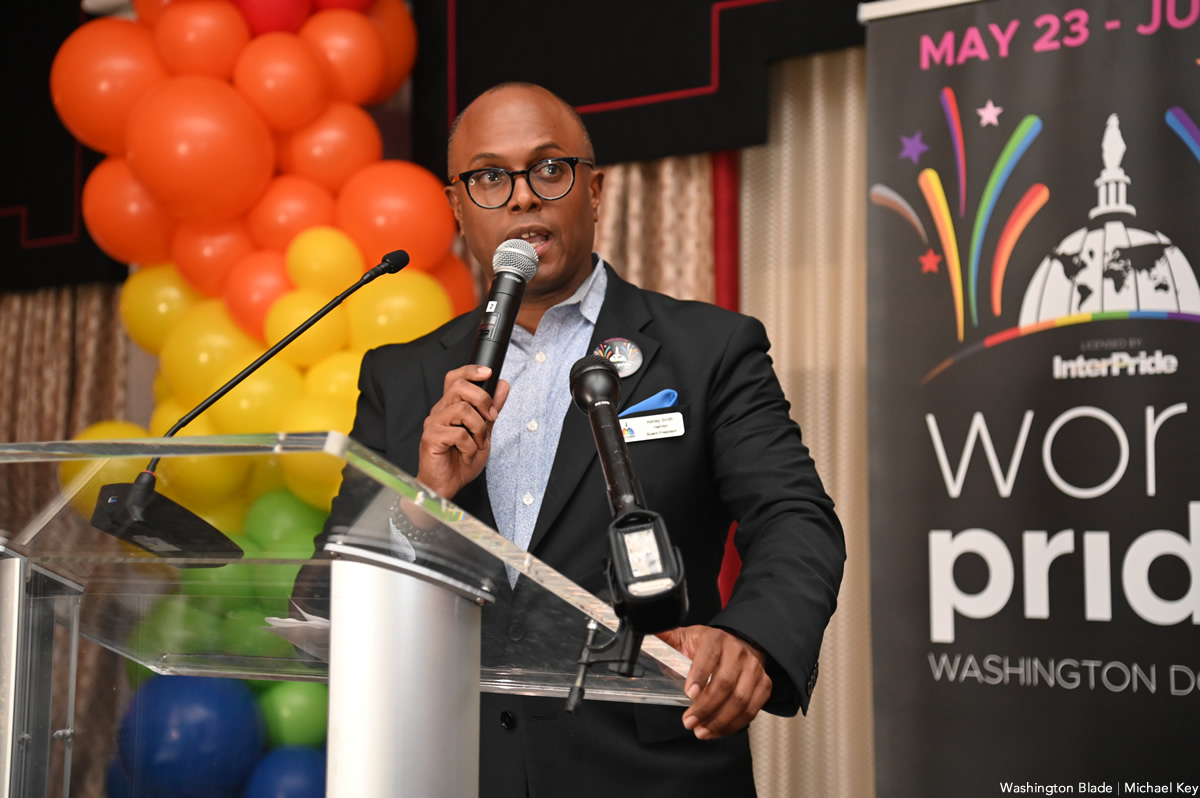 Over 300 people turned out Thursday night, March 16, for the annual D.C. Capital Pride Reveal celebration, which organizers say served as the official kick-off of the LGBTQ Pride events for 2023 in the nation's capital.
Among other plans for the 2023 Pride events, including the annual Pride parade and festival, organizers announced this year's theme for the Pride festivities will be "peace, love, revolution."
The event took place in one of the large ballrooms at D.C.'s Kimpton Hotel Monaco at 700 F St., N.W.
Officials with Capital Pride Alliance, the group that organizes D.C.'s annual Pride events, also announced at the Reveal celebration that the 2023 Pride events will set the stage for 2025, when D.C. will serve as the host city for World Pride 2025.
World Pride is an international LGBTQ event that takes place over a period of several days that usually draws a million or more visitors from countries throughout the world to the host city.
Organizers of the World Pride celebration announced last year that they had accepted D.C.'s bid to host World Pride 2025. The bid was prepared by the Capital Pride Alliance and D.C. government officials, including officials from the office of Mayor Muriel Bowser and the city's convention and visitor's bureau.
"We are thrilled to introduce our theme for Capital Pride 2023 as we gear up to welcome the world to D.C. in 2025, which is also the 50th anniversary of Pride in D.C.," said Capital Pride Alliance Executive Director Ryan Bos in a statement released on Friday. "This year's theme kicks off a three-year campaign leading into the message that we want to share with the world in 2025," Bos said.
In the statement it released on Friday, Capital Pride explained its rationale for selecting its theme, saying it was based in part on the LGBTQ rights movement's history.
"Social justice issues, including those involving the LGBTQ+ community, were shaped by moments that turned into movements beginning in the 1950s and in the years that followed," the statement says. "These movements created a REVOLUTION of change that sparked the beginning of newfound freedoms," it says.
"The fight for these liberties instilled a sense of Pride in members of the LGBTQ+ community in the decades since," the statement continues. "PEACE and LOVE motivated many of these pioneers to be brave and inspired others to fight for human rights for years to come," it says.
The statement points out that "recent challenges" have arisen in state legislatures and in Congress that have once again placed the LGBTQ community "under fire from those who would deny us our basic civil rights." It says these challenges will require a continuation of the fight for freedom "through direct action in the streets and the halls of government."
Among those who spoke at the Reveal event, in addition to Bos, were Capital Pride Board President Ashley Smith, and Capital Pride's public affairs director, Marquia Parnell.
Also speaking was Japer Bowles, director of the D.C. Mayor's Office of LGBTQ Affairs, who told the gathering that the city government, especially Bowser, will be working diligently to provide full city support for WorldPride 2025.
D.C. drag performer Shi-Queeta-Lee drew loud applause from the crowd that filled the hotel ballroom for a drag performance after the speakers addressed the crowd.
"We're going to be focused on peace, love, and revolution over the course of this next year," Smith told the Washington Blade at the conclusion of the Reveal event. "We're super excited about it because this is a part of the movement that adds to the historical pieces as we approach 2025 and World Pride in 2025," he said.
In its statement released on Friday, the Capital Pride Alliance announced the 2023 Capital Pride Parade will take place June 10, and will travel the same route as last year's D.C. Pride Parade. A Pride block party will also take place this year in a two-block section of 17th Street, N.W., near Dupont Circle in the same location as last year, the Capital Pride announcement says.
And it says the annual Capital Pride Festival and concert will take place on June 11, also at the same location as last year — along a stretch of Pennsylvania Ave., N.W., with the U.S. Capitol as a backdrop.
"Through the events of Capital Pride and its many partnerships, last year Capital Pride Alliance was able to raise over $200,000 for the Pride 365 Fund," according to the Capital Pride statement.
"The success of last year allowed CPA to invest and partner with the D.C. Center for the LGBT Community to establish a new LGBTQ+ community center for Washington, D.C., and continue the support of partner organizations that organize events such as DC Black Pride, Trans Pride, Youth Pride, Silver Pride, Latinx Pride and Asian and Pacific Islander Pride," the statement says.
Further details of plans for Capital Pride 2023 can be access at www.CapitalPride.org.
Former Log Cabin Republicans executive director named to Va. LGBTQ+ Advisory Board
R. Clarke Cooper 'proud to accept' Youngkin's appointment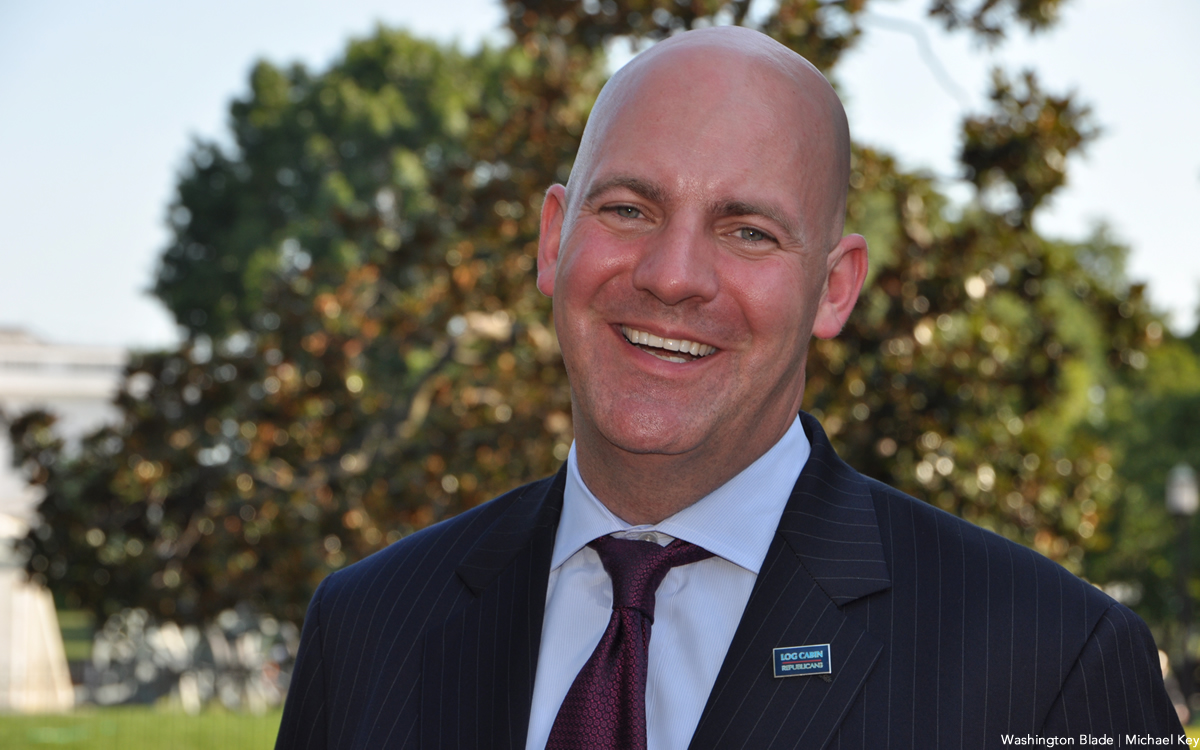 Republican Virginia Gov. Glenn Youngkin has named former Log Cabin Republicans Executive Director R. Clarke Cooper to the Virginia LGBTQ+ Advisory Board.
"Proud to accept appointment from Gov. Glenn Youngkin to serve on the Virginia LGBTQ+ Advisory Board," wrote Cooper in a post on his LinkedIn page. "Every citizen of the commonwealth has God given inalienable rights, envoys individual liberty and is charged with individual responsibility."
"May Virginians judge our neighbors on the content of their character, not by their sexual orientation," he added.
Youngkin announced Cooper's appointment on March 10.
Cooper, an Army Reserve officer who served in the Iraq War, as Log Cabin Republicans' executive director from 2010-2012.
He was Assistant Secretary of State for Political-Military Affairs from 2019-2021. Cooper is currently a nonresident senior fellow at the Atlantic Council.