Deadly 1973 hate crime recalled in new documentary
'Upstairs Inferno' screens Tuesday at Library of Congress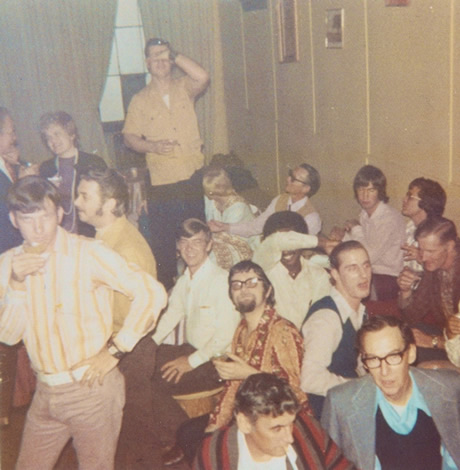 'Upstairs Inferno' screening

Thursday, Feb. 16

Noon-1:30 p.m.

Library of Congress

Pickford Theater (third floor of the James Madison Building)

Free
Tell your boss you're taking a long lunch on Thursday. On Feb. 16, the Library of Congress will host the D.C. premiere of "Upstairs Inferno," a powerful new documentary about a nearly forgotten piece of LGBT history, the tragic fire at the UpStairs Lounge in New Orleans in 1973.
The movie will screen at noon in the Pickford Theatre in the James Madison Building. Openly gay director Robert Camina will be on hand to discuss the film.
This is Camina's second full-length feature, and his second film to be honored by the Library of Congress. His previous movie, "Raid of the Rainbow Lounge," screened there in 2014. The acclaimed movie chronicled a controversial raid on a gay bar in Fort Worth, Texas in 2009.
"Raid" was a hit on the festival circuit and a chance encounter at a screening gave Camina the inspiration for this movie. Camina met David Golden, who told him about the fire and became a producer of the new movie. Before the Pulse Massacre in Orlando last June, the New Orleans arson was the deadliest known attack on a gay club in American LGBT history.
On June 24, 1973, someone deliberately set fire to a gay bar in New Orleans, killing 32 people. There was a primary suspect, but he was never arrested.
The tragedy was met with callous indifference by local officials, including the police, Mayor Maurice Landrieu, Governor Edwin Edwards and, most notably Archbishop Philip Michael Hannan who refused to hold a memorial service for the victims of the fire.
"I was shocked," Camina says. "I had never heard of it. This was a benchmark moment in LGBT history. This was up there with Stonewall but nobody had heard about it. I thought that needed to change."
A Texas native, Camina began by researching gay life in the Big Easy in 1973.
"People often think that New Orleans was much more liberal. That's what I thought going in," he says. "But it was pointed out to me that the French Quarter may be more liberal, but while the French Quarter is in New Orleans, New Orleans is not the French Quarter. The city is a microcosm for the South. It was difficult to live your life openly."
Camina also began tracking down survivors. That was a challenge.
"The fire happened in 1973," Camina says, "so even the youngest of the patrons were now in their late 50s or early 60s. There was the AIDS crisis, so we lost a lot of people who had a direct recollection of the fire. Then you add in Hurricane Katrina, archival material was destroyed and people were scattered."
The first interview Camina filmed for the documentary was the Rev. Troy Perry, founder of the Metropolitan Community Church. Since several members of the New Orleans MCC were killed in the fire, including two members of the clergy, Perry came to the city to help his congregants and the community deal with the aftermath.
"The crew and I were in tears hearing him speak," Camina says. "I love hearing him talk. That's powerful history."
The last person Camina interviewed on film was the legendary New Orleans drag performer Regina Adams, whose lover Reggie Adams died in the fire. Regina met Reggie at the UpStairs Lounge, one of the few places in the city that would welcome a gay interracial couple.
"They had a lot of obstacles but they loved each other immensely," Camina says. "They were together at the UpStairs Lounge on the night of the fire. They realized they had left their wallets at home. Regina left to go around the corner to pick up her wallet. In the few moments that passed, that's when the fire happened. She returned to find the bar in flames and she didn't know what had happened to Reggie until she went to the hospital that night. It's a story of true love."
Camina notes that he reached out to both Adams and Perry after the Pulse Massacre last June. All three were horrified to see history repeat itself.
That sense of history is why Camina cares so much about "Upstairs Inferno," especially in the current political climate.
"As more and more alternative facts pop up, we have to share the real facts, the real history," he says. "We can't go back to the horrible level of callousness that was displayed by the police and the church at the time of the tragedy. We need to remember our history and to honor the memory of those who perished. We can look to the past and draw on the strength of those who came before us."

'Hamlet/Horatio' queers the Bard
A contemporary take on classic play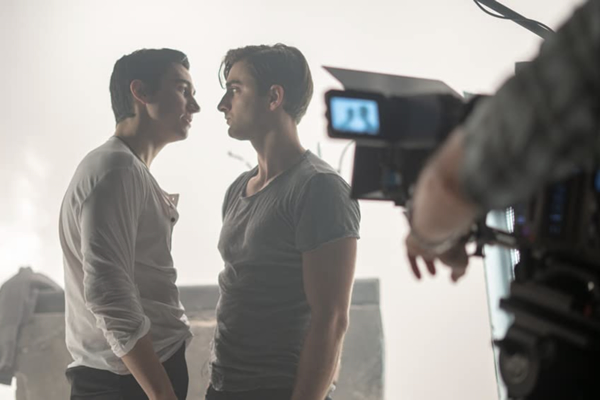 While it's not exactly a pressing topic in most people's lives, the subject of Shakespeare's sexuality has been hotly debated by literary scholars, theater artists, and historians for centuries. After all, not only are his plays filled with gender-swapping characters and sexual confusion, he also wrote a series of sonnets, widely considered the most romantic poems ever composed in English, and dedicated them to a mysterious young nobleman. Even in the Renaissance, when the "cult of male friendship" was a real thing and male artists could create breathtakingly erotic depictions of young men to be displayed in a church, such a bold gesture of affection from one man to another must have raised at least a few eyebrows.
It's a controversy that isn't likely to go away, considering the fact that anyone who might give us first-hand knowledge on the subject has been dead for about 400 years. And while some contemporary artists, across various media, have been willing to explore the playwright's work through the lens of his possible queerness, most cinematic interpretations – with a few notable exceptions, like Derek Jarman's "The Tempest" – have kept things decidedly hetero-centric.
Paul Warner, director of the soon-to-be-released "Hamlet/Horatio," which riffs on a central but often overlooked relationship in Shakespeare's most famous tragedy, can't imagine why. A graduate of both Harvard and the American Film Institute, Warner is currently a senior instructor of acting, directing, and producing at The New York Film Academy. He's also a Shakespeare veteran, having been involved in many stage renditions of the Bard's work (including a rock musical version of "Twelfth Night") throughout his career – and as he tells the Blade, it's obvious to him that the revered wordsmith was either gay or bisexual.
"There's a tremendous amount of exploration of gender fluidity in his work," he says. "There's never a label on it, but it permeates Shakespeare. There are a lot of characters who fall in love with the soul of the person, rather than the gender."
While these themes may run through comedies like "Twelfth Night" or "As You Like It," they are considerably less obvious in Shakespeare's tragedies – but that doesn't mean they aren't there, and Warner's new film hinges on using them to illuminate one of the most iconic male friendships in literature.
For those unfamiliar, Shakespeare's "Hamlet" is the tale of a Danish prince, who is visited by the ghost of his recently murdered father and told to seek revenge against the murderer – none other than Hamlet's uncle Claudius, who has not only murdered the former king but taken both his throne and his queen, Gertrude, who is also Hamlet's mother. Seeking confirmation of the crime, Hamlet engages in a game of cat-and-mouse with his uncle, in which both Hamlet's presumed future bride Ophelia and her brother Laertes become unwitting pawns. It goes without saying that things don't turn out well – but through it all, one steadfast and trusted figure stands at Hamlet's side: his confidant and companion, Horatio.
"Hamlet/Horatio," which Warner directed from a script by playwright (and frequent stage collaborator) David Vando, reimagines the original play through an unusual conceit. In his dying moments, Hamlet (Andrew Burdette) sees his life flashing before his eyes, unfolding through a film that Horatio (Themo Melikidze) directs to tell his story. By shuffling dialogue, resetting scenes, and leaning deeply into subtext, Warner reframes Hamlet's experience into a story of spiritual and humanistic transcendence – and reveals a deeply intimate, loving bond between these two young men that has perhaps been "hiding in plain sight" all along.
Despite his interest in exploring the relationship between Hamlet and Horatio, Warner insists that he didn't set out to make a "gay Shakespeare movie." Indeed, he is adamant even now that the intention behind Vondo's script (which he helped to adapt into a screenplay) was to "move past" that conception.
"Part of it was trying not to make things 'gay' or 'straight,' or 'this' or 'that' anymore, but really it's about two people who are flip sides of each other," he explains. "They are spiritually two sides of the same coin. And they're in a relationship – it's clear that there is a repressed love there. And there's definitely an exploration of their homosexuality, but also of the fluidity of their sexuality.
"This is why the characters don't wear their 'identities' on their sleeves. We wanted to show something more closely resembling a non-binary, gender-fluid vision of love and sexuality that is part of a bigger story about human truth."
To that end, he envisioned a version of "Hamlet" in which the Denmark's Elsinore castle bears a striking resemblance to the Trump White House. The usurping king is a despot posing as a benefactor, exerting an authoritarian rule and setting the people close to him against each other to prove their loyalty, while his queen turns a blind eye to his increasingly obvious misdeeds.
"Maybe I'm one-sided, but I tried to depict the 'ickyness' of that Melania-Donald dynamic between Claudius and Gertrude," he says, not without a hint of relish. "I've made her trapped, like Melania, and she's constantly drinking – she's an immigrant, and she doesn't speak up because she's controlled by his finances."
In this light, as Warner puts it, Hamlet becomes a hero of resistance, who rises to "slay" fascism, while Horatio is the filmmaker who documents it.
"It's ultimately about Hamlet's spiritual journey to fullness. It's about him letting go of rage and embracing the light."
Yet, when all is said and done, it's the love between these two men that shines above all else.
"Hamlet eventually sacrifices his life to root out the corruption and to save those who are still alive – which is basically Horatio, his boyfriend, because everybody else is dead."
"Hamlet/Horatio" has already played in front of audiences at a number of festivals, and has taken honors at several of them – including a Best Feature Film Jury Award at last year's inaugural FFTG (Film Festivals to Go) Fest. The enthusiastic response has given Warner reason to hope that, despite his "queering of Shakespeare," his film will find a "wider audience" when it debuts on digital platforms in June.
Of course, Warner fully expects to be raked across the coals for some of the liberties he has taken, such as the choice to cast transgender Native American actor Ty Defoe as the Player King and the inclusion of a scene where Hamlet and Horatio take a steam bath together – "which is not anywhere in 'Hamlet,' of course," he says with a laugh.
Still, for him, his approach to the material rings true to the source.
"There's a timelessness in the way Shakespeare deals with the danger of rage, and how that threatens spirituality. In his plays, you always have the autocrats, who want to control others, and then you have the purer people, usually younger characters, like Hamlet, who propose love, who pursue a humanitarian vision against them. That's Shakespeare, who was, of course, writing under a monarchy.
"And after four years of authoritarian rule under Trump, I think he was way ahead of his time."
JxJ celebrates Jewish LGBTQ film at festival
Movies include 'Kiss Me Kosher,' 'Marry Me However'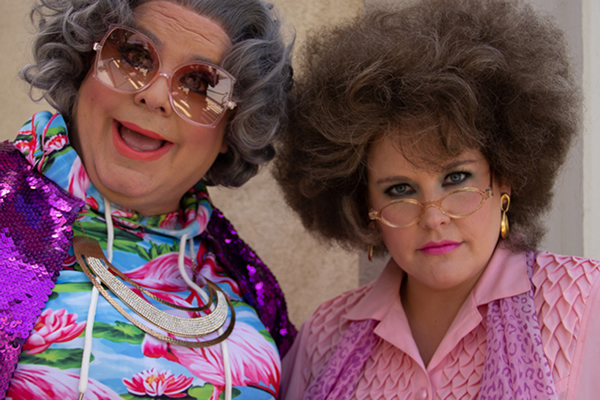 For this year's festival lineup, JxJ will be presenting its "Rated LGBTQ" series, which highlights films with LGBTQ themes, characters, and creators. The festival will run from May 23-30. The films featured include: "Kiss Me Kosher"(outdoor screening at the Bender JCC May 30 at 8pm, $12 per person); "Marry Me However" (virtual screening, $11 per household); "Sublet" (virtual screening, $11 per household); "Bra Mitzvah" (short film, part of the Run the World (Girls) virtual shorts program, $11 per household); "I Want to Make a Film About Women" (short film, part of the Breaking Through virtual shorts program, $11 per household).
Tickets and information about the films are available here.
Mayor's Office of LGBTQ Affairs screens 'Eat With Me'
David Au's directorial debut presented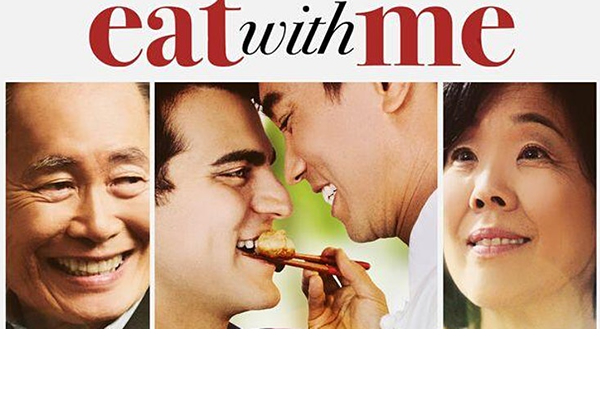 In celebration of Asian and Pacific Islander Heritage Month, The Mayor's Office of LGBTQ Affairs, DC Public Library, and the Mayor's Office on Asian and Pacific Islander Affairs host a screening of "Eat With Me" for May's #DCQueerFlix on May 14, beginning at 6 p.m.
"Eat With Me," David Au's directorial debut, features the story of a mother and her gay son learning to reconnect while trying to keep their business afloat. The film offers a novel take on love, life, and food in the center of Los Angeles.
"Eat With Me" will be available on the Kanopy streaming service and is free for D.C. library patrons.
To register for this virtual event, visit the Eventbrite page.