Anti-LGBT legal organization designated a hate group
Alliance Defending Freedom accused of 'exporting' hate overseas
The Southern Poverty Law Center, which is based in Montgomery, Ala., describes the Alliance Defending Freedom as "a legal advocacy and training group that specializes in supporting the recriminalization of homosexuality abroad, ending same-sex marriage and generally making life as difficult as possible for LGBT communities in the U.S. and internationally." The Southern Poverty Law Center on Wednesday also released a series of anti-LGBT statements that current and former Alliance Defending Freedom staffers and their supporters have made.
"[C]ontrol of the educational system is central to those who want to advance the homosexual agenda," said then-Alliance Defending Freedom Senior Legal Counsel Piero Tozzi in a speech he gave at the World Congress of Families' 2012 conference in Madrid. "By its very nature, homosexual acts are incapable of bearing fruit – indeed, strictly speaking, they are not sexual, as they are incapable of being generative or procreative. Thus there is the need to desensitize and corrupt young minds, both to undermine resistance to the agenda and for recruitment among those that are at an emotionally vulnerable stage of development."
The Alliance Defending Freedom has filed dozens of religious freedom lawsuits in the U.S. and challenged efforts to protect transgender students in public schools. The organization also represented Prince William County (Va.) Circuit Clerk Michèle McQuigg, who was a defendant in the Bostic case that challenged Virginia's same-sex marriage ban.
J. Caleb Dalton of the Alliance Defending Freedom last September testified against a proposal that would add sexual orientation and gender identity to the Prince William County School Board's nondiscrimination policy. He told members of the school board that he represents a woman who alleges a man sexually abused three of her adopted children.
"And in the course of the now hundreds of cases the Alliance Defense Fund has now fought involving this homosexual agenda, one thing is certain: There is no room for compromise with those who would call evil 'good,'" said then-Alliance Defending Freedom CEO Alan Sears at World Congress of Families' 2012 conference in Madrid, according to the Southern Poverty Law Center.
The Alliance Defending Freedom in 2003 defended laws that criminalize consensual same-sex sexual acts in a brief it filed in the Lawrence v. Texas case. The U.S. Supreme Court that year ruled that such statutes are unconstitutional.
Group opposes efforts to repeal anti-sodomy laws
The Southern Poverty Law Center in 2013 criticized the Alliance Defending Freedom over its support of a campaign that defended Belize's anti-sodomy law. Chief Justice Kenneth Benjamin of the Belize Supreme Court last August ruled the colonial-era statute is unconstitutional.
Alliance Defending Freedom Global Director Benjamin Bull in 2013 applauded the Indian Supreme Court ruling that recriminalized consensual same-sex sexual behavior. Tozzo and Brian Raum, a lawyer who has previously worked for the Alliance Defending Freedom, earlier that year filed an amicus brief with the Inter-American Court of Human Rights in the case of Karen Atala, a lesbian judge in Chile who lost custody of her three daughters to her ex-husband because of her sexual orientation.
The Inter-American Court of Human Rights in 2012 ruled in favor of Atala. The Chilean government subsequently apologized to her, paid her $70,000 and offered medical and psychological treatment.
Piezo in 2011 spoke at a Jamaica conference organized by a group that supports the country's anti-sodomy law. Former Australian Prime Minister Tony Abbott, who has an openly lesbian sister, in January 2016 reiterated his opposition to marriage rights to same-sex couples at an Alliance Defending Freedom event in New York.
The Southern Poverty Law Center notes Bull traveled to Russia in 2014 as a member of the planning committee for a World Congress of Families conference that was scheduled to take place in the country.
Organizers cancelled the conference after the U.S. and the European Union imposed sanctions against Russia in response to the annexation of Crimea and other military interventions in Ukraine. Mother Jones reported the conference took place under a slightly different name.
The Southern Poverty Law Center notes committee members met with Yelena Mizulina, a state Duma deputy who introduced a bill banning the promotion of so-called gay propaganda to minors that Russian President Vladimir Putin signed in 2013. Former President Obama in 2014 signed an executive order that allowed officials to freeze Mizulina's U.S. assets in response to the Kremlin's interventions in Ukraine.
The Organization of American States, which created the Inter-American Court of Human Rights, accredited the Alliance Defending Freedom in 2014. The Organization for Security and Cooperation in Europe and the European Union Agency for Fundamental Rights have also recognized the organization.
Mark Potok of the Southern Poverty Law Center told the Washington Blade on Wednesday during a conference call with reporters that the Alliance Defending Freedom has "failed in the effort to keep homosexuality outlawed in this country."
"[It] has resorted in the wake of the 2013 Lawrence decision to exporting its hatred to other countries," he said.
The Blade has reached out to the Alliance Defending Freedom for comment.
The Southern Poverty Law Center on Wednesday announced it has designated an anti-LGBT legal organization as a hate group.
D.C. mayor to lift all restrictions on bars, nightclubs on June 11
'We will definitely be celebrating Pride' next month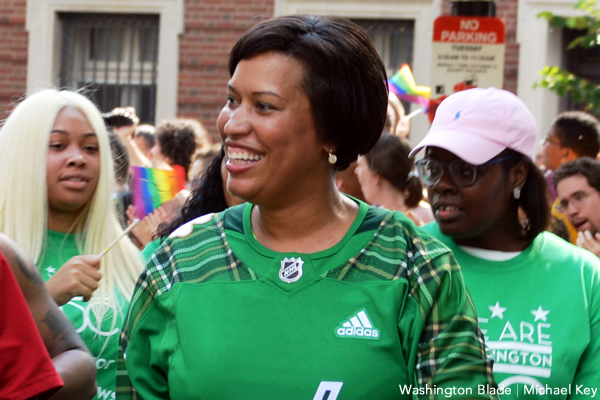 D.C. Mayor Muriel Bowser announced at a news conference on Monday that a continuing trend of significantly lower numbers of coronavirus cases and deaths in the city has enabled her to fully lift capacity and other restrictions on most businesses, including restaurants and places of worship, on May 21.
The mayor said bars and nightclubs will be allowed to increase indoor capacity from the current 25 percent to 50 percent on May 21, with all capacity restrictions for bars and nightclubs to be removed on June 11.
The mayor's announcement came after representatives of the city's nightlife businesses, including the city's gay bars and restaurants, expressed concern that D.C. had yet to lift its capacity restrictions beyond 25 percent while surrounding jurisdictions in Maryland and Virginia had already lifted most restrictions.
"On May 21, restrictions on public and commercial activity, including capacity limits, types of activities, and time restrictions, will be lifted," the mayor's directive says.
It says restrictions for bars and nightclubs would continue at a 50 percent capacity from May 21 through June 11. The directive says restrictions for large sports and entertainment venues would also continue from May 21 to June 11, which includes a requirement such events apply for a waiver of the restrictions on a case-by-case basis.
"On June 11, capacity limits and restrictions will be lifted on those venues that cannot fully reopen on May 21," the directive says.
In response to a question at the news conference, Bowser said the June 11 date would essentially end all restrictions on nightclubs and bars, including the current requirement that they close at midnight rather than the pre-epidemic closing times of 2 a.m. on weekdays and 3 a.m. on weekends.
In a development that could have a major impact on plans for D.C.'s LGBTQ Pride events, the mayor's revised health directive announced on Monday includes the lifting of all capacity restrictions on large outdoor and indoor sports and entertainment events beginning on June 11.
That change would remove restrictions that have, up until now, prevented D.C.'s Capital Pride Alliance from holding its annual Pride Parade and Festival in June during Pride Month.
Capital Pride Executive Director Ryan Bos told the Washington Blade shortly after the mayor's announcement that Capital Pride is assessing its options for expanding its current plans for in-person events in June.
"We will definitely be celebrating Pride in June," Bos said. "We just received this information as well. So, we will be getting further information," he said. "We have not been informed that they will be issuing any permits yet, so at this time we are moving forward with our original plans for doing things."
Bos was referring to a city requirement for obtaining permits for street closings and use of other public spaces for events such as a parade or street festival. He said existing plans, among other things, call for an informal parade of cars and other vehicles on June 12 that will drive throughout the city to view homes and businesses that will be decorated with Pride displays such as signs, photos, and other symbols of Pride.
Those familiar with the city's past Pride events don't think there will be enough time for Capital Pride to organize the traditional large parade and street festival in time for June. But Capital Pride officials have talked about holding a possible parade and festival in October, and the lifting of the capacity restrictions announced by Bowser on Monday would likely make that possible.
In addition to lifting all capacity restrictions on May 21 for restaurants, the mayor's May 21 timeframe for lifting restrictions includes these additional venues and events:
Weddings and special events
Business meetings and seated conventions
Places of worship
Non-essential retail
Personal services
Private at-home gatherings
Libraries, museums, galleries
Recreation Centers
Gyms and fitness centers
Pools
Office space
Schools
Childcare
"We're very pleased that over the last several days, we have seen our case spread, our community spread numbers, venture out of the red into the yellow and fast approaching the green," Bowser said in referring to a health department chart that shows the changes in coronavirus cases in the city.
"You might remember that our daily case rate peaked in January at 45.9. And today you can see it's down to 6.6," she said at her news conference on Monday.
"Throughout this process I have said how proud I am of D.C. residents and businesses who have responded, who have followed health guidance and have worked together to help protect our community throughout the pandemic. And we see it in these numbers today," she said.
"Containing the virus will continue to require all of us to be focused on maintaining a robust health system," the mayor said, adding that while over 200,000 D.C. residents have been fully vaccinated since December 2020, "many more thousands" still need to be vaccinated. "Vaccines are free and available on demand at walk-up sites across the District," she said.
The mayor also noted that the city will continue to require residents and visitors to use a mask in accordance with existing and updated guidance set by the U.S. Centers for Disease Control and Prevention.
Mark Lee, coordinator of the D.C. Nightlife Council, an association that represents restaurants, bars, nightclubs and other entertainment venues, said the mayor's directive on May 10 leaves some details to be addressed but will open the way to bring nightlife businesses back to life.
"What we do know is that on Friday, May 21, businesses begin returning to normal operations and, three weeks later, on June 11, all restrictions for all businesses in the District will end," Lee said. "It's a day we've long awaited and one that will save much of our community enterprise from financial ruin."
Family code bill to be introduced in Cuban Parliament in July
CENESEX made announcement during May 4 press conference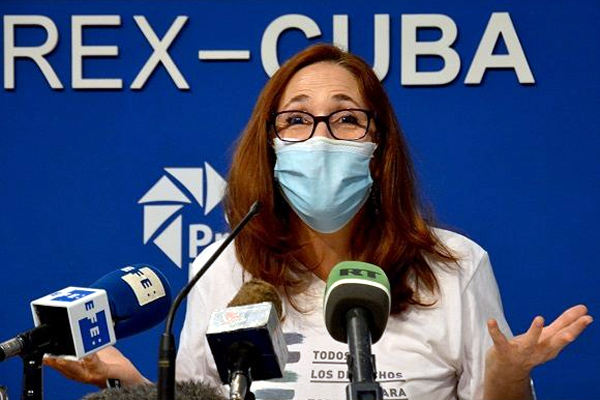 Tremenda Nota is the Washington Blade's media partner in Cuba. A Spanish version of this story was published on May 6.
HAVANA — The National Center for Sexual Education on May 4 during a press conference in which it unveiled the program for the 14th annual International Day Against Homophobia, Transphobia and Biphobia events in Cuba announced a bill to amend the family code will be introduced in Parliament in July.
CENESEX Director Mariela Castro Espín said during a meeting with official and foreign media outlets at the International Press Center that this year's events are part of the process of amending the family code.
She added that this legal change will reflect several rights guaranteed in the constitution, which is why it is necessary to sensitize and educate the Cuban population to avoid prejudice and discrimination.
"I was able to appreciate that the majority of the population … is in favor of recognizing the rights of LGBTI+ people and especially the rights in the family sphere that include the possibility, the option, of marriage," said Mariela Castro during the press conference.
The official referred to the results of the National Survey on Gender Equality in Cuba, conducted in 2016 and published in 2019. According to this official study, 77 percent of the Cuban population between 15 and 74-years-old said that gays, lesbians, bisexuals and transgender people should have the same rights as any other citizen.
CENESEX's director, however, did not use this information in the 2018 parliamentary debates sparked by Article 68 of the bill to amend the constitution. The idea that it was not the appropriate time to implement same-gender marriage in Cuba eventually won out.
Mariela Castro told Tremenda Nota a few days before the referendum in which Cuban voters approved the current constitution that she was aware of the survey, but she did not explain why she did not use the data it revealed as an argument (in favor of marriage equality.)
"It was a wasted tool that now we can only use in the next referendum," then-MP Luis Ángel Adán Roble told Tremenda Nota during a February 2019 interview, as did Mariela Castro.
The moment that Adán Roble mentioned has arrived.
It became known during the May 4 press conference that the family code will be introduced in the scheduled parliamentary session in July. The Council of State on March 22 appointed a commission that will be in charge of preparing the bill, but the list of its members was not made public until April 30. None of them are openly LGBTI+.
Activists over the last few weeks have demanded that Parliament reveal the identities of those who make up the commission and the deadline they have to prevent the Family Code. The May 4 press conference resolved the last outstanding point.
The Cuban IDAHOBiT program
Mariela Castro and CENESEX Deputy Director Manuel Vázquez Seijido explained that numerous activities with the goal of making visible and fighting against all types of discrimination based on sexual orientation and gender identity will virtually take place from May 4 through May 30.
The IDAHOBiT events in Cuba have a program that includes academic dialogue, social activism and artistic presentations from virtual spaces.
Forum debates are among the activities. The Juventud Rebelde newspaper will host the first one with the theme "Deconstructing myths around same-sex families and partners" and Cubadebate will hold the second called "Constitution and Sexual Rights in Cuba: Progress and Main challenges."
They also announced at the press conference the books "Paquito el de Cuba: A Decade of Online Activism" and "Non-Heteronormative Sexualities and Gender Identities. Tensions and Challenges for Human Rights" will be presented.
There will be virtual panels titled "Diverse Families: Histories of Non-Hegemonic Lives," "National Program for the Advancement of Women: Opportunities to Confront Homophobia and Transphobia," "Keys for Inclusive Communication" and "Sexual Rights and Religious Fundamentalisms."
Castro Espín explained that CENESEX will use its social media accounts to promote the program, contribute to the sexual education of Cubans and the recognition of rights for all people, regardless of gender or sexual orientation.
A show against homophobia and transphobia that will officially end the events will be broadcast on social media and on television.
Bill to ban conversion therapy dies in Puerto Rico Senate committee
Advocacy group describes lawmakers as cowards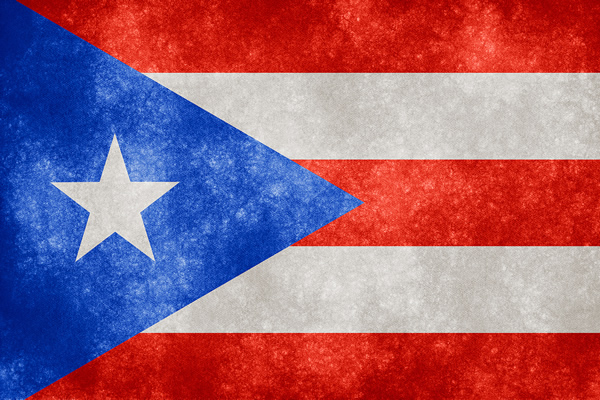 A Puerto Rico Senate committee on Thursday killed a bill that would have banned so-called conversion therapy on the island.
Members of the Senate Community Initiatives, Mental Health and Addiction Committee voted against Senate Bill 184 by an 8-7 vote margin. Three senators abstained.
Amárilis Pagán Jiménez, a spokesperson for Comité Amplio para la Búsqueda de la Equidad, a coalition of Puerto Rican human rights groups, in a statement sharply criticized the senators who opposed the measure.
"If they publicly recognize that conversion therapies are abuse, if they even voted for a similar bill in the past, if the hearings clearly established that the bill was well-written and was supported by more than 78 professional and civil entities and that it did not interfere with freedom of religion or with the right of fathers and mothers to raise their children, voting against it is therefore one of two things: You are either a hopeless coward or you have the same homophobic and abusive mentality of the hate groups that oppose the bill," said Pagán in a statement.
Thursday's vote comes against the backdrop of continued anti-LGBTQ discrimination and violence in Puerto Rico.
Six of the 44 transgender and gender non-conforming people who were reported murdered in the U.S. in 2020 were from Puerto Rico.
A state of emergency over gender-based violence that Gov. Pedro Pierluisi declared earlier this year is LGBTQ-inclusive. Then-Gov. Ricardo Rosselló in 2019 signed an executive order that banned conversion therapy for minors in Puerto Rico.
"These therapies lack scientific basis," he said. "They cause pain and unnecessary suffering."
Rosselló issued the order less than two weeks after members of the New Progressive Party, a pro-statehood party  he chaired at the time, blocked a vote in the Puerto Rico House of Representatives on a bill that would have banned conversion therapy for minors in the U.S. commonwealth. Seven out of the 11 New Progressive Party members who are on the Senate Community Initiatives, Mental Health and Addiction Committee voted against SB 184.
"It's appalling. It's shameful that the senators didn't have the strength and the courage that our LGBTQ youth have, and it's to be brave and to defend our dignity and our humanity as people who live on this island," said Pedro Julio Serrano, founder of Puerto Rico Para [email protected], a Puerto Rican LGBTQ rights group, in a video. "It's disgraceful that the senators decided to vote down this measure that would prevent child abuse."