Pride parade to march out of Mount Vernon
In switch, June 17 celebration heads north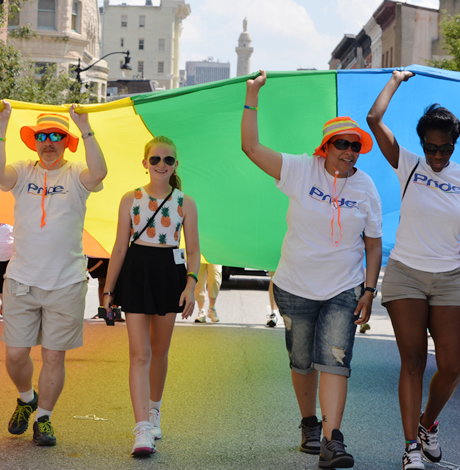 Breaking a decades-old tradition, the Baltimore Pride Parade, scheduled for June 17, will depart what had been considered the "gayborhood" in Mount Vernon and venture north to the Station North-Old Goucher neighborhood.
The parade this year will originate on the corner of Charles and Eager Streets, according to Donald Young, Pride Parade chair and Baltimore Pride main stage manager, and will begin at 2 p.m. In the past, the parade started several blocks south near the Washington Monument.
"Last year was the largest Pride Parade in Baltimore history," Young told the Blade. He promises an even bigger and longer Pride Parade this year. The Block Party, he says, will take place between North Avenue and 22nd Street and between Maryland Avenue and St. Paul Street.
The new parade route was welcomed by Old Goucher leadership. "We are pleased to learn that this year's 42nd annual Pride festivities will be centered on Charles Street in Old Goucher," said Kelly Cross, president of the Old Goucher Community Association, in a statement.
"There's no better place in the city for this event. Charles Street is Baltimore's traditional 'Main Street' and we have ample venues to support the full range of activities included in the celebration."
Cross noted that various neighborhoods in the city have at times claimed the title of "gayborhood," such as Charles Village, Waverly and most recently Mount Vernon. However, in 2016, the GLBT Community Center of Baltimore (GLCCB), the organization that runs Pride, moved its headquarters from Mount Vernon to Old Goucher. The Pride Foundation of Maryland is also located there as well as the refurbished Baltimore Eagle.
For more information, visit baltimorepride.org.
Most LGBTQ Advisory Neighborhood Commissioners not seeking re-election
No candidates running in 56 districts, reflecting waning interest in posts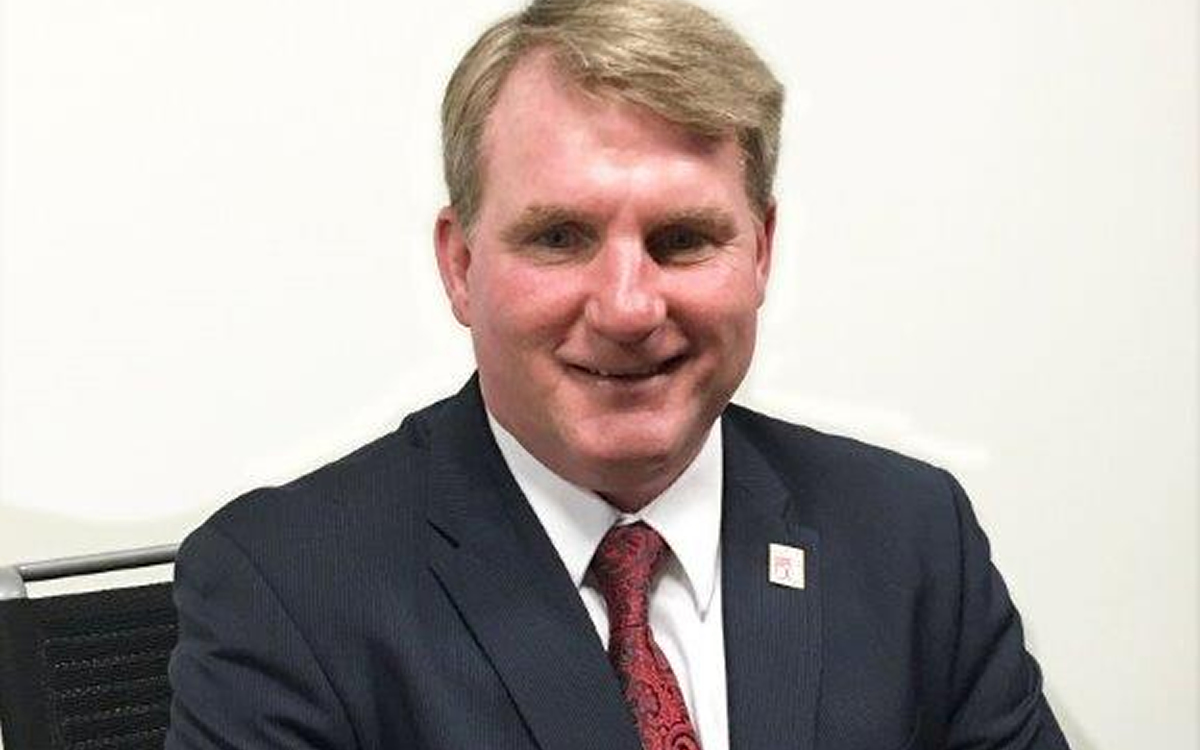 Only ten of D.C.'s 34 known LGBTQ Advisory Neighborhood Commissioners are running for reelection in the city's Nov. 8 general election, according to the most up to date list of ANC candidates released by the D.C. Board of Elections.
Some of the 24 LGBTQ incumbent ANC members who are not running for reelection have said they decided to step down after having served multiple two-year terms in an unpaid elective office that they say involves a considerable amount of time as well as political strife that can be stressful.
Congress created the Advisory Neighborhood Commissions as part of the city's home rule local government in the early 1970s. There are a total of 40 ANCs located throughout the city with each having between two and ten single member districts representing the city's diverse neighborhoods. Currently, there are a total of 345 single member districts citywide.
Under the city's Home Rule Charter, the ANCs are charged with making recommendations to city officials on a wide range of neighborhood issues, including the approval of liquor licenses for bars and restaurants, for which city officials are required to give "great weight" but the government officials are not required to adopt the recommendations.
Thirty-three of the current 34 openly LGBTQ ANC members were among a total of 47 known LGBTQ ANC candidates that ran in the city's 2020 general election.
One of the current LGBTQ ANC members, Dupont Circle community activist Randy Downs, won in a special election to fill a vacancy earlier this year for the Dupont Circle ANC Single Member District 2B07. Downs, who served as an ANC member in previous years, is among the 24 LGBTQ ANC incumbents who are not running for reelection in November.
Other LGBTQ members who have decided not to seek reelection include longtime Dupont Circle ANC member Mike Silverstein, who is completing his tenth two-year term, and Logan Circle ANC member John Fanning, who's completing his seventh term in office.
"I have served seven terms, and I just felt like it was time to allow another resident of my single member district an opportunity to serve," Fanning told the Washington Blade. "And I am happy that I accomplished the things that I did in my seven terms," he said.
Silverstein attributes what he called "COVID fatigue" as one reason some of the LGBTQ as well as non-LGBTQ ANC incumbents are not running for another term in office. He said another factor prompting at least some incumbents not to run again is greater demands on ANC commissioners and less support from city officials.
Among other things, he said, some community members who disagree with the recommendations made and positions taken by ANCs have filed multiple Freedom of Information Act requests seeking hundreds of email messages exchanged among ANC members, forcing ANC members to expend many hours of work tracking down those messages as well as other documents.
"People don't want to be hassled, they don't want to be subjected to the same crap that people who are making $140,000 a year go through when they're not being paid anything," Silverstein said. "We've had to beg people to run," he said in referring to him and other Dupont Circle ANC incumbents who were trying to find qualified people to replace them.
The D.C. Board of Elections list of ANC candidates shows that there are no candidates running in 56 single member districts across the city, the highest number of districts in which no ANC candidate is running since the ANC's were created. Observers familiar with the ANCs note that the candidate list also shows there are a record number of single member districts in which only one candidate is running, which the observers say indicates an apparent lack of public interest or support for the city's ANCs.
Silverstein and Fanning said they know of several non-incumbent LGBTQ ANC candidates running in the November election, but they don't have a complete list of all known LGBTQ ANC candidates citywide.
At the time of the 2020 D.C. general election, the then newly created LGBTQ ANC Rainbow Caucus compiled a list of the known LGBTQ ANC candidates. But Silverstein and Fanning said the Rainbow Caucus has been inactive this year, in part, due to its former chairpersons becoming involved in other activities.
One of the founding chairs of the caucus was local transgender activist and Ward 3 ANC member Monika Nemeth, who is not seeking reelection this year. Also serving as one of the founding chairs was gay Ward 1 ANC member Japer Bowles, who resigned from his ANC seat earlier this year after D.C. Mayor Muriel Bowser appointed him as director of the Mayor's Office of LGBTQ Affairs.
Nemeth and Bowles couldn't immediately be reached this week to determine whether they have arranged for others to replace them as leaders of the ANC Rainbow Caucus and whether the caucus will compile a list of LGBTQ ANC candidates running in the November election.
Among the other incumbent LGBTQ ANC members who are not running for reelection include longtime Southwest waterfront commissioner Andy Litsky of ANC 6D04; Dupont Circle ANC 2B09 member Kyle Mulhall, an attorney and longtime LGBTQ rights advocate; and Logan Circle ANC member John Guggenmos, the co-owner of the Logan Circle area gay bars Number 9 and Trade.
Also, among the LGBTQ incumbents not running this year are Logan Circle ANC members Rehana Mohammed and Alexandra Bailey.
Following is a list of the ten incumbent LGBTQ ANC members who are running for reelection in November, their ANC single member districts, and the neighborhoods they represent:
Kent Boese, 1E01 (Park View)
Michael Wray, 1E03 (Park View)
Larry Handerhan, 1B01 (Ledroit Park)
Michael Shankle, 2C01 (Penn Quarter-Chinatown)
Evan Yeats, 4B04 (Takoma)
Ra Amin, 5B04 (Brookland)
Salvador Sauceda-Guzman, 5D05 (Trinidad)
Robb Dooling, 6A06 (Capitol Hill East)
Ronald Collins, 6D02 (Near Southwest)
Anthony Lorenzo Green, 7C04 (Deanwood)
Us Helping Us reaches settlement in $3.8 million lawsuit
Construction firm accused LGBTQ group of breach of contract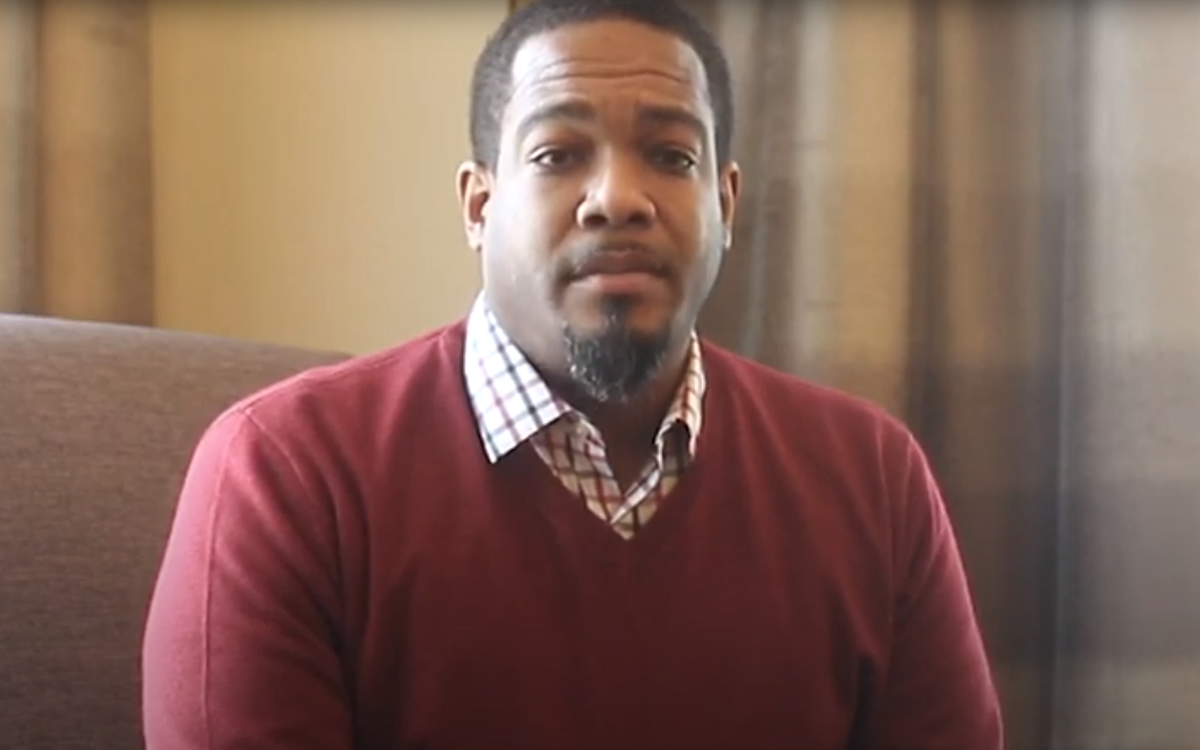 The D.C.-based LGBTQ health and HIV services organization Us Helping Us, People Into Living and The Kier Company, which filed a $3.8 million lawsuit against Us Helping Us in November 2020 alleging a breach of contract for its renovation of the group's headquarters building, have reached an out-of-court settlement in the case, according to court records.
Us Helping Us Executive Director DeMarc Hickson, who this week informed the Washington Blade about the settlement, said the two parties have decided to keep the terms of the settlement confidential.
Documents filed by the two parties in D.C. Superior Court over the past two years show that settlement discussions began in early 2021 as part of a mandatory mediation under court rules for all lawsuits. But the records show that an agreement between the two parties to settle the case did not take place until April of this year.
The Kier Company, which provides interior design and general contracting services for residential and commercial buildings, charged in its lawsuit that Us Helping Us violated the terms of its contract for the renovation of its D.C. headquarters building at 3636 Georgia Ave., N.W. The company claimed Us Helping Us failed to pay the remaining balance of $101,002 out of a total cost for the renovation project of $320,234.
The lawsuit accused Us Helping Us of multiple violations of various provisions in the contract it signed with the company, including a failure to remove office furniture from the building during the construction work and the presence of Us Helping Us employees in the construction areas. All of this, the company charged, resulted in "overtime" and "weekend" fees totaling $3,366,000 over and above the original stated cost of the entire project.
Us Helping Us stated in its response to the lawsuit that it withheld the final payment because The Kier Company failed to complete the renovation work specified in the original contract and subsequent change orders calling for additional work. Us Helping Us also claimed that some of the work performed by the company was of poor quality, requiring Us Helping Us to arrange for "remedial construction" services from another company.
It disputed the company's claim for overtime and weekend charges, saying the company had agreed to perform its construction work while Us Helping Us employees worked in areas of the building when and where renovation work was not taking place.
Court records show that Us Helping Us filed a counterclaim accompanying its response to the lawsuit demanding that the Kier Company pay $37,400 in compensatory and actual damages for the costs Us Helping Us incurred to hire another contractor to complete the work it said the Kier Company did not complete.
The court records also show that Superior Court Judge Fern Flanagan Saddler, who presided over the case at that time, denied motions by both sides calling for him to end the case by ruling in their favor. He issued his denial of both motions in a joint ruling handed down on Dec. 28, 2021.
In an April 22, 2022, motion filed by attorneys for The Kier Company, the company informed the judge that the two parties, following mediation, agreed in principle to settle the lawsuit.
"Counsel for the parties are currently in the process of preparing and finalizing the terms of the settlement," the motion states.
The court docket shows that Judge Maurice A. Ross dismissed the lawsuit in a ruling handed down on July 22, 2022, that said the dismissal would officially take place 14 days later on Aug. 12.
"The parties previously filed a notice of settlement," the court docket states.
"For over 30 years, Us Helping Us has been providing innovative care and services to improve the health and well-being of Black, gay men," the nonprofit group says in a statement on its website. "We work every day to reduce the impact of HIV/AIDS in the entire Black community by providing care to anyone who walks through our door," the statement says.
Hicks, the Us Helping Us executive director, told the Blade this week that the group is currently providing monkeypox related support services for people it provides other services for.
Man accused of assaulting lesbian activist surrenders to D.C. police
Aiyi'nah Ford attacked at Congress Heights bar earlier this month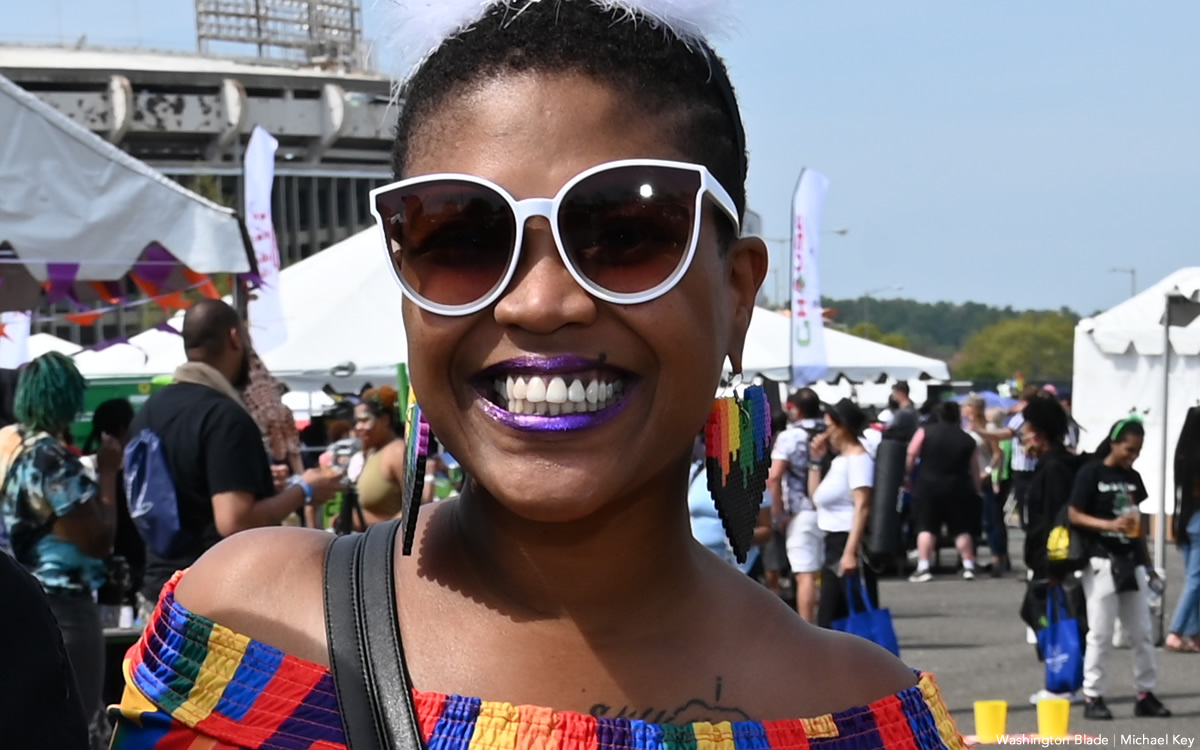 D.C. police on Aug. 11 charged a 46-year-old D.C. man with assault with a dangerous weapon in connection with an incident earlier this month in which lesbian activist Aiyi'nah Ford said she was hit in the head three times with the metal legs of a barstool wielded by a man yelling anti-gay names at her.
A police report says the incident took place at the Player's Lounge, a restaurant and bar at 2737 Martin Luther King Jr. Ave., S.E., in the city's Congress Heights neighborhood shortly before and after midnight on Aug. 3 and Aug. 4.
Police identified the man charged in the case as Donnell Anthony Peterson, who police say is a resident of 1200 block of Southern Avenue in Southeast D.C.
Ford told the Washington Blade that Peterson, who is a regular customer at Player's Lounge as is she, assaulted her after the two got into a verbal argument over, among other things, the city's violence interruption program. Ford said she told Peterson and others who were having a discussion that she considered the program to be ineffective and a "joke."
It was around that time, Ford said, that Peterson began repeatedly calling her a "dyke bitch" and threatened to shoot her.
The arrest affidavit says witnesses reported seeing Ford covered in blood from a serious head injury before an ambulance arrived on the scene and took her to George Washington University Hospital, where she was treated for a head and scalp wound that required multiple stitches.
The affidavit, which was filed in D.C. Superior Court, says Peterson on Aug. 11 "turned himself into the Seventh District Police Station," saying he did so after someone told him police issued a Twitter posting announcing he was wanted on an assault allegation.
Court records show that at the time of his arrest, D.C. police also charged Peterson with Possession with Intent to Distribute a Controlled Substance (Cocaine) based on an unrelated Aug. 26, 2021, outstanding warrant for his arrest on the drug charge obtained by U.S. Park Police.
The affidavit for his arrest on the assault charge says police learned about the outstanding U.S. Park Police arrest warrant when they conducted a criminal record background check after learning through a tip that Peterson was the person who allegedly assaulted Ford at Player's Lounge.
Court records also show that Peterson appeared before Superior Court Judge Renee Raymond on Aug. 12, one day after his arrest, for a presentment hearing in which Raymond ordered him held in the D.C. Jail until a scheduled preliminary hearing on Monday.
At the Monday hearing, through his attorney, Peterson waived his right to a full preliminary hearing and agreed that Judge Neal E. Kravitz, who presided over the hearing, would rule that prosecutors with the U.S. Attorney's office established probable cause that Peterson committed the assault. The probable cause finding means that the case can proceed to a trial.
While ruling in favor of probable cause, Kravitz denied a request by Assistant U.S. Attorney Alec Levy that Peterson continue to be held in jail pending trial. Levy argued that Peterson "viciously" hit Ford over the head with a barstool at least two times as shown on a video recording of the incident obtained from a camera from Player's Lounge video security system.
Levy also said that at the time Peterson assaulted Ford he used "derogatory" language referring to her sexual orientation.
But court records show that as of the time of the Monday hearing, the U.S. Attorney's office did not list the assault against Ford as a bias related crime.
In response to an inquiry by the Blade, a spokesperson for the U.S. Attorney's office said the office is not considering adding a bias or hate related enhancement to the assault charge. "We typically do not comment on charging decisions and have no further comment," said spokesperson William Miller. 
As part of his argument for Peterson to be held while awaiting trial, Levy requested and received permission from the judge to show a segment of the video on a large projection screen in the courtroom. Peterson, who is seen in the video wearing a red shirt, is shown knocking Ford to the floor, and picking up a bar stool and twice hitting her in the head with the metal legs of the stool.
Levy concluded his argument by noting that Peterson has three prior convictions on drug related charges. The prosecutor said Peterson fled the scene when he was stopped in his car by U.S. Park Police who found cocaine in the vehicle in August 2021, which resulted in the warrant for his arrest being issued and which Levy called a fourth prior criminal offense.
Combined with the Assault with a Dangerous Weapon charge, Levy argued that Peterson should be held pending trial on grounds that he is a danger to the community.
Brandon Burrell, Peterson's court appointed attorney, argued that the current assault case was the only case in which Peterson is accused of a crime of violence. Burrell said that Peterson has never failed to appear at a court hearing in any of his prior arrest cases and is gainfully employed at a facility providing services to senior citizens in Ward 8.
Burrell also said he plans to point to evidence shown in the video of the assault at Player's Lounge that Ford acted in an aggressive and hostile way toward Peterson and that Peterson has grounds for making a case of self-defense. Levy disputed Burrell's claim that there may be grounds for self-defense. Levy said that, among other things, the video footage shows Peterson acting as the aggressor by violently wielding a bar stool as a weapon.
After listening to the arguments by the defense and prosecutor and after reading the arrest affidavit, which describes in detail the segments of the video that were not shown in the courtroom, Kravitz ruled that Peterson was eligible to be released into the court's high intensity supervision program. Kravitz ordered Peterson into "home confinement" at his residence in Southeast D.C. except for the time during the week when he goes to work at his job. The judge also ordered that Peterson must wear a GPS device that keeps track of his whereabouts.
Kravitz scheduled a felony status conference for which Peterson must return to court on Sept. 16.
The four-page arrest affidavit prepared by a D.C. police detective describes in detail the video obtained from the security camera at Player's Lounge that captured the incident as it occurred and in which Peterson is seen striking Ford in the head at least two times with what it describes as a chair.
"The suspect grabs one of the chairs that's at the bar (red with black frame) at 23: 11:06," the affidavit says. "The suspect then slams the chair into the complainant's head," it says.
"The suspect then pushes the complainant into the bar at 23:11:09. The suspect pulls a chair from underneath the complainant and slams it into the complainant's upper body again at 23:11:15," the affidavit states.
According to the affidavit, "The suspect attempts to grab a chair for the third time, but patrons are able to separate the suspect and push him into another room."