June 19, 2017 at 12:01 pm EDT | by Ted Smith
Walkability scores for D.C. neighborhoods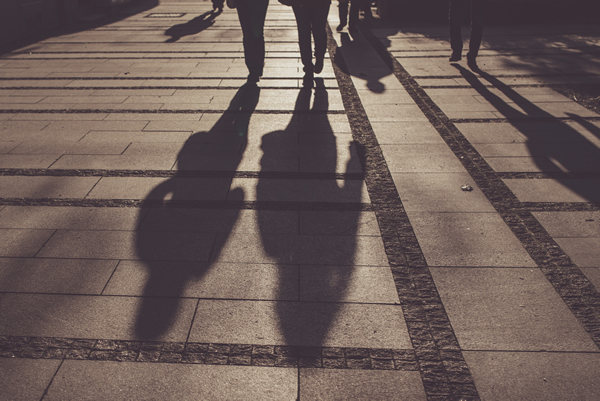 In the process of extending my real estate practice to Austin, Texas, I have been focusing my marketing efforts on walkable neighborhoods in the inner core of neighborhoods surrounding downtown Austin. This focus is largely derived from my having lived an urban pedestrian lifestyle in Washington for 8 years and loving it.
What do I mean by a "walkable neighborhood"? I mean a neighborhood — often centered on a grocery store, school, and some retail establishments (including restaurants and bars), along with recreational amenities — all within easy walking (or biking) distance of your home and with good access to public transit. WalkScore.com lists the following criteria for a walkable neighborhood:
A center: Walkable neighborhoods have a center, whether it's a main street or a public space.
People: Enough people for businesses to flourish and for public transit to run frequently.
Mixed income, mixed use: Affordable housing located near businesses.
Parks and public space: Plenty of public places to gather and play.
Pedestrian design: Buildings are close to the street, parking lots are relegated to the back.
Schools and workplaces: Close enough that most residents can walk from their homes.
Complete streets: Streets designed for bicyclists, pedestrians, and transit.
Here are the benefits of living in a walkable neighborhood, according to WalkScore.com:
Walkability offers surprising benefits to our health, the environment, our finances, and our communities.
Health: The average resident of a walkable neighborhood weighs 6-10 pounds less than someone who lives in a sprawling neighborhood. Cities with good public transit and access to amenities promote happiness.
Environment: 82 percent of CO2 emissions are from burning fossil fuels. Your feet are zero-pollution transportation machines.
Finances: Cars are the second largest household expense in the U.S. One point of Walk Score is worth up to $3,000 of value for your property.
Communities: Studies show that for every 10 minutes a person spends in a daily car commute, time spent in community activities falls by 10%.
Testing an address, neighborhood, zip code, or city for walkability yields three numerical scores: a walk score, a transit score, and a bike score. The numerical scores are affiliated with a walkability label:
90-100     Paradise (Walker's, Rider's, Biker's)
70-90       Very walkable, Excellent Transit, Very Bikeable
50-70       Somewhat Walkable, Some Transit, Bikeable
0-50         Car Dependent, Some/Minimal Transit, Somewhat Bikeable
With this in mind, let's take a look at how individual zip codes in the District score on the indexes for walk score, transit score, and bike score: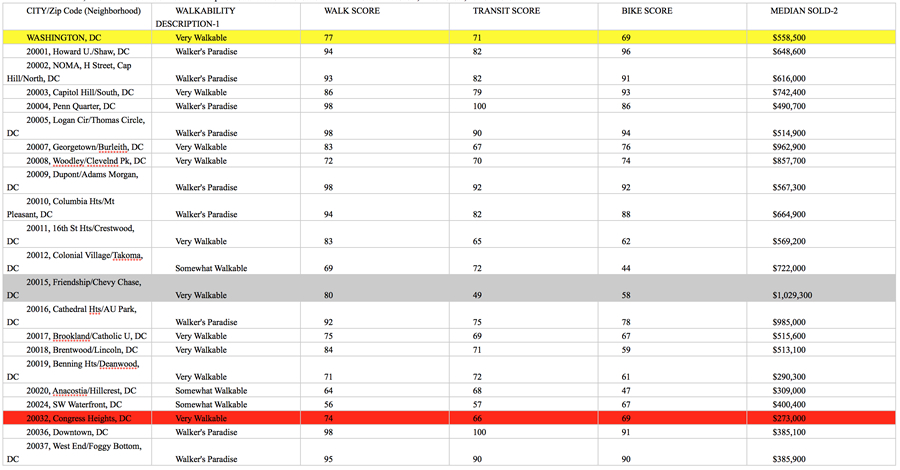 1-Data from WalkScore.com on 6/14/2017; 2-Median prices from Zillow.com, current as of 4/30/2017.
Overall, D.C. is rated Very Walkable, with its three scores clustering around 72.
I have also added a column for median sold price to display the correlation (if any) between walkability scores and home price. There does not seem to be a clear correlation between zip code walkability scores and median sold price—zip code 2015 (Friendship Heights and Chevy Chase DC) have a middle score within the Very Walkable category, but has the highest median sold price amount; zip code 20032 (Congress Heights) with the lowest median sold price has walkability scores within the Very Walkable range, although it has transit and bike scores within the Some Transit/Bikeable range.
What is clear, though, is that better walkability scores within a zip code or neighborhood does improve the value of your home. And I'll show that next month, along with a comparison of walkability scores and median price value in major U.S. cities.
So sellers, make sure to run walkability scores for your property from walkscore.com, and tout those scores in marketing your home. And buyers, make sure to check the walkability scores for any property you are considering buying—higher score will help you when it comes time to sell that property. Happy trails!
Ted Smith is a licensed Realtor with Real Living | at Home specializing in mid-city DC. You can reach him at TedSmithSellsDC@rlathome.com and follow him on Facebook, Youtube, or @TedSmithSellsDC.  Or you can reach him at tedsmithsellswalkableaustin@gmail.com or WalkableAustin.US.