June 21, 2017 at 4:25 pm EDT | by Lou Chibbaro Jr.
LGBT students report discriminatory treatment at Delaware school
REHOBOTH BEACH, Del. — LGBT students from Delaware's Cape Henlopen High School told a community meeting in Rehoboth Beach on Monday night that many of the school's teachers and the school district's administrators continue to ignore their calls for help to stop anti-LGBT bullying at the school.
Cape Henlopen High, which is located in the city of Lewes next to Rehoboth Beach, has emerged as a subject of concern among students and parents in recent years over LGBT-related issues.
As they have since 2014, students and parents reached out to the Washington Blade in April and May of this year to express strong concern over the school district's handling of an LGBT-related matter, this time over what they believed was the forced resignation of popular theater teacher Martha Pfeiffer at Cape Henlopen High allegedly because of her outspoken support for LGBT students.
Officials from the Delaware groups CAMP Rehoboth, Equality Delaware, and the ACLU of Delaware – who initiated Monday night's meeting – said they were responding to reports about LGBT-related concerns at the school by the Blade and other news media outlets.
Among the recent developments of concern, they said, was the news that a lesbian student at Cape Henlopen High was suspended for wearing a T-shirt she made bearing the words, "Cape condones racism, homophobia, sexism, and bullying."
An ACLU attorney speaking at Monday's meeting said the ACLU would look into whether the school's action over the T-shirt violated the student's First Amendment right of free speech if the student or other students encountering similar restrictions approach the ACLU for legal assistance.
"As leaders in LGBTQ advocacy, education and community development in Rehoboth Beach and across the State of Delaware, it concerns us to hear of situations in which LGBTQ students may feel unsafe, unwelcome or unsupported at school," a joint statement by the three groups announcing the meeting states.
"We are inviting students, parents and concerned community members to join us for a community discussion on Monday, June 19…to discuss the culture toward LGBTQ students in Cape Henlopen schools," the advance announcement said.
About 75 people turned out for the meeting, which was held in a meeting hall at CAMP Rehoboth's community center building in Rehoboth Beach. Among those who spoke were five LGBT Cape Henlopen High students, several parents, at least four clergy members from Rehoboth-area churches and synagogues, and two attorneys affiliated with the ACLU.
Also speaking were two volunteer mentors who said they counseled members of the school's Gay-Straight Alliance club.
Gay student Adrian D'Antoni, who graduated from Cape Henlopen High this month, transgender student Madison Couture, who completed her freshman year at the school this month, and senior Sarah Ross told the meeting they and their fellow LGBT students' pleas for help about persistent episodes of anti-LGBT bullying have been ignored by most teachers and administrators.
"We have to fend for ourselves," D'Antoni told the meeting. "It's the worst feeling on the face of the planet."
Ross said one of her lesbian friends at the school filed a bullying report with the school administration as part of a procedure set up by school officials to address bullying incidents.
"Nothing happened," Ross told the meeting. "Boys on sports teams were doing the bullying. She was so upset she stopped going to class."
Couture, who is openly transgender at school, told the meeting she is frustrated and outraged that despite repeated calls for help by LGBT students, nothing seems to change. She said she was skeptical that anything useful would emerge from Monday's meeting.
Gay attorney Mark Purpura, who is a member of the board of all three organizations sponsoring the meeting, was among the meeting attendees who expressed a commitment to take action to address the concerns of LGBT students at Cape Henlopen High and other local schools.
"The input from the students who were at the meeting is vitally important," he said. "It's very disheartening to hear stories where they feel like they're helpless and not being supported in the schools. And as an advocate, that's something that I certainly can't ignore and I won't ignore."
He added, "Obviously we strive to create environments where every child feels safe and supported at school and that's obviously not happening right now."
Steve Elkins, executive director of CAMP Rehoboth, who served as moderator of the meeting, noted that officials with the meeting's three sponsoring organizations and representatives of several other LGBT supportive groups attending the meeting have committed to "take action to help improve the culture for LGBTQ students" at Cape Henlopen schools.
He said representatives of the groups plan to coordinate a plan to carry out that action. He was asked after the meeting if the meeting's outcome fulfilled his expectations.
"It did and actually from that standpoint we got around to saying let's put our words into action," he told the Blade. "So if we can take a little bit of action – we're not going to accomplish everything we want to off of tonight's meeting. But we certainly can't get anywhere unless we take that first step forward. And that's what we hope to do."
He said about 25 people attending the meeting who are calling themselves "The Council of Elders" signed a list to be part of an action plan.
"Each of those persons will be invited to a not yet scheduled meeting to outline the next steps," Elkins said. "It will be interesting to see if we can capture the 'let's get to work' excitement that we felt at the end of the [meeting]."
At the start of the meeting, Elkins said the meeting's organizers decided it would not be appropriate to discuss "personnel issues" related to Cape Henlopen High and the school district. He was referring to news first reported by the Blade that the Cape Henlopen Board of Education voted in January to fire Pfeiffer on grounds of negligence and other allegations at the recommendation of the school's superintendent, Robert Fulton.
Parents who know and support Pfeiffer said Fulton and the board later agreed to allow Pfeiffer to resign effective at the end of the school year this month in exchange for not being fired.
Students and parents who support Pfeiffer have told the Blade the negligence charge was "trumped up" and they believe the real reason for Pfeiffer's forced resignation was the administration's objections to her outspoken support for LGBT students and LGBT rights cases in her role as a straight ally.
When asked to comment on concerns raised by students at Monday's meeting pertaining to the school's response to bullying, Fulton said the district has a diverse student population that he considers to be the strength of the district and the community.
"We support all students through various clubs, activities and programs, and we are proud of the inclusive culture found in each of our schools," he said.
All allegations made by students, including concerns related to bullying, "are treated seriously and thoroughly investigated, Fulton said. "Consequences related to bullying follow our student code of conduct and Board policy."
Since the time the Blade's story on Pfeiffer and other LGBT-related issues at the school was published earlier this month, at least one gay teacher and two lesbian students at Cape Henlopen have contacted the Blade to say the allegations by students and parents quoted in the Blade story were either untrue or exaggerated.
They said they believe LGBT students are being treated with respect at the school.
Another teacher at the school, Alayna Aiken, who the LGBT students speaking to the Blade earlier this year said has a reputation for making disparaging remarks to LGBT students, submitted a comment on the Blade's website version of the story calling those allegations false. The Blade was unable to reach Aiken for comment for its most recent story on Cape Henlopen High, but the Blade included in the story her strong assertions reported in a 2014 Blade story that all allegations against her were false and she has positive relations with her students.
Elkins said he and the others organizing Monday's meeting decided all matters specifically relating to Pfeiffer, Aiken, or other teachers would be off limits at the meeting.
"The reason is we're not a personnel committee," he said. "We don't have access to any of the information. It would not be fair to her [Pfeiffer] or it would not be fair to the administrators. That's not what we hoped to do with this meeting. That's not going to solve any problem," he said.
"They were alluded to but the purpose of the meeting was to talk about the culture for the LGBT students," Elkins said.
None of the students or a teacher, Greg Berman, who have disputed assertions by the students who told the meeting that anti-LGBT sentiment and bias is widespread at Cape Henlopen High, spoke at the meeting. Berman, who spoke to the Blade about his views, said he was out of town for the summer and was unable to attend the meeting.
It could not be determined whether students with differing views attended the meeting and chose not to speak.
Chyenne Cole, who identified herself in a June 8 email to the Blade as a gay student, said complaints by several LGBT students against Aiken, who teaches a human development class, were unfounded.
"As an openly gay student who is very liberal and expressive in her opinions, Aiken is fully accepting what I have to say," Cole said in the email. "In fact, she encourages discussions with many different students about certain issues in an attempt to understand all perceptions," she said.
Others who attended and spoke included Nancy Maihof, a member of the Delaware State Human Relations Commission. Maihof noted that the commission looked into possible anti-LGBT bias at Cape Henlopen High in 2014 following a Washington Blade story reporting on students' and parents' concerns about anti-LGBT bias at that time. The commission has authority to initiate its own investigations into violations of Delaware's human rights law, which, among other things, bans discrimination based on sexual orientation and gender identity.
As part of its findings in its 2014 investigation into Cape Henlopen High, the Human Relations Commission issued recommendations for the school to address and curtail possible anti-LGBT bias.
Karla Fleshman, the LGBT Youth Case Manager for Big Brothers-Big Sisters of Delaware, who was one of the speakers at Monday's meeting, called on those who will work on the proposed action plan to carefully study the commission's recommendations and push to make sure the school is adopting them.
D'Antoni, the Cape Henlopen High School student who graduated this year, told the Blade after the meeting that he has "seen firsthand the damage some of these teachers have done to their students, including myself."
He said the treatment received by some of the LGBT students by teachers is often subtle but has a profound impact on the students.
"Being part of the theater and being part of the GSA and being a part of those weird kids there's a lot of retaliation from the normal kids," he said. "Because we're the weird ones. We're the ones that like things that are out of the ordinary. And with that comes bullying. With that comes being treated differently by teachers because we're not an athlete or you're not a genius mathlete."
Added D'Antoni, "It's all about being aware that you're part of something that is hated. And because we know and we acknowledge that we are different and that we are not treated correctly by anybody, that makes us want the administration to realize it even more and help us because we're out on a string now. There's nothing that we can do without help."
Linda Gregory, president of Parents and Friends of Lesbians and Gays, or PFLAG, was among the panelists who spoke at the meeting. She told the Blade she was hopeful that those participating in the meeting would take steps to bring about a change in the school culture toward LGBT kids.
But she said she and others familiar with Cape Henlopen schools to some degree have failed the LGBT students encountering bullying and other forms of bias.
"They don't want to hear about meetings or action plans," Gregory said. "They want to see something real happen."
Lou Chibbaro Jr. has reported on the LGBT civil rights movement and the LGBT community for more than 30 years, beginning as a freelance writer and later as a staff reporter and currently as Senior News Reporter for the Washington Blade. He has chronicled LGBT-related developments as they have touched on a wide range of social, religious, and governmental institutions, including the White House, Congress, the U.S. Supreme Court, the military, local and national law enforcement agencies and the Catholic Church. Chibbaro has reported on LGBT issues and LGBT participation in local and national elections since 1976. He has covered the AIDS epidemic since it first surfaced in the early 1980s. Follow Lou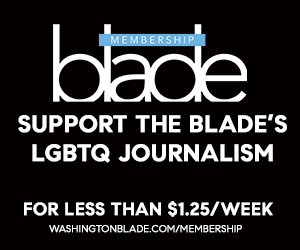 Sign Up for Blade eBlasts