Sen. Warren's new bill could give gay couples refund on back taxes
Refund Equality Act allows for reconsideration of marriages prior to DOMA ruling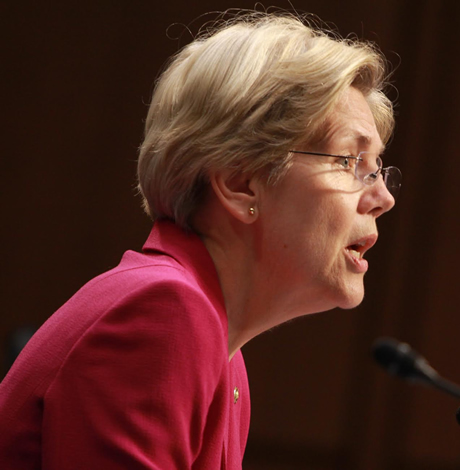 A new bill led by Sen. Elizabeth Warren (D-Mass.) in the U.S. Senate would make gay couples potentially eligible for a refund on their back taxes if they married more than three years before the U.S. Supreme Court struck down the anti-gay Defense of Marriage Act.
The legislation, called the Refund Equality Act, would same-sex couples married in places like Massachusetts, which had marriage equality before the Supreme Court decision in the Obergefell case, could file amended tax returns back to the date of their marriage.
"For nearly a decade, legally married same-sex couples had to file their taxes as single persons, often paying more taxes than they would owe if they could file as married," Warren said in a statement. "This bill is a simple fix to allow same-sex couples to claim the tax refunds they earned but were denied because of who they love."
After the Supreme Court ruled against DOMA in 2013, then-President Obama directed his administration to extend federal spousal benefits to same-sex couples to the furthest extent possible under the law. Former Treasury Secretary Jack Lew allowed married same-sex couples throughout the country — even those in states at the time without marriage equality — to file taxes jointly for the first time.
Additionally, same-sex couples could file an amended return if they feel they would've receive a refund in one or more prior tax years for up to three years in the past: 2010, 2011, and 2012. Under some circumstances, such as signing an agreement with the Internal Revenue Service to keep the statute of limitations open, these couple might have been able to seek a refund from an earlier time.
The Refund Equality Act would extend the window period for a refund further back in time. Same-sex couples could file a joint return to seek a refund dating to the time of their marriage, which in Massachusetts could be as early as 2004.
Same-sex couples who wed in jurisdictions with marriage equality more than three years before the DOMA decision — Massachusetts, Connecticut, California, Iowa, New Hampshire, Vermont, and D.C. — could be eligible for a refund under the Refund Equality Act.
According to Warren's office, an estimated $67 million in refunds could be available to married same-sex couples if the legislation becomes law.
It's possible that under some circumstances, same-sex couples would have had to pay more in taxes if DOMA weren't in place as a result of filing as married as opposed to single. Low and high-income couples can incur hefty marriage penalties — often when both spouses have similar incomes. It seems unlikely those couples would be eligible for a refund under the Refund Equality Act.
In the Senate, the legislation is co-sponsored by 30 senators — all Democrats. Among them are Senate Minority Leader Chuck Schumer (D-N.Y.), lesbian Sen. Tammy Baldwin (D-Wis.), Sen. Bernie Sanders (I-Vt.), Sen. Tim Kaine (D-Va.) and Sen. Kamala Harris (D-Calif.).
Rep. Richard Neal (D-Mass.) leads the legislation in the U.S. House, where 39 other lawmakers have co-sponsored the bill.
"All legally married couples in this country deserve to be treated equally," Neal said in a statement. "This bill would codify into law an important correction that would enable same-sex married couples to go back and claim the tax refunds and credits for which they qualify. The Supreme Court has ruled as such, and now it's time for Congress to act and make sure all Americans are treated with the fairness and equality they deserve under the law."
Read a fact sheet on the Refund Equality Act here.
Italian senators block bill to make anti-LGBTQ violence a hate crime
Advocacy group will hold protests across the country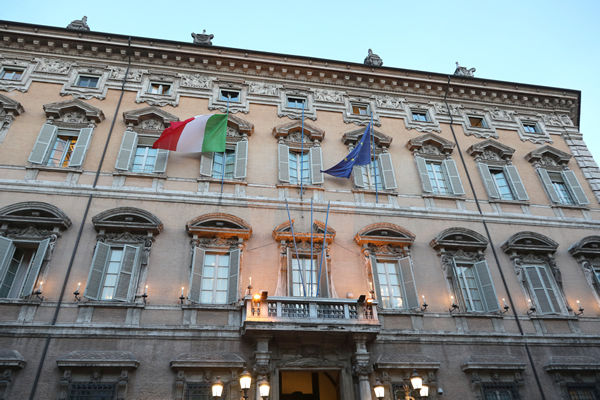 The Italian Senate on Wednesday blocked a bill that would have classified anti-LGBTQ violence as a hate crime in the country.
Senators by a 154-131 vote margin thwarted the measure that would have also classified violence against women and people with disabilities as a hate crime. The Italian Chamber of Deputies previously approved the bill, despite opposition from the Vatican and center-right political parties.
Arcigay, an Italian LGBTQ rights group, has announced it will hold a series of protests across the country on Friday.
"Now is the time for anger," said Arcigay General Secretary Gabriele Piazzoni in a press release. "Yesterday's vote will return like a curse on this political class: We will no longer be satisfied."
https://t.co/tus5tmDTm1 OMOTRANSFOBIA, LE PIAZZE SI MOBILITANO CONTRO L'AFFOSSAMENTO DEL DDL. STASERA A CUNEO, VICENZA, MILANO, ROMA, VARESE. DOMANI BRESCIA, SABATO FIRENZE, PESARO, PADOVA, MONZA, MANTOVA E PALERMO.Bologna, 28 ottobre 2021 – A seguito della votazione avvenuta … pic.twitter.com/abcVHhTBn5

— Arcigay (@Arcigay) October 28, 2021
ILGA-Europe Advocacy Director Katrin Hugendubel also condemned the vote.
"It is sad and extremely worrying to see the Italian Senate saying no to better protection against hate for women, LGBTI people and disabled people," said Hugendubel in a tweet. "Have you asked yourselves what signal that sends to haters and more importantly to the concerned communities?"
It is sad and extremely worrying to see the Italian Senate saying no to better protection against hate for women, LGBTI people and disabled people. Have you asked yourselves what signal that sends to haters and more importantly to the concerned communities? https://t.co/dr2s3QT8dO

— Katrin Hugendubel (@khugendubel) October 28, 2021
Activists demand ICE release transgender, HIV-positive detainees
Protest took place outside agency's D.C. headquarters on Wednesday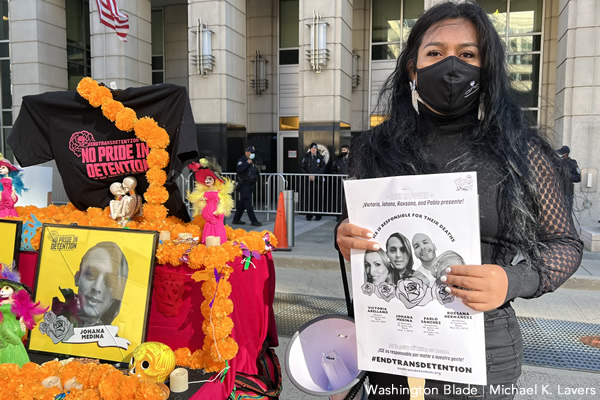 Jessycka Ckatallea Letona is an indigenous transgender woman from Guatemala who fled persecution in her homeland because of her gender identity.
She asked for asylum in the U.S. in 2016 when she entered the country in Eagle Pass, Texas.
Ckatallea on Wednesday told the Washington Blade that U.S. Immigration and Customs Enforcement officials placed her in a pod with 70 men at a privately-run detention center in Florence, Ariz. She also said personnel at another ICE detention center in Santa Ana, Calif., ridiculed her because of her gender identity and forced her to strip naked before she attended hearings in her asylum case.
Ckatallea spent a year and eight months in ICE custody before her release. She won her asylum case and now lives in the San Francisco Bay Area.
"It was a very traumatic experience," said Ckatallea as she spoke with the Blade in front of ICE's headquarters in Southwest D.C. "I came to a country thinking that it would take care of me, that it would protect me because of my gender identity."
Ckatallea is one of the more than a dozen immigrant rights activists who participated in a protest in front of ICE's headquarters that Familia: Trans Queer Liberation Movement, Immigration Equality and the End Trans Detention campaign organized. Ckatallea, Immigration Equality Executive Director Aaron Morris and other protest participants demanded ICE immediately release trans people and people with HIV/AIDS from their custody.
The groups placed on the sidewalk in front of the building a Day of the Dead "ofrenda" to honor three trans women—Victoria Orellano, Roxsana Hernández and Johana "Joa" Medina León—who died in ICE custody or immediately after their release. The "ofrenda" also paid tribute to Pablo Sánchez Gotopo, a Venezuelan man with AIDS who died in ICE custody on Oct. 1.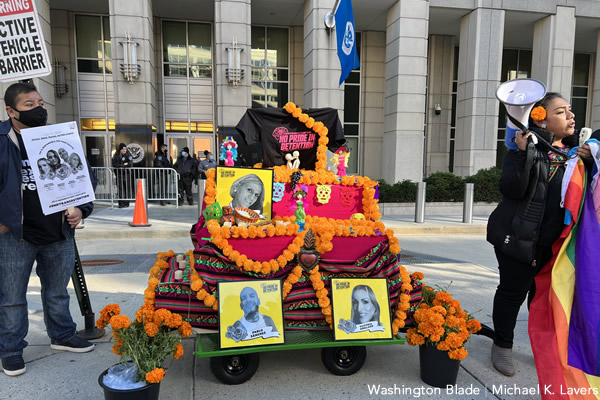 Ckatallea, Morris and the other protesters approached the building's entrance and presented security personnel with a petition that calls upon President Biden and Homeland Security Secretary Alejandro Mayorkas to "immediately release all transgender people, people living with HIV, and people with medical conditions from ICE custody."
ICE has repeatedly defended its treatment of trans people and people with HIV/AIDS who are in their custody.
The Blade in July 2020 interviewed a person with HIV who was in ICE custody at the Adams County Detention Center, the same privately-run facility in which Gotopo was held until his hospitalization. The person with whom the Blade spoke described conditions inside the detention center as "not safe" because personnel were not doing enough to protect them and other detainees from COVID-19.
Congressman Mike Quigley (D-Ill.) is among the dozens of lawmakers who have called for the release of all trans people and people with HIV/AIDS from ICE custody. The Illinois Democrat on Tuesday reiterated this call during a virtual briefing that Familia: Trans Queer Liberation Movement, Immigration Equality and the End Trans Detention Campaign organized.
"ICE's clear inability to do better leads me to seek to end of ICE's detention of all trans migrants," said Quigley. "During both the Trump and Biden administration I led dozens of my colleagues to demand that ICE release transgender detainees and end its practice of holding trans migrants in custody. We had hoped that things would change with the new administration, so far I'm disappointed."
Congresswoman Pramila Jayapal (D-Wash.) also participated in the briefing alongside Immigration Equality Legal Director Bridget Crawford and Sharita Gruberg of the Center for American Progress and others.
17th Street High Heel Race draws large crowd
D.C. Mayor, three Council members, police chief mingle with drag queens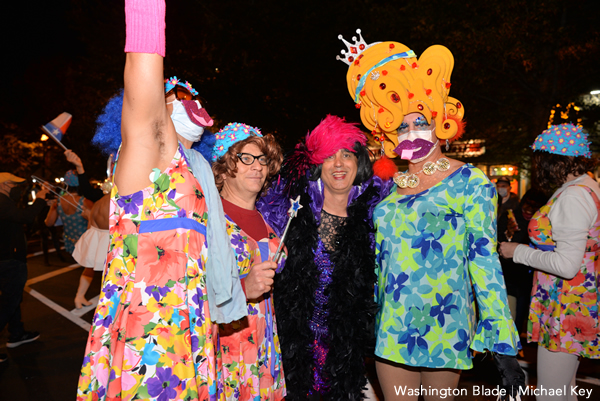 Close to 1,000 spectators turned out Tuesday night to watch D.C.'s 34th Annual 17th Street High Heel Race in which several dozen men dressed in drag and wearing colorful high heel shoes raced along a three-block stretch of 17th Street near Dupont Circle.
As she has in past years, D.C. Mayor Muriel Bowser, whose office organizes the annual event, gave the official signal for the runners to start the race from a stage at the intersection of 17th and R streets, N.W.
Joining the mayor on the stage was Japer Bowles, who Bowser recently named as director of the Mayor's Office of LGBTQ Affairs, which plays the lead role in organizing the High Heel Race.
Also appearing on stage after being introduced by Bowser were D.C. Council Chair Phil Mendelson (D-At-Large) and Council members Robert White (D-At-Large) and Brooke Pinto (D-Ward 2).
Bowser, who along with the three Council members delivered brief remarks before the start of the race, said the event highlights the city's diversity and resilience coming after over a year of coping with the COVID-19 pandemic.
"What we want the world to know – that even in a pandemic, even when we had to trim the budget, we stayed focused on how we can make life better for our LGBTQ community," Bowser told the crowd. "And we're going to keep on doing it," she said. "We're investing in making sure everybody in our community is accepted and safe."
D.C. Police Chief Robert Contee, who walked along the three-block section of 17th Street before the race began, was greeted warmly by bystanders, some of whom called out his name to welcome him to what has become the city's largest Halloween celebration.
"This is a great event," Contee told the Washington Blade. "I enjoy coming out to be among D.C. residents and all who find our D.C. culture," he said. "It's just a great evening, so we're happy to be out here supporting our community."
Members of the D.C. police LGBT Liaison Unit were among the police contingent on duty at the event and overseeing the closing of the streets surrounding 17th Street.
Like past years, many of the race participants and dozens of others dressed in Halloween costumes paraded up and down 17th Street beginning at 6:30 p.m., more than two hours before the start of the race, which was scheduled to begin at 9 p.m.
However, the mayor this year gave the signal to start the race at about 8:35 p.m. Although a large number of drag runners participated in the race, some who planned to join the race didn't make it to the starting line in time because they expected the race to begin at 9 p.m. as advertised, according to people in the crowd who knew those who missed the race.
To ensure that everyone had an opportunity to participate, Bowles and others from the mayor's office agreed to hold a second race about a half hour after the first one. The number of participants in the second race appeared to be about the same as those who joined the first race, indicating many of the drag participants ran twice.
"This is a special treat," said one bystander. "We got to see two races instead of one."
The High Heel Race was cancelled last year due to restrictions related to the COVID pandemic. Many in the crowd watching the race on Tuesday night said they were delighted the city decided to go ahead with the event this year at a time when other large events continue to be canceled or postponed.
Also similar to past years when the High Heel Race took place, the restaurants and bars that line 17th Street were filled on Tuesday night, including the gay bars JR.'s and Windows as well as the longtime LGBTQ-friendly Annie's Paramount Steakhouse.
Prior to the mayor's arrival, gay local radio and TV personality Jimmy Alexander of DCW 50 TV served as host to a drag show and costume contest on the stage. DCW 50 also set up and hosted a separate stage on the sidewalk next to JR.'s bar in which race participants and others dressed in costumes were invited to have their pictures taken and provided with copies of the photos of themselves.
"I think it's amazing," Bowser told the Blade after the completion of the first race. "It's good to be back. It was tough missing a year of activities," she said referring to the business shutdowns brought about by the pandemic. "We had a lot of great, beautiful racers. And so, I'm really excited about it."
To see more photos from this event, click here.