July 14, 2017 at 10:28 am EDT | by Kathi Wolfe
Putting their bodies on the line to fight ACA repeal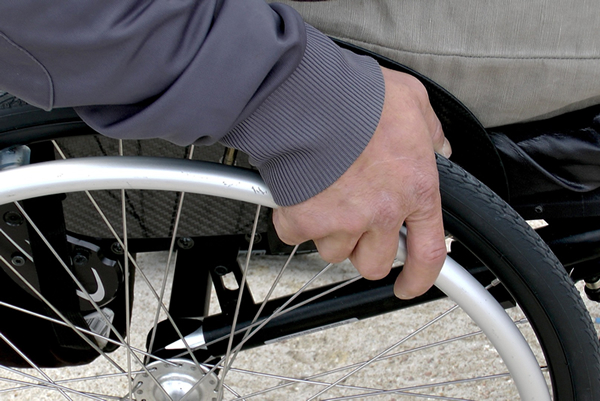 "The bruises started appearing this morning and I imagine my arm will be covered in pretty colors over the next few days," Anita Cameron, 52, a member of the national disability rights group ADAPT, who's "proud" to be a "disabled Black lesbian" recently emailed me.
Cameron, along with other ADAPT members, hetero and LGBTQ, has been protesting the Republican effort to repeal the Affordable Care Act. To her, as is the case with so many who are disabled, elders, low income, LGBTQ — in any way vulnerable — health care isn't a policy issue: It's a matter of life or death.
Like ACT-UP members during the AIDS epidemic, ADAPT activists have been putting their bodies on the line. They've been engaging in civil disobedience, getting roughed up by the police and arrested to protest the Republicans' devaluation of their lives. As I write, ADAPT members from D.C., Maryland and Louisiana are protesting outside the Republican National Committee headquarters. I've just heard that the RNC isn't letting them in.
ADAPT members (many in wheelchairs, others with conditions from learning disabilities to diabetes) and their allies from children to elders have staged sit-ins and protests in Senate offices in more than 20 states from New York to Ohio to Colorado. Last month, 43 ADAPT advocates were arrested when they held a "die-in" to protest the health care bill outside Senate Majority Leader Mitch McConnell's (R-Ken.) Capitol Hill Office.
Why are they willing to literally put their bodies on the line? To be arrested – to have police drag them out of their wheelchairs? Because the Republican health care bill contains $800 billion in Medicaid cuts. For people with disabilities these cuts would be devastating.
Medicaid enables people with disabilities to have more than the medical care and the medications they need. It provides "basic home and community services."  This means if you have a disability and need help getting dressed or with other personal care, Medicaid enables you to not only to get the help you need but to live at home in your community – instead of in an institution. These services would likely be eliminated if the Republican law is passed.
Obamacare expanded Medicaid to include more than 14 million people. If the Republican repeal effort is adopted, millions of people with disabilities – from severely disabled children to elders – would lose their Medicaid.
You may think this doesn't matter to the LGBTQ community. But as a visually impaired lesbian, I'm here to tell you that it does. One in five Americans has a disability, according to the U.S. Census Bureau, and we're every color, sexuality and gender on the rainbow.
Cameron was among those arrested when ADAPT protested in U.S. Sen. Rob Portman's (R-Ohio) office in Columbus. "The police grabbed me by an arm and leg and dragged me from the building," she said.
Cameron isn't only blind. She has multiple sclerosis, diabetes and congenital cerebellar ataxia.  "I just got on Medicaid a few days ago, and I am terrified that I will lose it if the Better Care Reconciliation Act [the Senate health care bill] or anything similar to it passes," Cameron said.
If she loses her Medicaid, "I will be hospitalized and I will be placed in an institution, which will hasten my death," she said. "This bill will kill people with disabilities, especially poor folks and seniors, particularly in communities of color and in the LGBTQ community."
Priya Penner, who is queer, has participated in ADAPT protests in Columbus, Ohio and Rochester, N.Y.
"Medicaid means I can have my $35,000 wheelchair, I can attend Syracuse University — that I am able to have a future that includes a career in law and perhaps, children and a family," Penner emailed the Blade.
Kudos to ADAPT! For some, health care is just political spin or a worry for others. For people with disabilities, it's a personal and frightening reality.
Kathi Wolfe, a writer and a poet, is a regular contributor to the Blade.