McCain sour over Trump's declaration of trans military ban
Senate Armed Services Committee chair pledges oversight over change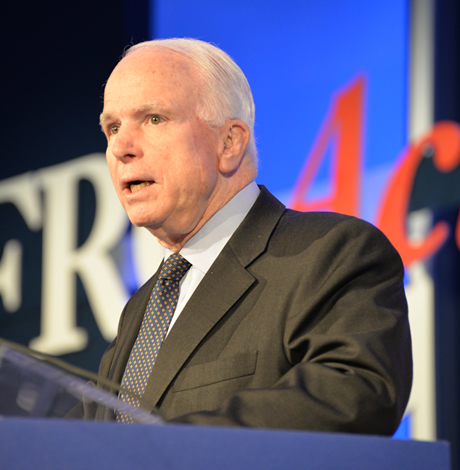 Senate Armed Services Committee Chair John McCain (R-Ariz.) criticized President Trump's announcement on Wednesday that he intends to ban transgender people from the U.S. military.
McCain, who recently returned to the Senate after being diagnosed with brain cancer, said Trump's series of tweets declaring the change are "yet another example of why major policy announcements should not be made via Twitter."
"The statement was unclear," McCain said. "The Department of Defense has already decided to allow currently-serving transgender individuals to stay in the military, and many are serving honorably today."
Amid questions about whether transgender people currently serving in the armed forces will be allowed to stay, McCain said his view is they shouldn't be expelled.
"Any American who meets current medical and readiness standards should be allowed to continue serving," McCain said. "There is no reason to force service members who are able to fight, train, and deploy to leave the military — regardless of their gender identity. We should all be guided by the principle that any American who wants to serve our country and is able to meet the standards should have the opportunity to do so—and should be treated as the patriots they are."
McCain stopped short of saying he supports transgender military service, deferring to the review Defense Secretary James Mattis is currently conducting at the Pentagon.
"The Department of Defense is currently conducting a study on the medical obligations it would incur, the impact on military readiness, and related questions associated with the accession of transgender individuals who are not currently serving in uniform and wish to join the military," McCain said. "I do not believe that any new policy decision is appropriate until that study is complete and thoroughly reviewed by the Secretary of Defense, our military leadership, and the Congress."
In the meantime, McCain said he'd "continue to follow closely and conduct oversight on the issue of transgender individuals serving in the military."
It should be noted in 2010 McCain was a leading opponent in the Senate of "Don't Ask, Don't Tell" repeal. As the Pentagon was reviewing the possibility at the time of allowing openly gay people to serve, McCain complained the study was off-base and should have asked service members if they want the change. On the day the Senate voted to repeal "Don't Ask, Don't Tell," McCain said on the Senate floor the occasion was a "sad day."
McCain isn't the only high-ranking Senate Republican to criticize the trans ban. Sen. Orrin Hatch (R-Utah) tweeted out support for transgender people in his state on the day Trump banned them from military service.
In response to a tweet from an individual asking Utah's congressional delegation whether they support transgender Utahns, Hatch on Twitter replied, "Yes."
Yes. https://t.co/HRHwabbPQn #utpol

— Senator Hatch Office (@senorrinhatch) July 26, 2017
In a statement to the Washington Blade, Hatch confirmed that tweet was in reference to Trump's new ban on transgender military service.
"I don't think we should be discriminating against anyone," Hatch said. "Transgender people are people, and deserve the best we can do for them. I look forward to getting much more information and clarity from our military leaders about the policy the President tweeted today."
Hatch and McCain are both among the 10 Senate Republicans in 2013 who voted in favor of the Employment Non-Discrimination Act. However, Hatch insisted on a broad religious exemption in the legislation as well as President Obama's 2014 executive order barring anti-LGBT workplace discrimination among federal contractors. Hatch got his way on ENDA, although it didn't make it into law, but not the executive order.
Two arrested for lesbian couple's murder, dismemberment in Mexico border city
Julissa Ramírez and Nohemí Medina Martínez killed earlier this month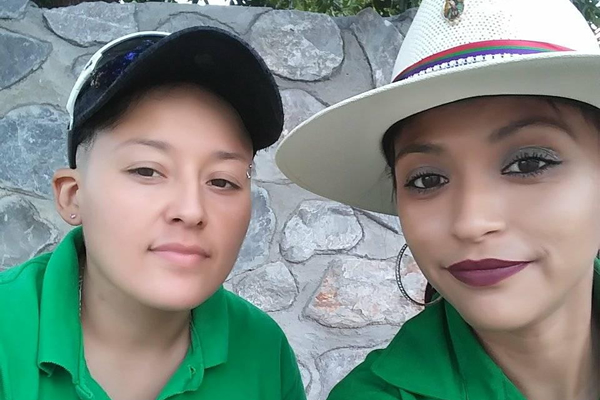 Two people have been arrested in connection with the murder and dismemberment of a lesbian couple in the Mexican border city of Ciudad Juárez.
The Chihuahua Attorney General's Office on Tuesday announced authorities arrested a 25-year-old woman and a 24-year-old man and charged them with aggravated femicide.
Authorities on Jan. 16 found the dismembered body parts of Julissa Ramírez and Nohemí Medina Martínez in plastic bags that had been placed along the Juárez-El Porvenir Highway. The Chihuahua Attorney General's Office in a press release notes the suspects murdered Ramírez and Medina in a house in Ciudad Juárez's San Isidro neighborhood on Jan. 15.
Ciudad Juárez, which is located in Mexico's Chihuahua state, is across the Rio Grande from El Paso, Texas.
Members of Comité de la Diversidad Sexual de Chihuahua, a local LGBTQ rights group, and Chihuahua Gov. María Eugenia Campos Galván are among those who have expressed outrage over the women's murders. Activists have also urged local and state authorities to investigate whether the murder was a hate crime based on Ramírez and Medina's sexual orientation.
Local media reports said nine women — including Ramírez and Medina — were killed in Ciudad Juárez from Jan. 1-15.
Va. Senate subcommittee tables anti-transgender student athlete bill
Virginia Beach Republican introduced SB 766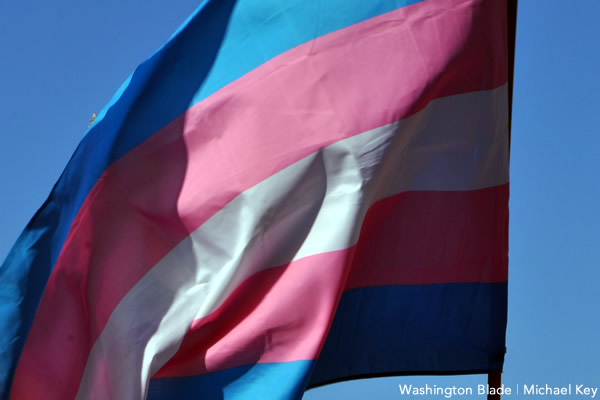 A Virginia Senate subcommittee on Thursday tabled a bill that would have banned transgender students from joining school sports teams that are consistent with their gender identity.
Senate Bill 766, which state Sen. Jennifer Kiggans (R-Virginia Beach) introduced on earlier this month, would have required "each elementary or secondary school or a private school that competes in sponsored athletic events against such public schools to designate athletic teams, whether a school athletic team or an intramural team sponsored by such school, based on biological sex as follows: (i) 'males,' 'men,' or 'boys'; (ii) 'females,' 'women,' or 'girls'; or (iii) 'coed' or 'mixed.'"
"SB 766 (trans sports ban) was passed by indefinitely (it died!) after a long line of speakers testified against it, affirming trans students' rights to participate in sports just like their cisgender peers," tweeted the American Civil Liberties Union of Virginia after the vote. "Trans students belong in sports. Period."
Republican Gov. Glenn Youngkin during his campaign said he does not support allowing trans children to play on sports teams that are consistent with their gender identity.
The General Assembly's 2022 legislative session began on Jan. 12 with Republicans in control of the House of Delegates. Democrats still control the Senate by a 21-19 margin.
A bill that would have eliminated the requirement that school districts implement the Virginia Department of Education's trans and non-binary student guidelines died in a Senate subcommittee on Thursday. The Senate General Laws and Technology on Thursday also tabled a religious freedom measure that would have undermined Virginia's LGBTQ-inclusive nondiscrimination law.
Two anti-LGBTQ bills die in Va. Senate
Democrats maintain 21-19 majority in chamber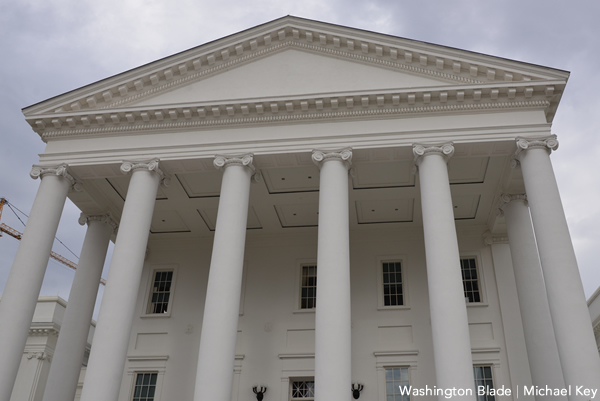 Two anti-LGBTQ bills died in the Virginia Senate on Thursday.
A Senate Education subcommittee voted against state Sen. Travis Hackworth (R-Tazewell County)'s Senate Bill 20, which would have eliminated the requirement that school districts must implement the Virginia Department of Education's transgender and non-binary student guidelines.
The Senate General Laws and Technology Committee in an 8-7 vote tabled state Sen. Mark Peake (R-Lynchburg)'s Senate Bill 177, a religious freedom measure that critics contend would have allowed anti-LGBTQ discrimination in housing.
Virginia's statewide nondiscrimination law includes sexual orientation and gender identity. Peake's bill would have removed "the provision of the exemption for religious organizations under the Virginia Fair Housing Law that denies such exemption where the membership in such religion is restricted on account of race, color, national origin, sex, elderliness, familial status, sexual orientation, gender identity, military status, or disability."
The General Assembly's 2022 legislative session began on Jan. 12 with Republicans in control of the House of Delegates. Republican Gov. Glenn Youngkin took office three days later.
Democrats, who maintain a 21-19 majority in the state Senate, have vowed to block any anti-LGBTQ bill.