Keegan Theatre's 'Big Fish' steeped in both reality and fantasy
Amusing show marred by clunky script, over-the-top fantasy sequences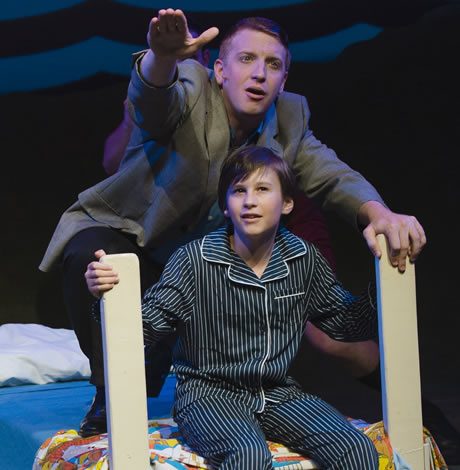 'Big Fish' 

Through Sept. 9

Keegan Theatre

1742 Church St., N.W.

$45-55

202-265-3767
"Big Fish" is a musical steeped in reality and fantasy. And now Keegan Theatre is tackling both aspects with varying degrees of success.
For as long as Will (Ricky Drummond) can remember, his father Edward Bloom (Dan Van Why) has told outlandish tall tales. When Will was a kid it was OK, but now that he's starting a family of his own he'd like to know his father's authentic story. Learning that time is increasingly of the essence, Will revisits both his father and his litany of wild stories in search of the truth.
With music and lyrics by Andrew Lippa and book by John August, "Big Fish" is based on Daniel Wallace's novel and Tim Burton's 2003 screen adaptation. Like the movie, this show doesn't unfolds linearly. It's the eve of Will's wedding. The groom and his bride, preternaturally upbeat Josephine (Allie O'Donnell), both New York-based journalists who met in Baghdad, have traveled to the Will's native Alabama to tie the knot. Prior to the festivities, Will asks Edward to refrain from telling any anecdotes and jokes, or making toasts of any kind. While Edward reluctantly agrees, it's a promise the inveterate storyteller can't possibly keep.
Will's request to cease the verbal madness prompts a return to his childhood bedroom where Edward is regaling Young Will (Erik Peyton) with a bedtime story about the time he met a witch (an excellent Kathy McManus) who foretold his death. More stories include running off to join the circus and another involving the relentless pursuit of his then future wife. Edward's tales are crowded with fairytale stock characters: witch, friendly giant, lovely damsel and rival numbskull Don Price played Eiten Mazia.
Lippa's songs are a mix of Broadway and Nashville. Despite some awkward lyrics "Sometimes he's like a tank of laughing gas/sometimes he's a pain in the ass," it's a melodic score sung pleasantly and charmingly delivered by Van Why as Edward. And as smart yet puzzled Will, Drummond is an adequate singer but his acting chops make up for any shortcomings in that area. In the role of Edward's patient wife Sandra, Eleanor Todd gives a gorgeous rendition of a love song titled "I Don't Need a Roof" and proves the show's ultimate standout.
Co-directors Mark A. Rhea and Colin Smith's staging is occasionally stolid, but despite that and August's often clunky script, they've brought out the piece's humor and some poignancy. And "Big Fish" is a family friendly. Perhaps too family friendly — fantasy segments have the feel of a production geared toward children and tend to drag. Slices of reality fare much better.
Using photographic and animated projections, Patrick Lord sets scenes with Manhattan cityscapes, rural landscapes and firefly-lit forests. Unfortunately, the intimate stage is bordered by yards and yards of distracting sheeting hung with ivy. Craig Miller's makeup and hair helps enormously in bringing the musical's more shocking characters to life. McManus' wild white witch fright wig is terrific. The bearded lady's (also McManus) full, dark whiskers are perfect. To play the giant, already very tall Grant Saunders is entirely transformed with long dark hair and bushy beard and made more towering atop enormous platform shoes.
The by far more interesting and revealing second act moves swiftly. When illness touches the family, Will digs deeper into Edward's past. Unexpectedly he comes across instances when his father acted quietly and selflessly. And as Will moves forward, more and more, what's true and what isn't, becomes less and less important. And love steps to the fore.
Signature's acclaimed music director tackles 'Sweeney Todd'
Kalbfleisch excited to conduct 15-piece orchestration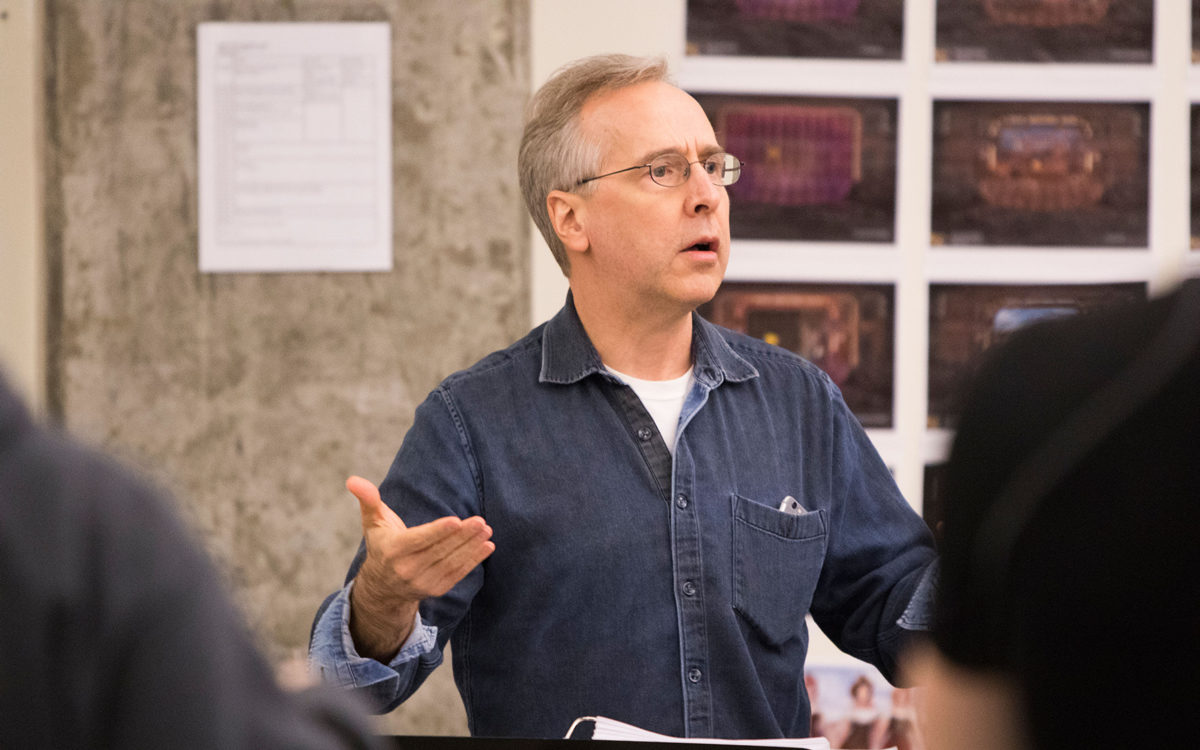 'Sweeney Todd'
Through July 9
Signature Theatre
4200 Campbell Ave.
Arlington, Va. 22206
$40-119
Sigtheatre.org
Typically, music directors play second fiddle to directors. "That's just how it is in theater," says Jon Kalbfleisch, longtime resident music director at Signature Theatre. "It's different with opera. But those audiences have altogether different expectations."
For the hugely talented Kalbfleisch, vying for attention has never been a concern. With 10 Helen Hayes Awards and an astounding 30 nominations under his belt, he's had his time in the limelight, and more importantly, the out music director is focused on the work.
Currently he's music directing his fourth production of composer Stephen Sondheim's "Sweeney Todd" at Signature Theatre and he couldn't be happier. He counts the famously hard to sing "Sweeney" as both his favorite Sondheim show and among his all-time favorite scores overall. He says "like all Sondheim shows it has a lot of challenges, the ensemble stuff is particularly hard and the finale is really tricky. When it goes perfectly though, it's wonderful."
A tale of revenge soaked in melodrama and dark humor, the 1979 hit musical set in grubby 19th century London is rife with memorable numbers including "The Worst Pies in London," "A Little Priest," "Johanna" and "Not While I'm Around." In Signature's current offering directed by Sarna Lapine, Sweeney, the disgruntled, murderous barber, and his ruthless pie-making accomplice Mrs. Lovett are played respectively by Broadway actors Nathaniel Stampley and Bryonha Marie.
Kalbfleisch first music directed "Sweeney" (Signature's first ever musical) in 1991 at the company's then home, the Gunston Arts Center in Arlington; his second Signature "Sweeney" starring Norm Lewis and Donna Migliaccio was in 1998 at Signature's legendary garage space; and there was a third production in the MAX Theatre, their top-notch permanent home in Shirlington in 2010 with Ed Gero and Sherri L. Edelen.
"What makes the current production unique," explains Kalbfleisch, who lives just a short walk from Signature, "is a 15-piece orchestration that Jonathan Tunick [famed longtime Sondheim collaborator] did for a production in the UK. When Tunick takes his own work and makes it for a small ensemble it feels utterly complete. The way he redid it, it doesn't feel smaller than the original."
Long before the cast convenes, Kalbfleisch begins his preparation, attacking a score as if he's never seen it before. For several weeks, he rehearses the orchestra, ensemble, and leads separately and together. Once the show opens, he conducts the 15-piece orchestra at every performance. Arduous? Maybe. But he enjoys every moment.
A meticulous professional prone to generous laughter, Kalbfleisch's first love is piano, but conducting runs a close second. He says "the opportunity to stand up and conduct 15 players with the terrific cast of 'Sweeney' that we have right now I'm in a very happy place."
Like many talented young pianists, the Lawton, Okla., native was recruited into musical theater: "My high school's choir director said you're going to be my accompanist. Similarly, my band director volunteered me to play piano for the school music 'You're a Good Man Charlie Brown' I had little choice."
"The experience was lots of fun, but it never occurred to me that it would be a big part of my career."
He studied classic piano at Cameron University in Oklahoma, and went on to earn a Master of Music, at Southern Methodist University in Dallas. It was in Texas that he really dipped his toe into music direction at a small professional theater with shows like "Pirates of Penzance" and a fully orchestrated "A Chorus Line."
Over his more than 30-year tenure at Signature, Kalbfleisch has music directed 33 Sondheim musicals. As an integral part of Signature, a Tony Award-winning regional theater, he's had the chance to collaborate with Broadway luminaries including Sondheim, Angela Lansbury, Chita Rivera, and Tunick. He's humbled and happy by the way things have worked out.
Looking forward, Kalbfleisch is ready for more pared down, big music Sondheim shows. He says, "Matthew [Matthew Gardiner, Signature's artistic director] is very appreciative of the music and keen on maintaining doing shows with as big of an orchestra that we can manage."
He's a terrifically busy guy. In addition to his work at Signature, Kalbfleisch is – among a zillion other things — the conductor of his hometown Lawton Philharmonic Orchestra and serves as the music director and organist at Capitol Hill United Methodist Church.
Sundays can be complicated. They might include church service, a matinee, and an evening performance. When his schedule is tight, it's just eating, sleeping, and working and not much else.
And when "Sweeney" closes in July? Kalbfleisch says he'll drop. Until the next job.
Arena's 'Exclusion' is a piece of art about art
Majority Asian production features intelligent performance by Karoline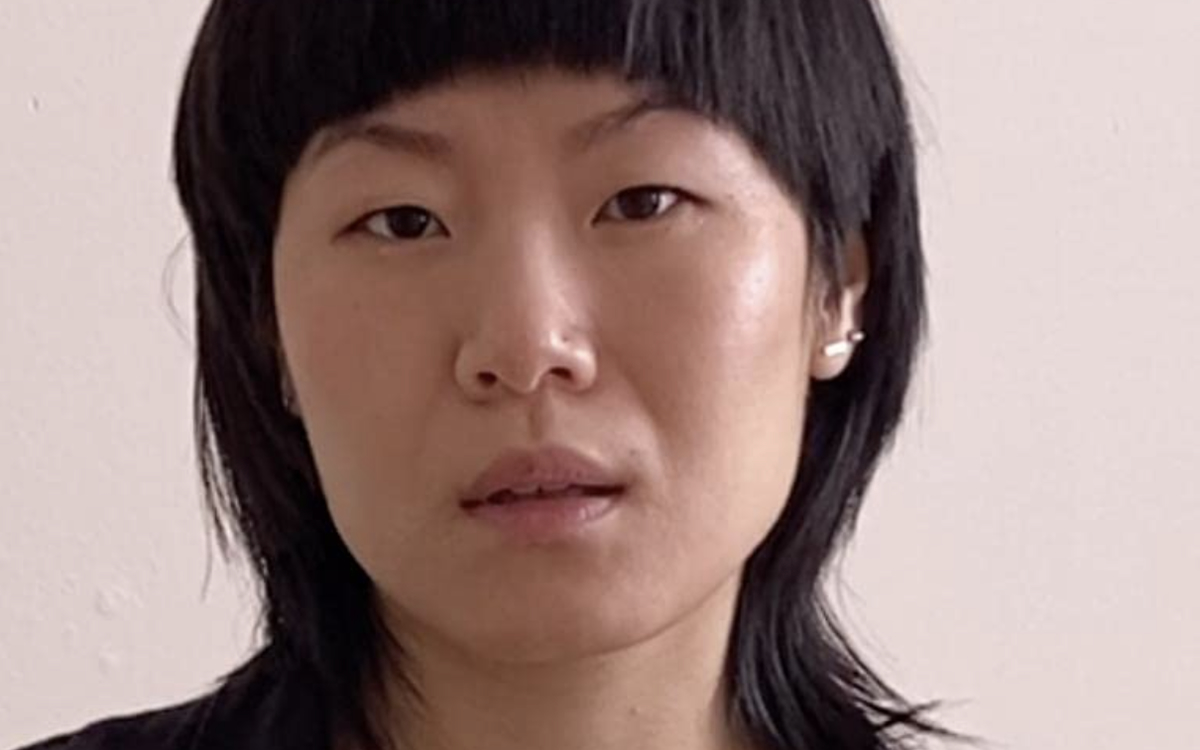 'Exclusion'
Through June 25 
Arena Stage
1101 Sixth St., S.W.
$56-95
Arenastage.org
When Asian-American historian Katie's best-selling book about the racist Chinese Exclusion Act of 1882 is optioned for a mini-series by a Hollywood mogul, she couldn't happier. However, artistic and commercial visions clash and things go awry. This is the premise of Ken Lin's new comedy "Exclusion" now at Arena Stage.
Katie is played by Karoline, the mononymously named New York-based actor who brings intelligence and energy to every role they tackle.
"I'm similar to Katie — honest to a fault, optimistic, both strong and naïve," says Karoline, 28. "For me, the challenge is watching Katie choose yes or no at every turn. Should she address what's coming at her with truth or not? Or hide what she's thinking? My struggle in life has been similar. How do I stay true and at the same time get what I want in a corrupt world."
When asked to be part of "Exclusion's" early development, Karoline was unsure: Doing a piece of art about art can be tricky. But they soon changed their mind.
"The workshop changed my life. I got into the room and it was majority Asian. Seeing Ken [Lin] talk about coming back to theater and about being able to write about Asian people with a play that's ostensibly a comedy and obviously super personal, drawing from his life and what he's learned from colleagues."
Karoline describes their experience with anti-Asian racism as more microaggressions. "I don't have people point at me saying 'you're a chink.' It's been subtler versions of that."
As a stage actor, they've had an activist history, taking complaints of racism to a company's board, a move that can be contentious. Typically, it's preferred actors "be grateful, listen and interpret, and not speak up."
When a respected mentor later asked Karoline whether they wanted to be an actor or an activist, they didn't understand why it had to be mutually exclusive. "I was too young to say it could be both. Now it depends on the situation. Maybe both in theater because I have more of a career there. But in TV, I don't know."
Karoline was born in Shanghai and grew up in South Texas where they had little exposure to the arts. After graduation from a pre-med magnet high school (with no intention of a career in medicine), they headed off to Harvard on full scholarship: "I showed my family that I can be smart, but I was going to do my own thing."
They took a gap year from Harvard to train at Atlantic Acting School, then went to apprentice at Actors Theatre of Louisville. Weeks after moving to New York they were cast as closeted lesbian Bo in Tom Stoppard's "The Hard Problem" at Lincoln Center Theater.
"I've played more than one lesbian in my career," says Karoline with a chuckle. In the fall, they can be seen in the entire first season of "Death and Other Details" (Hulu) as a very rich lesbian heiress, a darkly funny role.
"It seems when you're Asian, you're expected to talk about your parents' accents or dumplings," they add. "The narrative is vivid and bright. I wanted to do classical theater so my work could speak about everything else. From the start, I was ready to do the work, and hoped to have a long career that included many different things."
Not long ago, Karoline shed their surname owing to a difficult childhood and a feeling of estrangement from their family. "It's unusual, especially for Asian Americans, but after some self-healing and thinking, I decided I didn't need it. Now I feel a lot freer."
And there have been other changes in addition to their last name including coming out as queer and sharing their gender identity. This is the first year they've only used "they" pronouns.
"When you're queer, I believe you're always queer even if you're not in a queer relationship. I think of my character like that. In this space and time, Katie's with a man but that doesn't mean that's the whole conversation about this person.
"For me, playing Katie in 'Exclusion' has been a huge vote of confidence. Sometimes it takes someone writing something wonderful and casting you for you to know where you need to be."
'one in two' lets audience choose which parts actors must play
'Pose' actor Ryan Jamaal Swain says approach 'keeps you on your toes'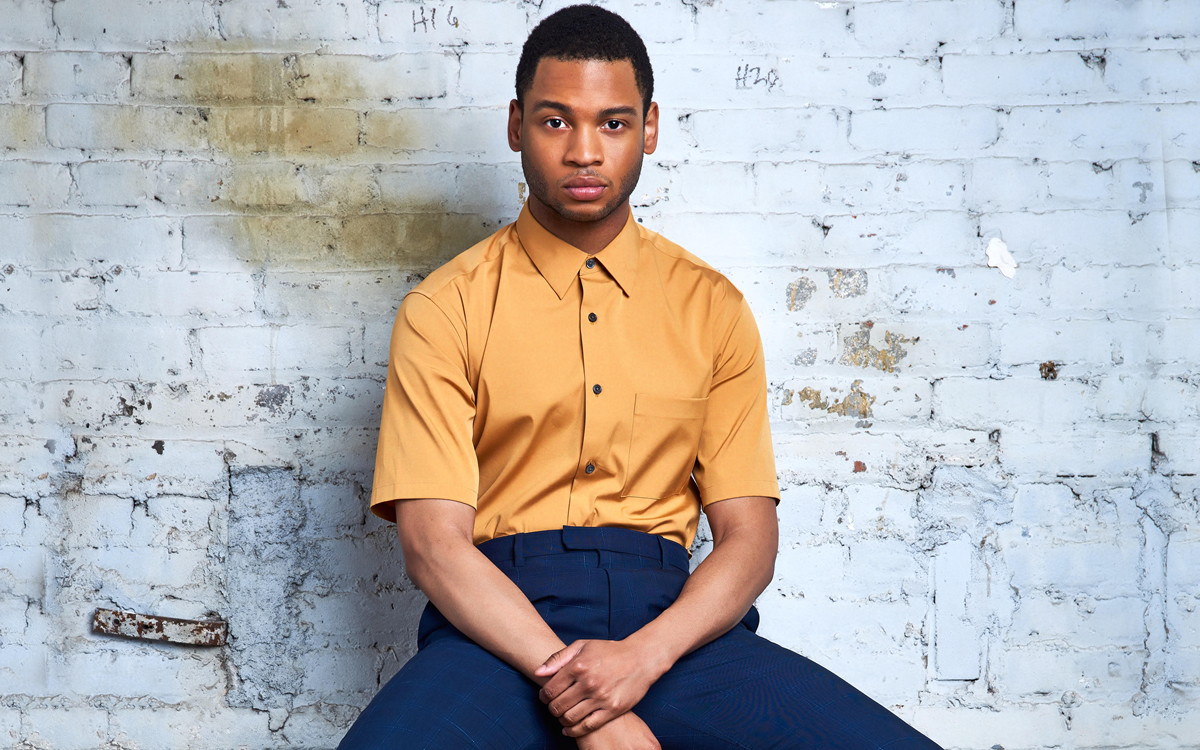 'one in two' 
June 1-25 
Mosaic Theater Company at Atlas Performing Arts Center
1333 H St., N.E.
$29-$64
Mosaictheatre.org
Out actor Ryan Jamaal Swain is best known for having played homeless dancer Damon, on FX's "Pose," the popular queer series revolving around ball culture in late 1980s New York. Along with television, Swain has a great love for theater. And now in a homecoming of sorts, the Howard University graduate is at Mosaic Theater for the area premiere of "one in two," playwright Donja R. Love's play inspired by his own HIV diagnosis and the resilience of the LGBTQ community.
In addition to Swain, 29, the cast features queer actors Justin Weaks and Michael Kevin Darnall (both of whom recently a finished Arena's production of "Angels in America"). Raymond O. Caldwell directs.
The audience is invited to choose which of three parts each actor must play for each performance.
WASHINGTON BLADE: A different part every night! That's a lot.
SWAIN: Yes, honey. But learning three tracks keeps you on your toes. It's one of those things. When I first sawthe world premiere in New York, I thought it was a gimmick but it's not. For me, I'm always looking for the next challenge. What will expand my prowess. With "one in two," the work kept coming across my desk so when the opportunity came up to come back to D.C. [Swain's currently based in New York] with a director I knew, I took it.
BLADE: Where and when does "one in two" take place?
SWAIN: Different places: bar, home, doctor's waiting room. Time wise, it's set in "now/until." The central character is a gay man who anchors the play and the others are various characters he finds on his hero journey. I won't tell you who they are, you'll need to come to the show to learn that.
BLADE: With "Pose," the time and place were very specific.
SWAIN: Yes, the end of the '80s in New York.With any type of queer stories, especially when you want to tell them with love and integrity there's a lot of conversation when you acknowledge a generation of unsung heroes. I stand on their shoulders to be able to do what I do.
BLADE: After graduating from Howard, your journey out of D.C. was swift.
SWAIN: Yes, it was. I left D.C. immediately following my graduation from Howard. I graduated May 7, 2016, went back home to Birmingham, Ala., exhausted my graduation money, and decided to make my own hero's journey and moved to New York. After three or four months, "Pose" came knocking on my door. I booked it and pretty much got started.
BLADE Did TV change your life?
SWAIN TV and film ask you to juggle more than just being a good actor. Publicity, image, etc. There are so many more eyes on you.
BLADE: And how did you handle it?
SWAIN: I come from a family that's not afraid to show when you've made a mistake. I was brought up to look at failures as lessons. It was a lot. I was just 22 at that time. Taught me a lot about who I am and who I will become. How to focus and work under duress.
I like TV and film but I will always make space for theater in my career. Makes me anchor back into self.
BLADE: When did you come out?
SWAIN: I came out to a friend at Howard. I sat her down in the cafeteria and invited her into my life. I don't believe in coming out per se. I think it's your right to fully welcome people into your life. She already knew, of course.
Also, while studying acting in Britain, I did a one-man show about queer poet Langston Hughes. Moving through his journey gave me the strength to have my own voice. Finding other queer folks gave me the strength to live my own story.
BLADE: How has your experience at Mosaic been?
SWAIN: Great. When deciding to do the part I had deep conversation with Reginald Douglas and Serge Seiden [Mosaic's artistic and managing directors, respectively]. I'm hungry about communication, collaboration and community. Mosaic does that. And they do it wrapped up in integrity and love.