September 6, 2017 at 2:55 pm EDT | by Peter Rosenstein
Do congressional Republicans have any cojones?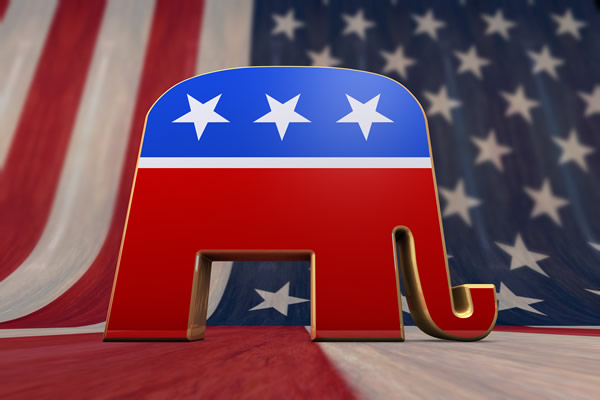 What we need now are a few Republican members of Congress to show they have some cojones. If they do and join with Democrats to stand up to the national embarrassment currently residing in the White House things could get done. If not enough of them have this vital body part and instead follow in lock step with the president we will continue to see the nation move backwards.
Congress is returning from vacation, surely some thought it was hard earned but I question if they did any work while they were here, and now faces a slew of important issues they must deal with. First, they must pass legislation raising the debt ceiling; a measure simply allowing the government to spend what Congress previously approved. Then pass a budget to keep the government open and functioning beyond Sept. 30. This appears beyond their capabilities so it's likely they will put that off and pass a 'continuing resolution' extending the current budget through December to keep the government open.
Then the thorny issue of relief for victims of Hurricane Harvey. The cost of that will be counted in billions. Trump is requesting a down payment of $7.9 billion now with estimates of the long-term cost as high as $200 billion. Hypocrites like Sen. Ted Cruz (R-Texas) who opposed federal relief for victims of Hurricane Sandy is now begging for relief for his state. While it would be karma to tell him to f-off it would be cruel to do that to the people who are suffering in Texas. Let's hope they recognize his worthlessness and vote him out of office.
One of the roles of the federal government is to assist people in need when private charity and local/state government can't meet their needs. I hope the voters in Texas will recognize part of what added to their problems today were their votes for politicians who refused to recognize climate change and didn't pass regulations that would have made their cities safer and encouraged more to have flood insurance. Yes it was an epic flood but the lack of regulations and building codes have made it worse. Congress needs to act quickly to provide relief and then also take into consideration climate change and insist on a change in housing codes and how we determine flood plains as they reauthorize the federal flood insurance program.
Then Congress must act quickly to reauthorize the Children's' Health Insurance Program (CHIP), which covers about nine million children and expires on Sept. 30. This is one of the side effects of Congress not being willing to pass some actual fixes to the Affordable Care Act and instead playing games with its failed repeal and replace efforts.
Once they do all of this, and it may be overly optimistic to think they can, they will have to begin work on the actual budget, which they will have kicked down the road with a continuing resolution. This will be the beginning of the real face-off with the failure now in the White House.
This is when we will know if enough Republicans actually have the cojones to speak out for decency and humanity. Or will they all blindly go along with defunding the arts and humanities; cutting crucial medical research at NIH; defunding public education in favor of vouchers; cutting programs vital to fighting climate change; cutting housing programs for the poor; and destroying multiple healthcare options for millions of Americans? On the DACA program, it will be important for Congress to turn President Obama's executive order into law now that Trump has announced plans to kill it.
So all these issues are on Congresses' plate as they return to Washington this week. This doesn't even take into consideration tax reform, real immigration reform, rebuilding the nation's infrastructure, or passing the needed fixes to the Affordable Care Act. The most recent Gallup poll shows only 16 percent of Americans approve of how Congress is handling their job. What they do on all these issues will make that approval rating better or worse. We can only hope they will act in a way that will make Americans proud; but based on the record of this Congress, I wouldn't suggest anyone hold their breath.
Peter Rosenstein is a longtime LGBT rights and Democratic Party activist. He writes regularly for the Blade.