White House invokes 'religious freedom' to defend anti-gay nominee
Appeals judge opposes same-sex marriage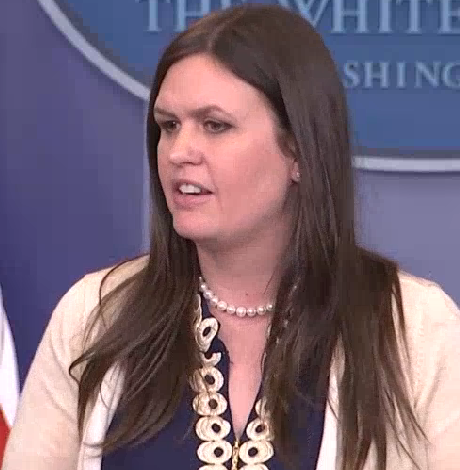 White House Press Secretary Sarah Huckabee Sanders invoked "religious freedom" on Monday to defend one of President Trump's judicial nominees who has faced criticism for her views, including opposition to same-sex marriage.
Sanders made the remarks in response to a question from The Heritage Foundation's Daily Signal, which asked if the White House is concerned about criticism in Congress and the media over Amy Barrett. Trump nominated her for a seat on the U.S. Seventh Circuit Court of Appeals.
"We certainly support religious freedom and would ask that Congress also support that as well," Sanders said succinctly.
Although Sanders was responding to a question about Barrett in particular, her response could have applied to any number of Trump nominees with anti-LGBT records. Among them is Jeff Mateer, whom Trump nominated for a federal judgeship in Texas. A CNN report revealed 2015 comments in which Mateer endorsed widely discredited "ex-gay" conversion therapy, opposed same-sex marriage and called transgender kids part of "Satan's plan."
The White House briefing room exchange follows a New York Times article published last week about concerns over ties Barrett has to a Christian group called People of Praise, which teaches husbands are the heads of their wives and should take authority over the family.
As noted in the article, Barrett faced intense questioning over her religious views from Democrats during her confirmation hearing. Sen. Dianne Feinstein (D-Calif.) said, "When you read your speeches, the conclusion one draws is that the dogma lives loudly within you." Social conservatives have interpreted that line as an attack on Barrett's faith.
Barrett has voiced anti-LGBT views on at least one occasion that would be consistent with Catholic Church dogma. In 2015, Barrett co-signed a letter by the Ethics & Public Policy Center for Catholic Women stating opposition to same-sex marriage just months after the U.S. Supreme Court ruled for marriage equality nationwide.
"We give witness that the Church's teachings — on the dignity of the human person and the value of human life from conception to natural death; on the meaning of human sexuality, the significance of sexual difference and the complementarity of men and women; on openness to life and the gift of motherhood; and on marriage and family founded on the indissoluble commitment of a man and a woman — provide a sure guide to the Christian life, promote women's flourishing, and serve to protect the poor and most vulnerable among us," the letter says.
Barrett also has invoked the ire of progressive groups by saying abortion is "always immoral," coming out against the contraception mandate under the Affordable Care Act and criticizing U.S. Chief Justice John Roberts for allowing the individual mandate in Obamacare to stand as a tax. Also at issue is an article in which she argued Catholic judges must recuse themselves in death penalty cases because their religious faith conflicts with the law.
Among the groups that have called for the rejection of Barrett's nomination is the Leadership Conference on Civil & Human Rights.
Shin Inouye, a Leadership Conference spokesperson, said Barrett's record speaks for itself on why she shouldn't be allowed on the bench.
"Professor Barrett's past statements and writings reveal a strong bias against reproductive freedom and LGBT rights," Inouye said. "Her record shows a dangerous lack of deference to long-standing legal precedent and judicial restraint. She has shown she has a lack of demonstrated commitment to the rule of law and to the Constitution's protections."
Victory Fund honors Maine House speaker at D.C. conference
Ryan Fecteau is gay Catholic University alum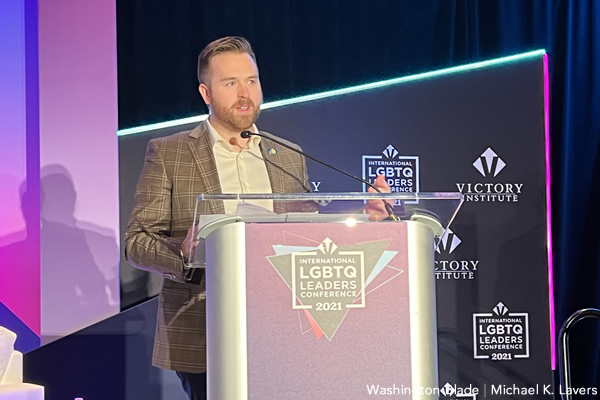 The Victory Fund on Saturday honored Maine House Speaker Ryan Fecteau on the last day of its International LGBTQ Leaders Conference in D.C.
Fecteau — an openly gay Catholic University of America alum — won a seat in the Maine House of Representatives in 2014. He became the chamber's speaker in 2018.
"Hate and intolerance will not derail us," said Fecteau after Florida state Rep. Carlos Guillermo Smith presented him with the Tammy Baldwin Breakthrough Award, which is named after U.S. Sen. Tammy Baldwin (D-Wis.). "Our community will not be intimidated."
The Victory Fund on Friday honored Guatemalan Congressman Aldo Dávila, a gay man who is living with HIV.
Victory Fund honors gay Guatemalan congressman at D.C. conference
Aldo Dávila a vocal critic of country's government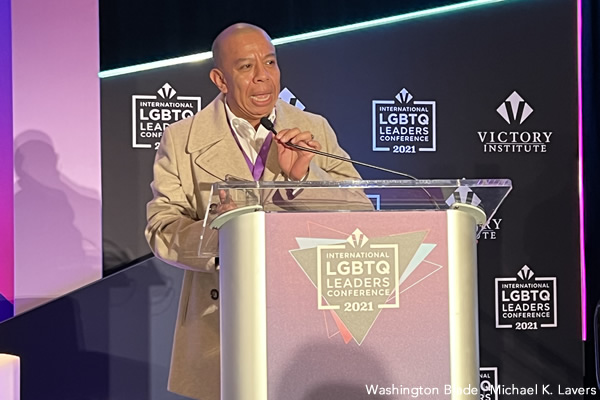 The Victory Fund on Friday honored an openly gay Guatemalan congressman who has faced death threats because of his efforts to fight corruption in his country.
Dávila — a member of the Winaq movement, a leftist party founded by Rigoberta Menchú, an indigenous human rights activist and Nobel Peace Prize winner — in 2019 became the first openly gay man elected to Guatemala's congress. Dávila, who also lives with HIV, had previously been the executive director of Asociación Gente Positiva, a Guatemala City-based HIV/AIDS service organization.
Supporters of President Alejandro Giammattei have lodged several formal complaints against Dávila after he publicly criticized the government over corruption, its response to the pandemic and other issues.
Three men on April 19 approached Dávila's vehicle near Guatemala's National Library and tried to rob him. One of Dávila's bodyguards shot one of the men, but the two other assailants fled the scene before police officers and passersby arrived.
Dávila told the Washington Blade in September during an interview at a Guatemala City hotel that he and his partner installed cameras in their apartment after someone killed their dog.
Two female police officers who arrived at the hotel with Dávila sat in the lobby while he spoke with the Blade. The government a few weeks later reduced his security detail.
"Guatemala is living through the worst democratic crisis in the last 40 years," said Dávila after he accepted the Victory Fund's Global Trailblazer Award at its 2021 International LGBTQ Leaders Conference that is taking place in-person at the JW Marriott in downtown D.C. "Guatemala right now is being paralyzed by corruption and impunity and my voice is uncomfortable because of this."
Dávila became emotional at the end of his remarks.
"I will keep fighting for our rights," he said.
Comings & Goings
Nathanson takes role at Outright Action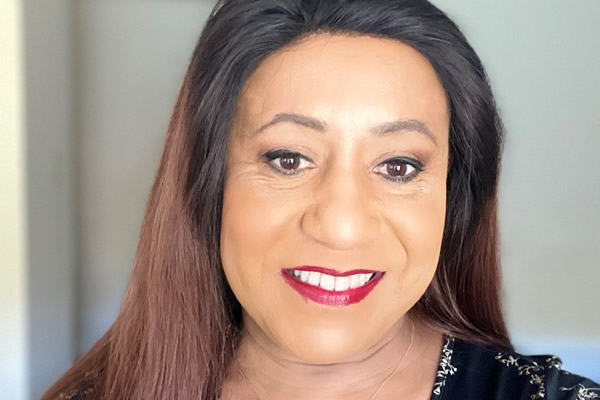 The Comings & Goings column is about sharing the professional successes of our community. We want to recognize those landing new jobs, new clients for their business, joining boards of organizations and other achievements. Please share your successes with us at: [email protected]
The Comings & Goings column also invites LGBTQ+ college students to share their successes with us. If you have been elected to a student government position, gotten an exciting internship, or are graduating and beginning your career with a great job, let us know so we can share your success.
Congratulations to Rikki Nathanson on her new position as Senior Advisor – Global Trans Program with OutRight Action International in New York. Nathanson will be based in D.C.
"I am absolutely thrilled to be taking on this new role as Senior Advisor in OutRight's Global Trans Program," said Nathanson. "I have finally found the perfect fit for me: as a trans woman who has been fighting for equality not only for myself, but for others globally, this position is not only a job, it's intrinsically part of who I am. So, what better way to live, nurture and grow myself."
Nathanson will be working closely with all program staff to ensure a cohesive and intentional approach to gender issues throughout OutRight's programs, including its approach to gender ideology movements. She will lead new initiatives on gender advocacy and policy change, focused but not limited to legal gender recognition and anti-discrimination legislation and policies.
Prior to this Nathanson was director of housing programs at Casa Ruby in D.C. She has also held a number of other positions including: founder/executive director of Trans Research, Education, Advocacy & Training (TREAT), Zimbabwe; chairperson Southern Africa Trans Forum, SATF, Cape Town, South Africa; executive director, Ricochet Modeling Agency, Zimbabwe; and company secretary for Dunlop Zimbabwe Limited, Zimbabwe.