October 6, 2017 at 1:46 pm EDT | by Lou Chibbaro Jr.
Lesbian activist Moregan Zale dies at 73
Veteran lesbian activist Moregan Q. Zale, a former D.C. area resident whose career included work as a clothing designer, seamstress, upholsterer, sewing teacher and amateur stand-up comic, died April 16, 2017 at a hospice in Danbury, Conn.
P.J. Schimmel, her partner and wife of 36 years, said she had been suffering from cancer and other ailments.
The couple lived in Arlington, Va., for more than 20 years, where Zale operated an antiques and upholstery business in Virginia before they moved to the Norwalk, Conn., area in 1993, where they remained until the time of Zale's death in April.
Zale's involvement in the LGBT rights movement dates back to 1970, according to Schimmel, when she marched in the first Christopher Street Liberation Day march in New York City that commemorated the first anniversary of the Stonewall Riots.
"Moregan continually worked for gay rights and women's liberation," Schimmel said, becoming an activist for marriage equality long before the U.S. Supreme Court ruling making same-sex marriage the law of the land.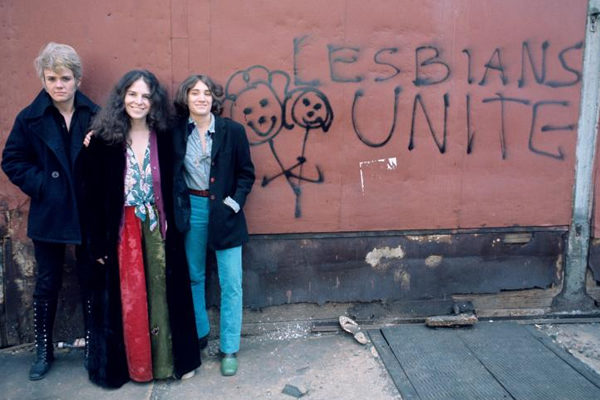 Schimmel said she and Zale liked to boast that they were "married" three times before same-sex nuptials became legal in the U.S. The first was in 1987 in D.C. as part of a mass demonstration of 3,000 gay or lesbian couples taking marriage vows on the weekend of a national gay rights march on Washington.
In 2001 the two traveled to Vermont for a civil union, which the state had recently legalized, Schimmel said. Then finally in 2003 they traveled to Canada to be legally married being able to do so in Connecticut.
Zale was born in Brooklyn, N.Y. in 1943, where she went to public schools and attended Brooklyn College. A short time later she became one of the first women to go to an upholstery trade school in New York City, Schimmel said.
"As a young girl, her grandmother taught her the basics of sewing," Schimmel noted. "In the '60s and '70s she designed and made custom clothing for lesbians and organized a lesbian fashion show at her Manhattan loft, which was featured in DYKE magazine, according to Schimmel.
At the age of 62 she went back to college to study early childhood education and "reinvented herself" with a new business called Sew Create & Celebrate, teaching sewing to kids and adults, Schimmel recounts in a write-up on her wife's varied career.
"She taught thousands to sew, both at her studio and at after school programs, Girl Scouts, and kids birthday parties," said Schimmel.
Along the way in her wide range of activities Zale lived and worked out of a houseboat moored in a harbor in San Diego; moved in with friends on an 1,800 acre farm in the Blue Ridge Mountains in Virginia, where they created a "lesbian community" in four rented farmhouses.
It was at the farmhouse in Virginia where Zale and Schimmel met and fell in love, Schimmel recalled.
In keeping with her avocation as sometimes stand-up comic Zale in the last months of her life wrote a "Cross-Over Comedy, telling what was funny about being told she had a terminal illness," Schimmel said. "We read some of it at her 'After-Party' celebrating her life," Schimmel says in her write-up.
"Along with sharing our life together, Moregan's passion was creativity," Schimmel said. "She loved people, but wore her heart on her sleeve and would sometimes get mad at the world. She had a great joie de vivre and enthusiasm and will be missed by many."
Zale is survived by Schimmel, her son and a grandson.