Cheyenne Jackson opens up
Out actor/singer on family life, 'Horror Story,' 'Drag Race' and more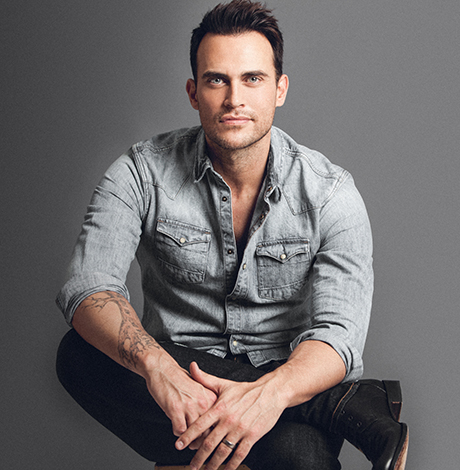 Cheyenne Jackson

Sunday, Oct. 15

8 p.m.

The Barns at Wolf Trap

1635 Trap Rd.

Vienna, Va.

$45-55
Cheyenne Jackson likes to portray himself as a normal guy. He's sitting in his car outside his dry cleaner in Los Angeles on Monday when we talk.
It's just mid-morning but one of his 1-year-old twins had him up at 3:30 a.m. "He's teething and needed a little TLC," Jackson says.
After feeding the babies, a jaunt to Barry's Bootcamp and a trip to the cleaners, the 42-year-old Broadway vet and actor/singer has time to chat in advance of his weekend show at the Barns at Wolf Trap. His comments have been slightly edited for length.
WASHINGTON BLADE: How is family life? How are (husband) Jason (Landau) and the twins?
CHEYENNE JACKSON: They're amazing. Family life is awesome. It's busy, it's loud, the days are long but the weeks and months are short. Just two days ago they turned 1. I can't even believe it's been a year already but it's great.
BLADE: Do they usually sleep through the night?
JACKSON: We've been really adamant and committed to a sleep schedule and we knew going into this we were going to be the ones doing the care. We don't have help at night or on weekends. I don't want a nanny sleeping in my house at night. I think it's just weird. So we knew we needed a schedule. … I would say about 98 percent of the time they sleep about 11 hours. It's awesome.
BLADE: Tell us a little about your Wolf Trap engagement.
JACKSON: I'm very excited because I haven't done a show in quite a while. It's been a crazy year. Being a dad and just things in my life. Some personal things. I lost my father a few months back. So doing shows and doing concerts hasn't really been in the forefront of my mind but when this gig came to me, I thought this would be a good opportunity to get back into it and find some of my favorite songs from different shows I've done. I'm gonna do a couple new tunes, things I've always wanted to do, so it's really a mix. I'll take some songs, a couple songs from each of the albums I've done, mix it in with some covers and things I've been working on, then a couple of originals. It's going to be a totally special new night.
BLADE: So this isn't really a show you do here and there, it's more its own thing?
JACKSON: It's its own thing for sure. Some of the songs I've done here and there in one way or another but … it's gonna be very intimate, very personal and fun.
BLADE: What kind of instrumental backing will you have?
JACKSON: Just me and my musical director, just me and piano. He's such a savant. He plays piano like five people are playing the piano. But yeah, it's just us.
BLADE: What's the set feel like on "American Horror Story"? Does the creepiness of the show affect the set or is it just like other sets?
JACKSON: It's definitely its own thing. I've never been on a set like "American Horror Story." I think it's because of the nature of the show and what the show's about, it lends itself to be a special kind of unique experience. First and foremost, it's shrouded in secrecy and everybody really respects that. Not everybody knows exactly what's happening from episode to episode and some people are just on a need-to-know basis. So it's exciting and fun as an actor to not know who knows what and just stay in the moment trying to bring everything to life. … Because it's such heavy subject matter and such dark fantasy, we find ways to keep it light when it needs to be. We don't just sit in the heaviness of it unless you have a super, super crazy, emotional thing you need to go sit in the corner to prep for, we try to keep it light.
BLADE: How long did it take to film that sex scene with Lady Gaga and how was it for you?
JACKSON: (laughs) Well scenes take way longer than you'd think. That whole sequence, I would say, I don't know — maybe six hours? It's a lot. Every different angle and every possible setup. And you know, it's awkward and it's funny and it's silly. I always try to look at things like that instead of trying to take it super seriously like, "Oh my God, I can't believe I'm sitting here naked with Lady Gaga." I just kind of flip it on its ear. … She's so great and a friend and she made it very comfortable. But sometimes you do kind of snap and think, "What's happening here," and you look around and there are, you know, 30 people standing around with microphones and booms and filters and lights and it's nuts. It's a crazy thing but it's what we do.
BLADE: "Hotel" had a lot more sex than other season. Do you think it ever got gratuitous?
JACKSON: No. I feel like every season is its own animal and there's a reason for everything. I never really question what (creator/producer) Ryan (Murphy) wants or envisions. I trust him implicitly. He's hired me four times so it's one of those things where … sometimes you wonder if you can do what he's asking but then you think, "Well, if he thinks I can do it, that means I can probably do it." Is the show really violent sometimes? Yeah. Is it really super, hyper sexual? Yeah. Is it dark and creepy and confrontational? Yeah, but that's why it's called "American Horror Story" and, you know, that's why my mom has to watch it through her fingers.
BLADE: You also had a pretty intense sex scene with Audra McDonald in "Hello Again." Who was better screen sex — Audra or Gaga?
JACKSON: (chuckles) Oh, I would never compare. But it's the same kind of thing. Audra and I have been friends for a long time and we just really had to laugh through that because it was also very graphic and it was kind of the first time either of us had done anything like that to that extent. But the first thing is to get really comfortable with each other first so then you buy it as an audience member. You can't get too in your head about it, you just have to go for it and trust each other. She was actually pregnant at the time and we had just gotten pregnant so we look at it now and laugh about what we were both going through at the time.
BLADE: Is being on "RuPaul's Drag Race" as much fun as it looks? It seemed like you were having fun when you were a guest judge last season.
JACKSON: I have zero shame in saying it's my very favorite show. I've seen every episode of every season. It's so much more than a reality show. I think it's a very important show right now in this world and I love that it shows young gay men and what they go through. … I think it's amazing. I love Ru Paul and he's been so wonderful to me over the years and he's a friend so yeah, I always tell them anytime they need me, I'm there. I tried to make it work the last couple seasons but just filming-wise, it's difficult to work out with "Horror Story" or whatever I'm doing but yeah, it's so much fun.
BLADE: What seems the most different actually being there versus how it seems on TV?
JACKSON: Lots of things. For one thing, I think people don't always realize all the judges see is what's on the main stage. They don't see all the work room stuff the audience sees, all the bickering and fighting and backstory. The judges, all they have to go by is what they see on the main stage and with the challenges. So if it seems like Michelle Visage and Carson and everybody, if they seem especially harsh and honest, it's because that's their only time to see it and make it fair. So that's what I found interesting.
BLADE: Are the acoustics at Carnegie Hall as legendary as everybody says they are or is it pretty much like other good halls?
JACKSON: I don't really remember if I noticed such a vast difference because I think I was just having such an out-of-body experience and trying to wrap my brain around the fact that I was performing at Carnegie hall. I just remember that it feels really warm, really good, you don't have to push. You feel supported. It's a combination of the acoustics and also the sound system. Everything is perfectly integrated. It's really special. It definitely spoils you because then you'll sing in some other shitty little performance arts center in the middle of somewhere and you're like, "Ugh." It definitely makes a huge difference.
BLADE: Does "A Case of You" have any subtext for you being a former drinker or is it just a good Joni Mitchell song? Is it on the set list for this weekend?
JACKSON: I will be singing that song and it's funny, I don't think of it in terms of wine or alcohol at all. It's about relationships and connection. I have my own personal things I pull from it, but booze isn't one of them for sure.
BLADE: "American Horror Story: Cult" is all about phobias. Do you have any?
JACKSON: Not really. I don't like flying but I wouldn't say it's a phobia.
BLADE: You've talked before about what a pivotal wake-up call 9-11 was for you. Do you think it's more than coincidence that you did the "United 93" movie years later?
JACKSON: I have thought of that before and I definitely think it was meant to be my first feature film. It was definitely kismet because the subject matter had been the impetus for me to really move to New York and … start to make things happen at age 27.
BLADE: I don't mean to sound obsequious but you must get hit on constantly, even if people don't know who you are. That has to get old, right?
JACKSON: Uhhh, I don't know that it happens all the time. I'm not trying to be fake modest. … I mean, I definitely know when someone is hitting on me and it feels great. Who doesn't like to be thought of as attractive or appealing? … More now, I'm out with the kiddos and people want to see them, but does it get old? No. I hope it happens for a long time.
BLADE: Are you allowed to say if you'll be on more "Horror Story" or do you know yet? Or are you focusing on (2018 series) "American Woman" now? 
JACKSON: I'm just kind of focusing on what is right now. I've had three great seasons on the show. "American Woman" will be in January I think.
BLADE: What can you tell us about it? Are you filming it now? 
JACKSON: No, it's all done. I was doing it while I was doing "Horror Story" so that was tricky going back and forth, but it was great. It's set in 1975 and it's basically a show about feminists with Alicia Silverstone, Mena Suvari and Jennifer Bartels. … I just saw the first four episodes and I'm happy to say it's very good and very sweet. … I play Mena Suvari's boyfriend and I got some great cool stuff to work with. I got some secrets in my life and, you know, it's a fun departure for me. It was fun to look like my dad in the '70s.
BLADE: What was it like filming "Cult" since it's been based so closely on recent events?
JACKSON: I think it was fascinating how Ryan harnessed that into the show. I think it's really savvy and cool.
BLADE: Which season has been your favorite to film? "Hotel," "Roanoke" or "Cult"?
JACKSON: "Cult's" my favorite. I really loved my character last year but I only had a couple really great scenes to do and "Hotel" has such a soft place in my heart because it was my first one and, you know, I loved who I worked with. But this season is my favorite as far as the work I've been able to do.
Another busy summer season arrives in Rehoboth Beach
Fine dining, drag shows, theater, and more on tap for 2023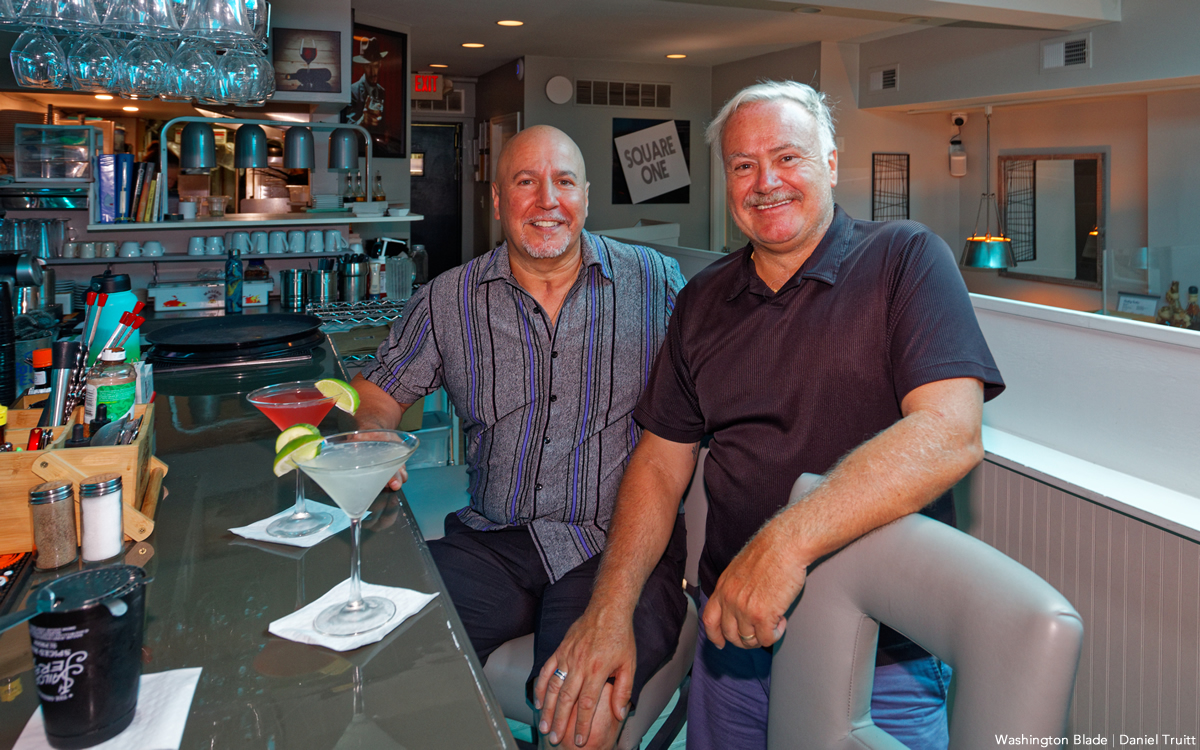 The summer of 2023 will be an exciting time in Rehoboth Beach, with lots to see and do as always. Great people, and of course the sand, sea, and boardwalk. Everyone in town has been working hard over the winter to make this the best season ever at the beach. New businesses, old ones moving to new locations, milestone anniversaries, and just loads of fun all around.
While I am often just a burger and fries' guy, Rehoboth has become a real foodie paradise for those who enjoy, and appreciate, really fine dining. (For more on the dining scene, see separate story in the Blade.)
The City of Rehoboth has fewer than 1,500 full-time residents. Many who have a Rehoboth address like me, live outside the city boundary. But at any time during the summer season, the population swells to more than 25,000. Among them are many members of the LGBTQ community. If you are one of them, stop by CAMP Rehoboth, the LGBTQ community center, founded by Murray Archibald and Steve Elkins in 1991.
Today, many of the businesses in town are owned by members of the community and even those that aren't are supportive of the community. The most famous residents of the area are President Biden and first lady Jill Biden, who try to spend some weekends at their home there. Not sure how much time they will have this summer between the duties of being president and running for reelection. I do know when there, they love the famous chicken salad sandwiches, among other great things, from Lori Klein's Lori's Oy Veh Café in the CAMP courtyard. Lori's is celebrating its 27th season. If you stop in the courtyard, you will be pleased to see new tables and chairs where you can sit and enjoy your meal.
My favorite hangout on Baltimore Avenue, the gayest block in Rehoboth, is Aqua Grill. The perfect place to spend happy hour any day of the week. Chris, one of the hot and charming waiters, is back serving drinks on the deck. Then there is The Pines restaurant across the street with a great showroom upstairs and always fun entertainment. The guys who own it have expanded their operations with Drift on Baltimore and now taken over the old Philip Morton Gallery and turned it into their offices. They are also preparing to open Bodhi on 1st street. One of the great old standbys at the beach is The Purple Parrot Grill and Biergarten on Rehoboth Avenue. Owners Hugh Fuller and Troy Roberts make everyone feel welcome. The old girl has a bright new paint job this year and she's better than ever with some great entertainment. 
Make sure you read the Blade's column on food at the beach but here are just some of the places I passed on my walk around town on sidewalk sale weekend. There are Eden Restaurant, Azafran, and La Fable on the beach block of Baltimore Avenue. Then the always reliable standby the Blue Moon. In addition to some of the best food in town, the Moon has an extensive calendar of special events planned for summer, including the much anticipated return of talented NYC pianist Nate Buccieri beginning June 25. He plays Sunday-Thursday for most of the summer; check bluemoonrehoboth.com for specifics.
There is also Ava's and Theo's and Frank and Louie's on the second block.The venerable Back Porch on Rehoboth Avenue has been serving some of Rehoboth's finest food for decades, and, of course, Houston White further up the street if you're craving a steak.Then there is Goolee's Grill on 1st street and the new location of JAM on 2nd. Goolee's is celebrating its 20th anniversary with a cocktail party on June 1, 5-9 p.m.; tickets are $15 and available online.
My favorite morning place, it has become my afternoon place as well, is the totally refurbished Coffee Mill in the mews between Rehoboth Avenue and Baltimore Avenue, just next to the wonderful Browseabout Books on Rehoboth Avenue. Dewey Beach residents will soon have their own Coffee Mill in a beachfront location, 1700 Coastal Highway. It will have a great view of the beach and ocean from its rooftop deck. Mel and Bob are going to be busy this year with all their places including Brashhh on 1st street, now celebrating its 11th year, and The Mill Creamery serving Hopkins ice cream. Longtime Rehoboth business owner Steve Fallon, one of the best promoters of the beach I know, has the fun Gidget's Gadgets on Rehoboth Avenue and his second place selling vinyl records, Extendedplay. Then there is Coho's Market and Grill on Rehoboth Avenue.
Back on the gayest block in Rehoboth, Baltimore Avenue, don't forget to stop in and purchase some incredible one-of-a-kind jewelry pieces, and now original art, at Elegant Slumming and then get your hair cut in The Grateful Head Salon.
For more afternoon and evening entertainment there is the popular Diego's Bar and Nightclub (37298 Rehoboth Avenue Ext.), a perfect spot for outdoor happy hours and late night dancing. Local legend Magnolia Applebottom holds court all summer with performances slated for the Thursday and Sunday of Memorial Day Weekend. Sunday's show runs 6-9 p.m. followed by DJ Mags "with her boys" from 9 p.m. to 1 a.m. In addition to Magnolia, Diego's brings internationally known DJs to town during the summer. And the free parking is a nice bonus in a town with a chronic shortage of parking spaces. Diego's has an exciting summer of special events planned, so follow them online for updates. Among the acts coming to Diego's this summer are "Jaws the Musical" (June 18), Ada Vox (July 5), and Edmund Bagnell (July 17).
Don't miss the always fun Freddie's Beach Bar on 1st street, where the amazing Freddie Lutz has brought his wonderful concept from Virginia to the beach. The beloved Pamala Stanley performs periodically at Freddie's; follow her on social media for updated dates.
Remember Rehoboth still has some great culture even if the town commissioners have been trying to force it out of town. The amazing Clear Space Theatre is stillon Baltimore Avenue. This season's productions include Lucy in the Sea with Darvon, Jesus Christ Superstar, Kinky Boots, and The Spongebob Musical. 
This will be a summer not to miss at the beach. Better make your plans to visit soon, if you haven't already, because hotels and rentals are booking fast.
Pride season arrives!
LGBTQ community events planned across region
Pride season has already begun. Last month's Roanoke Pride filled the Virginia city's Elmwood Park with rainbow flags. Pride events begin in D.C. this month and continue through June. Regionally, some cities have opted to hold their Pride events as late as the fall.
May
Organizers of Trans Pride D.C. (transpridewashingtondc.org) plan a full day of workshops and events on Saturday, May 20 at Martin Luther King, Jr. Memorial Library (901 G Street, N.W.). These events are currently listed on Facebook and Eventbrite as running from 9 a.m. – 4 p.m.
The HIV/PrEP Programs at the Charles County Department of Health are hosting PrEP for Pride 2023 at 4545 Crain Highway in White Plains, Md. on Saturday May 20 from 12-7 p.m.
The festival is free, though those who RSVP will be entered into a door prize drawing. PrEP for Pride's Eventbrite page advertises a pride walk, a PrEP Mini Ball, music, art, health & wellness information, food options and other vendors.
Equality Prince William Pride (equalitypincewilliam.org) will be held on Sunday, May 21 at the Harris Pavillion (9201 Center Street, Manassas, Va.) from 12-4 p.m., according to its Facebook events page.
The event is billed as a family-friendly event with music, vendors and kids activities. Performers include musician John Levengood, BRUU Band & Choir and the drag artists Coco Bottoms, Muffy Blake Stephyns and Ophelia Bottoms.
D.C. Black Pride (dcblackpride.org) events are held throughout the city May 26-29 primarily at the Renaissance Washington DC Downtown Hotel (999 9th Street, N.W.).
Official events include a Unity Ball, a vendor expo, a talent showcase, forums, parties and the annual Pride Festival in the Park at Fort Dupont Park on May 29 from 12-7 p.m.
The third Caroline County Pride Festival (carolinepride.com) "A Carnival Adventure" will be held in downtown Denton, Md. (301 Market Street) on Saturday, May 27 from 3-8 p.m. according to the group's Facebook event page.
June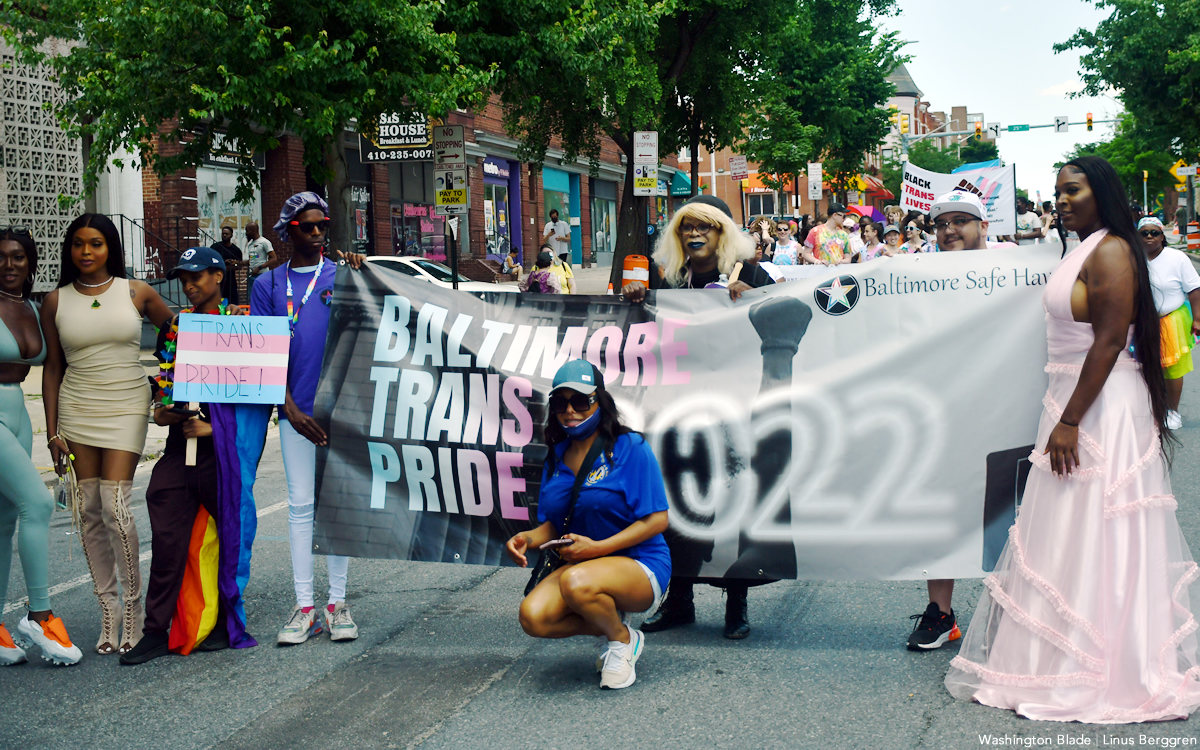 Baltimore Trans Pride (baltimoresafehaven.org/transpride) kicks off the month at 2117 North Charles Street in Baltimore, Md. on Saturday, June 3, according to Baltimore Safe Haven's Facebook event page.
The Baltimore Trans Pride 2023 Grand March is to be held at 1 p.m. on Saturday along North Charles Street between 22nd and 23rd. The Block Party continues at 3 p.m. with performances beginning at 4 p.m.
Afterparties are scheduled at The Crown (1901 North Charles Street) and Ottobar (2549 North Howard Street). Baltimore Safe Haven also hosts a kickoff ball on Friday, June 2 at 2640 Saint Paul Street at 6 p.m.
Annapolis Pride (annapolispride.org) holds its annual parade and festival on Saturday, June 3 from 12-5 p.m. on Inner West Street in Annapolis, Md. according to the Facebook event page.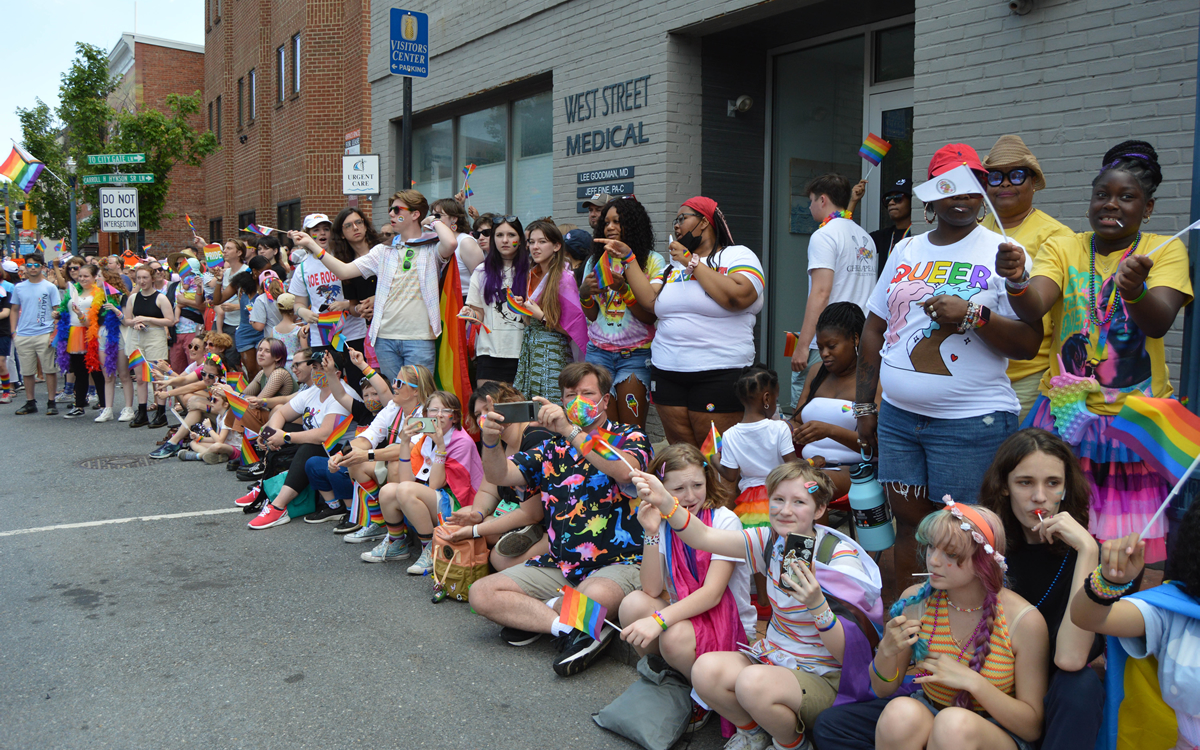 Reston Pride (restonpiride.org) holds its annual festival at Lake Anne Plaza (1609 Washington Place) in Reston, Va. on Saturday, June 3 from 12-6 p.m., according to the Facebook event page.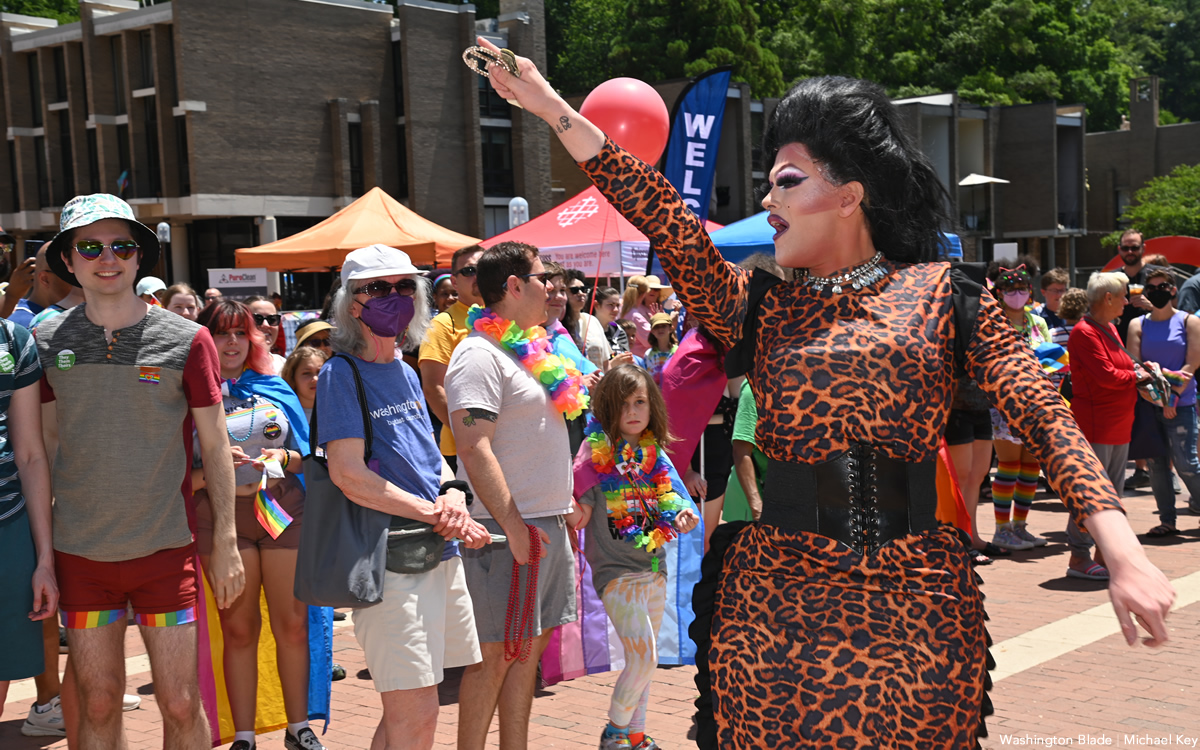 Ellicott City, Md. holds OEC Pride (visitoldellicottcity.com/events/oec-pride) on June 3-4 in Old Ellicott City. Events include a mascara run up and down Main Street and a movie presentation of "Priscilla, Queen of the Desert". 
Suffolk, Va. holds its third annual Suffolk Pride Festival (facebook.com/SuffolkPrideVA) on Saturday, June 3 from 5-8 p.m. at Bennetts Creek Park (3000 Bennetts Creek Park Road, Suffolk, Va.), according to the Facebook event page.
Portsmouth Pride Fest '23 (portsmouthprideva.com) is the second annual LGBTQ community celebration in Portsmouth, Va. The festival is to be held on Saturday, June 3 from 11 a.m. to 6 p.m. at the Portsmouth Festival Field next to Atlantic Union Pavilion, according to the Facebook event page.
The Alexandria LGBTQ Task Force presents the sixth annual Alexandria Pride (alexandriava.gov/LGBTQ) at Alexandria City Hall in Market Square of Old Town Alexandria, Va. (301 King Street) on Saturday, June 3 from 1-5 p.m.
Newport News, Va. has its first I Am What I Am (IAWIA) Pride Festival on Sunday, June 4 from 12-7 p.m. at Tradition Brewing Company (700 Thimble Shoals Boulevard, Newport News, Va.), according to the Facebook event page.
The 2023 Cumberland Pride Festival (cumberlandpride.org) will be held at Canal Place (13 Canal Street, Columbia, Md.) Sunday, June 4 from 12-4 p.m., according to the Facebook event page.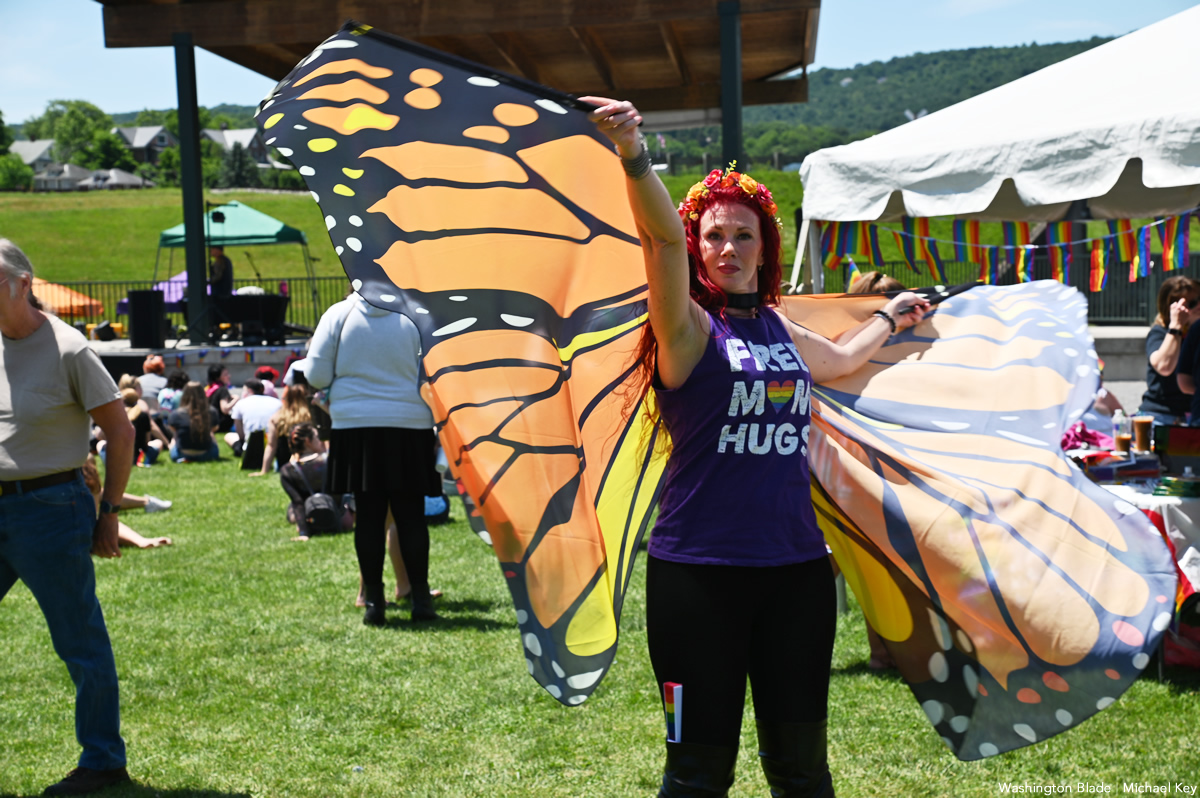 Culpepper County in rural Virginia will be getting its very first pride celebration with Culpepper Pride Festival (culpeperpride.com) on Sunday, June 4 from 12-5 p.m. at Mountain Run (10753 Mountain Run Lake Road, Culpepper, Va.). An after-hours 21+ drag show will be held.
Equality Loudoun's "Across the Decades" 2023 Loudoun Pride Festival (eqloco.com) will be held on Sunday, June 4 from 1-7 p.m. at Claude Moore Park (21668 Heritage Farm Ln, Sterling, Va.). This is a ticketed event with a $5 general admission.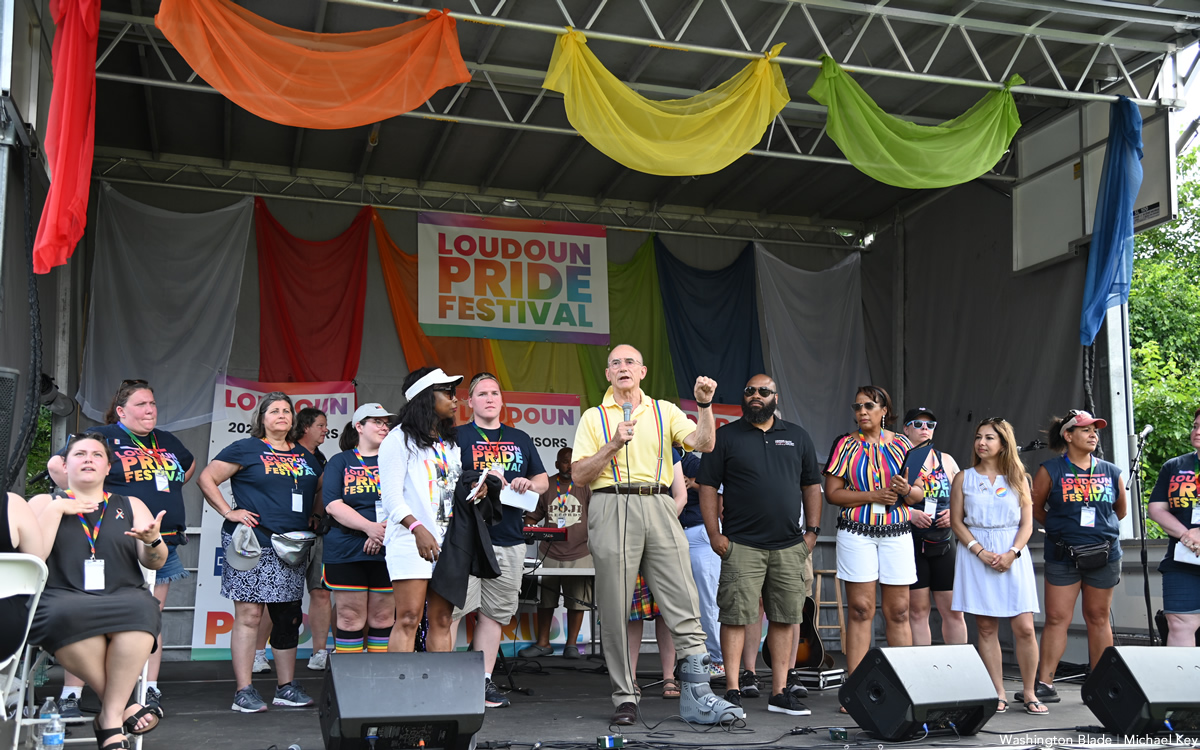 Delaware Pride (delawarepride.org) is being celebrated as a festival on Saturday, June 10 at Legislative Hall (411 Legislative Avenue, Dover, Del.) from 10 a.m.-5 p.m. according to the Facebook page.
D.C.'s massive Capital Pride (capitalpride.org) includes the 2023 Capital Pride Parade on Saturday, June 10 and the 2023 Capital Pride Festival on Pennsylvania Avenue on Sunday, June 11. On top of the many official events, there are a great number of parties in venues throughout the city over the week, including the not-to-be-missed Pride on the Pier and Fireworks Show, held 2-9 p.m. on Saturday, June 10 at the Wharf. There are two timed VIP sessions that include catered food and open bar. The region's only Pride fireworks display, sponsored by the Leonard-Litz Foundation, takes place at 9 p.m. Visit prideonthepierdc.com for tickets and information.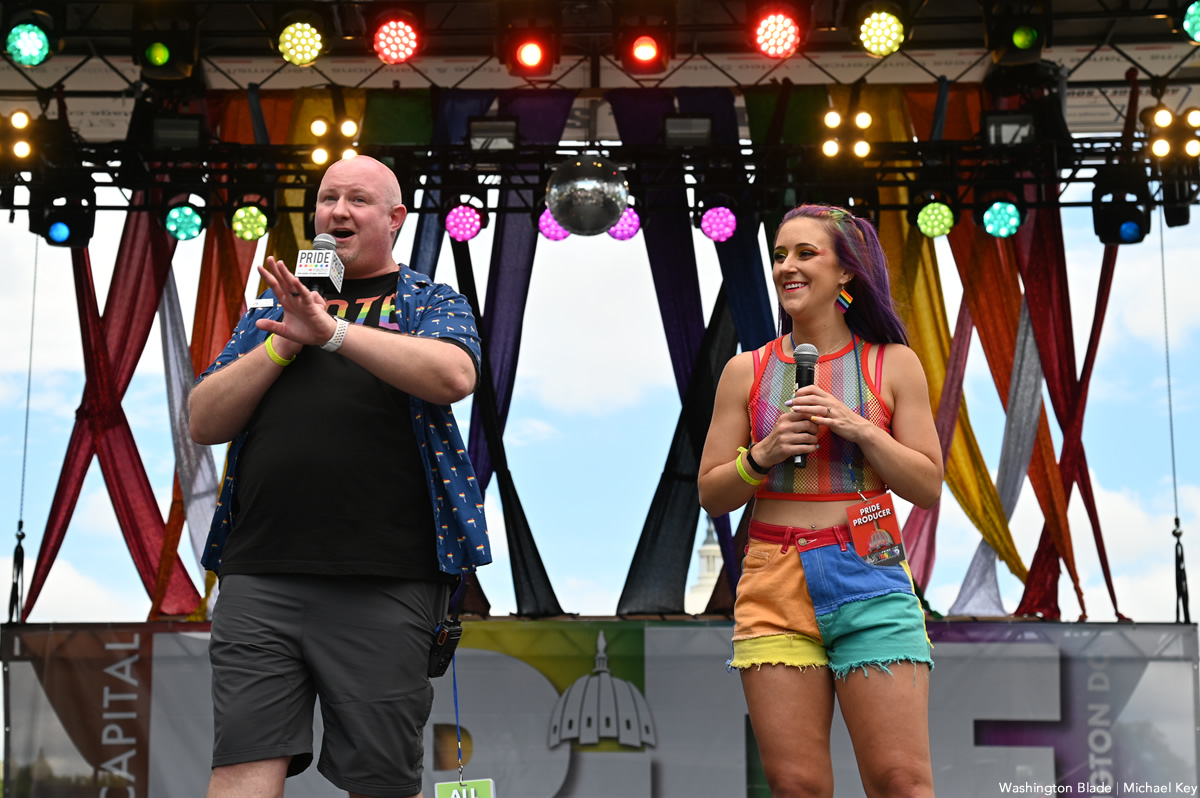 The Third annual Pride in the ViBe, will be held at ViBe Park (1810 Cyprus Avenue, Virginia Beach, Va.) on Sunday, June 11 from 1-6 p.m., according to the Facebook event page.
Scenic Chesapeake, Va. is the backdrop for Pride in the 'Peake 2023 at City Park Section B next to the basketball courts on Sunday, July 11, according to an allevents.in posting.
Eastern Panhanlde Pride is to be held on Saturday, June 17 from 12-5 p.m. in downtown Martinsburg, W.Va., according to EPP's Facebook page.
The Delmarva Pride Center presents DELAMRVA Pride (delmarvapridecenter.com) with events from June 16-18. The DELMARVA Pride Festival is to be held on Saturday, June 17 along South Harrison Street in downtown Easton, Md. Other events include a drag show and a Sunday brunch, according to the Pride Center's Facebook page.
The Ghent Business Association presents Ghent Pride "Party at the Palace Shops" on Tuesday, June 20 from 6-10 p.m. at The Palace Shops and Staton (301 West 21st Street, Norfolk, Va.), according to the Facebook event page. This is a ticketed event with general admission $13.
The Human Rights Commission of the City of Rockville holds the seventh annual Rockville Pride (rockvillemd.gov/2276/Rockville-Pride) on Saturday, June 24 from 1-4 p.m. at Rockville Town Square (131 Gibbs Street, Rockville, Md.).
Arlington Pride (arlvapride.com) holds events from June 23-25 that include a pageant, a brunch, a festival and an afterparty. The Arlington Pride Festival returns for its second year on June 24 from 12-7 p.m. at the Rosslyn Gateway Park (1300 Lee Highway, Arlington, Va.), according to the Eventbrite listing.
Fredericksburg Pride (fxbgpride.org) holds events throughout the month, but everything culminates in the Pride March and then Festival on Saturday, June 24. The Pride March is held at Riverfront Park (705 Sophia Street, Fredericksburg, Va.) at 10 followed by the Festival at 11 a.m.-5 p.m. at Old Mill Park (2201 Caroline Street, Fredericksburg, Va.).
The 10th anniversary Frederick Pride (frederickpride.org) is to be held at Carroll Creek Linear Park on Saturday, June 24 from 11 a.m.-6 p.m. with food, music, drag, vendors and more, according to the Facebook event page.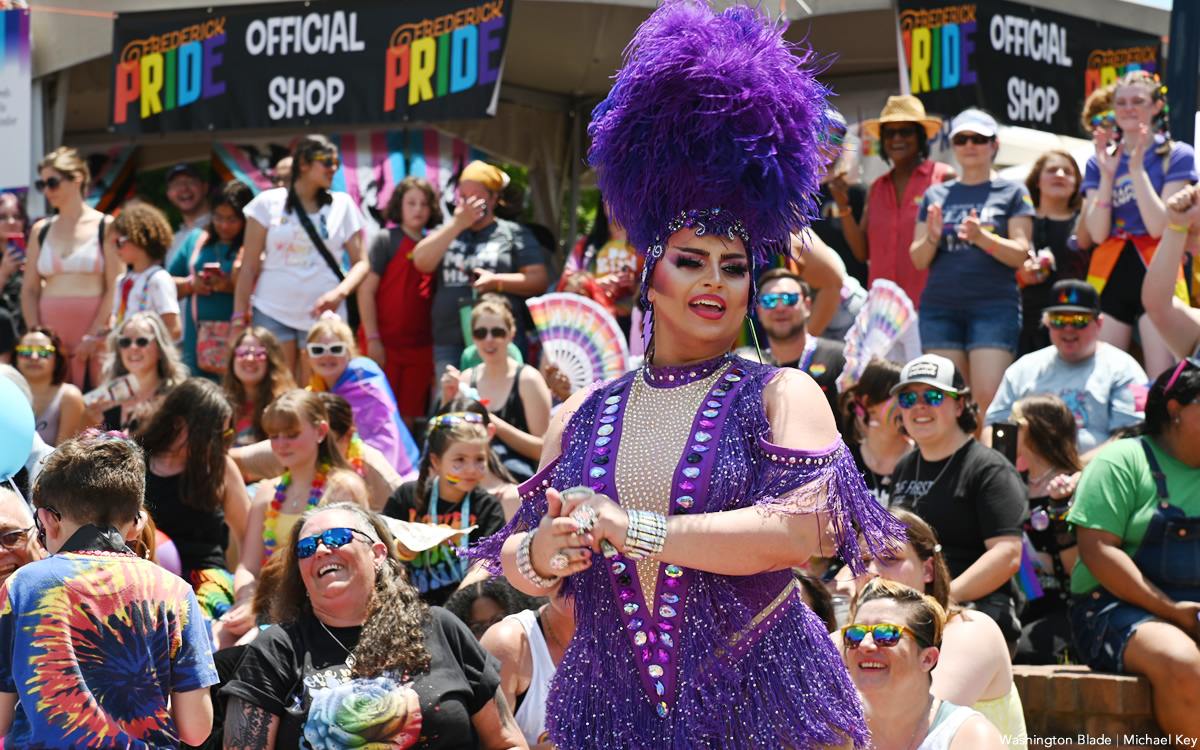 The Salisbury Pride (salisburyprideparade.com) Parade and Festival is on Saturday, June 24. The Parade begins at 2 p.m. at West Main Street and Camden Street. The parade moves along Main with the festival following the parade at 2:30. Magnolia Applebottom is the headliner and grand marshall, according to Salisbury Pride's Facebook page.
The "Break Free 23" Hampton Roads Pride (hamptonroadspride.org) is set for Saturday, June 24 at Town Point Park (113 Waterside Drive, Norfolk, Va.) and includes the famous boat parade.
The Pride Center of Maryland hosts a number of Baltimore Pride (baltimorepride.org) events June 19-25. The big events include the annual parade and block party on Charles Street on Saturday, June 24 and the festival at Druid Hill Park on Sunday.
July and beyond
You can look forward to LGBTQ pride celebrations in Harrisburg, Pa. and the Maryland towns of Hagerstown and Westminster as well as Black Pride RVA in Richmond, Va. in July. Other municipalities have decided to hold their pride celebrations a little later in the year. These pride events include Winchester Pride in Winchester, Va. (Sept. 9), Shenandoah Valley Pride in Harrisonburg, Va. (Sept. 16), SWVA Pridefest in Vinton, Va. (Sept. 16), Virginia Pridefest in Richmond, Va. (Sept. 23), TriPride in Johnson City, Tenn. (Sept. 23), Staunton Pride in Staunton, Va. (Oct. 7), Upper Chesapeake Bay Pride in Harve de Grace, Md. (Oct. 7), Pride Franklin County in Chambersburg, Pa. (Oct. 8) and Laurel Pride in Laurel, Md. (Oct. 14).
Self-identification: What the plus in 'LGBTQ+' means
Terminology rapidly expanding into mainstream dialogue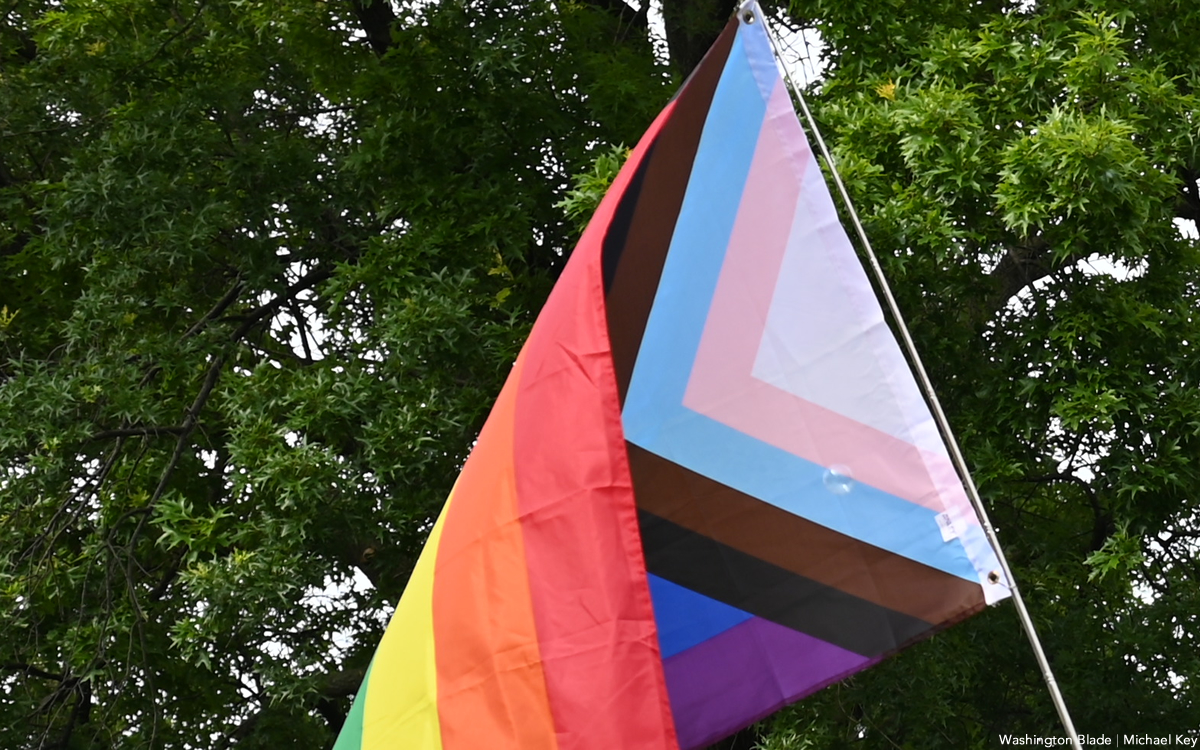 For a long time, many Americans refrained from talking about sexual orientation and gender identity because it was taboo. While these conversations are still uncomfortable for some people, others stay quiet simply because they're afraid of saying the wrong thing.
Among allies, there is fear that misgendering someone or misspeaking about another person's sexuality will be viewed as being less inclusive. Meanwhile, older generations, even those within the LGBTQ+ community, also struggle to keep up as terms beyond "LGBTQ" rapidly enter mainstream lingo.
In either scenario, the plus in "LGBTQ+" can be misunderstood. But as awareness of these terms continues to rise, it's important to know what they mean.
Below are some of the most popular but misunderstood terms of self-identification, compiling gender identities (one's concept of self as male, female, a blend of both or neither and what they call themselves) and sexual orientation (how one identifies in terms of whom they are romantically and/or sexually attracted to).
Asexual refers to someone who lacks a sexual attraction or interest in sexual activities with others. Often called "ace(s)" for short, asexual individuals exist on a spectrum, wherein someone can be completely or partially asexual, meaning they may experience no, little, or conditional sexual attraction to another person. Little interest in sex, however, doesn't diminish a person's desire for emotionally intimate relationships.
Cisgender, or simply "cis," describes a person whose gender identity aligns with the sex assigned to them at birth. The terms cisgender and transgender originate from Latin-derived prefixes of "cis," meaning "on this side of," and "trans," meaning "across from." Just as "trans" can be added to terms describing gender to identify someone as a trans-woman or trans-man, the same can be done to say cis-woman or cis-man to identify someone as adhering to the sex associated with their gender at birth.
Meanwhile, gender non-conforming refers to someone who doesn't behave in line with the traditional expectations of their gender. These individuals may express their gender in ways that aren't easily categorizable as a specific gender. While many gender non-conforming people also identify as transgender, that isn't the case for all gender non-conforming people.
Under the larger umbrella of gender non-conforming identity, non-binary describes a person who does not identify exclusively as a man or a woman. Non-binary people may identify as being both a man and a woman, somewhere in between, or completely outside of those labels.
Some non-binary people identify as transgender, but non-binary also references other identities such as agender (a person who does not identify as any gender), bigender (a person with two gender identities or a combination of two gender identities), genderqueer or gender-fluid.
Genderqueer people commonly reject notions of rigid categories of gender and embrace a fluidity of gender identity and sometimes sexual orientation. People with this identity may see themselves as being both male and female, or neither as they fall outside of binary gender norms. Gender-fluid is also within this range of non-conformity as these individuals don't identify with a single fixed gender.
In terms of sexuality, pansexual refers to someone with the potential for emotional, romantic, or sexual attraction to people of any gender. These feelings don't necessarily arise simultaneously or to the same degree, and sometimes the term is used interchangeably with bisexual.
More recently, the two-spirit gender identity has enjoyed more mainstream use. Chosen to describe certain North American Indigenous and Canadian First Nation people who identify with a third gender, the term implies a masculine and feminine spirit in one body.
Other gender expressions such as masc, referring to representations of masculinity without necessarily claiming a relationship to manhood, and femme, meaning expressions of femininity regardless of gender and relations to womanhood, are also used to describe how people dynamically express gender outside of gender norms.
Yet, just as terminology for self-identification is introduced, so are also new ways to describe how an individual feels about their identity. One term that everyone can relate to or aspire to have is gender euphoria – the joyful experience and sense of self that occurs when a person's authentic gender is expressed and acknowledged by themselves and/or by others.
Most importantly, though, LGBTQ+ people use a variety of terms to identify themselves, some of which may not be mentioned in this article. Always listen for a person's self-identification to use the preferred terms for them.
(The Human Rights Campaign and Johns Hopkins University contributed to this report.)