Ric Grenell in '92: 'Only whores and very small children wear red shoes'
Trump's gay nominee has history of derogatory comments about women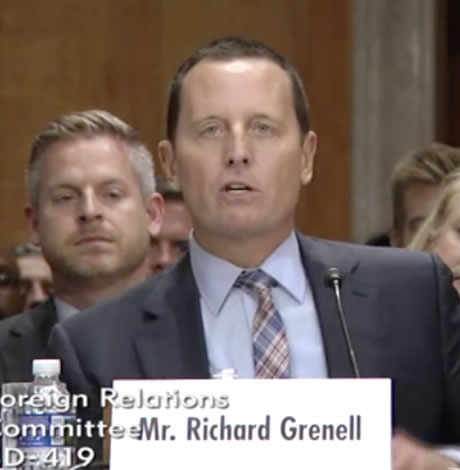 President Trump's nominee for U.S. ambassador to Germany — the first major openly gay appointment of the administration — came under fire in the recent past for snide comments on Twitter about the physical appearance of several prominent women — but a 1995 Washington Post profile story on him reveals he was making such comments long before the arrival of social media.
The more than 20-year-old profile piece on Ric Grenell, sent to the Washington Blade on Saturday, takes a look at his personality long before the Trump nominee served as spokesperson for the U.S. mission to the United Nations during the George W. Bush administration or as a Fox News commentator. The piece was written during Grenell's days as press secretary to Rep. Mark Sanford (R-S.C.) at the dawn of the "Gingrich Revolution."
A key portion of the profile quotes Laurie Blackford, then a producer for Chris Matthews long before he came to MSNBC, recalling remarks Grenell allegedly made to a fellow campaign staffer on the 1992 Bush-Quayle re-election campaign.
"One of our staff people came in and had on a flowery dress and red shoes and Ric looked at her and said, 'Didn't your mother ever tell you only whores and very small children wear red shoes?'" Blackford is quoted as saying.
At the time the profile piece was written three years later, the Post sought a response on the remarks from Grenell, who acknowledged them as a joke.
"You know that was a joke," Grenell is quoted as saying while chuckling. "But come on. Red shoes?"
The remarks are consistent with comments Grenell has made about women on Twitter. One 2011 tweet directed at Rachel Maddow, the lesbian MSNBC host, said she "needs to take a breath and put on a necklace" and another compared her look to that of pop singer Justin Bieber.
One tweet directed at Callista Gingrich questioned whether she "snaps on" her hair. At around the same time, Grenell tweeted Hillary Clinton "is starting to look like Madeleine Albright."
Grenell, who also has a history of antagonizing reporters on Twitter, deleted and apologized for those tweets years ago during his brief tenure of several days with Mitt Romney's 2012 presidential campaign. Although some point to the tweets as the reason he didn't last long with the campaign, others say the appointment of a gay person to the GOP campaign was nixed after objections from anti-gay activists.
During Grenell's confirmation hearing last week, Sen. Chris Murphy (D-Conn.) queried him about his comments on Twitter about women, asking him if he regrets those words and can understand the concern about the impact they'll have on his role in Germany.
"Anybody who knows me knows that I am a very caring person and very sensitive — and I also appreciate good humor," Grenell said in response. "Unfortunately, there are times where what was intended to be humorous turned out to be not so humorous, and, again, that was never my intention and I regret that."
The 1995 Post profile piece — written before Grenell met his partner of 15 years, Matt Lashey — never mentions Grenell's sexual orientation.
The article, titled "Republican Party Animal," says the then 28-year-old Grenell "is not really in the market for a relationship" between "working out twice a day, playing softball with Hill friends and just getting through each day's work."
"I have no time," Grenell is quoted as saying. "It wouldn't be fair."
The article also quotes Blackford as saying Grenell was "the most perfect-looking person — perfectly pressed and dressed."
Despite Grenell's support for Trump and other GOP presidential candidates, the article calls him a fan of then-first lady Hillary Clinton.
But the article also quotes Grenell as expressing consternation over the election of Bill Clinton in 1992 over incumbent President George H.W. Bush.
"I don't even like it when people say Clinton won. A majority of the people did not vote for him," Grenell is quoted as saying. "Not only had my candidate lost, but I also lost my job. I felt that we had truly let President Bush down and I was depressed."
Grenell didn't respond to the Blade's request for comment on the 1992 remarks about women at the time of his nomination to the Trump administration. Although the Senate has held a confirmation hearing, it has yet to hold a vote on his confirmation as U.S. ambassador to Germany.
Dupont Circle 'gayborhood' preserved in Council redistricting bill
All of neighborhood remains in Ward 2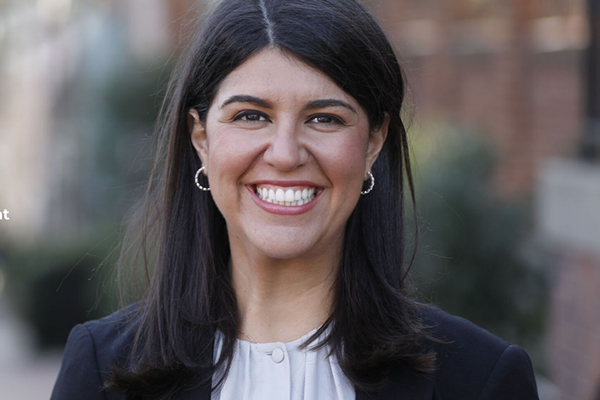 A bill approved by the D.C. Council in a first-reading vote on Tuesday to redraw the boundaries of the city's eight wards keeps all of the Dupont Circle neighborhood, which LGBTQ activists have referred to as the city's preeminent "gayborhood," in Ward 2.
The redistricting plan approved by the Council included a change from an earlier proposal by a special redistricting subcommittee that called for transferring part of the North Dupont Circle neighborhood into Ward 1.
Councilmember Brooke Pinto, who represents Ward 2, joined many of her ward's LGBTQ residents in raising strong objections to dividing the Dupont Circle neighborhood into two different wards.
A number of LGBTQ residents, including Mike Silverstein, one of five openly gay members of the nine-member Dupont Circle Advisory Neighborhood Commission, said the initial subcommittee proposal would unnecessarily split Dupont Circle's historic "gayborhood," which he said has served as a safe space for LGBTQ D.C. residents for decades.
"Excising this part of Ward 2 would arbitrarily cut off the LGBTQIA+ community that has such a rich and pronounced presence in North Dupont," Pinto said in a statement her office released last month. "I will be working with my colleagues to ensure that this community remains in Ward 2," Pinto said.
A spokesperson for D.C. Council Chair Phil Mendelson (D-At-Large) said Mendelson worked with the three members of the redistricting subcommittee and other Council members to make some changes to the subcommittee's initial release of three proposed maps with redrawn ward boundary lines. All three of the maps included plans to move the north part of Dupont Circle to Ward 1, each of which was dropped in the final proposal approved by the Council.
The Council is scheduled to hold a second and final vote on the redistricting measure later this month.
City officials have noted that a redrawing of the city's ward boundary lines is needed to bring the city into legal conformance with the 2020 U.S. Census count for D.C., which shows shifts in population within the city.
U.S. Attorney's Office declines to prosecute anti-gay assault case
D.C. police report says man beaten by neighbors in Northeast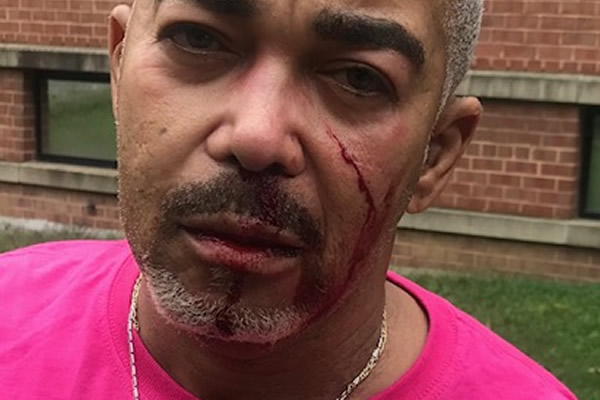 The U.S. Attorney's Office has declined to prosecute two women and a man who, according to a D.C. police report, assaulted a gay man after one of the women called him a "Jewish faggot" during an Oct. 13 incident on the grounds of a Northeast Washington apartment building where the victim and the two women live.
The victim, Antonio Zephir, 51, said one of the women, her daughter, and a man he believes to be the daughter's father repeatedly punched him in the face after he shouted back at the mother in response to the anti-gay and anti-Jewish slur he says she hurled at him.
The incident took place outside the Northwood Gardens Apartments at 4870 Fort Totten Dr., N.E. at about 12:40 p.m. the police report says.
Zephir told the Blade this week that an official with the U.S. Attorney's Office, which prosecutes crimes committed by adults in D.C., informed him in a phone call that the office decided not to prosecute the case after police and prosecutors viewed a surveillance camera video that reportedly captured the entire incident.
He said the official, Crystal Flournoy, Deputy Chief of the U.S. Attorney's Office's Early Case Assessment Section, told him the video showed that he was the "aggressor" in the incident.
Zephir says he strongly disputes that characterization and believes the camera angle from the video may not have captured the full altercation in which he was assaulted first before attempting to defend himself.
A D.C. police spokesperson said police opened an investigation into the incident after Zephir called police immediately after the altercation. A police report lists the incident as a suspected anti-gay hate crime and lists the offense as a misdemeanor simple assault.
Zephir, who was treated and released from the Washington Hospital Center the day after the incident, suffered a fractured nose, a fractured bone surrounding one of his eyes, and other facial injuries, according to a hospital report he provided to the Blade. He said his doctor told him he may need facial surgery to treat ongoing effects from the injuries.
In a Dec. 7 email, a copy of which Zephir sent to the Blade, D.C. Police Lt. Scott Dowling informed Zephir that the U.S Attorney's Office declined to process an affidavit submitted by police requesting the case be prosecuted.
"[T]he affidavit submitted to the United States Attorney's Office was declined, meaning that their office is not willing to move forward with criminal charges," Dowling told Zephir in his email message. "As a result, there will be no arrests relating to the offense you reported," Dowling said. "As the Affidavit was declined, our investigation is closed," Dowling wrote in the message.
"The U.S. Attorney's Office declined to prosecute this matter after reviewing the evidence," William Miller, a spokesperson for the office, told the Blade in a statement on Wednesday. "Beyond that, we typically do not comment on charging decisions and have no further comment," Miller said.
Zephir said he doesn't think the video, which he hasn't seen, shows that one of the two women involved in the altercation was the first to assault him. He identified her in court papers he filed seeking a stay away protection order as Aurlora Ellis.
Court records show that a D.C. Superior Court judge on Nov. 30 issued a "Consent Stay Away Order" requiring Ellis and her daughter, identified as Latera Cox, and a woman who Zephir says lives at Ellis's apartment, to "stay at least 100 feet away from Plaintiffs Zephir or Johnson."
Steve Johnson, who is cited in the stay away order, is Zephir's roommate who the police report says attempted to stop the Oct. 13 altercation in which Zephir says he was assaulted.
The court order further states that the three women "shall not contact Plaintiffs Zephir or Johnson in any manner, including but not limited to by telephone, in writing, and in any manner directly or indirectly through another person, including social media," and that the order will remain in effect for one year.
"Ms. Ellis was the person who made those threats and slurs against me," Zephir said. "I responded with not-so-kind words. She ran towards me and assaulted me with hard punches toward my face," Zephir recounted. "I punched back in an attempt to defend myself," he said.
According to Zephir, during the altercation Ellis told him, "Call the police, you bitch faggot. They're not going to do anything. This isn't over yet." He said he continues to worry that Ellis's comment that the matter "isn't over yet" was a threat and that she may try to harm him again.
Ellis couldn't immediately be reached for comment.
Zephir said the October altercation wasn't the first time Ellis has acted in a hostile way toward him.
"For several months, every time Ms. Ellis sees me, she shouts homophobic slurs and I continued to ignore her," he told the Blade in October after contacting the Blade about the incident.
On Tuesday, Zephir told the Blade that Ellis later apologized for the altercation and asked him to drop the charges he filed against her with D.C. police. He said he declined her request, but said he's now dismayed that the U.S. Attorney's Office has refused to prosecute what he calls a "serious hate crime" against him.
Biden's update to HIV strategy hailed for recognizing racism as health issue
New blueprint outlines plan from 2022 to 2025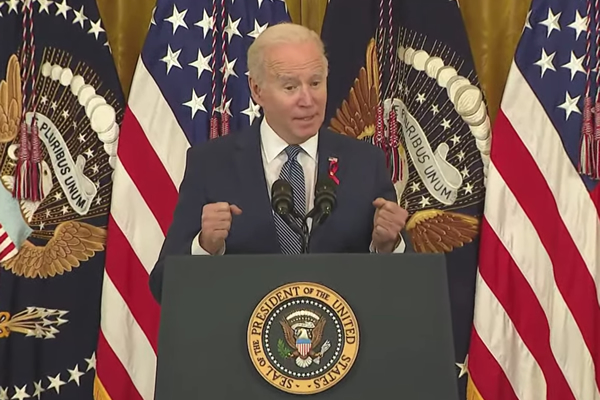 A recent update to the National HIV Strategy by the Biden administration is getting good reviews from advocates in the fight against HIV/AIDS, who are praising the new blueprint for recognizing challenges in the epidemic and racism as a public health issue.
Carl Schmid, executive director of the HIV & Hepatitis Policy Institute and member of the President's Advisory Council on HIV/AIDS, assessed the update as "very, very positive," saying it built on components of a previous iteration of the strategy issued during the Trump administration and made new ones.
"I think the community is extremely pleased," Schmid said. "There's a new component…racism is a public health issue. So, all these positive — the disparities, which is just so big. Anytime you're addressing HIV, you're always addressing disparities."
Schmid also said the updated blueprint — which articulates a plan from 2022 through 2025 and was issued last week to coincide with the first World AIDS Day during the Biden administration — makes outreach to the private sector.
"I think that's good because it's the people who influence society like technology companies, people who have high gay and bisexual employees, like [the] travel industry, get them all involved," Schmid said. "So, and that, I think should help with the stigma."
Schmid also hailed the strategy for its promotion of the Affordable Care Act as a tool to fight HIV/AIDS, which he said was absent in the iteration of the report under former President Trump.
President Biden, in remarks on World AIDS Day last week before advocates in the fight against HIV/AIDS in the East Room the White House, said the uptrend strategy is "a roadmap for how we're going to put our foot on the gas and accelerate our efforts to end the HIV epidemic in the United States by the year 2030."
"That's the goal," Biden added. "And it centers on the kind of innovative, community solutions — community-driven solutions that we know will work."
Consistent with his administration's stated commitment to racial equity and recognizing disparities among diverse groups, including LGBTQ people, Biden said the plan ensures "the latest advances in HIV prevention, diagnosis and treatment are available to everyone, regardless of their age, race, gender identity, sexual orientation, disability, or other factors."
"Critically, this strategy takes on racial and gender disparities in our health system that for much too long have affected HIV outcomes in our country — to ensure that our national response is a truly equitable response," Biden said.
The updated blueprint is the fourth iteration of the National HIV Strategy, which was first issued during the Obama administration, then updated during the Obama years and again during the Trump administration before the Biden administration unveiled the version last week.
The 93-page strategy makes recognition of racism as a public health issue a key component of the plan to fight HIV/AIDS, calling it a "serious public health threat that directly affects the well-being of millions of Americans."
"Racism is not only the discrimination against one group based on the color of their skin or their race or ethnicity, but also the structural barriers that impact racial and ethnic groups differently to influence where a person lives, where they work, where they play, and where they gather as a community," the strategy says. "Over generations, these structural inequities have resulted in racial and ethnic health disparities that are severe, far-reaching, and unacceptable."
Data shows racial disparities remain a significant obstacle in thwarting the HIV/AIDS epidemic. According to the Centers for Disease Control & Prevention, new HIV infections in the United States declined by 8 percent between 2015 and 2019, with much of the progress due to larger declines among young gay and bisexual men in recent years.
But although HIV infections among young gay and bisexual men have dropped 33 percent overall, with declines in young men among all races, the CDC finds "African Americans and Hispanics/Latinos continue to be severely and disproportionately affected."
A senior Biden administration official, speaking last week on background in a conference call with reporters to promote the HIV strategy, said in response to a question from the Washington Blade the recognition of racism "as a serious public health threat" was a key difference from previous iterations of the blueprint.
"There are several updates in this," the official said. "And some of those new features or new areas of focus have come about from both community input as well as sitting down with our federal partners and thinking about also the priorities of this administration, where there is a focus on equity, there is a focus on addressing stigma and discrimination and ensuring that also marginalized populations have access to healthcare, and that we are also working to ensure that the voices of those with lived experience are part of our response."
Jennifer Kates, director of global health & HIV policy for the Kaiser Family Foundation, said the recognition of social and racial disparities is a key component of the updated strategy.
"One area in which the updated strategy stakes out new and stronger ground is in its explicit focus on the social/structural determinants of health," Kates said. "The strategy doesn't just mention them but seeks to address them through a variety of objectives. This is a departure and an important one."
Kates, however,.cautioned: "Of course, the devil will be in the details and there will always be a tension between what the federal government itself can do and the power that state and local jurisdictions actually have."
One aspect of note during Biden's remarks on World AIDS Day was his articulation of 2030 as the target date to beat HIV, with the goal of reducing new infection rates by 90 percent in that year. That 2030 goal was established by health officials during the Trump administration, but Biden had campaigned on 2025 — much to the skepticism of some observers.
The Department of Health & Human Services, in response an inquiry from the Blade on whether a decision was made to forgo 2025 and stick with 2030 as the target date, deferred comment to the White House, which didn't immediately respond.
Schmid, who was among those during the election who expressed skepticism of the 2025 target date, said he spoke to the White House after an initial Blade report on the changed target date and was told the administration determined 2025 was "not feasible."
"That was a campaign statement," Schmid said. "I said then that it was not realistic, and I think others agreed with me particularly because of COVID, and we were during the campaign, but he said it and sometimes people say things during the campaign that they might not always live up to because it was unrealistic."
Schmid, however, downplayed the importance of Biden articulating a different target date to beat HIV/AIDS compared to the one he promised during the presidential campaign, saying the initial date had demonstrated his "strong commitment" on the issue.
Now that the Biden administration has issued the new strategy, the work turns toward implementation, which would mean acting on the blueprint in conjunction with the Ending the HIV Epidemic initiative already underway.
Schmid said the next step in the process is making sure funding is robust, HIV testing continues despite the coronavirus pandemic — and working to make PrEP more accessible.
Key to the effort, Schmid said, would be new legislation introduced before Congress to set up a national PrEP program, one introduced by Rep. Bonnie Watson Coleman (D-N.J.), another by Rep. Adam Schiff (D-Calif.) and another by Sen. Tina Smith (D-Minn.). Those bills, Schmid said, would ensure the uninsured have access to PrEP and health plans cover them without cost.
"I've been focusing a lot on that," Schmid said. "It would be great to get the administration's support for these as well, and money in the budget to implement these national PrEP programs."