Halloween? I could take it or leave it
But should I dress as RBG or Wonder Woman?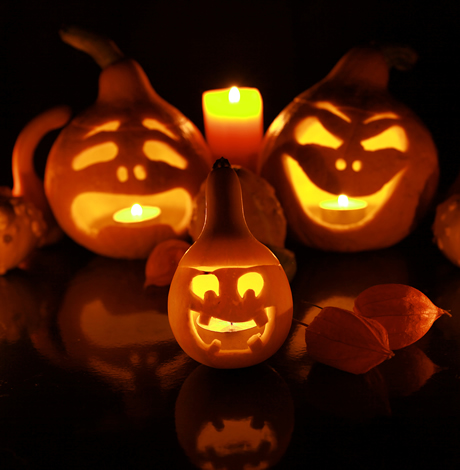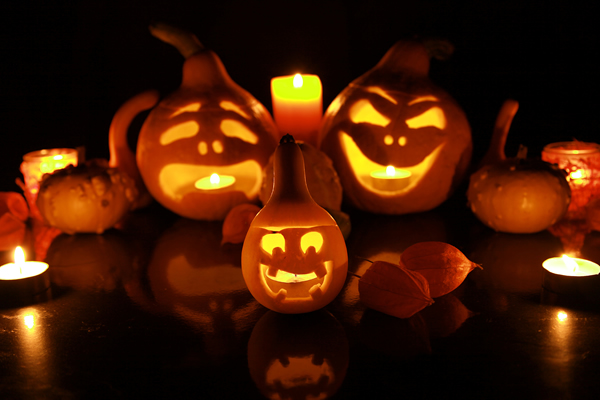 My father's answer to a lot of things was, "I could take it or leave it." Even though he had not been asked to do either. I am trying to make that my mantra in my minefieldness practice.
So about Halloween: I could take it or leave it. OK, once in 6th grade, when I caused an apple-dunking contest to get a little rough and tumble, I did enjoy Halloween. All my tumescent girl-crushes became unwitting runners-up in an impromptu wet T-shirt contest. That I could take.  
But as someone whose full-time job was concealing my dangerous, hormonally Vesuvian lesbianism, I was not into costumes as a fun hobby. My daily Catholic school uniform was welcome protective camouflage. It prevented inevitable gaffes like appearing for 5th grade Career Day dressed in full work overalls, snap cap, steel-toed Keds and a tool belt.
Thus when I finally came out, my Halloween costuming suffered from a distinct lack of imagination. I wore the same thing every year. It was with great sadness that I retired my Marie Curie costume with its ingenious use of aluminum foil and crackling red cellophane. It was time. No one greeted me at parties with, "Hey, Marie." No one was fooled.  
Last year I was so involved in the presidential campaign, I did not have time to take my go-to Margaret Mead uniform to the cleaners after Halloween. My drycleaner says she is unable to get out the year-old, set-in blackberry wine stains.
I can't take it. I am as crushed as one of those little blackberries. When I would duck into my Margaret Mead muumuu, pop on the wire-rim glasses, slip into sensible shoes, cut in some bangs, and pick up my walking stick, I would become that wise, world-traveling anthropologist. Off to study other cultures.
This year, deprived of the protective uniform of my famous women costumes, I decided to go less Tussaud, more contempo. I too have been observing the culture.
Unfortunately the young clerk at the pop-up Halloween store did not understand my request. "Do you carry the Wonder Woman costume? The Wonder Woman from the first 20 minutes of the movie? The one who was a happy Amazon, trained by the Claire from House of Cards before she mistook Botox for acting? The Wonder Woman before her power was zapped by a crisis of co-dependency that forced her to rescue that damn flyboy in distress, causing the whole Amazon Utopia to crumble? That one?"  
After the election, I was a Prude for Democracy. Always delicately asking, "Can he do that?" Sniffing, "Can he talk about federal judges that way?" Wincing, "Should he be tweeting?" But as the months have passed, each one a century long, I have become rude, crude, and lewd for Democracy. No more Mrs. Nice Gay. My stress spinner is now brass knuckles.
This Halloween I plan to abandon my genteel tributes to historical women. The current totalitarian zeitgeist does not represent a singularity but a total shit storm of fractured institutions and identities. And those white sheets are so over-used. Instead of full unhidden figures, I am going with a more ironic, abstract, Picassoan, fractured, fright-night Halloween costume. There is a new freedom dressing as an inanimate object. And the nice thing is you can still keep a Mitch McConnell costume as your fall-back. He's been dead for years.  
Here are some of the ideas I've been working on with my designers. A giant orange tweeting yam. The boom-stock on Harvey Weinstein's dick. Russian nesting Bobblehead Pocket Rocket Boy Dolls. Sarah Huckabee Sanders' eyebrows. (But we are having trouble coordinating the hydraulics of the lift and arch with the lip service).  A hologram of the Cheshire smirk of Jefferson Noregard Sessions superimposed on a shredder. A purple GAG,A (Gays Against Guns, Asshole) hat topped with a Christmas crèche, balanced on a rainbow wedding cake, blaring, "Don, we are not now gay apparel." The thing weighs more than that belt buckle on Melatonin's sheathe dress.
Oh just leave it. I'm sticking with the dames. I still have enough time to get a kick-ass, spark-spitting Ruth Bader Ginsburg together. I plan to wear it for a lot of years.
Kate Clinton is a longtime humorist and writes regularly for the Blade.
Opinion | CDC gets science right, politics wrong
We need a government-approved proof of vaccination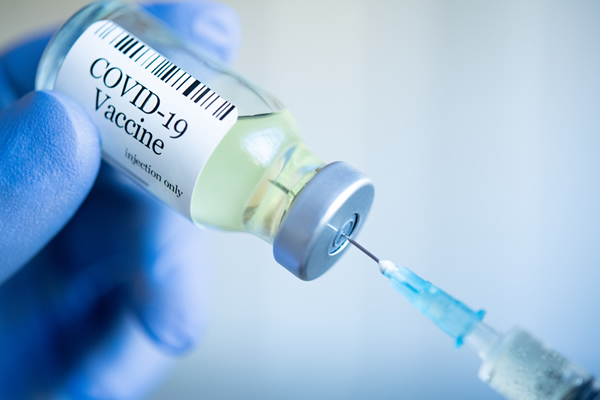 CDC Director Dr. Rochelle Walensky may have the science right but she got the politics wrong.
It's clear from the confusion created you can't go from zero to 1,000 in a day and expect people to understand. They should have had a plan to explain the dramatic change in mask policy; first sharing it with governors and mayors who have responsibility for implementing it before going public. There needed to be a plan to share with businesses on how to assess who is and who isn't vaccinated. Time is past due for the administration to bite the bullet and tell people what document will be universally recognized as proof of vaccination.
Will the United States require proof of vaccination from those entering the country? Are we working with other nations to determine what proof they will accept for vaccinated Americans to enter their country? Acquiring that proof can be voluntary and up to individuals in the same way people now get a global entry card to avoid immigration lines when coming back from traveling abroad. We need a document that will be accepted by cruise lines, universities, hospitals, long-term care facilities, and other institutions requiring vaccinations to attend, to work, or travel.
I am not questioning CDC science but based on TV and newspaper reports and my Facebook page, it is clear people only heard what they wanted from the confusing CDC announcement. Intelligent people posted, "It's time to have a bonfire and burn our masks." Wrong! Masks are still needed on all public transportation; buses, trains, and planes, and many cities are still requiring them to enter businesses.
The "trust your neighbor" policy is a joke. How do you trust people around your kids who aren't vaccinated when we can't even trust members of Congress to tell the truth with many Republicans still lying about the election and what happened in the Capitol on Jan. 6.
Dr. Walensky is now talking about the need to keep masks on children who aren't vaccinated and saying CDC will release a plan for schools to fully reopen. Why not wait to change indoor mask policy until you had that plan? Can you take your unvaccinated children to a grocery store where unvaccinated people aren't wearing masks? We know most places in the country have less than 50% fully vaccinated people with millions saying they will never get vaccinated. There is no approved vaccine for children under 12.
The country can open 100% for business and still continue to have an indoor mask policy. They could have specified masks aren't needed indoors for meeting with friends and family who are all vaccinated. You can fully open large outdoor venues like ballparks and concert venues and still require masks. Again to say we trust the American people to be honest and obey the guidance is simply naïve.
Whatever the government document, let's not call it a passport, if it is accepted globally there will be millions who will voluntarily want to use it. We once traveled with an official yellow booklet listing various vaccinations including yellow fever and malaria that different countries required for entry.
We know some idiots will never get vaccinated. People still smoke though they know it could kill them. But many colleges including Georgetown and American University among others have already said they will require students be vaccinated to attend in person. There must be a widely recognized way to prove they have been vaccinated.
Once the word 'emergency' is removed from the vaccine's approval and Pfizer has already applied to do that, hospitals and nursing homes will require all staff to be vaccinated the same way they do for the flu vaccine. CNN reported on the first hospital system to mandate COVID vaccinations for their staff. Houston Methodist, a network of eight hospitals that has 26,000 employees, said it will require every employee to provide proof of vaccination by June 7." This makes sense. Why would you go to a healthcare provider who might spread the disease and get you sick because they didn't get vaccinated?
This is already an international issue. The European Union said it intends to open Europe this summer to Americans who are vaccinated. Internally "European Union countries agreed this month to launch COVID-19 travel passes." Chances are the proof needed to enter their countries will have to have been validated by our government.
President Biden should stop worrying about Republicans who criticize him on this and just do the right thing. Voluntary but official is the way we need to go.
Peter Rosenstein is a longtime LGBTQ rights and Democratic Party activist. He writes regularly for the Blade.
Examining the 'Prejudices' of Jane Austen
Cancel culture run amok or an honest assessment of author's biases?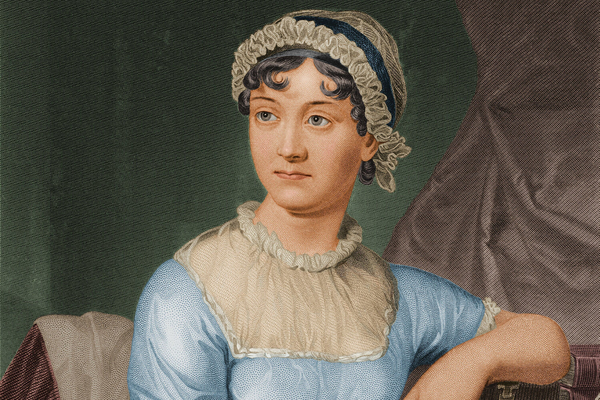 Recently, I listened to "Pride and Prejudice" by Jane Austen on Audible. Savoring every word, I was transported to 19th century, Regency-era England. Immersed in the world of Elizabeth Bennet, Mr. Darcy and formal balls, I almost escaped from our troubled 21st century universe. As I sipped tea, racism, transphobia – past and present injustice – slipped from my mind.
Until a headline from The New York Times flashed on my screen: "A Jane Austen Museum Wants to Discuss Slavery. Will Her Fans Listen?"
This Jane Austen fan is listening. Nothing pricks up your ears more than seeing one of your favorite authors (a literary icon, no less) connected with slavery.
Last month, Jane Austen's House, a museum on the life and work of Jane Austen, said that it would update its displays to include information on Austen's and her family's connection to slavery. (The museum in the English village of Chawton, has been only open virtually during the pandemic. It reopens for in-person visitors on May 19.) Austen, who lived from 1775 to 1817, resided in Chawton from 1809 until shortly before she died at age 41.
The exhibits reveal that George Austen, Jane Austen's father, before he became a pastor, was a trustee of an Antigua sugar plantation. The displays note that Austen and her family, by drinking tea, eating foods with sugar and wearing clothing made of cotton, enjoyed products of the Atlantic slave trade.
Information is included on Austen's views of abolitionists: Some scholars believe that Austen was against slavery. In 1807, the slave trade ended in the British Empire when King George signed the Act for the Abolition of the Slave Trade into law.
Reaction to the new exhibits was fast and furious, The New York Times reported. "Woke madness," thundered The Express. The Daily Mail said the museum had launched "a revisionist attack" and a "BLM-inspired interrogation" of Austen's ritual of imbibing tea.
If you believe these rants, you'd think that Jane Austen's House was trying to cancel Jane Austen: that we should stop appreciating her work because she drank tea and her family was connected to the slave trade.
Of course, this isn't the intention of the museum that celebrates Austen's work. Visitors increasingly ask about Austen and her family's connection to the slave trade, Jane Austen's House says in a statement. "It is therefore appropriate that we share the information and research that already exists on her connections to slavery and its mention in her novels," the museum says.
It's tempting to dismiss this dust-up as a tempest in a teapot. But that would be wrong.
This controversy calls our attention to one of the pressing issues of our time: How do we examine the prejudices of our icons, and should we cancel them and/or their work?
I'm thinking about two LGBTQ icons: Walt Whitman, born on May 31, 1819, and Adrienne Rich who died on March 27, 2012.
In his poetry, Whitman embraced democracy and inclusion. For his time, he wrote with remarkable openness about sexuality. If you're queer, you feel represented in his poetry.
Yet, in his later life, Whitman believed racist pseudo scientific claims. He called Black people "baboons" and "wild brutes."
Few poets are as beloved by the LGBTQ community as poet Adrienne Rich. Her poems have been a lifeline for queer women and gay men.
Yet, Rich advised Janice Raymond, who, in 1979 wrote the transphobic book "The Transsexual Empire." Raymond wrote that transgender people "colonize feminist identification, culture, politics, and sexuality."
In the face of racism and transphobia existing side by side with genius, Whitman's dictum about the self containing multitudes and contradictions rings painfully true.
I'd be lying if I said I had a solution to this muddle.
But if we've learned anything since George Floyd's death, it's that we all have conscious and unconscious biases. If we cancelled artists who have prejudices from racism to transphobia, what art would be left?
Yet, if we don't confront our cultural heroes' prejudices, how will we live with ourselves or work toward justice? What type of art would be created?
I only know: we must live and struggle with these vitally important questions.
Kathi Wolfe, a writer and a poet, is a regular contributor to the Blade.
McAuliffe for governor of Virginia
His leadership has made a positive difference for so many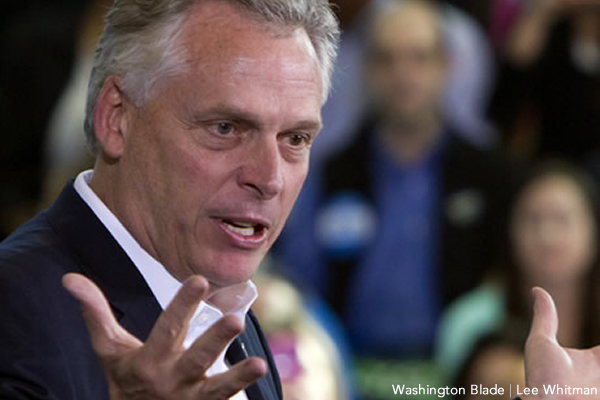 I support Terry McAuliffe for governor of Virginia. He is the best choice for Virginia Democrats in their primary and has the best chance of defeating any candidate Republicans choose to run against him.
Virginians know and respect him as a successful governor and a decent man. It was clear had Virginia law allowed him to run for a second consecutive term he would have won easily. His stellar record moving the state forward on equal justice and equal opportunity, on civil rights, women's rights, and LGBTQ rights make him the right choice.
The first executive order McAuliffe issued upon taking office in 2014 banned anti-LGBTQ discrimination against state employees. McAuliffe vetoed religious freedom bills, created Virginia's LGBTQ tourism board and became the first Virginia governor to declare June as Pride month. He oversaw the extension of marriage rights to same-sex couples in Virginia and as his campaign notes was the first governor of a southern state to officiate a same-sex wedding.
He recently released his platform on LGBTQ rights and in a statement to the Blade said: "LGBTQ+ Virginians have faced discrimination and inequities for too long because of who they are or who they love. I am proud of the progress Virginia has made in protecting the LGBTQ+ community over the past eight years, but our work is far from over. As governor, I will fight my heart out to make Virginia the most open, welcoming and inclusive state in the nation, and break down the disparities that LGBTQ+ communities, and particularly communities of color, face in education, health care, the economy and more. Together, we'll move Virginia forward into a better, brighter future for all."
When it comes to women's rights, as governor, McAuliffe staved off attacks by extreme Republicans who controlled the Virginia Legislature during his tenure. He fought for women's health care rights and fought to keep open every women's health clinic in the state. He vetoed legislation that would have harmed women, including a bill that would have defunded Planned Parenthood in Virginia.
On civil rights he said one of his proudest accomplishments was being able to reverse a racist Jim Crow law disenfranchising hundreds of thousands of Virginians. McAuliffe restored the right to vote to more than 200,000 Virginians with felony convictions allowing them to fully participate in democracy.
He was good for business and during his one term as governor had a record of bringing more than 200,000 good paying jobs to the state and oversaw a lowered unemployment rate and an increase in personal income of over 13%. McAuliffe understood early investments in the state's infrastructure would help the state to be a national leader in clean energy.
There is some discussion about whether McAuliffe should have stayed out of this race since there are two African-American women running. Some suggest he should have instead supported one of them. But like Joe Biden in his presidential race, McAuliffe has the support of a huge number of African Americans because they know him and many have personal relationships with him. A recent NBC news column quoted some African-American leaders who support McAuliffe. "I asked him to run," said Virginia Senate President Pro Tempore L. Louise Lucas, a leader of the state's Black political establishment and a co-chair of McAuliffe's campaign. She described McAuliffe as a "comfort level" choice in the midst of a pandemic.
State Del. Don Scott, who has a felony in his past said "McAuliffe encouraged him to run for the legislature two years ago at a time when others were counseling him against a campaign. He hasn't forgotten that favor. He had my back, said Scott, a staunch McAuliffe supporter. He may have thought he was running [for governor in 2021], but nobody else came down here. He put in that work and built those relationships. And if he did that with me imagine the type of relationships he's been able to build and relationships matter."
Politics is often about the possible and yes one needs an inflated ego to feel "I am the best person to lead." But in the case of McAuliffe his successes match his ego. His leadership has made a positive difference for so many people. It is those people who are responding to his candidacy and giving him a huge lead in the polls. They understand why in December 2017, McAuliffe was named "Public Official of the Year" by GOVERNING magazine. Virginians should give McAuliffe a second term.
Peter Rosenstein is a longtime LGBTQ rights and Democratic Party activist. He writes regularly for the Blade.