Pentagon to allow trans enlistments Jan. 1 after latest court order
Judge denies DOJ's request for a temporary stay on accessions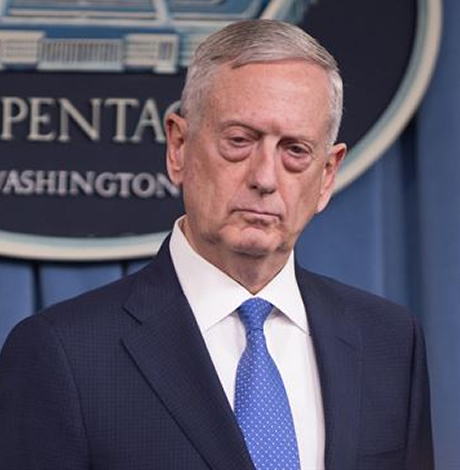 The Pentagon has affirmed it will allow transgender enlistments starting Jan. 1 on the same day a federal judge asserted her order against President Trump's ban on their service means they can accede into the military on that target date.
U.S. District Judge Colleen Kollar-Kotelly, a Clinton appointee, issued the order Monday in response to a request from the U.S. Justice Department for a temporary stay on the portion of her order requiring the Pentagon to admit transgender service members starting Jan. 1.
"For more than a year preceding the summer of 2017, it was the policy and intention of the military that transgender individuals would soon begin to accede," Kollar-Kotelly said. "Moreover, the court issued the preliminary injunction in this case approximately six weeks ago, and since then defendants have been on notice that they would be required to implement the previously established policy of beginning to accept transgender individuals on January 1, 2018. In other words, with only a brief hiatus, defendants have had the opportunity to prepare for the accession of transgender individuals into the military for nearly one and a half years."
Kollar-Kotelly also takes a jab at the Justice Department over the process in which it requested a stay, saying the "portrayal of their situation as an emergency is belied by their litigation tactics." She notes the appeal of her initial decision didn't come until weeks later and the request for a partial stay didn't come until December.
"If complying with the military's previously established January 1, 2018 deadline to begin accession was as unmanageable as defendants now suggest, one would have expected defendants to act with more alacrity," Kollar-Kotelly writes.
The judge had already clarified in response to a request from the U.S. government that her order against Trump's transgender military ban, issued in response to a lawsuit filed by GLBTQ Advocates & Defenders and the National Center for Lesbian Rights, means transgender enlistments must begin Jan. 1.
That was the target date Defense Secretary James Mattis established for transgender enlistment in a memo he issued in June delaying that change in policy for another six months in response to a joint request from military service chiefs. Transgender enlistments were initially scheduled to begin June 30 as a result of a change initiated in the Obama era under former Defense Secretary Ashton Carter.
Shannon Minter, legal director for the National Center for Lesbian Rights, said in a statement the Trump administration's assertion "our highly sophisticated military is unprepared to implement a minor policy change after more than a year of preparation are simply not credible."
"The military has studied this issue extensively and determined that permitting qualified transgender people to enlist and serve will only strengthen our nation's armed forces," Minter writes. "This administration's claim that allowing transgender people to enlist will lessen military preparedness is contradicted by the military's own conclusions."
The Justice Department has already appealed Kollar-Kotelly's decision against Trump's transgender ban as well as her clarification it means transgender enlistments must begin Jan. 1 to the U.S. Federal Circuit Court of Appeals in D.C. Meanwhile, the Justice Department has also appealed an order against the transgender ban issued by a federal judge in Maryland as a result of a separate lawsuit filed by the American Civil Liberties Union to the U.S. Third Circuit Court of Appeals.
Lauren Ehrsam, a Justice Department spokesperson, is quoted in the Washington Post as saying the department disagrees with the ruling and is "currently evaluating the next steps."
"Plaintiffs' lawsuit challenging military service requirements is premature for many reasons, including that the Defense Department is actively reviewing such service requirements, as the president ordered, and because none of the plaintiffs have established they they will be impacted by current policies on military service," Ehrsam reportedly added.
Prior to the ruling, as reported by the Associated Press, the Pentagon announced Monday it's preparing to admit transgender people into the armed forces starting Jan. 1 despite the Justice Department's continued efforts to fight the  court orders.
Maj. David Eastburn, a Pentagon spokesperson, told the Washington Blade the U.S. military "will begin processing transgender applicants for military service on January 1, 2018" as legal opportunities to challenging the court orders are evaluated.
Eastburn said the Pentagon will still disqualify potential recruits with "gender dysphoria, a history of medical treatments associated with gender transition and those who underwent reconstruction."
However, those recruits, Eastburn said, will be allowed into the military if a medical provider certifies they've been clinically stable in their gender identity for 18 months and "are free of significant distress or impairment in social, occupational or other important areas."
White House Press Secretary Sarah Huckabee Sanders, questioned on the Pentagon announcement by NBC News during the daily briefing, said the change reflects the requirements of court orders against Trump's transgender military ban.
"As of right now, they're simply complying with a court order and preparing to implement a previous policy to remain in compliance," Sanders said.
Sanders added, however, the Justice Department is "currently reviewing the legal options to ensure that the president's directive can be implemented," deferring additional questions to the department.
Matt Thorn, executive director of OutServe-SLDN, said his organization is "very pleased" the Pentagon is preparing to admit transgender enlistments on Jan. 1 as required by court order.
"The lawsuits filed by all organizations and the injunction by Judge Koller-Kotley should definitively be a sign to this administration that discrimination will not be tolerated in our armed forces," Thorn added. "The Pentagon never wanted this ban, it was moving ahead with this policy until Trump irrationally tweeted his bigotry about trans service members. We are eager to get back on track with the policy and with the Department of Defense complying with this court order we hope to do that."
Biden administration to ban discrimination against LGBTQ patients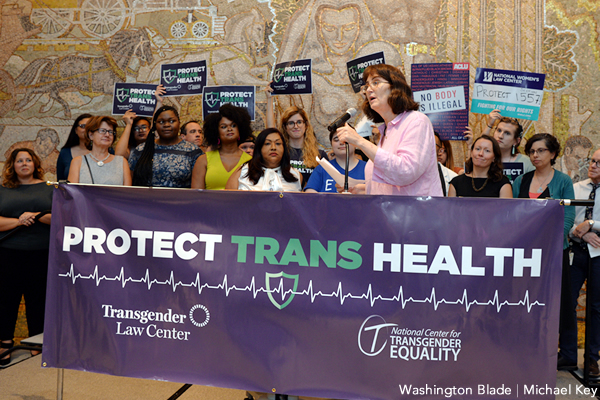 The Biden administration announced on Monday it would enforce civil rights protections under Obamacare to prohibit discrimination in health care against patients for being LGBTQ, reversing policy during the Trump years excluding transgender status as a protected characteristic under the law.
The Department of Health & Human Services declared it would enforce Section 1557 of the Affordable Care Act, which prohibits discrimination in health care on the basis of sex, and begin to take up cases of discrimination based on sexual orientation and gender identity.
HHS Secretary Xavier Becerra said in a statement the Supreme Court has "made clear that people have a right not to be discriminated against on the basis of sex and receive equal treatment under the law, no matter their gender identity or sexual orientation."
"Fear of discrimination can lead individuals to forgo care, which can have serious negative health consequences," Becerra said. "It is the position of the Department of Health and Human Services that everyone — including LGBTQ people — should be able to access health care, free from discrimination or interference, period."
The move is consistent with the executive order President Biden signed on his first day in office directing federal agencies to implement the U.S. Supreme Court's decision last year in Bostock v. Clayton County to the furthest extent possible. Federal agencies were directed to comply within 100 days of the executive order, which is about now and a short time after Biden's first 100 days in office.
The announcement with respect to Section 1557 comes on the same day as the hearing took place this morning in Bagly v. HHS, a case before a federal court in Massachusetts challenging Trump's undoing of transgender protections under the law. An attorney with the U.S. Justice Department announced a new notice of proposed rule-making is coming with respect to Section 1557.
Sharita Gruberg, vice president for the LGBTQ Research and Communications Project at the Center for American Progress, said in a statement the change "assures LGBTQ people that their rights will be upheld at the doctor's office, vaccine sites, and everywhere else they seek health care and coverage."
"The administration's announcement that it will enforce these protections are a critical step toward addressing vaccine hesitancy among LGBTQ people, a population that has been disproportionately impacted by the pandemic and seriously harmed by the previous administration's attempts to permit discrimination against LGBTQ patients, Gruberg added.
The past three administrations have instituted policy on LGBTQ protections based on their interpretation of Section 1557. Each move had varying implications and directions for LGBTQ patients.
The Obama administration issued a rule in 2016 interpreting Section 1557 to apply to cases of anti-transgender discrimination and discrimination against women who have had abortions, which was consistent with court rulings at the time. However, that move was enjoined by a nationwide court order in Texas as a result of litigation filed by Texas Attorney General Ken Paxton.
The Trump administration, shortly after the Supreme Court's ruling in Bostock, made final a regulation proposed last year rescinding the Obama administration's transgender protections under Section 1557. Faced with criticism, the Trump administration defended itself by saying its move was consistent with the court order in Texas, although it seemed to ignore the decision from the higher court.
The new rule from HHS goes above and the beyond the Obama administration by instituting protections based on both sexual orientation and gender identity. It wasn't immediately clear whether the proposed rule would be a new regulation entirely, or seek to modify the changes that were made in the two previous administrations. The Blade has placed a request seeking comment with HHS.
Susan Bailey, president of the American Medical Association, said in a statement the new HHS rule is a welcome change after the Trump administration rescinded protections for transgender patients.
"It's unfortunate that such an obvious step had to be taken; the AMA welcomes this common-sense understanding of the law," Bailey said. "This move is a victory for health equity and ends a dismal chapter in which a federal agency sought to remove civil rights protections."
Discrimination in health care is an experience transgender people commonly report. The U.S. Transgender Survey in 2015 found one-third of responders said they had at least one negative experience in health care related to being transgender. Further, 23 percent of responders said they didn't seek health care because they feared being mistreated and one-third said they didn't go to a provider because they couldn't afford it.
A Center for American Progress survey from 2018 had similar findings with respect to transgender people and patients with being gay, lesbian and bisexual or queer. Eight percent of responders said a doctor refused to see them because of their perceived or actual sexual orientation, while 28 percent of providers said a doctor refused to see them because of their actual or perceived sexual orientation.
Hospitals, especially religiously affiliated providers, refusing to provide transition-related care, including gender assignment surgery, is another frequently reported incident for transgender patients. The American Civil Liberties Union, for example, has filed litigation against hospitals under Section 1557 for refusing to perform the procedure.
Rachel Levine, assistant secretary of health and the first openly transgender presidential appointee to obtain Senate confirmation, hailed the HHS rule change in a statement.
"The mission of our Department is to enhance the health and well-being of all Americans, no matter their gender identity or sexual orientation. All people need access to healthcare services to fix a broken bone, protect their heart health, and screen for cancer risk," Levine said. "No one should be discriminated against when seeking medical services because of who they are."
Although the Biden administration's announcement is a welcome move for LGBTQ advocacy groups, the change is not without critics.
John Banzhaf, a law professor at George Washington University who declares himself a supporter of transgender rights, said the policy could have unintended consequences, which he said has become evident in the British health system.
"[Transgender] individuals with a penis but no vagina are being asked to have medical tests on their non-existent cervices, while [transgender] persons with a vagina and cervix will not be asked, under new guidelines which appear to place lives at risk and encourage a physically impossible medical exam on organs which simply do not exist," Banzhaf said. "And, carrying this absurdity to its totally illogical conclusion, a patient with a penis and a full beard was offered a cervical test because, despite his clearly masculine appearance and style of dress, he registered himself as being gender neutral."
Bill to ban conversion therapy dies in Puerto Rico Senate committee
Advocacy group describes lawmakers as cowards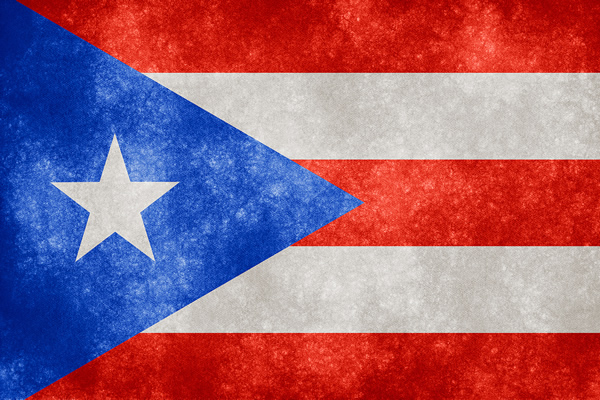 A Puerto Rico Senate committee on Thursday killed a bill that would have banned so-called conversion therapy on the island.
Members of the Senate Community Initiatives, Mental Health and Addiction Committee voted against Senate Bill 184 by an 8-7 vote margin. Three senators abstained.
Amárilis Pagán Jiménez, a spokesperson for Comité Amplio para la Búsqueda de la Equidad, a coalition of Puerto Rican human rights groups, in a statement sharply criticized the senators who opposed the measure.
"If they publicly recognize that conversion therapies are abuse, if they even voted for a similar bill in the past, if the hearings clearly established that the bill was well-written and was supported by more than 78 professional and civil entities and that it did not interfere with freedom of religion or with the right of fathers and mothers to raise their children, voting against it is therefore one of two things: You are either a hopeless coward or you have the same homophobic and abusive mentality of the hate groups that oppose the bill," said Pagán in a statement.
Thursday's vote comes against the backdrop of continued anti-LGBTQ discrimination and violence in Puerto Rico.
Six of the 44 transgender and gender non-conforming people who were reported murdered in the U.S. in 2020 were from Puerto Rico.
A state of emergency over gender-based violence that Gov. Pedro Pierluisi declared earlier this year is LGBTQ-inclusive. Then-Gov. Ricardo Rosselló in 2019 signed an executive order that banned conversion therapy for minors in Puerto Rico.
"These therapies lack scientific basis," he said. "They cause pain and unnecessary suffering."
Rosselló issued the order less than two weeks after members of the New Progressive Party, a pro-statehood party  he chaired at the time, blocked a vote in the Puerto Rico House of Representatives on a bill that would have banned conversion therapy for minors in the U.S. commonwealth. Seven out of the 11 New Progressive Party members who are on the Senate Community Initiatives, Mental Health and Addiction Committee voted against SB 184.
"It's appalling. It's shameful that the senators didn't have the strength and the courage that our LGBTQ youth have, and it's to be brave and to defend our dignity and our humanity as people who live on this island," said Pedro Julio Serrano, founder of Puerto Rico Para [email protected], a Puerto Rican LGBTQ rights group, in a video. "It's disgraceful that the senators decided to vote down this measure that would prevent child abuse."
Undocumented LGBTQ immigrants turn to Fla. group for support
Survivors Pathway is based in Miami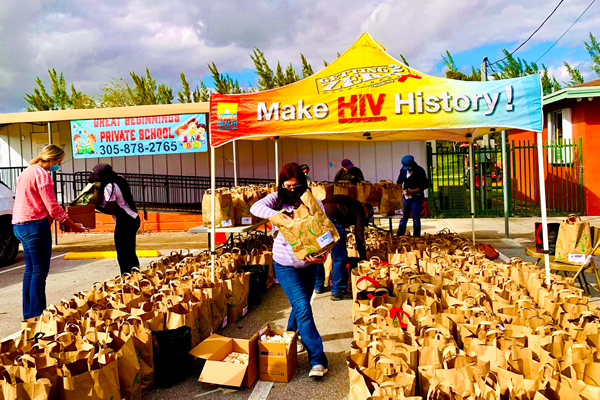 MIAMI – The CEO of an organization that provides support to undocumented LGBTQ immigrants says the Biden administration has given many of his clients a renewed sense of hope.
"People definitely feel much more relaxed," Survivors Pathway CEO Francesco Duberli told the Washington Blade on March 5 during an interview at his Miami office. "There's much hope. You can tell … the conversation's shifted."
Duberli — a gay man from Colombia who received asylum in the U.S. because of anti-gay persecution he suffered in his homeland — founded Survivors Pathway in 2011. The Miami-based organization currently has 23 employees.
Duberli said upwards of 50 percent of Survivors Pathway's clients are undocumented. Duberli told the Blade that many of them are survivors of domestic violence, sexual assault and human trafficking and victims of hate crimes based on their sexual orientation and gender identity.
"Part of the work that we have done for years is for us to become the bridge between the communities and law enforcement or the justice system in the United States," said Duberli. "We have focused on creating a language that helps us to create this communication between the undocumented immigrant community and law enforcement, the state attorney's office and the court."
"The fear is not only about immigration," he added. "There are many other factors that immigrants bring with them that became barriers in terms of wanting to or trying to access the justice system in the United States."
Duberli spoke with the Blade roughly a week after the Biden administration began to allow into the U.S. asylum seekers who had been forced to pursue their cases in Mexico under the previous White House's "Remain in Mexico" policy.
The administration this week began to reunite migrant children who the Trump administration separated from their parents. Title 42, a Centers for Disease Control and Prevention rule that closed the Southern border to most asylum seekers and migrants because of the coronavirus pandemic, remains in place.
Duberli told the Blade that Survivors Pathway advised some of their clients not to apply for asylum or seek visa renewals until after the election. Duberli conceded "the truth of the matter is that the laws haven't changed that much" since Biden became president.
Survivors Pathway has worked with LGBTQ people in U.S. Immigration and Customs Enforcement custody in South Florida. American Civil Liberties Union National Political Director Ronald Newman in an April 28 letter it sent to Homeland Security Secretary Alejandro Mayorkas called for the closure of the Krome North Service Processing Center in Miami, the Glades County Detention Center near Lake Okeechobee and 37 other ICE detention centers across the country.
Survivors Pathway responded to trans woman's murder in 2020
Survivors Pathway has created a project specifically for trans Latina women who Duberli told the Blade don't know they can access the judicial system.
Duberli said Survivors Pathway works with local judges and police departments to ensure crime victims don't feel "discriminated, or outed or mistreated or revictimized" because of their gender identity. Survivors Pathway also works with Marytrini, a drag queen from Cuba who is the artistic producer at Azúcar, a gay nightclub near Miami's Little Havana neighborhood.
Marytrini and Duberli are among those who responded to the case of Yunieski "Yuni" Carey Herrera, a trans woman and well-known activist and performer from Cuba who was murdered inside her downtown Miami apartment last November. Carey's boyfriend, who had previously been charged with domestic violence, has been charged with murder.
"That was an ongoing situation," noted Duberli. "It's not the only case. There are lots of cases like that."
Duberli noted a gay man in Miami Beach was killed by his partner the same week.
"There are lots of crimes that happen to our community that never gets to the news," he said. "We got those cases here because of what we do."