January 13, 2018 at 12:41 pm EST | by Valerie Blake
Adding leather to your home decor
It was 1953 when Marlon Brando donned his leather jacket to be photographed astride a motorcycle, looking defiantly at the camera as Johnny Strabler in "The Wild One." Women (and no doubt, some men) swooned.
Fast forward 50 or so years and we watched Michelle Pfeifer live out several of her nine lives in her body suit and studded face mask as Catwoman in "Batman Returns."
Shortly thereafter we followed the relationship of Jack and Ennis in "Brokeback Mountain," complete with cowboy boots, chaps and saddle bags.
And who can forget the ever-popular Village People? Leathers and feathers and hard hats. Oh my!
Now, with the Mid-Atlantic Leather Weekend getting underway, men (and some women) are putting away their holiday decorations and breaking out the chokers, chains and harnesses to get suited up for the festivities.
Whether you participate in the local events, watch from the sidelines, or save your hip boots and cat o' nine tails for a more private moment, soon the weekend will be over. Your use of leather, however, may not be.
If you love the smell and the feel of fine leather, there are plenty of ways to feed your need throughout the year. Here are just a few.
In the living room. Whether you buy an Intervalle Modular version from Roche Bobois, a Le Corbusier style LC3 from Kardiel, or a tufted Chesterfield with nail heads and a vinyl back from Haverty's, sinking into a new leather sofa should be on your agenda.
A specialty chair can be a nice addition as well. For example, an Eames lounge chair with ottoman is available from Herman Miller or you can get a Cassina LC4 multi-position chaise lounge in leather from Design Within Reach – that's your reach, not mine. Within my reach is the ever-popular leatherette recliner with matching remote pocket and cup holder from Bob's Discount Furniture.
Now, I'm not suggesting your décor should be all leather but who am I to judge? A more traditional living room, perhaps with an aubergine velvet Camelback sofa, might feature a 1920s leather-topped coffee or end table. In fact, such a wonderful high-end, round side table with leather top and gilded inlay, attributed to Louis Scalera & Co., can be found on eBay.com. Look for similar accent tables on auction websites like Everything but the House (ebth.com).
In the dining room. While carving a turkey on a leather-topped table may not be the best idea, you can accent a modern dining table with inexpensive knock-off Jens Risom side chairs from France & Son for only $200 each. With a larger budget, you can get Curran quilted dining chairs in one of six colors from Crate and Barrel. For the do-it-yourselfer with a commercial-grade staple gun, reupholstering your current dining chair seats with your favorite leather or hide is an option.
Accent your table with Tuscan leather placemats from Wayfair.com or a braided, basket weave, faux-leather version from Zazzle.com and don't forget something underfoot. Woven leather rugs are available from West Elm and your interior designer can order leather and snakeskin floor tiles from Edelman Leather or Keleen Leathers, Inc.
In bed, bath and beyond. CB2 has a selection of mid-century style beds in a mix of wood and leather. You can pair your favorite with their swivel base side chair or search through a wide selection of tufted leather headboards and sleigh beds from Overstock.com for something that strikes your fancy.
If you're looking for something unusual or more creative, Ecodomo, Inc., a fabricator located in Gaithersburg, can clad most anything with hide or with their eco-friendly product, Andeline Recycled Leather Veneer (RLVTM).
Tired of white kitchens already? Start a new trend by using leather panel inserts on cherry Shaker cabinet doors and drawers. Try their Phoenix belt panels on an accent wall. They're made of – you guessed it – recycled belts.
Would you like leather veneer interior doors in your contemporary condo? Can do. Interested in leather counters or shelves on your library bookcase? That's also possible.
You might fall in love with their leather floor tiles and planks, which purportedly have the density of red oak. If that sounds like too delicate an application, consider that they are used in hotel and office lobbies. Sadly, they are not suitable for wet rooms such as kitchens, baths and laundries.
And if you're looking for a gift for the man who has everything, Ecodomo even offers a leather toilet seat from their Royal Throne Collection. Just leave a copy of Townsend's Leatherman's Handbook in the loo for some light reading as needed.
Valerie M. Blake is a licensed Associate Broker in D.C., Maryland and Virginia and Director of Education & Mentorship at Real Living| At Home. Call or text her at 202-246-8602, email her at Valerie@DCHomeQuest.com, or follow her on Facebook at TheRealst8ofAffairs.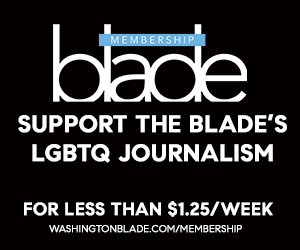 Sign Up for Blade eBlasts