February 3, 2018 at 5:49 pm EST | by Brock Thompson
Gay cruises, party drugs and taking care of each other
I went on a gay cruise once. About five or so years ago. My first and only. I was drawn in by the image of 2,000 or more gay men freely floating in the middle of a large, seemingly lawless ocean. That amount of freedom is appealing to anyone.
It turns out it really wasn't for me. I'm not knocking the cruise itself, I have plenty of friends that swear by it, returning year after year, like some gay pilgrims returning to some sort of glittery gay holy land. But for me, my unique mix of social anxiety makes it more likely that I'll intentionally spill a glass of wine on myself just to get out of an awkward conversation. "Oops. . . again. . .excuse me while I go change and soak this shirt." I basically skipped the big, over-the-top, circuit-type parties and hung out mostly in the piano bar with a group known as the Silver Sailors.
Also, like the most recent gay cruise produced by Atlantis Events, in partnership with Royal Caribbean, ours saw the death of a passenger. I didn't know him or his friends. But apparently after a night of dancing and such, where I'm sure a great deal of party drugs were consumed, he had a fight with his boyfriend. Returning to his cabin in the very early hours of the morning, he flung himself off his balcony into the ocean. He was never found. That was only a day or two into our cruise. Parties went on, sure, for nothing really would have stopped us from the task at hand. But, as you can imagine, a pall hung over the ship for the rest of the voyage. And the captain stopped making his cheery morning announcements.
The cruise that just pulled into port last week saw the death of passenger Joel Taylor, the out and open host of the Discovery reality show "Storm Chasers."  TMZ reported that, "Taylor had been doing GHB late Monday night going into Tuesday morning, dancing during a wild party, when he "lapsed into unconsciousness." Adding that he was "carried into his cabin and left there." Taylor was pronounced dead the following morning.
Let me just say that Taylor's death is indeed a tragedy. Somewhere there's a family suffering terrible grief, coworkers cleaning out a cubicle, friends second-guessing every move and misstep. But here, the responsibility ultimately lies with the latter, and perhaps everyone aboard the ship who may have seen Taylor in an unsafe state.
As a community, we need to do some growing up here. And I'm not saying, "don't do drugs." A blanket statement like that is simplistic and naive. After all, how many people wait until 21 to drink, or for marriage to have sex? But if we want to be taken seriously as a community we also have to take our community seriously. Partying ourselves to death is certainly a terrible look for us. But this also means taking our relationships with a great dose of seriousness, and taking care of our friends when they've clearly had too much. I don't want to point fingers directly at Taylor's friends. Again, they will certainly live with unimaginable guilt for the rest of their lives. They don't need anything else from me. But friendship, especially in minority communities, takes on a greater responsibility. Especially given that so many of us are removed from families and typical communities. We quickly fashion our own.
But the responsibility to each other runs deeper than just simply putting someone to bed. Don't run back to the party so quickly. Stay with them next time.
Brock Thompson is a D.C.-based writer. He contributes regularly to the Blade.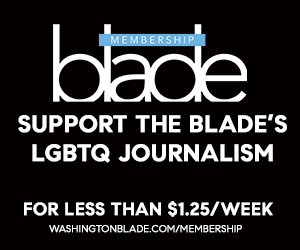 Sign Up for Blade eBlasts