Latinx diversity finds outlet on STARZ show 'Vida'
Theater vet Tanya Saracho wrote for 'Looking,' 'Girls,' et. al.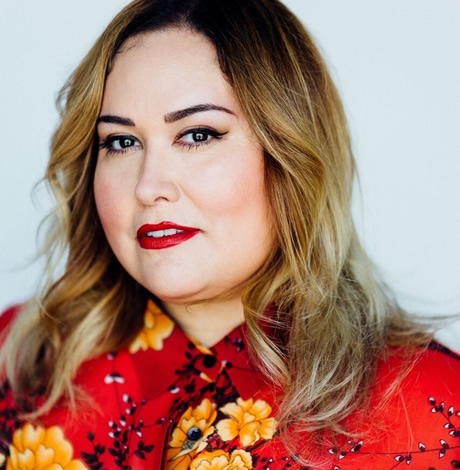 On Sunday, STARZ breaks down some serious barriers with the premiere of "Vida." Set on the Eastside of Los Angeles, the series was created by a queer Latinx woman who also serves as showrunner, features a non-binary actor in a lead role and has a writer's room where the entire staff is Latinx and most of the team is LGBT and/or female-identified.
The series got started when executives at STARZ called Tanya Saracho in for a meeting. Saracho is a Chicago-based writer who has written for "Devious Minds," "Girls," "Looking" and "How to Get Away with Murder." Her plays include "Mala Hierbe" and "Fade," which was inspired by her experience as a "diversity hire" for a television studio.
"They asked me if I know what a 'chipster' was, and I said, 'Of course. It's a Chicana hipster,'" Saracho says. "Then they asked me if I knew what gentrification was. Then they asked, 'Can you do a pilot about it?' and I said, 'yeah.'"
Saracho recalls that the outline of the series came quickly.
"It's all very simple really," she says. "It's about two girls who come home and find out a secret about their late mother. Using this area of L.A. as backdrop, everything just kind of filled up around them. These girls are very much my children now."
A novice showrunner, Saracho learned that time is money in television. 
"The first scene I turned in was seven pages," she says. "My producer said, 'You know, it costs $100,000 to shoot a page of dialogue. Do you think you have a $700,000 scene here?'"
She didn't and she cut the scene in half.
She also noticed TV is more diverse.
"I do think there is something happening in TV that is really cool and I want theater to catch up," she says. "I've been in the theater for 17 years. We've been talking about diversity and inclusion and LGBTQ narratives and brown narratives and Latinx narratives for years. But, the theater seasons still look the same as when I started."
Things have happened more quickly on TV, she says.
"From my lived experience, I feel very supported in the conversations I'm having with STARZ," she says. "They might not have the right terminology all the time, but they're being active. It's not just talk."
This commitment to tackling complex social issues is embodied in the plot of "Vida." When Lyn (Melissa Barrera) and Emma (Mishel Prada) return to their childhood home for their mother's funeral, they discover that their mother has come out as a lesbian. As they deal with their grief and anger, they must also deal with their own sexual identities, childhood memories, new and old lovers, suspicious neighbors and saving their mother's bankrupt bar from developers who are trying to gentrify the neighborhood.
The sisters must also come to terms with their mother's lover Eddy Martinez, played by non-binary actor Ser Anzoategui who uses the pronouns they/them/their. They are a Los-Angeles based writer and performer whose work as an "artivist" brought them to the attention of fellow theatre artist Saracho. Anzoategui is proud to bring this character to life.
"Eddy is this beautiful soul who looks intimidating," Anzoategui says. "I think Eddy will break stereotypes and expectations and reach everyone's heart. This character lives in truth, where a lot of the other characters are trying to avoid the truth. It's really fantastic to show viewers who Eddy is because Eddy reflects a lot of LGBTQ-plus people in Los Angeles."
Anzoategui says the time is right for a show like "Vida."
"We need this show right now," they says. "The word 'vida' literally means life and this show is literally a lifeline. 'Vida' may not leave you with answers. It's not like this nicely wrapped-up beginning, middle and end and here's the resolution. It's real, like you're living a life with these people. This amazing show opens up the eyes and the mind to what else is possible when you honor the communities you are telling a story about."
Fall TV offers vampires, royals, and return to Gilead
'Handmaid's Tale' even more essential after fall of Roe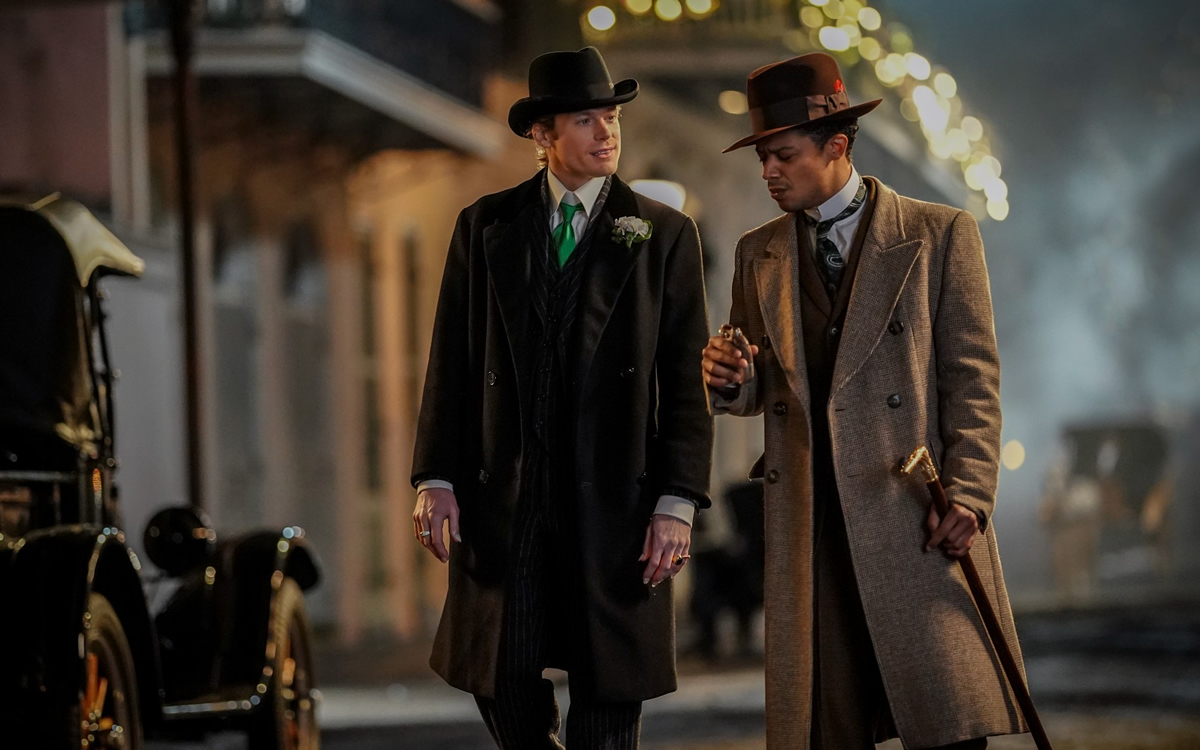 Once upon a time, TV premieres were the province of fall, and there was something exciting about seeing all the new titles unveiled. In the streaming era, of course, new shows debut all year long – but we think there's still a special excitement surrounding the ones that come out at this time of year. Call us old-fashioned.
Here's our list of the shows we think you'll find watch-worthy:
THE HANDMAID'S TALE (Hulu, Sept. 14)
The critically acclaimed and popular series based on Margaret Atwood's chillingly prescient dystopian novel just dropped the first episode of its fifth season, in which now-escaped refugee June (Emmy-winner Elisabeth Moss, "Mad Men," "Top of the Lake," "The Invisible Man") works from afar to be reunited with her daughter, while her co-conspirators in theocratic Gilead find an unlikely ally in Aunt Lydia (Ann Dowd). Meanwhile, Serena Waterford (Yvonne Strahovski), now a widow in Toronto after the violent end met by her husband at the end of season four, attempts to raise her profile as her homeland's influence spreads into Canada. The ominous too-close-to-home quality that made this series tough-but-essential viewing during the Trump years has taken on a renewed power with the fall of Roe v. Wade, which means its latest (and possibly final) installment will likely be a must-watch for more audiences than ever. Also starring Max Minghella, Bradley Whitford, O-T Fagbenle, Samira Wiley, Madeline Brewer, Amanda Brugel, and Sam Jaeger.
MONARCH (Fox, Sept. 20)
Self-described as "a Texas-sized, multi-generational musical drama about America's leading family of country music" and starring Oscar-winner Susan Sarandon "Dead Man Walking," Thelma & Louise," "Feud") as a "tough-as-nails" country music legend, this ambitious new offering from creator/writer/executive producer Melissa London Hilfers features a lesbian couple among its principal characters and looks to be cut from the same guilty-pleasure cloth as all the classic primetime soaps the queer community has always loved. The saga of a fictional country music dynasty with superstars Dottie and Albie Roman at its center, it promises plenty of scandal, sex, bad behavior, and music (both original songs and covers) as it unwinds the secrets and lies at the heart of their success and forces them to protect the family legacy – from both rivals and each other. Featuring multi-Platinum country music star and three-time ACM winner Trace Adkins as Sarandon's other half, the series also stars Anna Friel, Joshua Sasse, Beth Ditto, Meagan Holder, Inigo Pascual, Martha Higareda, and Emma Milani.
REBOOT (Hulu, Sept. 20)
From "Modern Family" creator Steven Levitan comes this good-naturedly irreverent (and queer-inclusive) send-up of the Hollywood entertainment machine featuring "Crazy Ex-Girlfriend" star Rachel Bloom as a TV writer who gets greenlighted on her pitch for a revival of a beloved sitcom from the early 2000s – a dream come true, until her hopes for a more "woke" update of the outdated classic are threatened by the involvement of the show's original creator (Paul Reiser, "Mad About You"). Making things even more unpredictable is the original cast (Keegan-Michael Key, Judy Greer, Johnny Knoxville, and Calum Worthy), whose complicated history of offscreen relationships and personal dysfunctions is part of the package deal that comes with reuniting them to reprise their roles. Fast, funny, and full of the rapid-fire comic zingers Levitan's shows are famous for, it's a shrewd and deliciously "meta" satire that pokes fun of all the usual Hollywood flaws and foibles – not to mention currently raging generational conflict of attitudes and values – while making sure its gallery of goofy-but-lovable characters are always the main attraction. This one is a definite gem.
INTERVIEW WITH THE VAMPIRE (AMC, Oct. 2)
For the many devoted followers of author Anne Rice, who sadly passed away at 80 last December, this one is huge. Ever since it was first published in 1976, Rice's gothic tale of a New Orleans vampire revealing his 200-year history as a denizen of the night has been embraced by queer fans, who saw their own outsider experience reflected in its sensual and sensitive cast of undead protagonists. The novel spawned an entire series of books – "The Vampire Chronicles" – that enriched and expanded the stories of her beloved characters and spread them across a vast historical landscape, and branched off into other sagas populated by more of Rice's supernatural creations; a 1994 film adaptation starring Brad Pitt and Tom Cruise, though successful, felt straight-washed to many of Rice's readers (and the less said about 2002's "Queen of the Damned," the better), but series creator Rollin Jones has already promised his new adaptation – modernized from the original's mid-70s setting – will be true to the queer subtext of the author's original work. The involvement of Christopher Rice (the author's son) as an executive producer bodes well that such promises will be honored. Starring "Game of Thrones" favorite Jacob Anderson as Louis and Australian actor Sam Reid as Lestat, the 8-episode first season will also feature Bailey Bass, Assad Zaman, Eric Bogosian, Chris Stack, Maura Grace Athari, and Kalyne Coleman.
THE YOUNG ROYALS (Netflix, Nov. 2)
The popular Swedish teen drama about the inconvenient romance between young Prince Wilhelm and his classmate Simon (Edvin Ryding and Omar Rudberg, respectively) returns for a second season that sees its protagonist embarking on a plan of revenge meant to win back Simon's trust, giving rise to complications that threaten the entire monarchy.
PLANET SEX WITH CARA DELVINGNE (Hulu, Nov. 18)
For those with a taste for the provocative, there's this promising docuseries, in which model-turned-actress Cara Delevingne goes for a deep dive into some of the biggest questions about sexuality. According to publicity materials, the show is an "immersive journey" in which the star "puts her mind and body on the line in search of answers regarding human sexuality, its joys, mysteries, and constantly changing nature." Delevingne, who appeared in a recurring role on the second season of Hulu's "Only Murders in the Building" opposite friend Selena Gomez, came out as pansexual in 2020, telling Variety, "Growing up, I didn't really see many people like me, so I'm just really grateful to be one of those people representing." We can get behind that, and we'll be watching when the show drops later this fall.
In addition to these, there's A TRIO OF SHOWS from Netflix with TBD Premiere Dates:
EAST-BAKE BATTLE – Season 1 of a new culinary competition show hosted by "Queer Eye" heartthrob Antoni Porowski.
DEAD END: PARANORMAL PARK – The delightful animated adventure based on Hamish Steele's graphic novels about a transgender boy named Barney and his friends, who secretly work as the "demon cleanup crew" at a haunted theme park returns for a second season. Real-life trans actor Zach Barach provides the voice of Barney.
WENDELL & WILD – Animated denizens of the underworld also inhabit this new stop-motion series from collaborators Henry Selick ("The Nightmare Before Christmas") and Jordan Peele ("Get Out") about a scheming pair demon brothers trying to be summoned into the Land of the Living by a guilt-ridden 13-year-old. Voice talent includes Peele, Keegan-Michael Key, Lyric Ross, Angela Bassett, James Jong, Ving Rhames, and trans actor Sam Zelaya.
'Monarch's' hot butterfly: an interview with Kevin Cahoon
Out actor/singer on Fox's new show and falling in love with Beth Ditto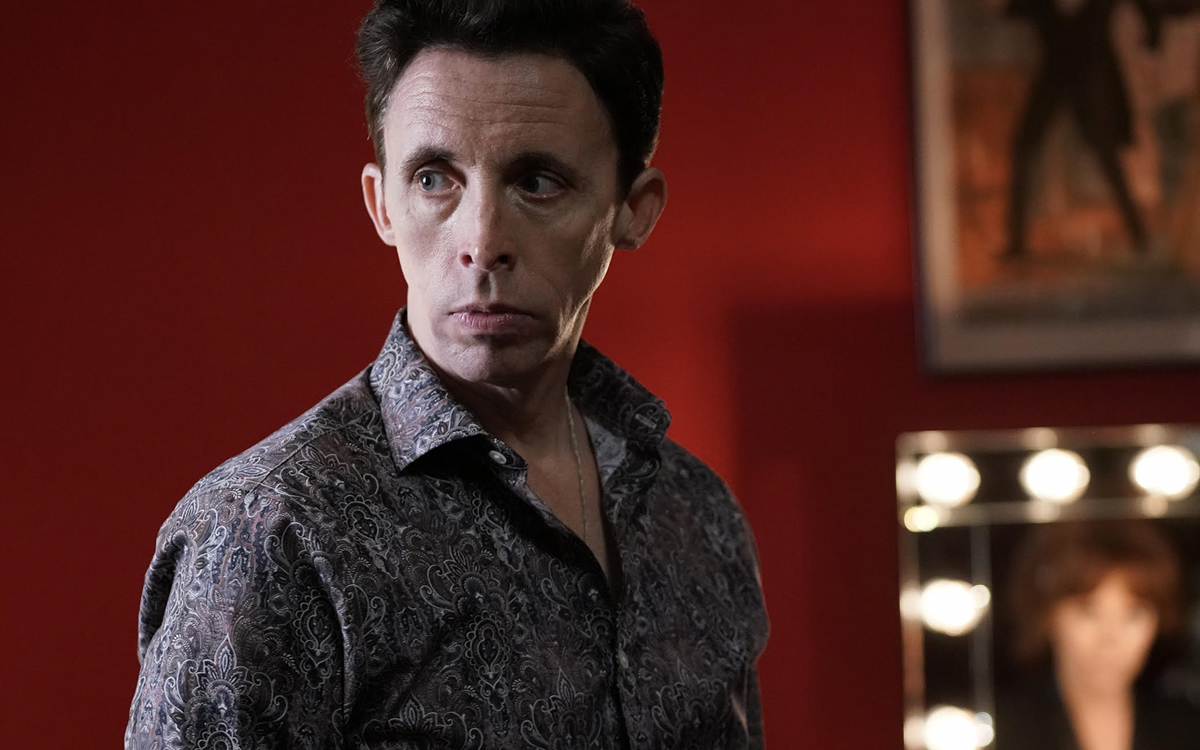 Fox's new musical nighttime soap opera "Monarch" is to country music as the network's "Empire" was to hip-hop. Complete with over-the-top characters, familial intrigue, infidelity, and tragedy. Oh, and a few queer characters, too. Among those characters is hair and makeup artist Earl, played by out actor and singer Kevin Cahoon. In addition to occasionally being the much-needed source of comic relief, Earl also plays the irreplaceable best friend of country music queen Dottie Roman, played by none other than Oscar-winner Susan Sarandon. Fortunately for us, Kevin was kind enough to make time in his schedule to answer a few questions.
BLADE: I first became aware of you as a performer via your music and your band Ghetto Cowboy. Your debut album "Doll" won an OutMusic Award in 2006. When you look back at that time, how do you feel about it?
KEVIN CAHOON: That's one of the proudest achievements I've ever had in my life; winning an OutMusic Award for "Doll." It really is! It's on every bio, every résumé. I was so proud to have received it because, in a way, I was coming from the theater, and to do this as my first foray into music, creating rock 'n' roll and pop songs; it just felt like the warmest embrace. I was so honored to receive that. That whole period of my life, with Ghetto Cowboy, and playing all of those incredible venues, like Don Hill and CBGB's. To have been a part of that and to have been a part of the queer music scene at that time felt special. The LGBTQIA community is still moving forward, trying to gain equality across the board. But at that time this was (during) "don't ask, don't tell." This was before marriage equality.
BLADE: The early 2000s.
CAHOON: Yes, it was even before "RuPaul's Drag Race." The culture had no understanding about this music and these people that really were making this music. So, it really felt like the outsiders were crashing their way through the door. I even felt that way naming the band Ghetto Cowboy. I thought, "People who are disenfranchised and pushed to the outskirts of society are forced to live in a ghetto." Whether it's a Jewish ghetto or a Spanish ghetto or African American, or even rural people in Appalachia or in rural parts of this country, they are pushed, pushed, pushed to the boundaries. By naming the band that I thought, "Oh, this is what it is. We're gonna come in. We're gonna be cowboys in this and we are going to stake our claim from the outside." It was an incredible moment, and it was so exciting, and it was one of the greatest times of my life.
BLADE: Have you had the time to work on any new original music?
CAHOON: I haven't, and I want to. I think about it all the time. It's coming, I promise. I have an idea for the long-awaited second album [laughs].
BLADE: As you mentioned, at the same time you were making this music, you were doing a lot of theater and have continued to focus on your acting career. Would you say you're a singer who acts or an actor who sings?
CAHOON: I would say that I'm an actor who sings. Even with the rock 'n' roll, it was coming from a place of character, and a place of story. I felt like I was playing a character when I was fronting my band.
BLADE: You're currently in the new Texas-set Fox series "Monarch" in which you play Earl Clark. What was it about the character of Earl that appealed to you as an actor?
CAHOON: First of all, it's a network series with Susan Sarandon and Trace Adkins. That was a giant appeal. As an actor, I was connected to the world because I grew up in Texas, I grew up in the rodeo and I have a real soft spot for it, if there's a pair of cowboy boots and a cowboy hat, I'm gonna grab them and put them on. I love the whole aesthetic. I love the world. I love the outsider going out into the plains and staking a claim for himself. That's the world of "Monarch." This show biz, country-western family. It is the juiciest of fun soap operas you could ever imagine.
BLADE: It's very much in the mold of a classic nighttime soap opera.
CAHOON: It is! In the greatest way. Who doesn't love that? We all loved "Desperate Housewives," "Nashville," "Dallas," and "Dynasty." The character (I play) was inspired by a real person named Earl Cox. He is the premier hairstylist to every country star you can ever imagine. So, the ("Monarch") creator, Melissa London Hilfers, saw his place in their world and thought, "Let's create a character that is inspired by him." So, it's loosely inspired, but she ran with it. I (Earl) have worked for the family for decades. I have been the best friend of Dottie Roman, played by Susan Sarandon. The series evolves when you get to episodes six, seven, and eight, more is revealed as to what Earl knows, and how long he's been around. He lives on the ranch (The Brambles) with the family. We shot on this incredible 140-acre ranch right outside of Atlanta. It was a dream. The job was a dream. I'm praying that I continue to have more of that dream [laughs]. We'll see what happens when it gets to season two.
BLADE: I'm so glad you said what you did about Earl and Dottie. There is a palpable exchange of affectionate feelings between them. Would you agree that without their gay hair and makeup people, most country divas would end up looking like Marjorie Taylor Greene?
CAHOON: Gay people are the motor in the pickup truck of the country music industry. I say that Earl Clark showed up to The Brambles with a suitcase full of rhinestones and a dream. His dream was to be in show business. To be close to an iconic diva of country music, which is Dottie Roman, played by Susan and he enjoys being that close to the first lady, and he enjoys his place as the major domo gatekeeper. He will do anything he has to do to retain that position. I think he loves getting dressed up. In the show, they have a fantastic rockabilly hairstyle for me and great, sparkly clothes. I told the wardrobe and hair team that he enjoys getting made-up just as much as he enjoys making Dottie up. That should be part of his essence. That he loves to be seen and he loves to show off and I think they accomplished that with their incredible wardrobe and hair.
BLADE: Is there any possibility of Earl having a love interest?
CAHOON: There is. If a season two happens, I think that that is in the pipeline.
BLADE: The queer energy in "Monarch"is powerful with you and singer/songwriter Beth Ditto, who plays Dottie's and Albie's (Trace Adkins) daughter Gigi, representing for us. What is it like working with Beth?
CAHOON: We fell in love immediately. I'm from Texas, Beth is from Arkansas. We fell in love over Zoom. That's how much I love her. She said to me over the Zoom, "Oh, I can tell I'm gonna fall in love with you." And I said, "Well, I've been in love with you for years because I know who you are. I'm afraid you're stuck with me for the rest of your life." We have a daily text exchange, Beth and I, which I cherish, and it happens late at night, usually, because we're both night owls. This text exchange can be about how much we both love Ritz crackers [laughs]. It can go deep, or it can go surface. But I love her and I cherish her, and I'm so lucky that I'll have her in my life for the rest of my life.
BLADE: Could there someday be a creative collaboration between Kevin and Beth?
CAHOON: Yes! Come on. I would just die and go to heaven. That would be a dream. Maybe we can come up with a song for the show.
BLADE: Fantastic. Will "Monarch"'s audience ever have a chance to hear you sing?
CAHOON: Well, I hope that's another thing in season two. Let's get a boyfriend and let's get a song.
BLADE: "Monarch"is set in Texas. As a Houston native, how do you feel about the way Texas is depicted in "Monarch,"as well as in other shows set in the state?
CAHOON: Texas is such an interesting place. Because you have these hotbeds of liberal progressiveness.
BLADE: Austin.
CAHOON: Austin, Houston, Dallas. Then, on the outskirts, it's pretty red. But I do have to say that within those red pockets, LGBTQIA people are there. They are part of the fabric. They are accepted, they are beloved. They are part of the world.
LGBTQ representation did not sit quiet at Emmy Awards
Gay actor Murray Bartlett among winners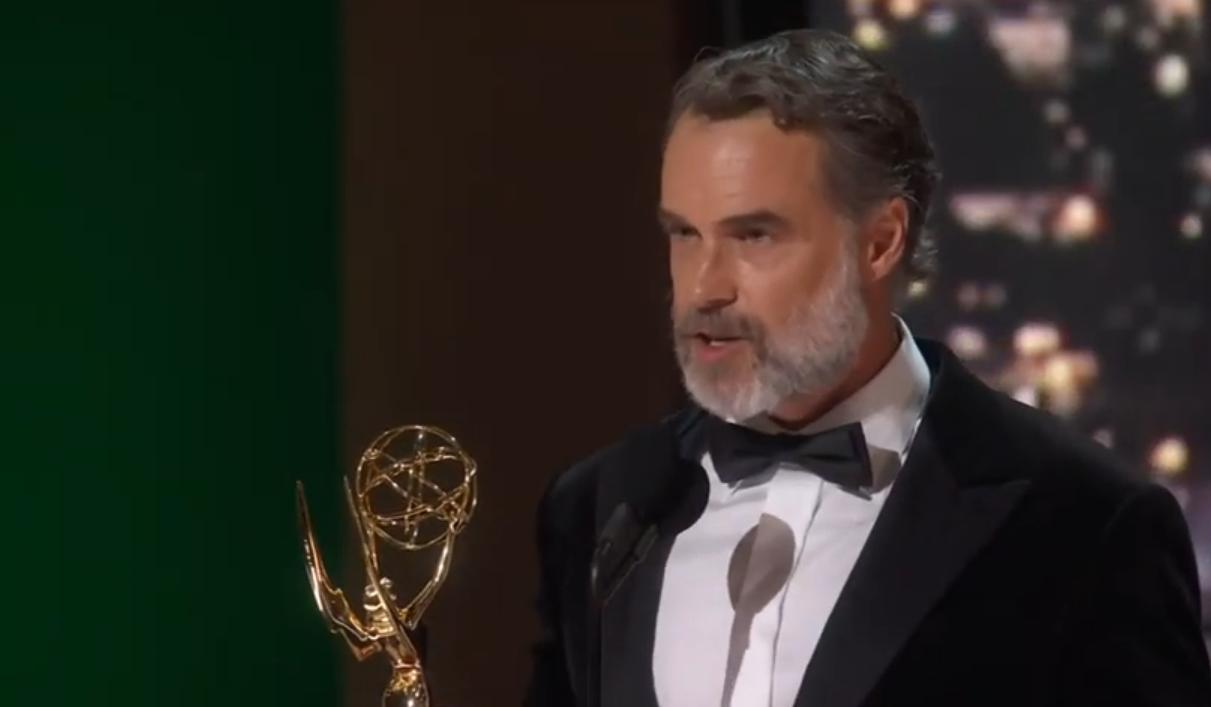 The pandemic is over (in award show world anyway,) and glitz and glamour have returned. That is the prevailing impression from this year's 74th annual Emmy Awards. The show was stunning and exciting from the outset, but even with the pomp and loud noise of celebration, a queer presence was not to be drowned out.
The tone of representation was launched immediately as announcer, queer comic, Sam Jay, looking sharp in her black tuxedo, took the mic. On camera even more than host Kenan Thompson, Jay was a presence and a personality and decidedly queer. If her gay power was not enough, the point was made when Thompson and out actor Boen Yang joked on stage. Thompson accused Yang of a comment being "a hate crime," Yang retorted "Not if I do it. Then it's representation."
Representation was going to be made this evening. The visibility was significant considering, according to the GLAAD "Where We Are on TV Report," out of 775 series regular characters only 92 are LGBTQ (less than 12 percent.) That 11+ percent is a record high of LGBTQ characters in all of TV history. The record was set by an increase in lesbian, bisexual and transgender characters, but a decrease in gay male characters from the previous year.
For the Emmy nominations, 50 percent of the best drama series nominees, 25 percent of the best comedy and 60 percent of the best limited series featured LGBTQ characters or plot lines. As far as queer talent, that was more sporadic, heavily slanted towards "supporting categories" and often with queer talent all in the same category against each other.
Regardless, we showed up, as did other individuals who scored recognition for their identities. Some of the key LGBTQ representative moments included:
Early in the show, Hannah Einbinder did a hard flirt from the stage for Zendaya, saying that she was not on the stage to present, but rather to stare at the beautiful actress.
Gay actor Murray Bartlett won Best Supporting Actor for a Limited or Anthology Series for "The White Lotus." He thanked his partner Matt, but strangely did not mention the famous "salad scene" (Google it…)
"The White Lotus" also won the Best Limited or Anthology series category, and bisexual Mike White won Best Director for Limited Series as well. White is the son of gay clergyman, author, and activist Mel White. They appeared on "The Amazing Race" as a father and son team.
Jerrod Carmichael won the Emmy for Outstanding Writing of a Variety Special for his heartfelt "Rothaniel" in which he comes out as gay as part of the show. Carmichael wowed in a brilliant white, flowing fur coat over his bare medallioned chest.
Out actress Sarah Paulsen and Shonda Rhimes, who singlehandedly is responsible for 17 percent of all LGBTQ characters on TV, presented the Governors Award to Geena Davis for her organization Institute of Gender in Media. The mission of the organization is representation of women in media. Davis stood before a video featuring various women artists including transgender actress Laverne Cox. The organization is the only public data institute to consistently analyze representations of the six major marginalized identities on screen: Women; people of color; LGBTQ individuals; people with disabilities; older persons (50+); and large-bodied individuals in global film, television, advertising and gaming.
Lizzo broke RuPaul's streak to win Best Competition program. RuPaul showed up later in the show do present a major award anyway. Lizzo has not felt the need to label herself in the LGBTQ spectrum but has said, "When it comes to sexuality or gender, I personally don't ascribe to just one thing. I cannot sit here right now and tell you I'm just one thing. That's why the colors for LGBTQ+ are a rainbow! Because there's a spectrum, and right now we try to keep it black and white. That's just not working for me."
Beyond the rainbow scope of queer representation, intersectional, iconic and historic representation was also on hand:
LGBTQ icon Jennifer Coolidge won Best Supporting Actress in a Limited or Anthology Series for "The White Lotus." It was her first award win ever. Squeals of delight could be heard in space from gay Emmy watch parties. OK. I don't know that for a fact, but I would put money on it.
LGBTQ icon Jean Smart won Best Actress in a Comedy Series for "Hacks," a series of which its producer called about "women and queer people."
Lee Jung-jae became the first South Korean actor and first Asian actor to win Outstanding Lead Actor in a Drama Series for "Squid Game."
Zendaya became the youngest person ever to win in the leading acting categories two times as she won for the second season of "Euphoria"
Hwang Dong-hyuk became the first South Korean to win Outstanding Directing for a Drama Series for "Squid Game."
Sheryl Lee Ralph won Outstanding Supporting Actress in a Comedy Series for "Abbott Elementary" becoming only the second black woman in history to win in this category after 35 years. Jackée Harry won for "227" in 1987. "I am an endangered species," she sang as her acceptance. "But I sing no victim's song."
Yes, there was a day in the not long ago past where the mention of a single same sex spouse, or a renegade pro-LGBTQ comment, made our queer hearts spill over. Those days are passed. We are getting a place at the table. Representation is starting to stand up and be heard.
For those who rightfully seek it, and seek more of it, the best advice came from Sheryl Lee Ralph: "To anyone who has ever, ever had a dream, and thought your dream wasn't, wouldn't, couldn't come true, I am here to tell you that this is what believing looks like, this is what striving looks like, and don't you ever, ever give up on you."
Supporting Actor in a Limited or Anthology Series or Movie: 74th Emmy Awards: