May 23, 2019 at 4:00 pm EDT | by Brian T. Carney
'Tales of the City,' 'Big Little Lies,' 'Handmaid's Tale' among summer TV highlights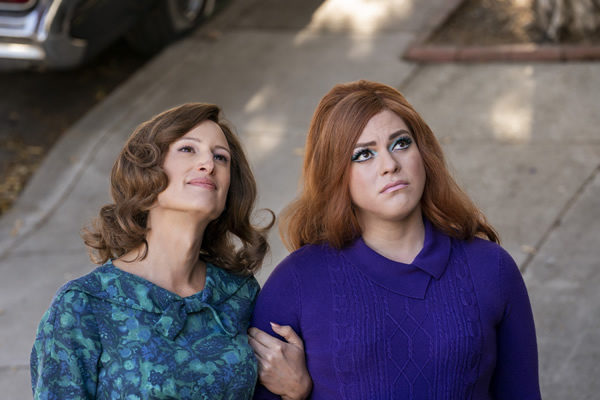 The 2019 summer television season gets off to a terrifying start with "The Perfection." Already hailed as one of the creepiest movies of the year, the homoerotic horror story stars Allison Williams ("Get Out") as a former music prodigy and Logan Browning ("Dear White People") as the new star pupil at her music school. Not for the faint of heart, the movie premieres on Netflix on May 24.
Also streaming today on Netflix is season two of Spike Lee's "She's Gotta Have It," based on his popular movie of the same name. Baltimore native DeWanda Wise stars as the pansexual street artist Nola Darling. Season one ended with Nola's three boyfriends storming off and her girlfriend Opal Gilstrap (Ilfenesh Hadera) knocking on the door. Season two opens 18 months later with the same characters in new configurations.
Also starting today on Netflix is "What/If" a neo-noir thriller anthology that will focus on a different morality tale each season. In the first 10-episode season, Renée Zellweger stars as Anne Montgomery, a venture capitalist who tempts a young couple (Jane Levy and Blake Jenner) with an offer they probably should refuse. Security on the set is tight, but sources have confirmed that the cast has several gay characters.
The critically acclaimed "Vida" is returning to STARZ for a 10-episode second season starting May 26. The popular series stars Melissa Barrera and Mishel Prada as two Mexican American sisters (one straight, one lesbian) who return to their childhood home in East L.A. after the unexpected death of their mother. As season two starts (May 23), they fight the forces of gentrification to save their mother's bar with the help of their mother's lover Eddy (played by non-binary actor Ser Anzoategui).
The beloved characters from "Armistead Maupin's Tales of the City" return June 7. As the new installment opens on Netflix, Mary Ann Singleton (Laura Linney) returns to family and friends in San Francisco after a 20-year absence. Olympia Dukakis is back as Anna Madrigal, the matriarch of 28 Barbary Lane (with trans actress Jen Richards playing her in flashbacks). The cast includes Murray Bartlett as Michael "Mouse" Tolliver and Paul Gross and Ellen Page as Mary Ann's ex-husband and daughter.
The LGBT fan favorite "Big Little Lies" returns to HBO for its seven-episode second season on June 9. Meryl Streep joins the cast as Mary Louise Wright who has come to Monterey to investigate her son's death. Returning cast members include Laura Dern, Nicole Kidman, Shailene Woodley, Reese Witherspoon and Zoë Kravitz.
The HBO comedy series "Los Espookys" begins its six-episode season on June 14. The primarily Spanish-language (with English subtitles) show follows a group of friends who turn their love for horror movies into a peculiar business. The cast includes Julio Torres as Andrés, the brooding heir to a chocolate empire and his trophy boyfriend, Juan Carlos (José Pablo Minor).
The magnificent Zendaya leads a strong ensemble cast in "Euphoria," an eight-episode series, which debuts on HBO on June 16. Based on the ground-breaking Israeli series of the same name, the show follows a group of high-school students as they navigate a minefield of drugs, sex, identity, trauma, social media, love and friendship.
House Evangelista is back! Season two of "Pose" struts back into the FX spotlight on June 11. Season one of the wildly popular series made television history by focusing on the stories of trans performers from the New York ball scene of the 1980s and telling those stories with trans actors in front of the camera and trans writers and directors behind the scenes.
"Pose" scored big during awards season. It won several Dorian Awards from GALECA: The Society of LGBTQ Entertainment Critics including Best TV Drama and Best LGBTQ TV Show, Best Musical Performance ("Home"), Best TV Performance by an Actor (Billy Porter), and, Wilde Artist of the Year (Ryan Murphy).
Season two of the wildly popular series jumps ahead to 1990; the ball scene is threatened by the mainstream appropriation of voguing (thanks Madonna!) and by the spread of the HIV/AIDS pandemic. The entire ensemble cast is expected to return. Broadway legend and devoted fan Patti LuPone will join the cast and appearances from Sandra Bernhard, Bette Midler and Judith Light are planned.
Zendaya plays Rue Bennett, a drug addict fresh from rehab, whose life changes dramatically when she meets Jules Vaughn (Hunter Schafer), a trans girl who recently moved to town following her parents' divorce.
The fabulous Lady Bunny seizes center stage in the documentary "Wig" which premieres on HBO on June 18. The movie includes appearances by Neil Patrick Harris and husband David Burtka, who helped produce the latest extravaganza, as well performances by dozens of drag queens past and present at the legendary Wigstock.
Created and directed by out writer Russell T. Davies ("Queer as Folk"), the fascinating drama series "Years and Years" debuts on HBO on June 24. Starting in 2019 and extending 15 years into the future, the BBC production focuses on the Lyons family of Manchester, England. The extended clan includes Daniel (Russell Tovey) and his husband Ralph as well as Stephen (Rory Kinnear) and his wife Celeste and their daughter Bethany who announces that she is "transhuman." The cast also includes Emma Thompson as an outspoken political figure whose controversial opinions divide the nation.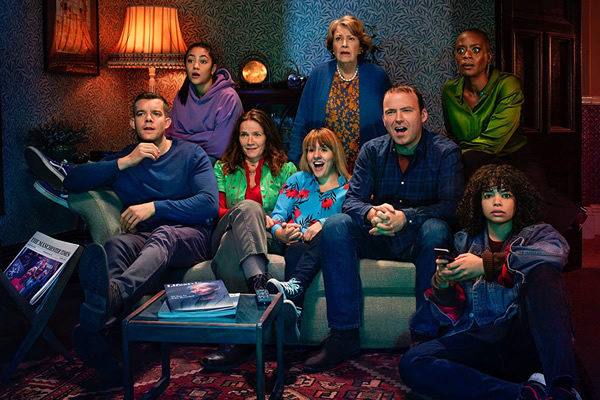 More timely than ever, with pivotal scenes for the series being shot on the National Mall and real-world protestors appearing in red cloaks like those worn on the series, season three of "The Handmaid's Tale" starts on Hulu on June 5.
The entire principal cast, including Bradley Whitford as the enigmatic Commander Lawrence, is returning for the new season. "Gender traitor" Emily (Alexis Bledel) has escaped the dystopian world of Gilead with June's baby, Nicole; June/Offred (Emmy-winner Elisabeth Moss) has stayed behind to join the Resistance. The phrase "blessed be the fruit" has been replaced with "blessed be the fight."