'217 Boxes' play recalls pivotal moment in LGBT rights
Dr. Henry Anonymous made memorable appearance at 1972 panel discussion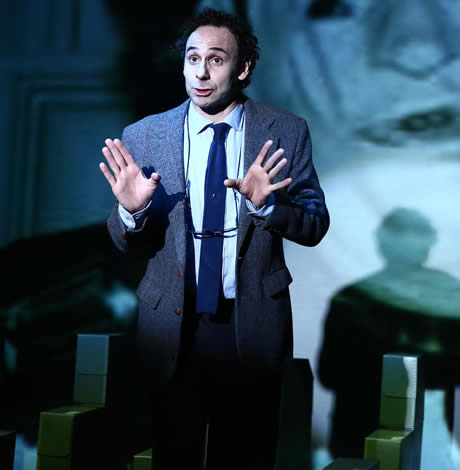 '217 Boxes of Dr. Henry Anonymous'

Baryshnikov Arts Center, Jerome Robbins Theater

450 West 37th St., New York

7:30 p.m. nightly through May 11
John Fryer is not a household name, though he's considered among the five most impactful activists for LGBT civil rights and is directly at the center of one of the biggest civil rights events in the U.S.
Under the guise of Dr. Henry Anonymous, the psychiatrist masqueraded himself in a mask and through a voice modulator appeared on a homosexuality panel with late gay rights pioneers Frank Kameny and Barbara Gittings at the 1972 American Psychiatric Association's annual meeting, which helped to declassify homosexuality as a mental disorder.
The events of what transpired are showcased in the new play "217 Boxes of Dr. Henry Anonymous," written by Ain Gordon. Equality Forum is presenting the show at the Baryshnikov Arts Center in New York City through May 11.
"John Fryer first came on my radar about 20 years ago, but at that point, I don't know if I fully understood his impact," says Malcolm Lazin, executive director of the Equality Forum. "Roughly two years ago, Ain Gordon was commissioned by the Historical Society of Pennsylvania to do a play about a figure who went unrecognized and as it turns out, that's where the 217 boxes of John Fryer's archives are stored."
The playwright learned of Fryer's story during a two-year residency at the Historical Society of Pennsylvania while he was searching for incidents about personal battles for public liberty, and specifically wanted to find something LGBT-related. He knew immediately this story was what he was looking for.
The Equality Forum was impressed with the play and decided it was something it wanted to stage it as part of the Psychiatric Association's annual meeting, which is being held this week in New York City as well, as it's the 45th anniversary of the declassification. Current medical director Saul Levin is the first openly gay man to head the Association.
"The reviews speak for themselves, but it's a remarkable play about a period of time, and what's interesting to me is that it's also being presented in the same month that 'Boys in the Band' is being performed, as they are both in the same time period," Lazin says. "One is about the impact of internal homophobia and the other is about the conditions that existed and the heroism of John Fryer in stepping forward and creating a tremendous change."
The play is about who Fryer was and it's answered through three different characters the playwright found in the 217 boxes.
"Ain, who happens to be a gay man, had not previously done a play around gay subject matter. He's known for his monologues and what he decided to do was go through those 217 boxes he found to inform him who John Fryer really was," Lazin says. "The first of the characters was Alfred Gross (played by Derek Lucci), an early Civil Rights activist, who helped gay men who had problems with the law. He interfaced with John because very few psychiatrists would come into a court of law to discuss these things."
The second person introduced in the play is Katherine M. Luder (played by Laura Esterman), Fryer's secretary, a spinster who worked for him from age 67-91.
"One of the remarkable things you learn from her is that John was likely one of the very first psychiatrists in the country to provide psychological counseling for HIV patients who were bereaved," Lazin says.
The third character is Fryer's father, Ercel (played by Ken Marks), and he's there to explain his son's upbringing and what led to him delivering this memorable speech. It's learned Fryer was raised in rural Kentucky, became a graduate of Vanderbilt University School of Medicine and was discharged from its residency in psychiatry when the truth about his homosexuality came out.
Learning about this man, Lazin notes, is wildly important for the future and he's happy the play is doing so well.
"If we want to build a sustainable bridge to the future, we need to build a bridge empowered by our past, and we have that past, but we're just not telling it," Lazin says. "This is an opportunity to learn about that past."
Meet Theater J's new managing director
David Lloyd Olson strives to create equitable, inclusive space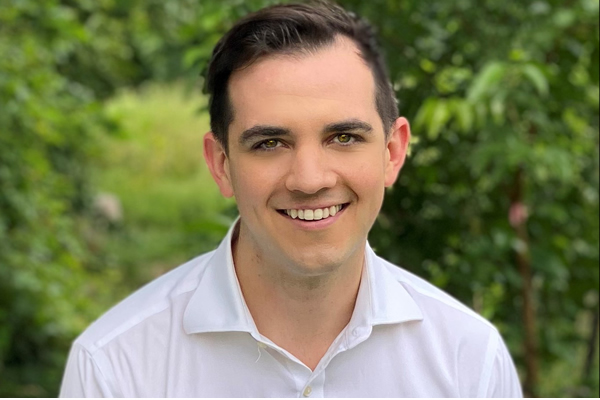 Beginning in mid-August, David Lloyd Olson will be Theater J's new managing director. As such, he's charged with getting butts in seats, but there's more to it than that. He explains via phone from Puerto Vallarta, Mexico, where he was vacationing last week, "My goal is to create a space that's equitable, inclusive, and everyone is supported with the resources they need to create the best art possible in their current circumstances that means I'm doing my job well."
Housed in the Edlavitch DC Jewish Community Center (EDCJCC) on 16th Street in Dupont Circle, Theater J, the nation's largest and most prominent Jewish theater, is slated to reopen in late September. While new hire Olson will focus on financial matters and marketing, veteran artistic director Adam Immerwahr is responsible for what happens on stage. Neither of the co-executives reports to each other but rather to EDJCC's CEO Dava Schub. "It's a leadership model that works," says Olson, "because you don't have the business leading the arts."
Olson likes Schub's vision for creating safe space at EDCJCC for LGBTQI+ and people of color, especially Jews of color, and her belief that more energy is made when a company is housed in a community center. "It meshes with my idea of what a theater should be more than a transactional relationship, but rather creating dialogue with community and using the platform – literally our stage – to participate in the conversation with the community."
Additionally, Olson's getting on board with Theater J allows for a geographical reunion with his husband Jonah Richmond. Over the last two years, Olson has been managing director at Quintessence Theatre Group in Philadelphia while Richmond has remained at the couple's place in D.C. and worked at EPA. Olson says "Philadelphia was a great experience but it was tough going back and forth. It's good to be home."
Olson's career has been mostly Washington area-based, and his vitae boasts stretches at GALA Hispanic Theatre, Arena Stage, the Shakespeare Theatre Company, and Pointless Theatre.
While at University of Maryland, he spent a lot of time making theater with fellow theater majors. Olson was curious how to lift fellow artists and identify resources that would assist them in reaching their greatest potential.
He was interested in directing, acting, and puppetry (UMD is Jim Henson's alma mater). After scoring a terrific success performing in the Fringe Festival with "Sleeping Beauty: A Puppet Ballet," a beautiful, well received piece, he became part of the Pointless Theatre where he took on the role of managing director, producer, and nonprofit administrator.
With puppetry, the work speaks for itself. If the puppeteer is doing their job expertly, they fall away and the puppet takes center stage. Similarly, very much of what Olson does as managing director is behind the scenes — essential to the production taking place, but audiences don't see him.
Growing up in the suburbs of Atlanta, young Olson was part of a Jewish community that frowned on his sexuality. He later found acceptance at Adas Israel Congregation, the Washington synagogue where he married his husband in 2014.
As a kid, he was encouraged to be as assimilated as possible. Despite being partly of Mexican ancestry, there was no Spanish spoken at home "It's reflective of the national conversation we're having now," he says. "Same goes with heteronormativity. The idea that the more you can pass as a straight white man, the more opportunities that come your way."
At Theater J, the job of storytellers is not to say one side or another is right but to tell the story of what it means to be Jewish, says Olson. Differences might include religious practices, ideology, and one's stand on Palestinian self-determination. But ultimately, he thinks, though divided, a community can remain unbroken.
Looking forward, Olson is eager to see Theater J's in-person, fall season opener "Becoming Dr. Ruth" starring Naomi Jacobson, a local actor he greatly admires, and staged by talented out actor/director Holly Twyford. He's also excited about Theater J's Yiddish Theater Lab dedicated to commissioning English translations and adaptations of Yiddish plays to be presented as readings and possibly productions.
In closing, he adds, "I pinch myself every day about how lucky I am to work in theater, to be among great artists and part of a community."
In-person, virtual, and outdoor theater options abound
Your favorite D.C. stages are busy this season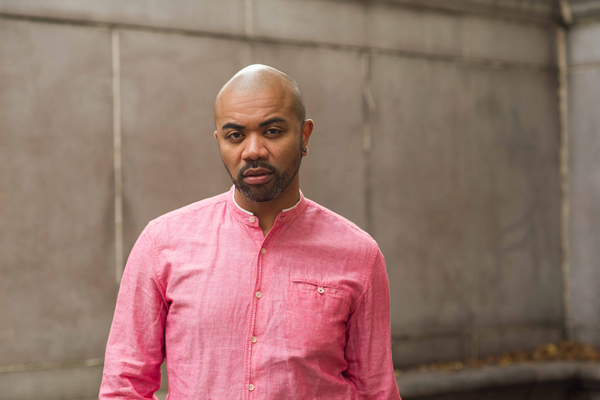 In the before times, summer at the Kennedy Center meant a big Broadway musical national tour or two. Slipping into the unmistakable box's cool, darkened red Opera House for a show during the dog days of summer is a treat I've enjoyed since I was kid.
But because of the pandemic, this summer the landmark's indoor spaces remain dark. But there's still a lot happening. The Kennedy Center's Millennium Stage has moved outdoors to the Reach, a collection of pavilions and open areas adjacent to the original building. In this striking, open-air, riverside plaza, you'll find loads of free entertainment ranging from live music and film screenings to dance lessons, yoga sessions, and arts markets.
While it's too late to enjoy early June's "The Wig Party: A Capitol Drag Festival," there's still much to see in-person and via livestream. Here are a few selections from the Millennium Stage program.
The DMV's authentic Afro-Latinx experience "Adobo Gigante" (July 22-24) returns with a midsummer weekend of programming. There's "Raga at the REACH" (Aug. 5-7), a three-day festival focused on presenting the vibrant culture and heritage of India through live music, dance, film, and local arts vendors. And in late August, it's "On Deck: Women Shedding Through Boundaries" (Aug. 26-28), an all-inclusive festival featuring women in action sports and music like skateboarding and jazz. Visit kennedy-center.org for more information.
Elsewhere around town, companies and artists are presenting heaps of new, original work, featuring both familiar and less familiar faces.
Local out playwright George Purefoy Tilson's new one act "Holler" premieres virtually on Sunday July 18 at 7 p.m.
Set in the hills of coal country, it's the story of four siblings who cling to fading memories while wrestling with a haunting secret. The virtual production is directed by talented Evan Casey who is also included in the five-person cast along with Bernadette Arvidson, Emilie Zelle Holmstock, Larry Levinson, and Timothy Sayles.
"Holler's" opening is a fundraiser for CCI Health & Wellness Services, an organization that supports the most vulnerable in local communities. For more information visit bit.ly/hollerpremiere. Subsequent streaming opportunities will soon be made available via link on the "Holler" Facebook page.
For summer of 2021, Spooky Action Theatre presents "Happy, Beyond…Happy," a short play virtual reading series inspired by a list of "happiness words" that do not directly translate into English.
Through July 18, the two readings are playwrights Marie-Claude St-Laurent and Marie-Ève Milothelmed's "Collect Call," the story of sisters and their rocky relationship; and Emma Gibson's "Adam + Rose," a play about separation and love. Both readings are directed by esteemed gay director José Zayes. Spookyaction.org 
Through July 25, Studio Theatre is streaming award-winning playwright George Brant's "Tender Age."
Directed by Henry Godinez, the one-person play stars New York actor Bobby Moreno as Martín, a young father who faces a moral reckoning after going to work as a security guard at a local Walmart-turned-detention center for children separated from their families at the nearby Texas border. Studio-theatre.org
Theater Alliance ends its digital season with playwright Psalmayene 24's "The Blackest Battle" (July 31 – August 29), a revolutionary hip-hop musical that puts an original spin on urban violence.
Set on the Fourth of July in the not-too-distant future, it portrays a world where reparations have been paid to African Americans yet Black on Black violence rages on. But despite the bellicose atmosphere, two members of warring rap factions manage to fall in love.
"The Blackest Battle" is directed by Theater Alliance's out artistic director Raymond O. Caldwell, and features a seven-person cast including talented out actor Jade Jones as Bonita. Theateralliance.com
Tyson's 1st Stage is presenting its annual Logan Festival of Solo Performance, only this year it's happening outdoors at busy Boro Park (8350 Broad Street, Tysons, Va.).
The festival opener is "Opera Soup" (Aug. 21 -29), a family-friendly amalgam of music and lively storytelling written and performed by accomplished opera singer Lori Brown Mirabel.
And for just two special performances (also at Boro Park), Mirabel performs an autobiographical solo piece "Charmed Life" (Aug. 27-28) in which she tells not only her own story, but also pays homage to famous opera artists who have gone before, and specifically to the Black women opera singers of the past. 1ststage.org
At Olney Theatre Center (OTC), the shady campus with its open-air amphitheater, the Root Family Stage, is ideal for safer, in-person offerings.
Beginning in late July through the end of August, OTC presents the weekly Friday night Andrew A. Isen Cabaret Series pairing some of the D.C. area's best musical talent.
The duos include Awa Sal Secka and out actor Bobby Smith (July 23); Ines Nassara and Tracy Lynn Olivera (July 30); Donna Migliaccio, and Nova Payton (Aug. 6); Rayanne Gonzales and local gay performer Rayshun Lamarr who appeared as a contestant on TV's "The Voice" (Aug. 13); Greg Maheu and Vishal Vaidya (Aug. 20); and finally, Malinda Kathleen Reese and Alan Wiggins (Aug. 27).
On two consecutive free admission Wednesday nights in August, OTC presents "Olney in Drag," a two-part extravaganza where audiences are asked "enjoy a drink as these fabulous drag queens shine brighter than the stars in the evening sky." The first show (Aug. 18) features Brooklyn Heights, Betty O'Hellno, Ariel Von Quinn, Evon Michelle.
The second show (Aug. 25) includes Kristina Kelly, Vagenesis, Tiara Missou (David Singleton who appeared in "Elf the Musical" at OTC), and Echinacea Monroe (terrific out actor Solomon Parker). Olneytheatre.org  
If keeping kids entertained figures into your summer in the city, why not add some in-person youth theater to the mix?
Bethesda's Imagination Stage is borrowing Olney Theatre's outdoor space to reprise "Paper Dreams" (July 31 – Aug. 15), a dance-based performance about friends who live inside a wastepaper basket. A collaboration with Mons Dansa Dance Company (Barcelona, Spain), it's directed by Claudia Moreso and remounted by Imagination Stage's Kathryn Chase Bryer.  Admission is free. Imaginationstage.org  
Glen Echo Park's Adventure Theatre is presenting "Fairytales in the Sun," two original works performed in-person on the park's outdoor campus.
Running through Sept. 6, "Fairy Tales in the Sun" features two one-act plays: Lara Yang's "The Flood in the Future," the tale of a young girl who learns some vital life lessons about sacrifice and cooperation; and Michelle Lynch's "From Cinders to Ella," a play about forging your own happily ever after. Both are directed by Stan Kang. Adventuretheatre-mtc.org
Chamber Dance Project is back with 'Tear the Edge'
Four premieres by four choreographers at two prized D.C. venues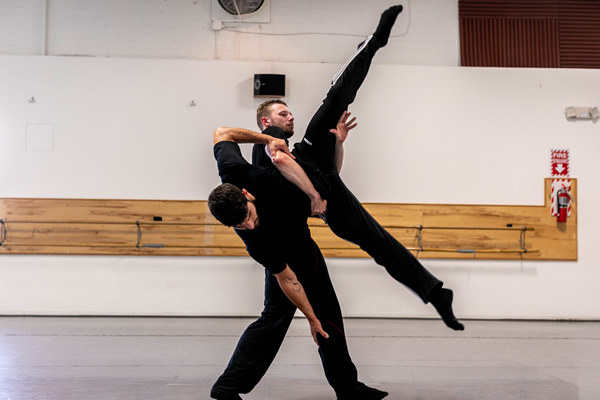 'Tear the Edge'
Saturday, July 17 (11am and 6pm)
Chamber Dance Project
The Amphitheater at the Washington National Cathedral
3101 Wisconsin Avenue, N.W.
$30-$40
Chamberdance.org
In an exciting return to live performance after 24 months, Chamber Dance Project (CDP), Washington's contemporary ballet company known for bringing dancers and musicians together on the same stage, is presenting new work titled "Tear the Edge."
Comprised of four world premieres by four choreographers, "Tear the Edge" will be performed in two prized Washington venues, the ballroom of the Perry Belmont House in Dupont Circle on July 14 and 15 (sold out) and twice at the All Hallows Amphitheater at the Washington National Cathedral on July 17 (tickets available). 
Included among the CDP's company are two gay artists — Christian Denice, a dancer and choreographer who spent most of his professional life at Les Ballets Jazz de Montréal, and dancer Alexander Sargent, a May 2020 graduate of the Juilliard School in New York.
In one of the new pieces, "Four Men," choreographed by CDP's dynamic artistic director Diane Coburn Bruning pairs Denice and Sargent in a duet.
While two men partnered in dance isn't an earthshakingly new development, it can still feel fresh and powerful.
Denice, 33, a physical and nuanced dancer, likes the athleticism of two men working together. He also likes how it "allows you to push boundaries, and expand your idea of a dancer. Stripping away specific gender roles can be exciting. Male dancers aren't usually lifted off the ground."
Sargent concurs – it's a very different experience from biological men and women dancing together.
"With men, because the way our bodies are built, we're able to take more weight, force, and pressure. There's more freedom in the back and forth of energy transfer. And that's something I really enjoy."
While on the subject of biology and gender roles, Sargent, 23, adds, "I look forward to a world where every cast call reads 'seeking dancers.' The reason men and women dance the way they do is because they're put into that space when they're five years old and put in that box ever onwards. It's trained not inherent."
In addition to dancing, Denice is choreographing two new pieces. Admittedly, he says, it's been challenging. There hasn't been a lot of time for Denice to work in person with the dancers.
Nonetheless, Sargent is impressed with Denice's ability to get things done. "It works because Christian has a well-developed lexicon of his own; visually he creates a very distinct language. Of course, we would love to have weeks to build this piece, but on the flip side building it so fast gives it a 'Mad Max' energy. No pauses. No stops. It's pedal to the metal and go."
The prospect of performing indoors before a live audience — something neither of the dancers have done since before the pandemic — is particularly exciting. Denice describes it as a return to what feels very familiar but at the same time, "we're bringing something new — what we've learned during experience."
He continues, "For me, the last year has been very internal in terms of my artistry. The performance energy was removed. I'm eager to see how I'll relate with audiences again."
Both Denice and Sargent discovered dance through their sisters (think Mike who sings "I Can Do That" in "A Chorus Line).
As a very energetic 10-year-old, Denice fell in love with dance watching through the window of his younger sister's class. Similarly, at six or seven, Sargent, a D.C. native, became enthralled with dance while watching his sister dance in "The Nutcracker," and soon after enrolled at the Washington School of Ballet. Two years later his sister stopped, but he continued.
After "Tear the Edge," Sargent plans to return to New York where he dances but also operates a photography and videography studio that specializes in performing arts (his primary source of income during the pandemic), and Denice will spend some time being a new uncle in San Diego before heading back east to teach dance at Johns Hopkins Peabody Conservatory in Baltimore.
Neither dancer ascribes sexuality as the singular driving force in his art. Sargent thinks perhaps that's because he's come of age at a time when being gay isn't quite the same pain point it once was.
Denice, says "Not so much as a dancer, but as a choreographer I'm inspired by the queer art community. There's a lot of beautiful things happening there. It's a part of what I want to express creatively."