July 11, 2018 at 10:41 am EDT | by Lou Chibbaro Jr.
In first, All-Star festivities to include LGBTQ pop-up
D.C. Mayor Muriel Bowser, Police Chief Peter Newsham and Department of Transportation Director Jeff Marootian outlined the city's plans for hosting Major League Baseball's 2018 All-Star Game and its numerous related events at a news conference on Tuesday.
The news conference took place at Washington Nationals Stadium, the location of MLB's 89th All-Star Game scheduled to take place Tuesday evening, July 17.
Bowser said her office and several city agencies, including the Metropolitan Police Department and the Department of Transportation, known as DDOT, have been planning for the All-Star Game and its related events for more than two years.
"In the nation's capital we are used to supporting large events like this one," she said. "We do it whether we're welcoming the pope or having the inauguration of a president or inviting a million women to our city, we want to make sure that everybody enjoys themselves, exercises their rights and gets home safely."
Newsham said police officers, both in uniform and in plain clothes, will be deployed in greater than usual number in areas where All-Star Game related events take place, including the streets surrounding Washington Nationals Stadium.
"I can't think of a better city to host one of baseball's most treasured games than our city of Washington, D.C.," said Newsham.
He noted that everything went exceptionally well last month when the city hosted nearly a million people who turned out for the parade and celebration of the Washington Capitals hockey team's Stanley Cup victory.
"I do not anticipate anything different here," he said. "At this time there are no credible threats to the nation's capital during All-Star week where events will begin Friday and they'll culminate with the Home Run Derby and the All-Star Game on July 16 and 17."
Among the events scheduled to take place during that five-day period will be a first-of-its-kind LGBTQ Pride Baseball Pop-Up bar hosted by the Washington Blade, which this year became the first LGBT publication to serve as an official sponsor of MLB All-Star Week.
The pop-up gathering will include a beer garden and full cash bar in a space at a building at the corner of South Capital and N Streets, S.E. that will be the future home of Walters Sports Bar. The location is directly across the street from Nationals Stadium.
Aimed at serving as a safe space for LGBTQ attendees 21 and older, the pop-up will be open on Friday from 4 p.m. to 3 a.m., on Saturday from noon to 3 a.m., on Sunday from 10 a.m. to 2 a.m. and on Monday and Tuesday from noon to 2 a.m.
On Friday from 6-8 p.m. the Pride Pop-Up gathering will host the official launch of the Blade's 6th Annual Sports Issue.
Marootian, who is one of several high-level LGBT Bowser administration appointees, said at the news conference that DDOT has been working closely with other city and regional agencies, including Metro and the Virginia Transportation Department to ensure that the large crowds can move to and from the All-Star Game events with a minimum of delays.
"We're preparing for large crowds, for road closures, and for delays," he said. "As the mayor and the chief reiterated, if you are planning to visit the District we are excited to have you here and we encourage you to please use public transportation," he said.
Bowser, Newsham and Marootian each called on D.C. residents and visitors to go to a special website the city created to provide information about all of the All-Star related events, the location of numerous street closings, and suggestions on how best to get to and from the various events. The site can be accessed here.
Others who spoke at or attended the news conference included Frank Gambino, Senior Vice President of Operations for the Washington Nationals; Marla Miller, Senior Vice President of Special Events for Major League Baseball; and Paul Weidefeld, General Manager for the Washington Metropolitan Area Transit Authority.
Lou Chibbaro Jr. has reported on the LGBT civil rights movement and the LGBT community for more than 30 years, beginning as a freelance writer and later as a staff reporter and currently as Senior News Reporter for the Washington Blade. He has chronicled LGBT-related developments as they have touched on a wide range of social, religious, and governmental institutions, including the White House, Congress, the U.S. Supreme Court, the military, local and national law enforcement agencies and the Catholic Church. Chibbaro has reported on LGBT issues and LGBT participation in local and national elections since 1976. He has covered the AIDS epidemic since it first surfaced in the early 1980s. Follow Lou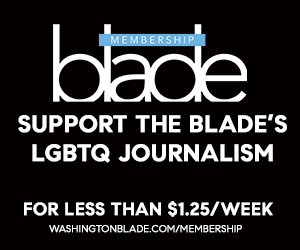 Sign Up for Blade eBlasts