July 18, 2018 at 1:45 pm EDT | by Lou Chibbaro Jr.
NAACP hosts 'historic' LGBT Town Hall
A panel of seven prominent African-American LGBT leaders participated in a first-of-its-kind Town Hall gathering on Tuesday, July 17, called "The State of LGBT People of Color in America" as part of the NAACP's' 109th Annual Convention in San Antonio, Texas.
NAACP President and CEO Derrick Johnson, NAACP Board of Directors Chair Leon Russell, and the organization's California Chapter President Alice Huffman, who serves as co-chair of the NAACP's LGBTQ Equality Task Force, were among the high-level NAACP officials that stopped by the Town Hall or who spoke to participants at an LGBTQ networking reception following the Town Hall.
"It was truly historic," said Earl Fowlkes, president and CEO of the D.C.-based national LGBT group Center for Black Equity, who served as one of the panelists.
"I've already had some preliminary discussion on how we work together to build the membership within the LGBT community for the NAACP and their work and how the NAACP can champion LGBT issues and causes," Fowlkes said
The Town Hall, which can be viewed on video posted on the NAACP's website, drew an audience of about 100 people and included discussion of a wide range of topics.
Among them were the black church and its evolving relations with LGBT people; the role of African Americans within the LGBT rights movement, efforts to increase the turnout of the black LGBT vote in local and national elections; and racism within the LGBT community and homophobia within the African-American community.
Shijuade Kadree, senior director of Public Policy & Advocacy for the New York City LGBT Community Center, served as moderator of the Town Hall.
In addition to Fowlkes, the panelists included Marshal R. Bonner, Diversity, Inclusion & Equality Empowerment Speaker and Founder of Help Us Grow Spiritually (HUGS); David Johns, Executive Director of the LGBT group National Black Justice Coalition; Kierra Johnson, Deputy Executive Director of the National LGBTQ Task Force; Rev. Irene Monroe, theologian and Huffington Post blogger; Angelica Ross, actress and founder of Trans Tech Social Enterprises; and Amiyah Scott, social media influencer, model and actress.
Russell, the NAACP board chair, told the gathering before the panelists spoke that the creation of the LGBTQ Equality Task Force in 2009 and the designation of a staff position to coordinate the Task Force and LGBT-related issues marked an important turning point for the organization.
He said the NAACP's evolution of support on LGBT issues has increased over a period of years and its support for marriage equality was viewed by some as yet another big step forward for its civil rights agenda.
"The marriage equality issue was our coming out at the NAACP," he said.  "When I say that, we have for years understood and said very clearly that discrimination is wrong, period," Russell told the gathering.
"Discrimination against anybody is wrong. And so we've always been there. The issue is making it clear and relevant and out front for all of our folks and being able to say that upfront and direct," he said. "You can't profess to be a civil rights fighter and then insert exceptions."
During the discussion on the topic of the black church, several of the panelists agreed that while the church has played an historic role in advancing civil rights for the African-American community it has been slow in embracing LGBT people.
Ross, a transgender woman and transgender rights advocate, said she struggled as a child growing up in a family with strong ties to a black evangelical church.
"Some still teach that LGBT is an abomination," she said, adding, "We have to make it clear that we will no longer accept anti-LGBT teachings" in the black church.
The video of the NAACP LGBTQ Town Hall can be reached here.
Lou Chibbaro Jr. has reported on the LGBT civil rights movement and the LGBT community for more than 30 years, beginning as a freelance writer and later as a staff reporter and currently as Senior News Reporter for the Washington Blade. He has chronicled LGBT-related developments as they have touched on a wide range of social, religious, and governmental institutions, including the White House, Congress, the U.S. Supreme Court, the military, local and national law enforcement agencies and the Catholic Church. Chibbaro has reported on LGBT issues and LGBT participation in local and national elections since 1976. He has covered the AIDS epidemic since it first surfaced in the early 1980s. Follow Lou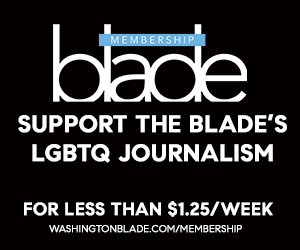 Sign Up for Blade eBlasts