October 19, 2018 at 1:08 pm EST | by Kevin Naff
Blade to celebrate 50th anniversary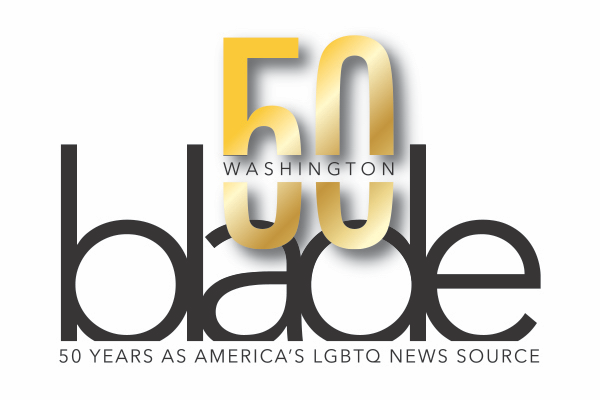 The Washington Blade this week begins a yearlong countdown to its 50th anniversary celebration in October 2019.
This week, we debut a new 50th logo; more changes are on the way, including a complete redesign of the print edition along with new features and events.
The Blade debuted in October 1969 in the aftermath of the Stonewall riots and is the nation's oldest LGBTQ newspaper. Much has changed in the ensuing 49 years but our commitment to covering the issues important to D.C.'s LGBT community remains the same. What began as a modest one-page mimeographed newsletter has evolved into a 24/7 news operation with robust digital and social media platforms. The Blade remains the only LGBTQ outlet in the White House each day. We are members of the presidential press pool and the White House Correspondents' Association. Two years ago we embarked on an ambitious project to cover LGBTQ issues in Latin America and the Caribbean; that work continues. And, of course, our commitment to D.C. and the surrounding areas remains our priority.
In January, we'll unveil the redesigned print product and new online features. We will offer expanded international news coverage as well as more celebrity interviews, film reviews and Hollywood news courtesy of our sister outlet, the Los Angeles Blade.
There are new events coming, too, so stay tuned. As always, we rely on our readers and advertisers to support our important mission. You can make a tax-deductible donation to our non-profit entity the Blade Foundation today at bladefoundation.org and don't forget us on Giving Tuesday on Nov. 28.
If you're interested in advertising and sponsorship opportunities during the Blade's 50th, please contact our publisher, Lynne Brown, at lbrown@washblade.com.
At a time when the president attacks the media as enemies of the people and journalists are being targeted and killed for holding political leaders accountable, it's critical that media organizations maintain their independence and aggressive pursuit of the truth. Niche outlets like the Blade serve an important function, telling our community's stories through our own lens and ensuring the government is answering the questions important to us.
The Blade team is excited about 2019 and, as always, we appreciate the support of our readers and advertisers.