Calendar: Oct. 26-Nov. 1, 2018
The High Heel Race, dance parties, group discussions and more in the week to come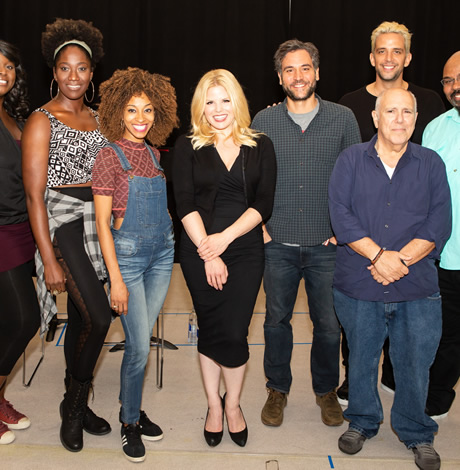 Friday, Oct. 26
The D.C Eagle (3701 Benning Rd., N.E.) hosts Woof: Happy Hour and Porn Star Bingo this evening from 5-11 p.m. Beaux Banks hosts Porn Star Bingo which will have prizes. There will be free pizza for the crowd at 7:30 p.m. Drink specials run until 11 p.m. No cover before 9:30 p.m. For more details, visit dceagle.com.
JR.'s Bar (1519 17th St., N.W.) hosts Divas, a night dedicated to the music of divas, tonight from 9 p.m.-1 a.m. DJ Darryl Strickland will play the music of Cher, Madonna, Kylie Minogue, Janet Jackson, Mariah Carey and more. Drink specials are from 9 p.m.-midnight. For more information, visit facebook.com/jrsbardc.
D.C. Bear Crue hosts Bear Happy Hour at Uproar Lounge & Restaurant (639 Florida Ave., N.W.) this evening from 5-10 p.m. Drink specials run until 10 p.m. and include $5 rail cocktails and $5 draft pitchers. Free appetizers will be handed out throughout the night. For more details, visit facebook.com/bearhappyhour.
The D.C. Eagle (3701 Benning Rd., N.E.) presents Birds of Prey, a drag show, tonight at 10:30 p.m. Various local drag queens will perform. DJ C Dubz will play music. For more information, visit facebook.com/dcbridsofprey.
The Latino GLBT History Project hosts a screening and discussion of the film "Chavela" at Human Rights Campaign (1649 Rhode Island Ave., N.W.) tonight at 7 p.m. The film tells the story of singer Chavela Vargas. For more details, visit latinoglbthistory.com. 
Stonewall Kickball team Down to Field hosts Down to Float Drag Cruise leaving from D.C. Cruises (3100 K St., N.W.) to sail the Potomac tonight from 9:30-11:45 p.m. There will be drag performances from Desiree Dik, Bombalicious Eklaver and Bellatrix Fox. Tickets are $55 and includes an open bar. Proceeds will benefit the D.C. Center. For more information, visit thedccenter.org.
Advocates for Youth (1325 G St., N.W.) presents "Intersex 101: Our Shared Liberation," a workshop on the basics of being intersex, tonight from 6-8 p.m. Dinner will be provided. For details, visit facebook.com/advocates4youth.
Broadway Center Stage presents "Little Shop of Horrors" at the Kennedy Center (2700 F St., N.W.) today with shows at 2 and 8 p.m. The musical stars Megan Hilty and Josh Radnor. For more information, visit kennedy-center.org. 
Saturday, Oct. 27
Miss Adams Morgan 31: SHEroes and Villains is at the Washington Hilton (1919 Connecticut Ave., N.W.) tonight at 6 p.m. Queen Eva and the Dupont Social Club host the event. Tickets are $85. Search "Miss Adams Morgan 31: SHEroes & Villains" on Facebook for more information. 
The Bentzen Ball Comedy Fest presents comedians Cameron Esposito, Rhea Butcher, Naomi Ekgeperin and more at the Lincoln Theatre (1215 U St., N.W.) tonight at 8:30 p.m. Tickets are $20. For more details, visit bentzenball.com.
The Halloween Hip Hop Bar Crawl is today in the U Street neighborhood from 3-11 p.m. A DJ at each bar will spin a different genre of old school hip hop music from the '80s, '90s and '00s. Costumes are encouraged. There will also be drink specials and giveaways. Participating bars include Vivid Lounge, Clock & Dagger, Amsterdam and Pure Lounge. The grand finale afterparty will be at Provision 14 from 8-11 p.m. Tickets are $20. For more information, visit facebook.com/1920dc.
The gay-led Dana Tai Soon Burgess Dance Company will perform "Silhouettes" based on American culture in the National Portrait Gallery at the gallery in the Nan Tucker McEvoy Auditorium this evening at 6:30 p.m. and Tuesday, Oct. 30 (same time). Details at dtsbdc.org. 
Washington Concert Opera performs Opera Outside today at 11 a.m. at Merdian Hill/Malcolm X Park near the Joan of Arc statue on the top field. Children and dogs welcome. It's free and open to the public. Selections will include works from the current season. Details at concertopera.org/outside. 
Sunday, Oct. 28
The Bentzen Ball Comedy Fest and Lyft presents Belly Laughs, a charity brunch featuring "Queer Eye" star Antoni Porowski and friends, at Eaton D.C. (1201 K St., N.W.) at 11 a.m. Doors open at 10:30 p.m. Total  proceeds will benefit Whitman-Walker Health. Tickets can't be bought but Lyft users can use the code "AVOCADO" for a chance to win. For more information, visit bentzenball.com. 
Cobalt (1639 R St., N.W.) hosts Sunday Mass, a monthly house/techno music event, tonight from 6 p.m.-midnight. DJ Billy Lace will play music. Cover is $5. For more details, visit cobaltdc.com. 
Monday, Oct. 29
The D.C. Center (2000 14th St., N.W.) hosts coffee drop-in hours for the senior LGBT community this morning from 10 a.m.-noon. Older LGBT adults can come and enjoy complimentary coffee and conversation with other community members. For more information, visit thedccenter.org.
Tuesday, Oct. 30
Mayor Muriel Bowser presents the 32nd annual 17th Street High Heel Race on 17th Street between R and P Streets tonight at 7 p.m. The pre-race happy hour kicks off at Level One/Cobalt patio (1639 R St., N.W.) at 5 p.m. The parade is at 7 p.m. followed by the race at 9 p.m. For details, visit facebook.com/17thstreethighheelrace.
Wednesday, Oct. 31
Nellies's Sports Bar (900 U St., N.W.)  hosts "A Rocky Horror Halloween" tonight from 8 p.m.-midnight. From 8-10 p.m. there will be a screening of "Rocky Horror Picture Show." "Absolutely Snatched," a drag show and costume contest, will be from 10 p.m.-midnight. $1 from the night's speciality cocktail will benefit the National Black Justice Coalition. For more information, visit nelliessportsbar.com. 
Union Stage (740 Water St., N.W.) hosts a Harry Potter dance party tonight at 8 p.m. Tickets range from $25-$60. For more details, visit unionstage.com. 
The Lambda Bridge Club meets tonight at 7:30 p.m. at the Dignity Center (721 8th St., S.E.) for duplicate bridge. No reservations are needed and newcomers are welcome. Call 202-841-0279 if you need a partner. 
Thursday, Nov. 1
Slide It in presents Seven Deadly Sins at Cobalt (1639 R St., N.W.) tonight from 8-10 p.m. All proceeds will benefit the Trevor Project. For more details, search "Slide It In Presents: Seven Deadly Sins" on Facebook. 
'Tick, tick… BOOM!' explodes with the love of Broadway
A perfect film for fans of musical theater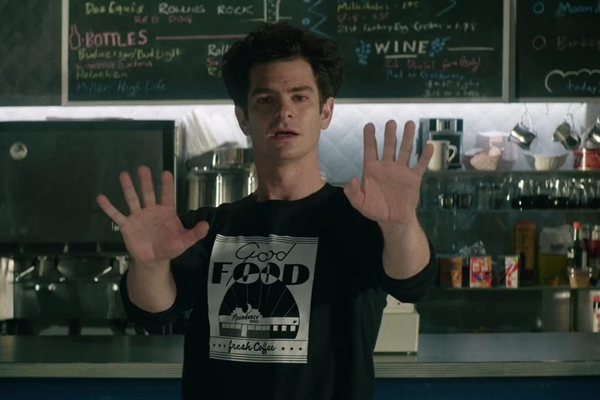 If you are a person who love musical theater – or if you know someone who does – then you know there is something about this particular art form that inspires a strong and driving passion in those who enjoy it, often to the point of obsession. For this reason, perhaps it's no surprise that those who work in musical theater – the creators, performers, and all the other people who make it happen – are often the biggest musical theater lovers of all.
Because of this, "tick, tick… BOOM!" (the new film directed by Lin-Manuel "Hamilton" Miranda and written by Steven "Dear Evan Hansen" Levenson) might be the most perfect movie ever made for such fans. Adapted from an autobiographical "rock monologue" by Jonathan Larson, it follows the future "Rent" composer (Andrew Garfield) for a week in the early 1990s, when he was still an unknown young Broadway hopeful waiting tables in a New York diner. He's on the cusp of turning 30, a milestone that weighs on his mind as he prepares for a showcase of a musical that he hasn't quite finished – even though he's been writing it for eight years. With limited time left to compose the show's most crucial number, his race against the clock is complicated by major changes in his personal life; his lifelong best friend Michael (Robin de Jesús) has quit acting in favor of a five-figure career in advertising, and his girlfriend Susan (Alexandra Shipp) is moving away from the city to accept a teaching job and wants him to come with her. With reminders everywhere of the ongoing AIDS epidemic still raging in the community around him, and with his own youth ticking away, he is inevitably forced to wonder if it's time to trade in his own Broadway dreams for a more secure future – before it's too late.
As every musical theater fan knows, the young composer's obsession with time (hence the title) is laced with bittersweet irony in the context of what eventually happened in his real life: the day before "Rent" opened on Broadway and became a smash hit that reshaped and expanded the boundaries of what musical theater could be, Larson died of an aortic aneurysm at the age of 35. He never lived to see the full fruition of all those years of hard work, and that tragic turn of events is precisely what makes "tick, tick… BOOM!" relevant and provides its considerable emotional power. In that light, it's essentially a musical "memento mori," a reminder that the clock eventually runs out for all of us.
That doesn't mean, however, that it's not also a celebration of life in the theater, and Miranda is probably better suited than anyone to make us see that side of the coin. Now unquestionably in the highest echelon of status as a Broadway icon, he came of age in the era of "Rent," and he takes pains to make his depiction of Manhattan in the '90s as authentic as possible.
Capturing the era with touches like Keith Haring-inspired murals and the use of "Love Shack" as a party anthem, his movie keeps Larson's story within the context of his time while drawing clear connections to our own. His reverence for Larson – whom he cites as a seminal inspiration for his own future work – manifests itself palpably throughout. Yet despite that (or perhaps because of it), so does an infectiously cheery tone. Yes, things get heavy; there are hardships and heartbreaks at every turn, because that's what a life in the theater means. But at the same time, there's just so much fun to be had. The camaraderie, the energy, and the joy of simply living in that world comes leaping off the screen (often thanks to the enthusiastic choreography of Ryan Heffington) with the kind of giddy, effortless ease that might almost make us jealous if it didn't lift our spirits so much. No matter that the lead character spends most of the movie second-guessing his path; we never doubt for a moment that, for him, the rewards of following his passion outweigh the sacrifices a thousand times over.
That's something Miranda also understands. His movie drives home the point that the joy of doing theater is its own reward, and he's willing to prove it by turning up in a bit part just for the sake of being a part of the show. And he's not the only one. The screen is littered with living legends; in one memorable sequence alone, a who's-who of Broadway's brightest stars – Chita Rivera, Bernadette Peters, Brian Stokes Mitchell, Andre DeShield, Bebe Neuwirth, Joel Grey, and at least a dozen more – serve as a high-profile backup chorus of extras for a song at the diner, but there are blink-and-you'll-miss-them cameos in almost every scene. It almost feels like a gimmick, or an effort to turn the movie into a "spot the star" trivia game for hardcore fans – until you realize that these are the best and brightest people in their field, who have willingly chosen to show up and participate even though they did not have to. They are there purely for love, and you can see it in their faces.
Miranda scores big across the board as a director – this is his feature film directorial debut, which confirms the standing assumption the man can do anything. But "tick, tick… BOOM!" is a star turn for its leading player, and full credit must also go – and emphatically so – to Garfield, who surpasses expectations as Larson. The one-time "Spiderman" actor trained extensively to be able to master the demands of singing the role, and it shows; he comes off as a true musical theater trouper, worthy beyond doubt of sharing the screen with so many giants. Even better, he integrates that challenge into the whole of a flamboyantly joyful performance that makes Larson endearingly, compellingly three-dimensional. It's a career-topping piece of work.
The rest of the principal cast – a refreshingly inclusive ensemble that reminds us that Larson was instrumental in making Broadway a much more diverse place – are equally fine. De Jesús gets a long-deserved chance to shine as Michael, and Shipp brings a quiet calm to the easily-could-have-been-overshadowed Susan that makes her the perfect balance to Garfield's high-octane energy.
Joshua Henry and Vanessa Hudgens contribute much more than their stellar vocal talents to their pair of roles as Larson friends and collaborators, and there are delicious supporting turns by Judith Light and Bradley Whitford – who gives an affectionately amusing and dead-on accurate screen impersonation of Broadway legend-of-legends Stephen Sondheim, one of Larson's (and Miranda's) biggest influences and inspirations, who accordingly looms large in the story despite his relatively short amount of screen time.
It should be obvious by now that "tick, tick… BOOM!" is a delight for people who love musical theater. But what if you're not one of those people? The good news is that there is so much to enjoy here, so much real enjoyment, so much talent, so much hard work on display that nobody will have any reason to be bored.
Even people who DON'T love musical theater.
James Ivory on movies, beauty — and a love of penises
If you enjoy film and wit you'll love 'Solid Ivory'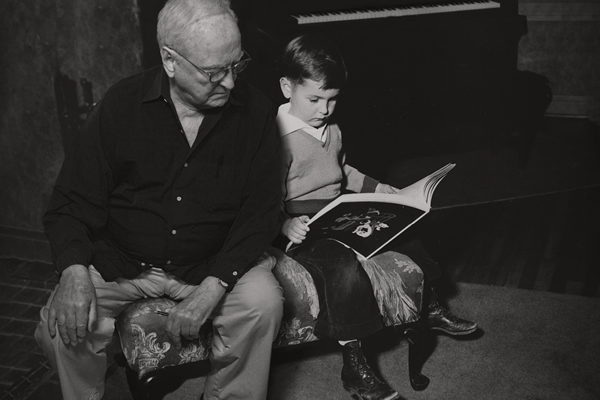 'Solid Ivory: Memoirs'
By James Ivory
C.2021, Farrar, Straus & Giroux
$30/399 pages
Few things have been more pleasurable to me during the pandemic than Merchant/Ivory films. COVID becomes a dim memory as I ogle the costumes, beautiful vistas from Italy to India, music and spot-on dialogue of "A Room with a View," "Maurice," "Remains of the Day" and other Merchant/Ivory movies.
For decades, fans from gay men to grandmas have enjoyed these films, directed by James Ivory and produced by Ismail Merchant in partnership with the writer Ruth Prawer Jhabvala.
In "Solid Ivory," Ivory, 93, gives us his memories of movie making, growing up gay, his decades-long romantic and professional partnership with Merchant and (you're reading this correctly) the penises he has known.
If you believe that elders don't enjoy sex, Ivory's memoir will blow your ageism to smithereens.
From watching the movies he's directed and knowing his age, you might think (as I did) that Ivory would be shy about talking of his sexuality. Wow, was I wrong!
Ivory appreciates penises as a sommelier savors fine wine.
Ivory knew that he liked boys early on. Ivory recalls playing at age seven with a boy named Eddy. He and Eddy were "putting our penises into each other's mouths," Ivory writes, "…I made it clear that Eddy's dick must not touch my lips or tongue, nor the inside of my mouth. I had learned all about germs at school by then."
Though Ivory and Merchant were devoted partners, they each had other lovers. Bruce Chatwin, the travel writer who died from AIDS, was Ivory's friend, and sometimes, lover.
Chatwin's penis was "Uncut, rosy, schoolboy-looking," Ivory writes.
Ivory's memoir isn't prurient. His sexuality doesn't overpower the narrative. It runs through "Solid Ivory" like a flavorful spice.
The book is more an impressionistic mosaic than a chronological memoir. Ivory, often, tells the stories of his life through letters he's written and received (from lovers, friends and professional contacts) as well as from diary entries.
Many of the chapters in the memoir were previously published in other publications such as The New Yorker.
"Solid Ivory" was originally published in a limited edition by Shrinking Violet Press. The Press is a small press run by Peter Cameron, a novelist, and editor of "Solid Ivory." Ivory grew up in Klamath Falls, Ore. He was originally named Richard Jerome Hazen. His parents changed his name when they adopted him.
Some of the most engaging moments of the memoir are when Ivory writes about what life was like for a child during the Depression.
Ivory's father lost his savings when the stock market crashed, and his mother frequently gave food to "tramps" who came to the door.
His "eating tastes were definitely formed during the Depression," Ivory writes.
Since that time, Ivory has lived everywhere from England to Italy. "But although I consider myself an advanced expert in the more sophisticated forms of cuisine," Ivory writes, "My gastronomical roots remain dug deep in the impoverished soil of the American Depression."Ivory became smitten with movies when he saw his first picture when he was five.
He and Merchant, a Muslim from India who died in 2005, fell in love when they met on the steps of the Indian consulate in New York in 1961. I wish Ivory had written more about the 30+ movies that he made (mostly with Merchant and Jhabvala, who died in 2013).
Yet, he provides tantalizing recollections of filmmaking, actors and celebs.
The chapters on "Difficult Women like Raquel Welch and Vanessa Redgrave" are fun to read.
Welch, a bombshell brat, doesn't want to play a love scene in "The Wild Party." During the filming of "The Bostonians," Boston is captivated by the drama of Redgrave's off-screen politics.
Ivory isn't that impressed when in 2018, at age 89, he becomes the oldest Academy Award winner when he receives the Best Adapted Screenplay Oscar for "Call Me By Your Name." "Its fame eclipses even Michelangelo's David and the Statue of Liberty," Ivory says, with irony, of the Oscar statue.
If you enjoy the movies, beauty and wit, you'll love "Solid Ivory."
Forget Santa Claus – Ginger Minj is comin' to town
'Drag Race' alum's Winter Wonderland Tour stops in D.C. Nov. 29 and 30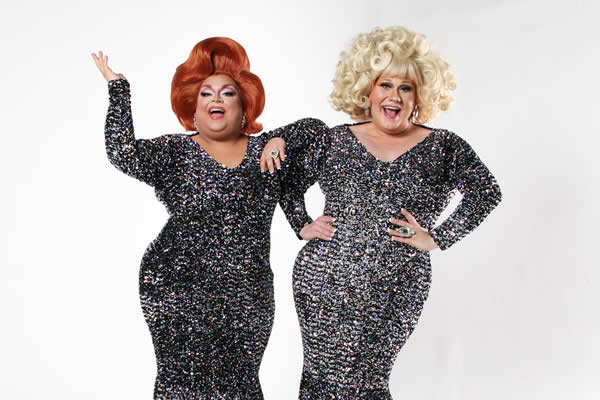 Ginger Minj is a busy little elf.
From her new country album "Double Wide Diva" to sporadic stints in TV and movies to her upcoming book, "Southern Fried Sass" (which reportedly scored her a six-figure deal), the "Drag Race" diva is everywhere these days, including a venue near you. On Nov. 29 and 30, the new queen of Christmas will perform her holiday spectacular Winter Wonderland Tour at Miracle Theatre.
We recently caught up with the multitalented actress/comedian/singer to discuss her continued success, including making friends with Jennifer Aniston while filming Netflix's "Dumplin,'" her take on the latest Dave Chappelle backlash, the best Christmas gift she's ever received, and what exactly makes her the "nicest bitch" this side of the North Pole – but first, let's take a sleigh ride back to the beginning.
BLADE: Tell me a bit about how you got started in drag and the genesis of Ginger Minj.
GINGER MINJ: Like most good show-tune-loving queers, I stumbled into drag through musical theater. I auditioned for a show that required either full-frontal nudity or drag, and I figured I would fare better in a wig and heels than nothing at all. I got the role and really took to it quickly. I felt more free and honest as a performer than I ever had before, and I realized I could make a livable income doing something that I was wholly responsible for creating.
BLADE: How has your appearance on "Drag Race" helped your career, and what are your top takeaways from your time on the show?
GM: It's an international platform that allows us to introduce ourselves to the entire world. It got me a seat at the table with people and places that refused to even open the door for me in the past. I think there was – and maybe still is sometimes – this initial assumption that drag artists are limited in their talents, but we have been able to show the world that we are just as talented and capable as any other entertainer. I don't wear a wig as a gimmick. I wear it as an accessory, and it doesn't mean I shouldn't be taken as seriously as any other actor, singer, etc. "Drag Race" is doing a great job of showing the world that – and I'll forever be grateful.
BLADE: If folks didn't catch you on "Drag Race," they might recognize you from the 2018 Netflix movie "Dumplin'" starring Jennifer Aniston and Dove Cameron. What was your experience like on set, and do you have any other TV/film projects in the works?
GM: "Dumplin'" was the single best experience of my life! Jennifer Aniston brought me coffee every morning, and Kathy Najimy had my trailer moved next to hers so we could listen to Beyoncé and play with makeup. That entire cast and crew treated all of us queens with unbelievable respect. It really gave me a passion for filmmaking and, yes, I'm happy to say there are a few more projects – big screen and small – coming your way soon.
BLADE: What makes you the "nicest bitch you'll ever meet?"
GM: It's like those good ole' southern church ladies who will give you the shirts off their backs but read you to filth for not bringing one of your own. The only thing bigger than my mouth is my heart and the "shady" things I say should never be taken seriously.
BLADE: As a comedian yourself, what are your thoughts on the latest Dave Chappelle/Netflix controversy?
GM: I've always felt like comedy and drag go hand in hand: It's an outrageous way to start a conversation and make people confront their own feelings about anything and everything. That being said, I think there's a way to do that without disparaging and discrediting an entire group of human beings. I think it's shameful that someone with that great of a platform would choose to punch down.
BLADE: Your new single "Walk Tall" is about growing up gay in the South – and it's a very good song. Radio worthy even, but a hard sell, given its content, to a country-music audience. How do you think that changes? Will LGBTQ+ country artists ever enjoy the kind of success their straight counterparts do?
GM: I think so. To be completely honest with you, I've gotten much more support for that album from the country community than I have from the drag world. The message is so universal, and we were very careful to do it in an authentic, simple way. When we stop focusing on our differences and start embracing our similarities, the world can change. I just do the things that make me happy and hope it finds the people who need to hear it.
BLADE: Christmas is just around the corner – do you prefer giving or receiving? What's your most prized Christmas present from the past?
GM: I'm definitely a giver! I drive myself crazy for months researching and planning and looking for the perfect gifts for everyone. It's my way of showing the people I care most about that while I may be busy, I'm listening. I hear them, I see them, and I appreciate them. The best Christmas present I ever got was a cheap plastic pair of ruby slippers from my mama when I was a kid. I still have them. That moment changed my life forever. It's what actually inspired "Walk Tall."
BLADE: Like Santa Claus himself, the Ginger Minj Winter Wonderland Tour 2021 is coming to town. What do you have in store for audiences this holiday season?
GM: What don't we have in store?! There are 20 costume changes, instructional videos gone terribly wrong, singing, dancing, magic tricks, fog machines, comedy, and it even snows over the audience! This is the biggest, prettiest, most ambitious show we have ever put together.
BLADE: Looking forward to 2022, what's in the works? What are a few of your New Year's resolutions?
GM: So many great things — more music, some movies, some TV, a stage production of "La Cage aux Folles" in Chicago, and my book "Southern Fried Sass" will hit the shelves. It's a great time to be the "Glamour Toad," and I am grateful every single day.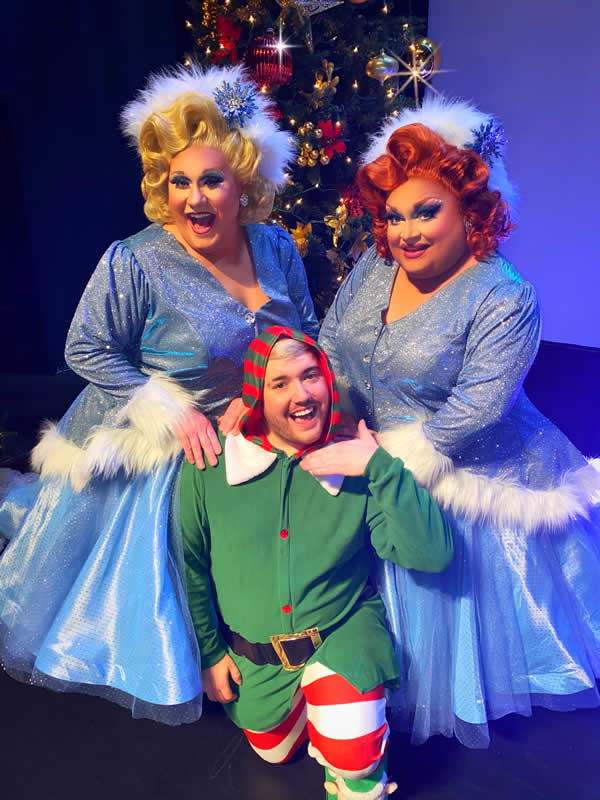 Mikey Rox is an award-winning journalist and LGBT lifestyle expert whose work has been published in more than 100 outlets across the world. Connect with Mikey on Instagram @mikeyroxtravels.