Glowing year for D.C. amateur LGBT sports leagues
D.C. Gay Flag Football League, Capital Tennis Association among high achievers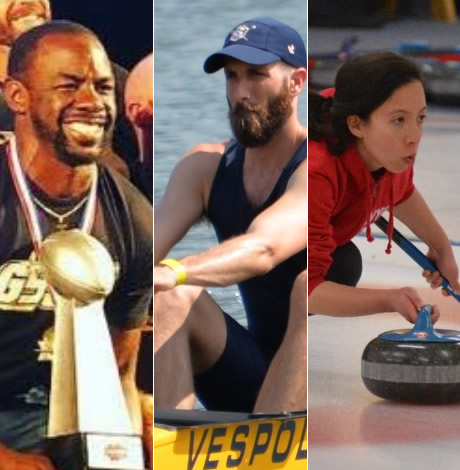 What a year it was for the LGBT sports community in Washington. The noncompetitive sports clubs offered a full list of recreational activities and the competitive sports teams left their mark on the national and world stage.
Gay Games 10 was contested in Paris with about 10,000 athletes from 91 countries vying for medals in 36 sports. Athletes from Team D.C. hauled in 234 medals in the sports of rowing, volleyball, soccer, swimming, road running, fencing, triathlon, track & field, basketball, open water swimming, dancesport, tennis, golf and bowling. 
Below are 2018 highlights from a select few of the LGBT sports teams:
D.C. Gay Flag Football League maintained its two-season league structure and sent multiple travel teams to tournaments around the country. In September, members sent four men's teams and one women's team to Denver where the Washington Generals were crowned Gay Bowl XVIII Division A champions.
Capital Tennis Association members traveled to tournaments, hosted league play throughout the year along with hosting their annual Capital Classic tennis tournament. In October they traveled to New York City where they won the Atlantic Cup for the fourth consecutive year defeating Philadelphia, New York City and Boston.
Chesapeake and Potomac Softball League players ran multiple leagues, traveled to tournaments and hosted their annual MAGIC tournament. In September one of their women's travel teams, D.C. Swag, captured the championship title in the D Division at the 2018 ASANA Softball World Series in New Orleans.
Stonewall Sports leagues have expanded to 16 cities across the country with their latest addition being Salt Lake City. Members hosted their Stonewall National Tournament in New Orleans and also traveled to the Sin City Classic in Las Vegas. Locally, they host kickball, dodgeball, bocce, climbing, billiards and yoga.
D.C. Furies played in the USA Rugby Women's Premier League and hosted Ruggerfest with 36 teams in attendance. Their sevens team qualified and played in New York City in June at the USA Rugby Club 7S National Championships where they placed ninth.
District of Columbia Aquatics Club led the way at the Paris Gay Games in August with 121 medals and shattered 15 IGLA world records. In July, members hosted the 27th Annual Maryland Swim for Life open water event on the Eastern Shore.
D.C. Sentinels basketball team traveled to tournaments nationally and their weekly pick-up games continued along with the Washington D.C. Gay Basketball League. This year they introduced the Washington D.C. Women's Basketball League.
Washington Scandals, Washington Renegades and the Baltimore Flamingos, all played in USA Rugby's Mid-Atlantic Senior Men's Division IV conference. They also traveled to tournaments including the Bingham Cup in Amsterdam in June. The Renegades Blues team captured the Bingham Bowl.
D.C. Strokes Rowing Club continued with multiple rowing programs and hosted its annual Stonewall Regatta bringing about 400 rowers to D.C. The Strokes raced sprints and head races throughout the year including the U.S. Masters Rowing Championships and Head of the Charles.
Federal Triangles Soccer Club hosted another successful season of the Summer of Freedom Soccer League along with competing in other District leagues and tournament play. They continue to run three tournaments per year.
A big welcome in 2018 to the LGBT players and allies competing in Rogue Cornhole, Gay Polo League, Old Dominion Dinkers pickleball, Eastern Women's Baseball Conference and Potomac Curling Club.
Also offered locally are golf, sailing, roller skating, adventuring, hiking, bowling, cheerleading, cycling, triathlon, dancesport, darts, hockey, orienteering, racquetball, road running, walking, scuba diving, ultimate frisbee, snowboarding, skiing, volleyball, women's roller derby, water polo and music ensemble.  
Information on the sports teams and sports clubs can be found at teamdc.org. 
Federal judge temporarily blocks anti-trans youth sports law in Indiana
The injunction requires that A.M., a 10 -year-old trans girl, must be allowed to rejoin her school's all-girls softball team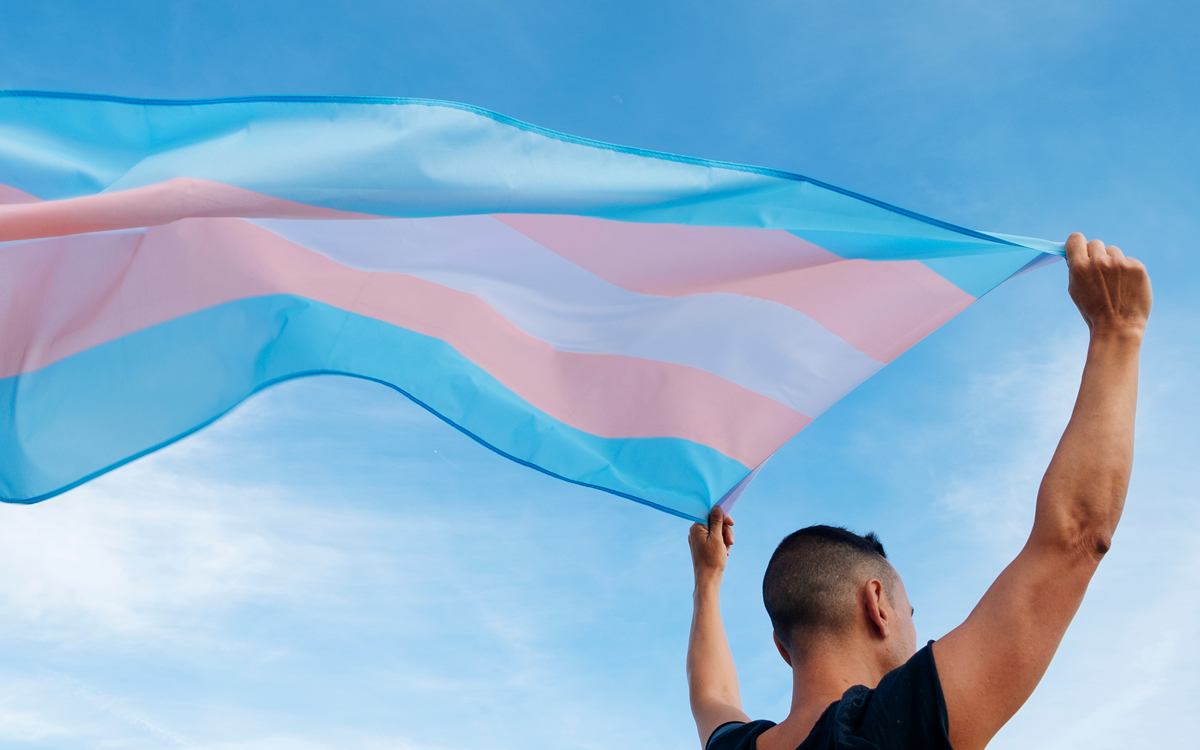 On Tuesday Judge Jane Magnus-Stinson of the United States District Court for the Southern District of Indiana issued an preliminary injunction that blocked an Indiana law that prevents trans youth from playing on sports teams that match their gender identity.
The injunction requires that A.M., a 10 -year-old trans girl, must be allowed to rejoin her school's all-girls softball team while litigation continues.
The American Civil Liberties Union of Indiana filed a lawsuit in April, on behalf of A.M., challenging House Enrolled Act 1041, which bans transgender girls from participating in school sports.
Ken Falk, legal director at the ACLU of Indiana, issued the following statement:
"When misinformation about biology and gender is used to bar transgender girls from school sports it amounts to the same form of sex discrimination that has long been prohibited under Title IX, a law that protects all students – including trans people – on the basis of sex.
"We are pleased that Judge Magnus-Stinson has recognized this and required that A.M. be allowed to play on her school's softball team.
"If other students are being denied the right to join a sports team at their school due to their transgender status, we encourage them to contact the ACLU of Indiana immediately."
This past May, the Indiana Legislature had voted to overturn Republican Governor Eric Holcomb's March veto of HB 1041, a measure that bans transgender girls from competing on girls' K-12 sports teams in the state.
The vote to override the veto means that this law makes Indiana the 8th state to ban trans youth from playing sports in 2022 by legislative action — and the 16th in the country.
In his veto message sent to House Speaker Todd Huston's office, Holcomb said the bill presumed a problem already existed that required the state to intervene and it implied the goals of consistency and fairness in girls' sports were not being met.
"After thorough review, I find no evidence to support either claim even if I support the overall goal," Holcomb wrote.
"Governor Holcomb was the second governor this year to uphold the dignity of transgender and nonbinary youth, and veto an attempt by lawmakers to write them out of existence. While those young people continue to face unrelenting political attacks, the Indiana legislature voted to override his act of courage and compassion, pushing these marginalized youth even further to the sidelines," said Sam Ames, Director of Advocacy and Government Affairs at The Trevor Project.
"This bill claimed to solve a problem of 'fairness' in school sports in Indiana that didn't exist, but its negative impacts on the mental health and well-being of trans and nonbinary youth — young people who already face disproportionate rates of bullying, depression, and suicide — are very real. To the young people in Indiana watching tonight: you are stronger than they know. We are here for you, we will fight for you, and we are not going anywhere."
DC Commanders notch Pride Bowl victory
Local teams 'overcome some difficulties' to score wins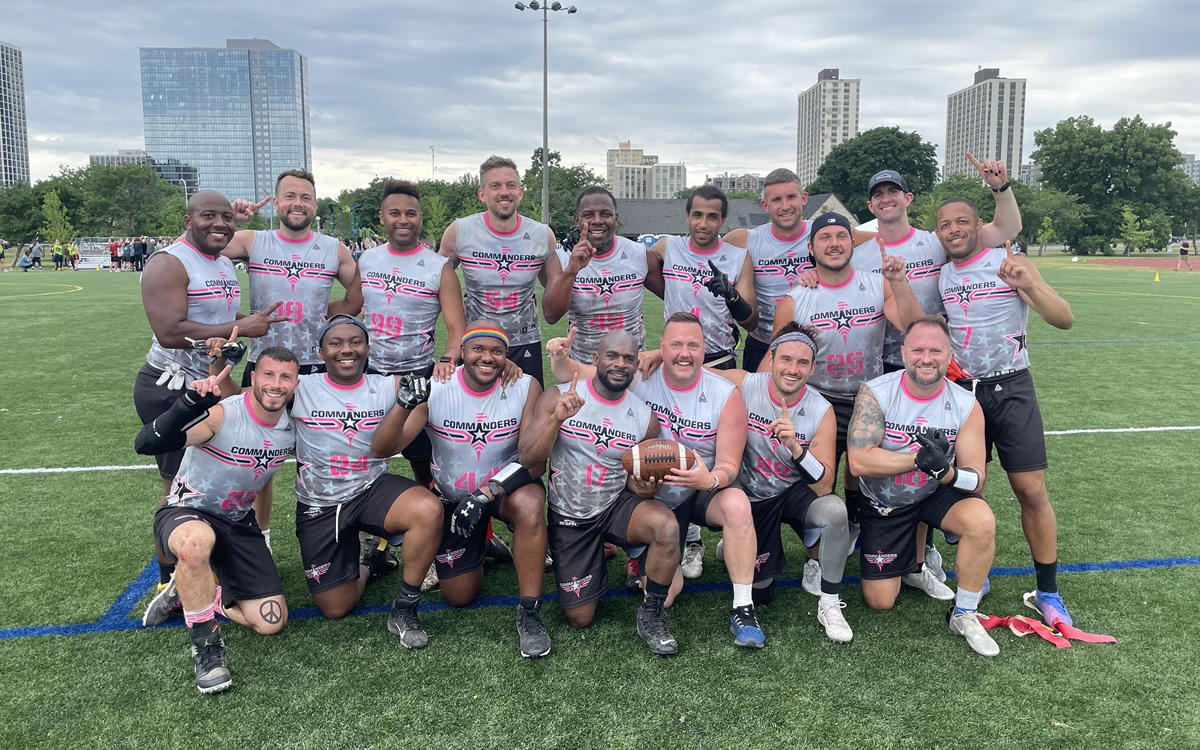 Pride Bowl XIV was contested in Chicago in late June drawing more than 800 players from across the country. The annual tournament featured 32 teams in the Open Division and 12 teams in the Women's Division.
For the DC Gay Flag Football League (DCGFFL) travel teams, it marked their second tournament of the year having previously competed in the Florida Sunshine Cup XI in February.
The DCGFFL sent five travel teams consisting of more than 80 athletes to Chicago – three teams in the Open Division and two teams in the Women's Division.
Each team was guaranteed four games in bracket play with the winners moving on to the semifinals. The DC Admirals, Washington Generals, DC Commanders, and DC Senators Black all advanced to compete in the final four.
The DC Commanders would go on to win their championship game 8-0, defeating the Austin Capitals in the Open B2 Bracket. They scored early in the game and held off their opponent over two 30-minute halves in a tough defensive battle.
Three players from the DCGFFL travel teams were selected to the Pride Bowl All-Tournament Team – Drew Crane of the Washington Generals, Matan Showstack of the DC Commanders, and Derrick Johnson of the Washington Generals.
Clay Arnold has been on the DC Commanders' travel team for six years and has captained since 2018. This year will mark the first full travel season post-COVID for the players who will also be traveling to Honolulu for Gay Bowl XXII in October.
"We have overcome some difficulties to get back to taking the majority of our players to tournaments, including securing enough money to pay for jerseys," says Arnold. "The Commanders brought five players who had never traveled and it's great having new talent."
There was a special meaning for Arnold in the win, as it brought reflections of his teammate, John Boyd, who passed in 2020.
"We played on the same field where John threw his first touchdown pass as a quarterback," Arnold says. "It was a great punctuation mark, and I was joyous for many reasons."
Arnold points to the travel experience as a tight-knit community filled with amazing people, lifelong friends, and an elevated level of competition.
"Several years ago we didn't compete well and ended up skipping the closing events to lick our wounds at a local dive bar in Chicago," Arnold says. "We have returned to that same bar every year and are welcomed with open arms. Sharing that quality time with your teammates and the next generation of players is what keeps me coming back."
Nikki Kasparek founded the DCGFFL's first women's travel team, DC Senators, in 2014 with Gay Bowl XIV being their first tournament.
Pride Bowl marked another first for the players as two DCGFFL women's travel teams competed in the tournament – DC Senators Black and DC Senators Red.
"It was exciting having a second team there and it gave us a built-in cheering section," says Kasparek. "The group of women on our second team energized all of us and everyone put in significant playing time. The Red team was captained by two veterans and the rest of the players were all rookies."
The DCGFFL has experienced significant growth in women's players over the past two seasons with 35 women currently playing in the leagues.
Kasparek, who has a wife and two kids at home, says she is very tied to the Senators and the DCGFFL and is excited about all of the new players.
"I am incredibly competitive and the DCGFFL leagues and travel tournaments allow me to scratch that itch," Kasparek says. "I am going to enjoy all of it – the friendships, the seasons, the tournaments, the moments – until I can't flex that muscle anymore."
Along with the increase in women's players, the DCGFFL has picked up over 100 new players in the past two seasons. Logan Dawson was recently elected as the new commissioner and also played for the Commanders at Pride Bowl.
"Traveling is a great opportunity to bond with your teammates and compete with the best players from all the cities in attendance," says Dawson. "It is a higher level of competition than our league play and offers our players an experience that will improve their skill set."
The DCGFFL has been using the DC Commanders name for many years and have no plans to change it because of the recent name change of the NFL's Washington Commanders.
"We like the connection and for the first time ever, members of the DC Commanders and the DCGFFL marched side-by-side with members of the Washington Commanders' organization in the Capital Pride parade this year," Dawson says. "We will also have interaction with them at their Pride Night this September."
Registration is now open for Season XXIII of the DCGFFL. Coming up for their travel teams are Beach Bowl 2022 and Gay Bowl XXII.
Lia Thomas nominated for the 2022 NCAA Woman of the Year award
The former University of Pennsylvania swimmer has been the center of national debate about transgender athletes in sports.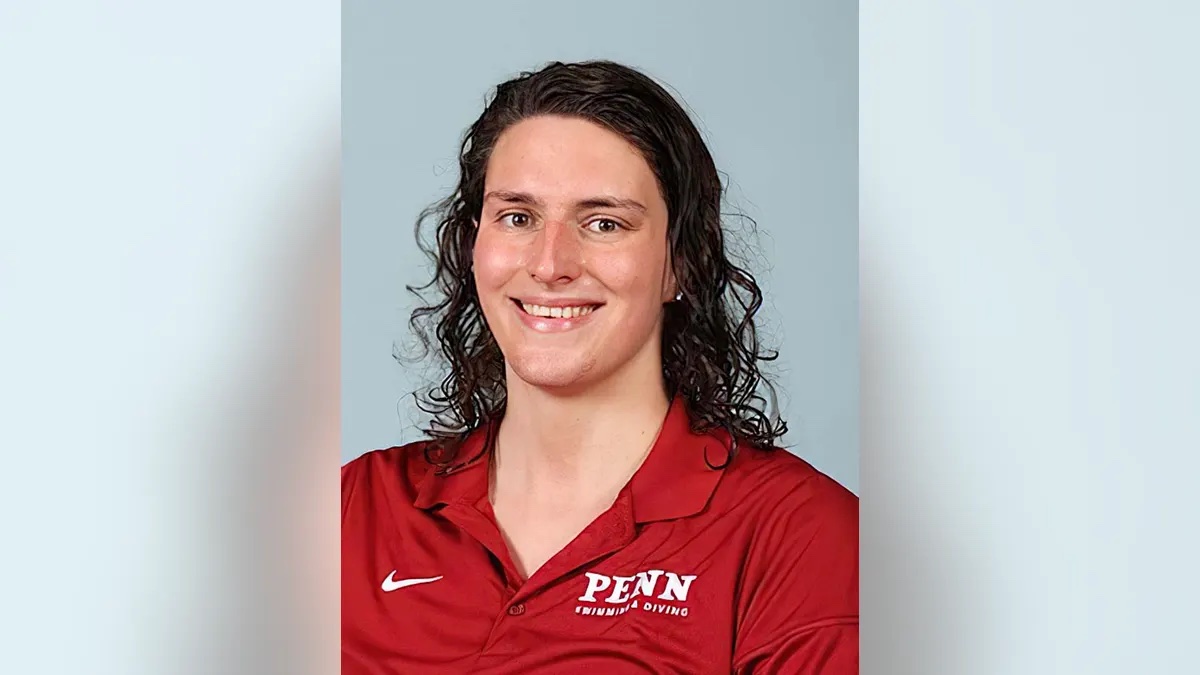 Lia Thomas, the first transgender woman who has earned a national title in Division 1 athletics, was nominated by the University of Pennsylvania for the 2022 NCAA Woman of the Year award. The former University of Pennsylvania swimmer has been the center of national debate about transgender athletes in sports.
The NCAA Woman of the Year Award was established to honor senior female student-athletes who demonstrate excelling performances in academics, athletics and community services at college.
In March, Thomas, joined the women's swimming team after competing against men for three years, became the first transgender woman to have a national title in Division 1. She finished the 500-yard freestyle event in the fastest time recorded in the NCAA season.
However, such attention-drawing performances also brought Thomas to the heated debate over whether transgender women should compete with cisgender women.
In February, sixteen of Thomas' teammates wrote an unsigned letter to Penn and Ivy League officials, and pointed out that Thomas held biologically "unfair advantages."
In March, conservative Christian organization Concerned Women for American (CWA) filed a lawsuit against University of Pennsylvania, stating by allowing Thomas to compete UPenn failed to protect the rights of other college female athletes.
"The future of women's sports is at risk and the equal rights of female athletes are being infringed," said Penny Nance, CEO and President of Concerned Women for America, in a CWA statement.
"Any school that defies federal civil rights law by denying women equal opportunities in athletic programs, forcing women to compete against athletes who are biologically male must be held accountable."
Last month, the International Swimming Federation (FINA) approved the new policy to bar transgender athletes from competitions consistent with their gender identity, unless they can prove that "they have not experienced any part of male puberty beyond Tanner Stage 2 or before age 12, whichever is later."
Similarly, USA Swimming, the national governing body for competitive swimming, adopted a more restrictive policy requiring transgender women to prove that the concentration of testosterone in their blood was less than 5 nanomoles per liter for 36 consecutive months or more.
The NCAA is currently reviewing the new policy but hasn't adopted it yet.
In total 18 states have enacted laws banning transgender athletes from sports consistent with their gender identity, and around 30% transgender athletes are accordingly affected.