January 12, 2019 at 12:33 pm EDT | by Kathi Wolfe
Mrs. Maisel inspires us to keep on resisting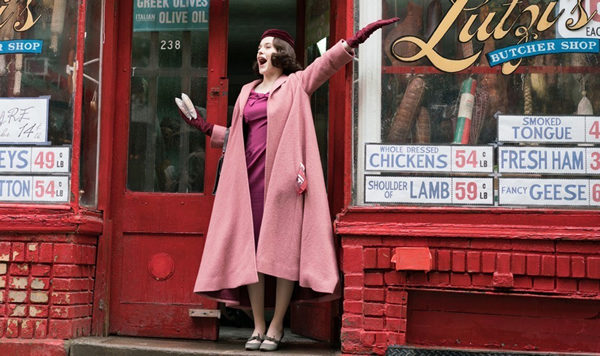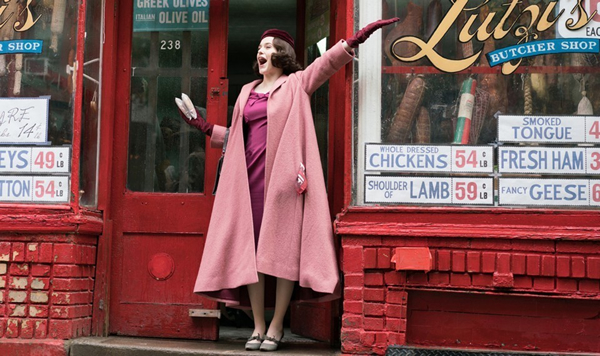 "Against the assault of laughter nothing can stand," Mark Twain said.
The U.S. Supreme Court may limit LGBTQ rights over "religious freedom" concerns and is likely to scale back women's reproductive rights. The transgressive power of humor is needed now more than ever.
You might not think that comedy's resistance against hypocrisy and sexism could be found in a TV show set in 1959 in the Mad Men era. But, you'd be wrong. Once again, I'm turning to "The Marvelous Mrs. Maisel," the Emmy and Golden Globe-winning Amazon TV show set in mid-20th century Manhattan, for the ass-kicking wit needed to resist intolerance and sexism. The series, now in its second season, continues laughter's wicked, incisive, spirit-saving assault. Rachel Brosnahan just won a Golden Globe for Best Actress in a TV series, musical or comedy for her spot-on portrayal of the larger-than-life, Joan Rivers-like fabulous Mrs. (Miriam, a.k.a. "Midge") Maisel.
Our time differs in many ways from the 1950s. Thankfully, women today can own property, have credit cards and not lose their jobs when they become pregnant. Yet, because some things from the '50s such as sexism and prejudice toward gender non-conforming people resonate all too well in our #MeToo moment, "Mrs. Maisel" is relatable.
In case you missed season one set in 1958, the show is created by Amy Sherman-Palladino (of the "Gilmore Girls"). Mrs. Maisel is a Jewish housewife and mother who's so funny that she delivers zingers at her wedding reception. Yet, she's content to keep her hair impeccably coiffed and to make fantastic brisket. She and her cute husband Joel live in an apartment that would have made Jackie Kennedy envious. Her picture-perfect marriage falls apart when Joel tries out stand-up comedy at the Gaslight, a Greenwich Village comedy club, and bombs with a bit he stole from Bob Newhart. Then, he has an affair with his secretary. Midge, unhinged, goes to the Gaslight and drunkenly performs a stand-up routine.
Most of us would literally and figuratively fall on our faces if we pulled this stunt. But, it's all good for Midge. Her impromptu comedy routine kills and she morphs into Mrs. Maisel, the talented, attractive, energetic "girl" comic, struggling to break into the comedy world. Susie, the butch, gender non-conforming, "Gaslight" manager (brilliantly played by Emmy-winning Alex Borstein), leaves the club to become Midge's manager.
In its second season, "The Marvelous Mrs. Maisel," with the rapid-fire wit and fast (sometime dizzying) pace of an Old Hollywood screwball comedy, moves from Paris to Manhattan to the Catskills. Paris never looked better – not even in "Funny Face" or in "An American in Paris." There hasn't been so much going on in the Catskills since "Dirty Dancing." The scenes with Midge at her day job — handling calls with breakneck speed at the switchboard at B. Altman, the resplendent department store – are as campy as any fab musical! And, let's not forget the hats.
"Mrs. Maisel" isn't all camp. Though the show's a comedy, it's aware of issues of class, sexism and privilege. Midge's mother Rose goes to Paris because her husband Abe pays no attention to what she wants or needs. "What are you, the lost Gabor sister," Susie, who grew up poor, asks Midge when she goes on about her privileged life.
Mrs. Maisel fights to be taken seriously as a comic at a time when women aren't respected as comedians. Lenny Bruce supports her. "Tell me that men won't think I'm funny because I don't look like a dump truck?" she says.
"Why do we have to pretend to be sorry, when we have nothing to be sorry about?" Mrs. Maisel asks.
You know Mrs. Maisel, even through her comedy is lacerating, won't be able to take down sexism. Yet, watching "The Marvelous Mrs. Maisel" gives the hope you need to keep resisting.
Kathi Wolfe, a writer and a poet, is a regular contributor to the Blade.