February 2, 2019 at 9:00 am EST | by Evan Caplan
Valentine's Day Dining Guide 2019: A candle-lit table for two please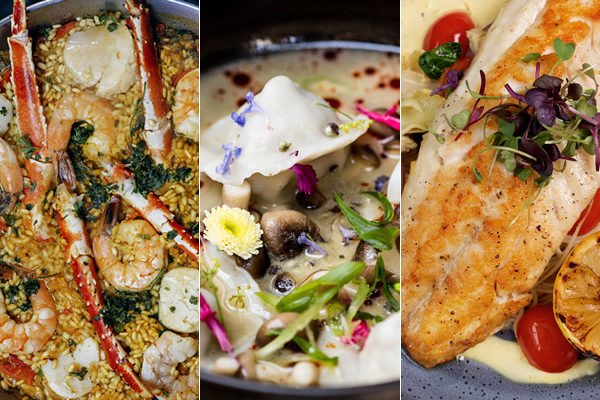 Valentine's Day in D.C.: When residents take a minute to reach across the aisle, whether politically or romantically. Restaurants, bars, hotels and other spots are offering plenty of options for you to get out and spend the evening with your one (or more) true loves.
The Gibson (2009 14th St., N.W.) is marrying the spiritual and the carnal. In its downstairs, the bar will take reservations for two only, with champagne and chocolate arrangements. Upstairs, at Profane Love, will be set up for mingling with strangers at the bar. The Gibson is also running a love story contest with a bar tab prize of $150. Entries and reservations should be sent to gibsondc.events@gmail.com.
Next door at Marvin (2007 14th St., N.W.), the music flows as freely as the drinks. A $75 per person three-course tasting menu consists of Marvin's favorites (see: chicken-fried oysters for that aphrodisiacal spin). A glass of Chandon bubbly is included. D.C. singer Allison Balanc deepens the mood with her lively jazz.
For those looking for a date post V-Day, The Ugly Mug(723 8th St., S.E.) on Capitol Hill is hosting Meet-A-Marine, an auction and charity event showcasing the talented men from the nearby Marine Barracks. There's no cover and all auction proceeds benefit HillVets.
Go luxe at The Ritz-Carlton, Washington offering a Valentine's Day dinner at its restaurant, Westend Bistro (1190 22nd St., N.W.) called Winter WonderLove, a four-course extravaganza that finishes with a "journey through chocolate." Dinner is $110 per person, or $125 with bottomless sparkling bar. The hotel also has an overnight package for most of the month.
Another hotel's hosting something a bit less formal and bit more electric. Moxy D.C. (1011 K St., N.W.) is hosting a "Put Your Hands on Me" package that seems straight from Vegas, which includes an upgraded welcome cocktail to a shot of tequila, massage oil, pink fuzzy handcuffs, a set of romantic dice and late checkout.
The Kimpton group of hotels is throwing together a diversity of events for different takes on Valentine's Day. Firefly (1310 New Hampshire Ave., N.W.) has a $75 per person meal with aphrodisiac-inspired ingredients; Urbana (2121 P St., N.W.) will have a $75 per person four-course Italian meal in the spirit of Rome's saint of courtly love. On Feb. 13, Urbana will honor "ladies celebrating ladies" with an all-night Galentine's Day happy hour; it'll be collecting donations for N Street Village's winter wellness initiative for women in need.
Decadence is on the menu at The Lafayette (800 16th St.,N.W.) at the Hay-Adams hotel. Its prix-fixe on Feb. 14 includes courses with fish, lamb and steak; there's an options champagne pairing. Prices start at $220 per couple.
All weekend long, Dirty Habit (555 8th St., N.W.) in Penn Quarter, is offering a la carte menu decadent creations for couples exploring a more laid-back yet still decadent place to celebrate the romantic holiday. Diners can also enjoy three pours of handpicked beer, wine or cocktails to complement the meal.
What's Valentine's Day sans vino? Pop open some good stuff at Cork Wine Bar (1805 14th St., N.W.) for its ninth annual six-course champagne dinner for $130 per person. Sommeliers will be on hand to talk about the hand-selected group of champagnes that accompany the food.
On the other hand, there's always pizza and beer. Ruth Gresser's Pizzeria Paradiso (2003 P St., N.W.) in Dupont Circle is hosting the 'Mix Tapes and Mix Taps' with 13 drafts from 13 different independent breweries; the mainstay has worked with the breweries to choose a song that symbolizes their beer (and yes, it'll be on Spotify).
Spicing things up for Valentine's Day is the city's high-end Indian trio: Rasika, Rasika West End (1190 New Hampshire Ave., N.W.) and the Bombay Club. Each of these is pulling out the stops for an $85 per person feast, featuring amuse bouches, fine seafood, stunning plating, and a warm atmosphere to match the heat of the dishes — and the night.
Brookland's Finest (3126 12th St., N.E.) also recognizes that the day is filled with mixed feelings. The bar is going to do a special salty and bitter menu, with salty snacks, specialty IPAs, and cocktails featuring Campari, Amaro and bitters.
Finally, gay-owned-and-operated Mikko (1636 R St., N.W.) right along vibrant 17th Street, is hosting a prix-fixe dinner for $75 per person, with an optional wine pairing. The dinner with run four courses and is inspired by Chef Mikko's Nordic background.