February 6, 2019 at 4:18 pm EST | by Lou Chibbaro Jr.
D.C. gay men arrested for attempting to smuggle drugs on cruise ship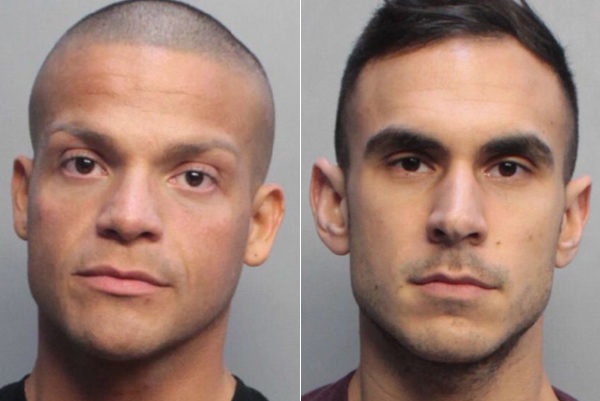 A tip from the U.S. Department of Homeland Security enabled Miami police on Sunday, Feb. 3, to arrest two D.C. gay men as they allegedly attempted to smuggle in their luggage illegal drugs on board a cruise ship in the port of Miami, according to a police arrest affidavit filed in court.
The affidavit says a DHS special agent informed police that DHS intercepted an email exchange between D.C. residents and roommates Peter Melendez, 36, and Robert Koehler, 27, in which the two men allegedly conspired to smuggle drugs on board the cruise ship with the intent to distribute them to passengers.
Police charging documents show the two men are residents of a house on the 700 block of Harvard St., N.W. in the District's Columbia Heights neighborhood. City property records show that Melendez owns the house.
The documents show Melendez was charged with conspiracy to traffic in illegal drugs and trafficking illegal drugs. Koehler was charged with trafficking illegal drugs.
The charging documents show the two men were initially held without bond in the Miami detention center with a notation dated Feb. 3 stating "NO BOND" – "DO NOT RELEASE."
A clerk with the Miami-Dade County Circuit Court told the Blade on Wednesday that both men were released on bond the next day on Feb. 4. Bond for Melendez was set at $7,500 and Koehler's bond was set at $30,000, the clerk said. Both men are scheduled to appear for an arraignment on March 5, court records show.
According to the arrest affidavit, "co-defendant Melendez is a current contract employee for the U.S. government." It says "several pages" of emails exchanged between Melendez and Koehler in which they planned to distribute drugs on the ship were intercepted by DHS through Melendez's "government computer."
It says that during a routine K-9 search of passengers at the port prior to passengers boarding their cruise ship both Melendez and Koehler's luggage "alerted" positive for narcotics. It says a further search by Custom Border Protection (CBC) officers found various quantities of various controlled substances in each of the men's luggage.
Among the findings in both their luggage were approximately 27 grams of suspected MDMA, known as ecstasy; 18 grams of Ketamine; and 246 grams of suspected GHB. Also found in Melendez's luggage were five grams of Adderall, a prescription amphetamine; and seven grams of Viagra, the arrest affidavit says.
The police charging documents and the arrest affidavit don't identify the cruise ship by name. But at least two news media outlets – The Chesapeake Today, which covers crime related stories, and the British tabloid the Daily Mail – reported they learned from police the ship was the Royal Caribbean line's Allure of the Seas, which was embarking on an all-gay, seven-day cruise to the Bahamas and Mexico.
The website of the company that organizes Atlantis gay cruises, which arranges LGBT cruises on large cruise ships, promoted the cruise on which Melendez and Koehler allegedly conspired to sell drugs as "the world's largest all-gay cruise" which was to include "5,400 guys from over 60 different nations."
Neither Melendez nor Koehler or their attorney identified in court papers as Kevin Gardiner could immediately be reached for comment.
On his Facebook page Melendez says he has worked since 2009 as a "jack of all trades" at the U.S. Pentagon.
People who know him told the Blade he competed in and won in D.C.'s annual Miss Adams Morgan drag pageant in 2016 or 2017.
The Miami Herald reported that Koehler also works in D.C. as a federal government contractor, but that designation was not disclosed in preliminary court documents or the arrest affidavit.
The Atlantis cruise, which Melendez and Koehler were attempting to board, is known to attract the gay circuit party crowd that has a reputation for recreational drug use among some of its adherents.
"It's important for people to know that the circuit scene is tight knit, looks after one another, cares for each other and simply chooses to party in a different way than the drinking crowd," said D.C. gay activist Lane Hudson. "It would be nice if the law allowed for this, but for now, it doesn't. That means that situations like this sometimes occur," he said.
"I've known Peter for 7-8 years and he's always been a wonderful member of our community," said Hudson. "He is loving, caring, well-liked and one heck of a drag queen. I hope he comes out of the other side of this in a good way. He certainly wasn't out to harm anyone."