February 6, 2019 at 4:06 pm EST | by Ernesto Valle
Nayib Bukele elected president of El Salvador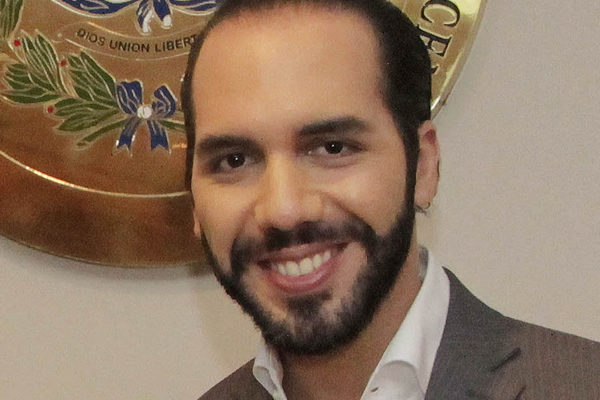 SAN SALVADOR, El Salvador — El Salvador's presidential election campaign lasted from Oct. 2, 2018, through Jan. 30, 2019, and it was a very tense time with a lot of uncertainly for the LGBTI community.
The Alliance for a New Country coalition (ARENA, PCN, PDC and DS parties) and VAMOS candidates proved to be very conservative in their campaign platforms, while the GANA candidate did not show much of an interest in speaking about LGBTI issues. The FMLN candidate said he would continue the same policies the current government has taken up through now.
The policies have proven inclusive and free of discrimination, but most of the LGBTI community nevertheless thinks they have not been enough. Activists were divided over whether to support the Alliance for a New Country coalition, FMLM or GANA candidates.
Feb. 3, the date when America's little thumb would elect its new president, came and everyone went out to the streets to exercise their suffrage as a constitutional right. The LGBTI community also came out to defend the same right at different polling places throughout El Salvador.
"We haven't seen any major problems here. We only know about a colleague in Los Santos 2, Soyapongo, San Salvador, our colleague Tatiana Herrera who was ridiculed by a poll worker at the table when it was her turn to vote," Mónica Hernández, director of ASPIDH Arcoiris Trans, a transgender advocacy group, told the Washington Blade. "They apparently did not want her to vote and afterwards they allowed her to vote. We have partnered with the Supreme Electoral Tribunal, with the Office for the Defense of Human Rights to be in contact with them and to make sure they can also monitor the trans vote."
But this was not the only reported case of discrimination at the polls.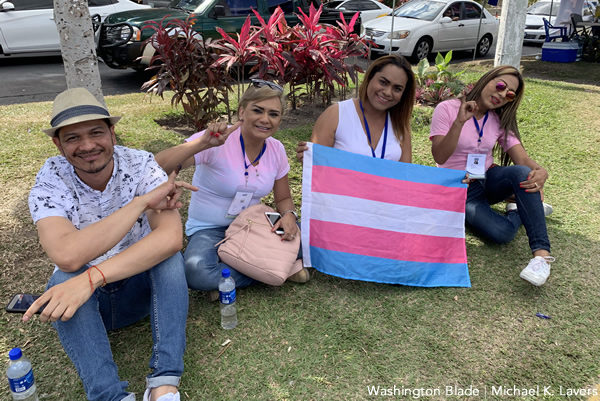 At Centro Escolar Antonio Najarro in Mejicanos, San Salvador, Noé Morales, a trans man with a visual disability who was accompanied by Aldo Peña, a trans man and LGBTI activist who helped him with his request for a ballot from the corresponding poll worker. The person referred to Morales as "she" the entire time, disregarding his gender identity. Activists said these cases were strange because the Supreme Electoral Tribunal trained poll workers on how to deal with LGBTI voters.
With the exception of these cases, the vote took place as normal and at around 9 p.m., the Supreme Electoral Tribunal was announcing the GANA party and its candidate, Nayib Bukele, won in El Salvador's 14 departments. Activists on social media networks did not wait long to weigh in.
"The election results were strong: Nayib Bukele is El Salvador's next president after a strong vote. I did not support him, but I wish him the best in his next government because the success or failure of his term will also be that of the country," wrote Erick Ortiz, an LGBTI activist who was also part of ARENA's group of young supporters. "There will be a real change of power on June 1, it will be incumbent on everyone to continue working based on what each person can do, getting involved and participating to finally put an end once and for all to the social crisis through which we are going."
Roberto Zapata, director of AMATE El Salvador, an LGBTI organization, for his part said he will be on the lookout for governability because of the president-elect's unfavorable view of government agencies and for the improvements to his relationship with the LGBTI community and other social movements he said he must make.
"The LGBTI community has already had an unfortunate experience with Bukele," said Zapata.
The president-elect in 2015 met with a group of activists and representatives of LGBTI organizations when he was running for mayor of San Salvador. Zapata said he promised to include sexual diversity in public policies, "but they did not see any of these promises fulfilled during the three years he was in office."
Peña's concern is the work he as done with the leftist government up to this point will go by the wayside and the LGBTI community's work will have to begin from scratch.
"As a trans person, I would have wanted FMLN to have won because of the community's support, that is what interests me, but lets see what Nayib does for us, lets see what he has for us," he told the Blade. "I can also tell you that we are not going to start from the beginning, but what I can tell you is that we are going to start from scratch (with the new government)."
It will be the country's LGBTI organizations that should now exercise control with this new government that will take office on June 1, but the work that they will do on issues of social inclusion for the community remains uncertain.
"The experience has, in whatever case, taught us that we as LGBTI organizations cannot wait for one person to carry our demands forward," said Zapata. "We are ready to continue the fight against hatred in consciousness, in institutions and in the streets."