February 15, 2019 at 2:24 pm EDT | by Patrick Folliard
Folger's 'Nell Gwynn' is madcap historical backstage story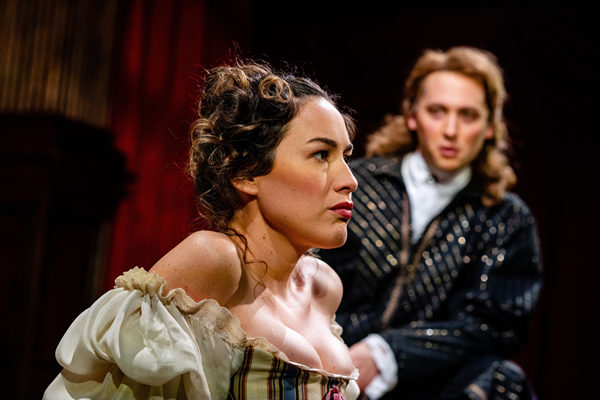 'Nell Gwynn'
Through March 10
Folger Theatre
201 E. Capitol St. SE
$42-85
202-544-7077
Nell Gwynn. The name is more than a theatrical history footnote. She was the longtime lover of a king and among the first women to stride the English stage.
It's the 1660s. After a dozen years of Puritan rule, monarchy is restored. And under theater-loving King Charles II, London show biz is in full swing again. A part of that means allowing women, not just men, to play female characters. Pretty, witty Nell Gwynn is in the right place at the right time.
Her story (or close to it) is currently being told at Folger Theatre in Jessica Swale's 2015 comedy with music, aptly titled "Nell Gwynn."
After sumptuous crimson curtains part, we meet our lowborn heroine selling oranges, and sometimes herself, at King's Theater. Feisty and good looking, she catches the eye of the company's handsome leading man Charles Hart (Quinn Franzen). Whether impelled by lust or interest in incipient talent, Hart deigns to teach Nell the fundamentals of hammy acting. She's a natural: Luff's Nell cries on command.
At Duke's Theater (the competition), ticket sales skyrocket after a woman is cast in their latest offering. In response, King's Theater's seasoned manager Thomas Killigrew (Nigel Gore) pushes saucy Nell on the boards. Her propitious debut prompts Hart to exalt: "They've never seen anything like it. You were luminous. And you were real. A real woman. … It changes everything."
And indeed, it does. Never one to overlook a pretty woman, King Charles (a gloriously bewigged R.J. Foster) wastes no time in meeting Nell and makes her an offer she eventually cannot refuse. And as her acting star rises, Nell demands dim, derivative resident playwright John Dryden (reliably funny Michael Glenn) write more significant parts for women.
As played by lovely Luff, it's easy to see why both king and audience are smitten. There's none of the confusion that surrounds Edward's obsession with Mrs. Simpson, or another Charles's attraction to the woman whom his first wife dubbed the rotteweiler, but I digress. Graceful with a flair for the ribald, Luff radiates warmth and intelligence.
Swale's play, a big hit across the pond, is a double-barreled backstage story. Madcap happenings and debate in the theater's dressing room include former leading lady Edward Kynaston, played by local out actor Christopher Dinolfo, who rails against his relegation to playing female walk-ons, skimpy parts he endows with elaborate backstories. Also, on hand for Nell's meteoric ascent are faithful costume mistress Nancy (Catherine Flye), Nell's scrappy sister Rose (the excellent Caitlin Cisco) and happy-go-lucky young actor Ned Spigget (Alex Michell).
Meanwhile at court, King Charles, insatiable cocksman and circumspect politician, successfully juggles an angry Queen Catherine (Zoe Speas), ambitious mistress Lady Castlemaine (Regina Aquino) and scheming advisor Lord Arlington (Jeff Keogh). Unexpected visitors include Nell's gin-soaked mother (again Flye) and a new French mistress (also Aquino). Despite the insanity, Nell finds love.
The humor is broad, bawdy and rife with innuendo. The King's Theater acting troupe might have easily been played by the cast of British TV's "Are You Being Served?" with a young Lulu guest starring as Nell.
Though some gags are interminably milked, it's a mostly light but engaging work whose enjoyable score sets racy lyrics to catchy melodies.
Through the laughs, Swales portrays Nell as a groundbreaking player who helps define women's role in theater. Director Robert Richmond's able staging includes haunting sequences that reveal the other Nell — an artist with an inner life, enormously loyal and capable of falling in love.