February 18, 2019 at 1:10 pm EDT | by Mariah Cooper
Don Cheadle stands up for trans youth on 'SNL'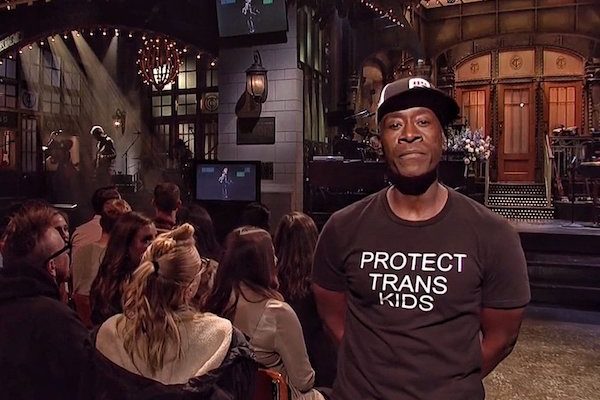 Don Cheadle made a quiet but bold statement of support for transgender youth on the Feb. 16 episode of "Saturday Night Live."
The "House of Lies" star, who was hosting the show, wore a T-shirt that read "Protect Trans Kids" when he introduced musical guest Gary Clark Jr. He didn't say a word beyond making the introduction but the shirt spoke volumes.
The T-shirt was praised on social media including by transgender activist Janet Mock.
#ProtectTransKids, a reminder from the hero himself @DonCheadle https://t.co/0Ka15pITBw

— Janet Mock (@janetmock) February 17, 2019
Transphobic TERF culture needs to end.

The well-being of trans children depends on it. Thank you @DonCheadle for stepping up on last night's @nbcsnl and showing the world what allyship looks like. pic.twitter.com/rFKjrxRIxg

— MUNROE 👑 (@MunroeBergdorf) February 17, 2019
I want a tee shirt of this picture ♥️@DonCheadle https://t.co/A4y6xKMaji

— Sarah Silverman (@SarahKSilverman) February 17, 2019
Don Cheadle for ever pic.twitter.com/SnbTxpGrLn

— rhea butcher (@RheaButcher) February 17, 2019
Cheadle also made another political statement via his fashion choices at the end of the show. He donned a Russian hockey jersey with the word "Trump" and the number "45," a reference to Trump's presidency, written on the back.
Haha Legendary! @DonCheadle wore a Soviet Union CCCP hockey jersey at the end of the #SNL tonight with #Trump on the back of it with number 45 for his presidency! Well done Donny! #DonCheadle #agentorange pic.twitter.com/OVhkSQwdXY

— Alex Peers (@dj_themes) February 17, 2019
Cheadle acknowledged the wave of support on social media.
"I awoke to so much support and love," Cheadle tweeted. "Thank you NBC for the opportunity for to play and respect and throw shade in an [sic] historic space in an historic time. Keep fighting, y'all. Evil grows in the dark."
♥️✌🏿✊🏿 to each and every one of you beautiful tweeps. i awoke to so much support and love!! thank you @nbcsnl for the opportunity to play and pay respect and throw shade in an historic space in an historic time. keep fighting, y'all. evil grows in the dark. 😘

— Don Cheadle (@DonCheadle) February 17, 2019