February 20, 2019 at 1:45 pm EST | by Chris Johnson
Pence backs Trump global initiative to decriminalize homosexuality: spokesperson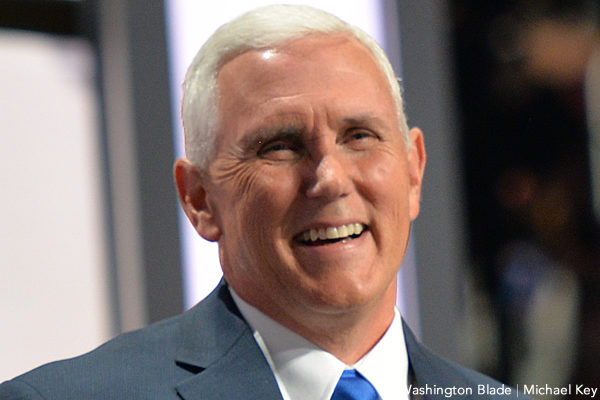 Vice President Mike Pence backs the newly announced Trump administration global initiative calling on nation's to decriminalize homosexuality, a spokesperson for his office told the Washington Blade on Wednesday.
The global initiative seems aimed at highlighting the human rights record of Iran, a country that punishes homosexual acts with death. Highlighting Iran's record is an independent goal Pence has made for himself, as evidenced by a speech he delivered earlier this month in Warsaw, Poland.
"The authoritarian regime in Tehran represses the freedom of speech and assembly, it persecutes religious minorities, brutalizes women, executes gay people, and openly advocates the destruction of the State of Israel," Pence said. "The Ayatollah Khamenei himself has said, 'It is the mission of the Islamic Republic of Iran to erase Israel from the map.'"
The Jerusalem Post, a conservative publication in Israel, reported recently the Iran executed a gay man in a public hanging.
As first reported by NBC News, U.S. Ambassador to Germany Richard Grenell is leading the Trump administration initiative to encourage countries to decriminalize homosexuality. Grenell has chided German businesses for doing business in Iran in the aftermath of Trump pulling out of the Iran nuclear deal.
According to an annual report by the International Lesbian, Gay, Bisexual, Trans & Intersex Association, more the 70 countries continue to criminalize — eight with the death penalty, including Iran.
Pence's support for an initiative to decriminalize homosexuality stands in contrast to his long anti-LGBT record as both a U.S. House member and Indiana governor.
As a U.S. House member, Pence voted against "Don't Ask, Don't Tell" repeal and the Employment Non-Discrimination Act.
As Indiana governor, Pence signed into law a "religious freedom" measure widely criticized for allowing individuals and businesses to refuse service to LGBT people. Former Arizona Gov. Jan Brewer, another Republican, vetoed a similar measure in her state.
After an outcry from LGBT rights supporters and the business community, Pence was forced to sign a "fix" limiting the ability to discriminate under the Indiana law.
Pence has also been accused of supporting widely discredited "ex-gay" conversion therapy, although a spokesperson has denied he ever supported the practice.