February 27, 2019 at 7:53 pm EDT | by Peter Rosenstein
Medicare for All, Green New Deal are aspirational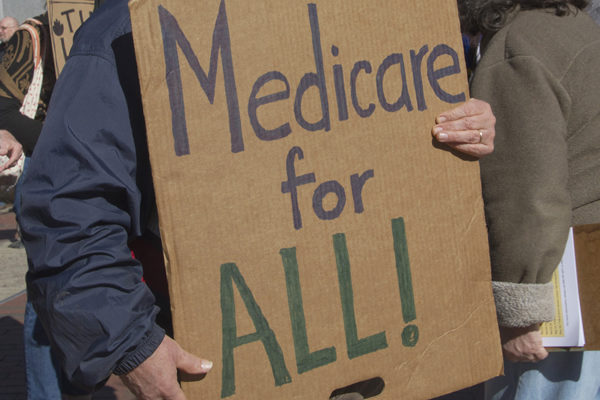 The current various discussions of Medicare-for-All and the resolution set forth for the Green New Deal are aspirational goals and that is not a bad thing. With both of these goals we must find the right pathway that will allow us to achieve them.
The Democratic Party and its candidates need to determine how we bring people along with us, especially those who might tend to agree with our long-term goals but are afraid some pathways will cause major upset in their lives. Politically if we are to win we must find a way to have the majority of the country with us and not have everyone else so upset they are poised to use every lever at hand to stop any progress.
The current Green New Deal resolution has been attacked by many conservatives. Those who developed it tell us not worry but to plow ahead. They urged other Democrats in Congress to just go ahead and endorse it. They will get many endorsements and some of our announced and unannounced presidential candidates have already done so. Some without comment others like Amy Klobuchar calling it "aspirational" as a way not to pick it apart. Sherrod Brown has not yet endorsed it. Diane Feinstein was clear it couldn't get through the Senate but she has another version.
What has been overlooked by some is there are more than just conservatives who have issues with the resolution as presented and behind the scenes many unions and environmentalists and rational progressives who share the long-term goals are saying they see problems. The issues they are talking about include what we do about nuclear energy and the call for cutting air travel to name just two.
On the other issue, there is nearly universal agreement among Democratic candidates to embrace the words "Medicare for All." Yet go just one layer below the words and there is widespread disagreement on what they mean. Some believe it's immediate universal healthcare or a single-payer system; some like Sherrod Brown want to open up current Medicare to younger people, while to others it means an end to private insurance. There is no current consensus on how to move forward.
The best case scenario for Democrats, with the leadership of Speaker of the House Nancy Pelosi, would be to have the Democratic caucus in the House come to agreement on legislation they can introduce and pass in the next year on a host of issues including healthcare. They could potentially pass a bill with fixes to the Affordable Care Act, including reducing the cost of prescription drugs and guaranteeing affordable care for those with pre-existing conditions. They can pass bills leading to real progress in the fight against climate change. There are a host of other issues they could address including immigration with a bill to allow Dreamers to stay in the country and giving all immigrants a pathway to citizenship. They could pass an infrastructure bill and another bill guaranteeing equal pay for women and one to ensure equality for the LGBTQ+ community. They can pass a voting rights bill and maybe one to help ease the burden of student debt and making at least community college free to everyone.
They should do these things because the nation is sliding backwards, and will continue to move backwards, as long as the clearly unhinged man remains in the White House and his sycophants control the Senate. I am not naïve enough to think if the House passes even some of these bills they will be passed by the Senate or signed into law by the president. But what they accomplish is to lay out a blueprint for progress and allow candidates to say to voters, "If you elect Democrats in 2020 and give us control of the Congress and the White House, this is what we will do."
The worst thing that can happen to Democrats is we take back government and find like Republicans did when they tried to get rid of the ACA and pass a replacement, they couldn't agree on anything to pass. Democrats can and must do better. We must be prepared to act on day one if the people give us back the ability to do so. We must do it both for the nation and as a symbol to the world the Trump administration is an aberration and not who we are.
Peter Rosenstein is a longtime LGBT rights and Democratic Party activist. He writes regularly for the Blade.