March 13, 2019 at 8:22 am EDT | by Lou Chibbaro Jr.
Writer, LGBT activist Nancy Davis dies at 82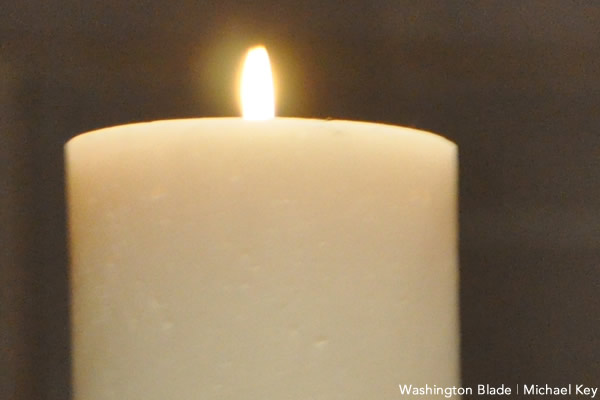 Nancy Ruth Davis, who began her career as a cryptographer for the U.S. Foreign Service before becoming a travel writer and an LGBT activist alongside her life partner, pioneering lesbian activist Lilli Vincenz, died Feb. 15. She was 82.
Her friend Kris McLaughlin said she died of natural causes in Oakton, Va.
She was born in Loveland, Colo., and starting at the age of 22 began her career as a cryptographer with the U.S. Foreign Service beginning with assignments at the State Department in Washington, D.C., according to her friend Bob Brown. Brown said that in addition to serving in D.C., Davis served in U.S. Foreign service posts in London, England; Belgrade, Yugoslavia; Cairo, Egypt; and the U.S. mission to the United Nations.
After leaving government service Davis became a freelance writer based in Greece and Mexico, where she wrote mostly for tourist magazines, Brown said in a write-up on Davis's life.
From 1986 to 1989 Davis worked with D.C.'s then Whitman-Walker Clinic on projects related to its AIDS Services Operating Committee," Brown said, adding that Davis helped found the Black Education Against AIDS Task Force and an Empowerment Group for People Living with AIDS.
Brown said Davis and Vincenz had a commitment ceremony in 1986 and bought a home in Arlington. Others who have known Davis and Vincenz said the two hosted many LGBT-related events at their home, where the two, according to D.C.'s Rainbow History Project, founded an organization in 1992 called the Community for Creative Self-Development.
Vincenz, a psychotherapist by profession, operated the organization as a "holistic learning community for empowering gay women and men and all gay-friendly people, creatively, spiritually, and psychologically," the Rainbow History Project says in its biography of Vincenz. Brown's write-up on Davis says Davis edited the organization's quarterly newsletter.
"They traveled on Olivia Cruises all over the world as often as they could, as well as enjoyed time together in their beach house in Chinquapin, Va.," Brown said in his write-up.
McLaughlin said Davis, joined by Vincenz, had a chance to bask in joy over the progress they helped to bring about in the LGBT rights movement at a June 2014 White House reception hosted by President Barack Obama to celebrate LGBT Pride Month. On display at the White House reception were picket signs that Vincenz helped to make for first-ever protests outside the White House in 1965 for homosexual rights that Vincenz participated in.
"Their joy was palpable," said McLaughlin, who took them to the White House event. "They never dreamed that they would live to see such visible progress."
Brown said there are no plans for a memorial service for Davis. McLaughlin said donations may be made in Davis' name to the Animal Welfare League of Arlington.