March 17, 2019 at 10:12 am EDT | by Mariah Cooper
LGBT-friendly summer camp options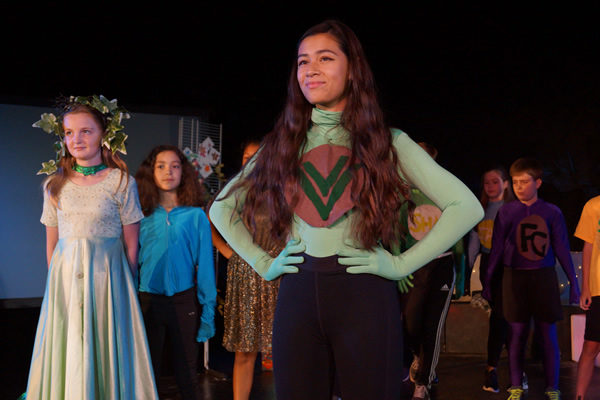 There may still be a chill in the air but local camps are already prepping for their summer sessions in the District. From musical theater programs, yoga, sports, STEM and even laser tag, there's an activity for your child to get out of the house, master a skill and have fun.
Adventure Theatre has Summer Musical Theater Camp at its Glen Echo Park location (7300 Macarthur Blvd., Glen Echo, Md.) for two-week sessions for rising first-sixth graders. Campers will perform the youth-appropriate shows "Go Fish," "Joust," "Rats!" and "Treasure Island." For each show, students will work with props and costumes, singing and scene work to prepare for the main stage show for friends and family. Pricing ranges from $800-850.
Campers in grades sixth-12 can participate in Summer Musical Theater Training Program at its Wintergreen Plaza location (837 Rockville Pk., Rockville, Md.). Students can study Contemporary Musical Theatre to learn about musicals such as "Come From Away," "Beautiful," "Kinky Boots," "Dear Evan Hansen" and "School of Rock." Campers will go on a day trip to New York City to see the Broadway musical "Mean Girls" and to participate in a master class with a Broadway performer. Students can also choose Movie Musical Theatre where they will study "The Wiz," "Chicago," "Gypsy," "Hairspray" and more. They will also visit New York City to see "King Kong" and participate in a master class with a Broadway performer. Pricing for both sessions is $1,350. For details, visit adventuretheatre-mtc.org.
Camp RimRock for Girls (343 Camp Rim Rock Rd., Yellow Spring, W.Va.) has three types of overnight camps. General Camp is for rising second-10th graders to participate in horseback rising, arts and crafts, performing arts, aquatics and sports. Riding Camp is for rising fourth-10th graders who can learn ring lessons, stable management, trail rides/swimming the horses and aquatics. Mini Camp is for rising first, second and third graders and offers all of the general camp activities except for horseback riding. General Camp two week sessions are $2,950 and four week sessions are $5,400. Rising Camp sessions are $2,000 and Mini Camp sessions are $1,500. For more information, visit camprimrock.com.
Circle Yoga (3838 Northampton St., N.W.) offers yoga and mindful-based activities for children ages 4-12. Half-Day Camp is for children ages 4-7 and is $250 per week. Full Day Camp is for children ages 6-12 and fees are $365 per week. Partial scholarships are also available. For more details, visit circleyoga.com.
Green Acres Camp (11701 Danville Dr., North Bethesda, Md.) has Junior Camp for current pre-Kindergarten, Kindergarten and first graders. Activities include swimming, cooking, music, carpentry and more. Senior Camp is for current second-sixth graders who can participate in kitchen chemistry, wood shop, swim instruction and more. The camp also offers Kreative Kangaroos for rising pre-Kindergarteners to swim, play sports and have outdoor play. For a list of pricing and sessions, visit greenacres.org.
HeadFirst Summer Camps has campuses at St. Albans & National Cathedral School (3101 Wisconsin Ave., N.W.), Mater Dei School (9600 Seven Locks Rd., Bethesda, Md.), Flint Hill School (3320 Jermantown Rd., Oakton, Va.) and Episcopal High School (1200 N Quaker Ln., Alexandria, Va.). Headfirst offers Junior Day Camp, which includes art, music, sports, STEM activities and swim lessons, for half day and full day sessions for pre-K and younger. Kids who are rising Kindergartners through rising first graders can attend Day Camp which also includes sports, music, swimming and STEM as well as activities surround the week's story and theme.
STEM Camp is for rising kindergartners through six graders who can learn coding, robotics, physics and forensics. Innovators, Inc. is HeadFirst's newest camp which will have campers solve STEM-based activities each week to solve a final team challenge. Each week there will also be a field trip. Multi-Sport Camp is for rising kindergartners-seventh graders who will participate in multiple sports and games each day. There is also a Basketball Camp for rising second-seventh graders and Soccer Camp for rising kindergartners-fifth graders. Overnight Camp is for rising fourth and sixth graders and includes a five-night, six-day program for campers to mix and match their electives. Fees range from $399-529 per week. For more information, visit headfirstcamps.com.
The Lowell School (1640 Kalmia Rd., N.W.) offers a variety of summer camp activities for children ages 2-15. One of the many programs includes Broadway Babies for kindergarten through second grade which teaches children about music theater, communication and storytelling. Awesome Authors is for rising first and second graders allows campers to read books, write stories and create their own ebooks. Programs for rising sixth-ninth graders include Chemistry of Cosmetics, Extreme Art: Ceramics and Welding and more. Summer Stage, a musical theater program, is also available for campers from rising third to ninth graders. For a complete list of activities and pricing, visit lowellschool.org/camp-overview.
Silver Stars Gymnastics offers gymnastics camp at its locations in Silver Spring (2701 Pittman Dr., Silver Spring, Md.) and Bowie (14201 Woodcliff Ct., Bowie, Md.). The camp is open for kids ages 3-15 to learn cartwheels, use the monkey bars, climb ropes and use the trampolines. The full day program is from 8:30 a.m.-4:30 p.m. and the half-day program is from 8:30-11:30 a.m. Silver Stars Gymnastics also offers Laser Tag Camp at its Bowie location. This camp offers four laser tag games per day, four gaming strategy sessions and two conditioning workout. For more details on sessions and pricing, visit gosilverstars.com.
Synetic Theater (1800 S Bell St., Arlington, Va.) prepares campers to perform the original play "The Bizarre but True Tales of the Humfrumble." For two weeks students will work with the senior artistic company members on staging the play which includes musical numbers and an original score. The program is open for Young Artists (ages 6-9) and Thespians (ages 10-14). There are multiple sessions throughout June, July and August. Regular registration is $725 and goes until March 31. Late registration is $775 and ends on Aug. 16. Morning or afternoon care and lunch packages are available as add-ons. A digital download of the final performance is included in the registration cost. For more details, visit synetictheater.org/camps.