New NBC sitcom 'Abby's' sparkles with strong veteran cast
Out actress Natalie Morales shines in title role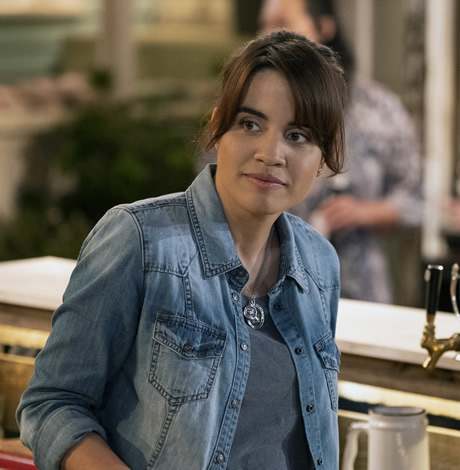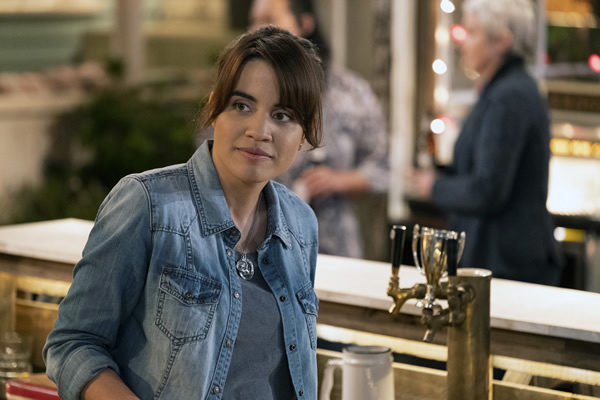 New sitcom "Abby's" starts with the interesting announcement that the show was filmed in front of a live outdoor audience. But while shooting the show live and outside (and in a multi-camera format) gives the show a distinctive look and pacing, that's not what makes the show a milestone for LGBT representation and inclusion.
The show is historic because it's the first sitcom with a bisexual female lead that's played by an out actress. It premieres on Thursday, March 28 at 9:39 p.m. on NBC following "Will & Grace."
Natalie Morales plays Abby, a former Marine Staff Sergeant who served two tours of duty in Afghanistan. When she returns to civilian life, she decides to set up a neighborhood bar in her backyard. Although the patrons are bound by an elaborate set of 162 rules and regulations (ranging from no cell phones to a rigorous vetting process before they can get a coveted seat at the bar), the bar becomes a popular hangout.
That's all established in the first episode (of the three episodes available for press preview).
In the second episode, the audience learns that Abby is bisexual and meets one of her former girlfriends Dani (Cyrina Fiallo), a representative from one of the liquor companies. Abby's sexuality is not an issue for her patrons, but one of the regulars, Beth (Jessica Chaffin) is upset that Abby never told her about her three-month relationship with Dani.
Morales publicly came out as queer in 2017 before embarking on the press tour for "Battle of the Sexes." The movie smoothly wove together lesbian icon Billie Jean King's coming-out story with a stunning recreation of her famous tennis match against self-proclaimed male chauvinist pig Bobby Riggs. Morales played Rosie Casals, the professional tennis player who countered Howard Cosell's casual sexism when the two provided on-air commentary on the legendary game.
Morales' breakout role was Wendy Watson on the 2008 cult favorite "The Middleman." Since then, she's had lead or featured roles in "Parks and Recreation," "Trophy Wife," the "90210" reboot, "The Grinder" and "Girls."
She's also delighted LGBT audiences with her performances on "Santa Clarita Diet" and "BoJack Horseman." On the former, she plays Deputy Anne Garcia who begins a romantic relationship with her partner's wife after he goes missing. On the latter, she voiced Yolanda Buenaventura, a light pink axolotl who comes out as asexual during her relationship with BoJack's sidekick Todd (who also comes out as asexual).
Now she's breaking new ground on network television with a fine performance as Abby. With sure-fire comic timing, Morales is delightful when she lobs quips across the screen and engages in comic banter with her colleagues. Although Abby can be gruff and abrasive, Morales also displays deep sensitivity when Abby talks about the bar as a "community center" for her oddball neighbors and growing up as a bisexual Cuban teen with an alcoholic father.
Overall, series creator Josh Malmuth surrounds Abby with a strong supporting cast. In addition to Chaffin, who plays a harried mom who keeps an eye on her sons from her barstool, the cast includes sitcom veteran Neil Flynn ("Scrubs" and "The Middle") as a long-time family friend and Nelson Franklin as Abby's new landlord. The lead cast is rounded out by Leonard Ouzts and Kimia Behpoornia whose characters will hopefully be further developed in later episodes.
While "Abby's" is a milestone for LGBT representation and inclusion, the early episodes sometimes feel like a more diverse reboot of the classic sitcom "Cheers" which premiered on NBC in 1982. But, anchored by the talented Morales, the new show is funny and fast-paced and should age well, unlike the allspice vodka the characters are forced to drink in the second episode.
Kardashian carries her weight in 'AHS: Delicate'
Show's 12th season faces hurdles before we'll know whether it lives up to the promise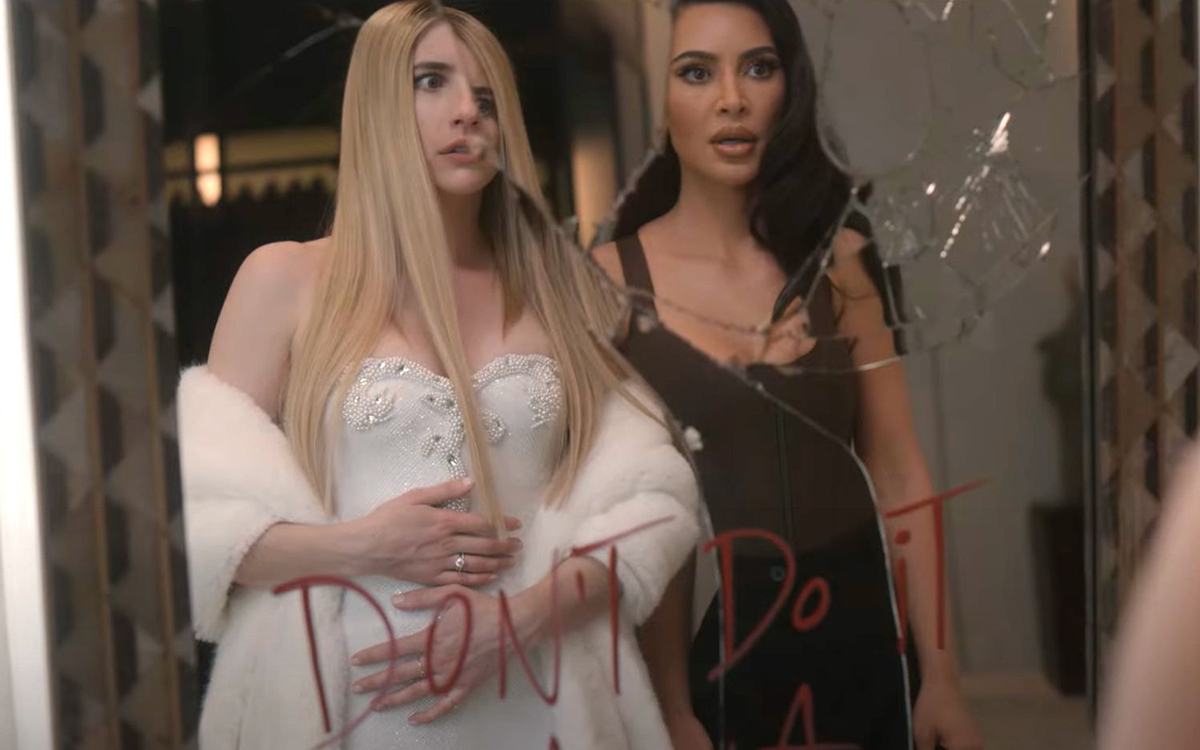 The biggest question around the 12th season of "American Horror Story" has nothing to do with the plot, which means it won't count as a spoiler if we answer it right off the bat: Kim Kardashian's acting is just fine.
At least, that's true through the first episode; future installments may require a reassessment of her skills, and perhaps that will add an additional layer of suspense to the proceedings as the story unwinds – a "hook" that might be a big part of the reason the reality show "famous-for-being-famous" celebrity was cast for this season in the first place. Whether her performance ends up being a triumph or a train wreck, it's guaranteed that millions will want to watch it, and she herself would likely be the first to endorse that kind of sensationalist strategy to boost audience interest in the newest season of a show that has been around longer than many of its fans have been old enough to watch it. Ryan Murphy's uber-gay, aggressively transgressive horror anthology may once have been "must-see TV" – but after more than a decade of thrilling, edgy concepts that were just as likely to fall apart into an anticlimactic mess as they were to build to a coherent conclusion, it has become more of a "guilty pleasure."
Before you come for us and call us "haters," rest assured we're not dismissing the power and genius of "AHS" both as a show and as a brand; camp and horror have always been deeply intertwined, and Murphy's trope-driven premise for the series has never shied away from leaning into that connection. The absurdity of its cobbled-together plots, contrasted with the histrionic over-seriousness of their presentation, is precisely what allows it to drive home its blatantly metaphoric commentary on whatever cultural or social themes it happens to be addressing. At its best, it has been electrifying, provocative, insightful TV, and at its worst, it has been painfully obvious, exploitative schlock that loses steam long before it sloppily ties all its threads together for a season finale, but either way, it has never failed to keep its audience coming back for more. Clearly, it has a power that lies beyond imposed standards of artistic quality, and it's hardly a stretch to suggest that power comes from the show's deeply progressive heart, which invariably and relentlessly exposes the hypocrisy, deviousness, cruelty, and oppression of a programmed and homogenized social order – with particular emphasis on the experience of those who dare to be outliers from that imposed norm, making it a perennial favorite with the queer demographic as much as its unabashedly gimmicky stunt casting of pop culture icons like Lady Gaga (and Kardashian, of course) to draw queer eyes faithfully to the screen for 10 weeks each autumn.
Yet even if queer subtext is a big part of what makes "AHS" tick, the series doesn't always place its focus – as it did in last year's grim AIDS allegory, "NYC" – on overtly or exclusively queer subject matter, and for its newest season – "Delicate", the new season adapted from Danielle Valentine's novel, "Delicate Condition" – the venerable FX tentpole series full-heartedly embraces a feminist milieu. The story wastes no time in evoking questions and concerns about the rights of women to maintain autonomy over their own hearts, minds, and bodies. Led by "AHS" veteran Emma Roberts – who, though Kardashian has been granted the most press attention, is the season's central character, and brings her to life with likable charm and compelling intelligence – it tells the tale of Anna Alcott (Roberts), a blossoming movie star trying to conceive a child with her supportive-yet-controlling partner Dex (series newcomer Matt Czuchry), who finds herself haunted by bizarre visions and unexplainable phenomena as she undergoes IVF treatment from a high-end fertility clinic.
Episode one launches the plot with the series' usual blend of stylish panache and unapologetic pulp by subjecting its heroine to a mysterious nocturnal incident, opening into an extended flashback that establishes a back story that will presumably be crucial to the events to follow. Juggling newfound success and fame with her commitment to starting a family, Anna is plagued by strange anomalies that lead her to question her own perceptions, and begins to suspect she is being targeted by a stalker (or stalkers) with potentially sinister motives. When these strange occurrences begin to affect her behavior, she finds herself ever more isolated from the skeptical Dex, who both coddles and condescends to her, and who may or may not still be obsessed by a the memory of a dead fiancée. She also becomes increasingly paranoid that she is being terrorized and manipulated by everyone around her – including her doctor (Denis O'Hare) and her recently acquired publicist (Kardashian), who exert conflicting pressures on her as she tries to navigate both her "real" life and the career she's on the cusp of creating. By the time the episode comes full circle and returns to the mysterious incident with which it opens, it seems clear than Anna's hopeful journey toward motherhood is happening at the center of some sort of arcane conspiracy.
Like most previous seasons of "AHS," "Delicate" starts out with promise. Conjuring and weaving together key themes from classic films from "Gaslight" to "Rosemary's Baby" to "The Stepford Wives," it leaves little doubt programming of women to make them conform to male-defined fantasy – and from the biblically coined notion that their gender is forever "cursed by God" to be punished for Eve's "original sin." From what we've seen so far, it seems clear that Murphy and writer/showrunner Halley Feiffer aim to frame that archaic perspective as a deliberate and coordinated effort to render women into expendable, easily managed accessories in a male-dominated world. That is certainly not a new concept, but one that is arguably more important to explore in the America of 2023 than ever before. And though the season's inaugural entry is too busy with exposition to give us much in the way of potent frights or shocks, it also provides flashes that hint at a season full of the kind of grotesque body horror that has always been a hallmark of the show.
Still, even if Kardashian – perfectly cast, by the way, as Anna's publicist and confidante, whose savvy for promotion makes her into one of her industry's leading names but who may also somehow be involved in the forces pushing her client toward a dark fate – can manage to meet the success of a few surprisingly good initial reviews, there are still a lot of potential hurdles for "Delicate" to jump before we can know whether it lives up to the promise from which so many previous seasons have fallen short.
It hardly matters, though; no matter how it plays out, the show is sure to strike a chord with all the loyal "AHF" fans, and those who are less devoted will probably still find much to keep them interested in the series' signature gruesome-but-elegant aesthetic, no matter what.
'And Just Like That' ditches preachiness to become addictive TV
Second season wraps Aug. 24 with Samantha Jones cameo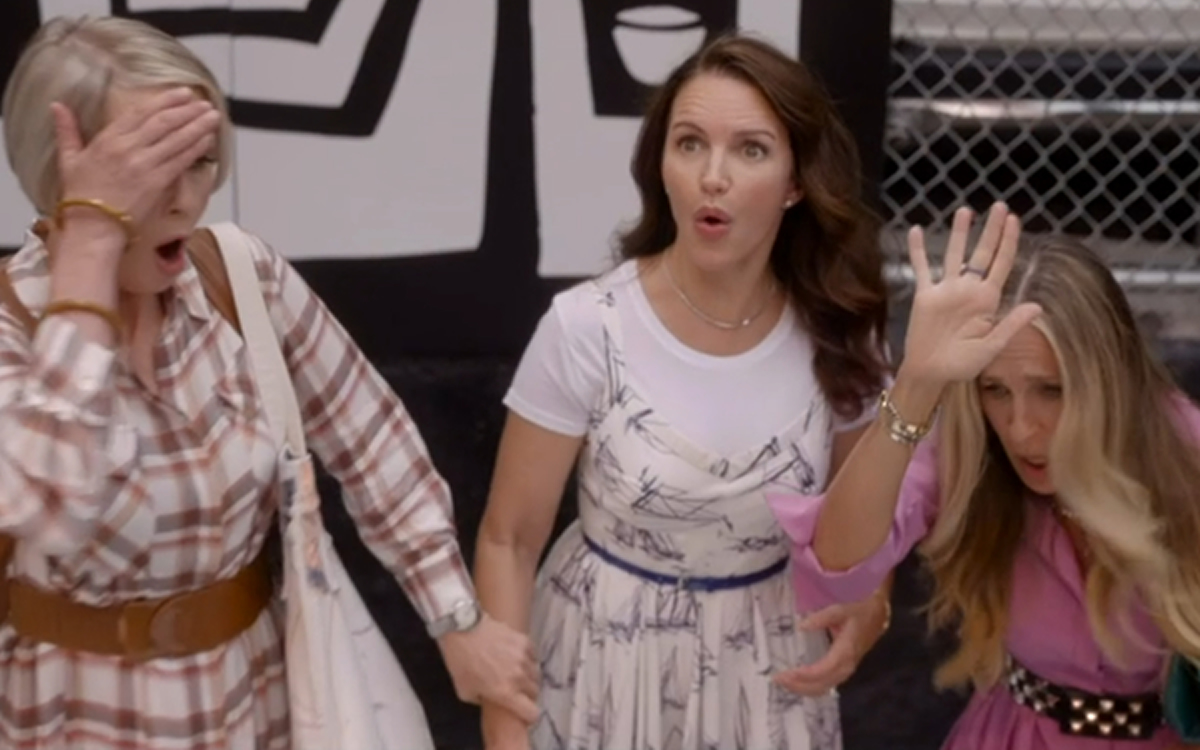 "Do you know where your children are?" New York TV station WNYW asks the parents in its audience every night.
This isn't a worry for Charlotte York Goldenblatt (Kristin Davis) or Lisa Todd Wexley (Nicole Ari Parker) two of the main characters featured on season two of "And Just Like That," (AJLT), the "Sex and the City" reboot, airing weekly on Max through Aug. 24. Their children (from elementary school kids to teens) are safely ensconced at a posh summer camp. While their off-spring are away, Charlotte, who back in the day ran an art gallery, is having sex so good it's like fireworks on the Fourth of July with her husband Harry (Evan Handler), a highly successful divorce lawyer.
Lisa, a distinguished documentarian filmmaker, and her husband Herbert (Christopher Jackson), a wealthy investment banker who's thinking about running for New York City comptroller, devote themselves to their work. And to enjoying the rare treat of having a drink at a swanky bar by themselves (sans children).
Meanwhile, corporate (turned human rights) lawyer Miranda Hobbes (Cynthia Nixon) knows all too well where her son Brady (Niall Cunningham) is. He's living with Steve (David Eigenberg), his dad, in their Brooklyn townhouse. Miranda's relationship with Che Diaz (Sara Ramirez), a nonbinary, bisexual, Mexican, Irish comedian who's making a TV sitcom pilot with Tony Danza (playing himself), has brought Miranda, Steve and Brady into therapy.
Carrie Bradshaw, writer, (Sarah Jessica Parker), Seema Patel, a hot real estate agent, (Sarita Choudhury) and Dr. Nya Wallace (Karen Pittman), a Columbia Law School professor, are so busy grieving, having exit-out-of-grief sex and mourning stolen Birken bags that they wouldn't have time for children. Nya is divorcing her musician husband Andre Rashad (LeRoy McClain) after many years of marriage because he wants kids and she doesn't.
Yes! It's summer in the city, "And Just Like That," the fab ladies are back! With less sizzle than in "Sex and the City," but still fun watch. No matter how hard the writers try, no amount of additional characters could make up for the absence of Samantha Jones, the utterly fabulous PR maven, who was an integral part of "Sex and the City." Even the highly talented Samantha Irby, a bisexual producer and writer of AJLT, couldn't create a character as captivating as Samantha, who is slated to make a cameo in the final episode.
But the sophomore season of "And Just Like That" has its share of style and juice. How can you resist a series that, in the seven episodes that have aired to date, has given us a (fictional) Met gala and a "cum slut?"
The first season of AJLT spent much time trying to make "Sex and the City" (SATC) more diverse.
It succeeded in many ways. Che, Seema, Lisa and Nya, the new featured characters of color, have intriguing stories. They have good chemistry with the original SATC characters. Yet, it sometimes felt heavy-handed and joyless.
The current season of the show, mostly, dispenses with the exposition and preachiness of season 1. In this season, sex and glam fashion are back in the city.
The episode of "AJLT," when Charlotte becomes Harry's Kegel coach to help him with his "dust balls" when he can't ejaculate and Carrie talks of "Casper, the friendly cum," is nearly as good as SATC's "funky spunk" episode.
The women on AJLT are fab. But one of the most enjoyable characters is Anthony Marantino (Mario Cantone), who runs the Hot Fellas bakery. In one hilarious scene, he turns to his BFF Charlotte when he desperately needs to find a Hot Fella to appear with him on Drew Barrymore's talk show. This being AJLT, Charlotte instantly finds a hot Italian poet who more than fits the bill. Dressed in his Hot Fellas uniform, the poet's "package" is so great, that looking at him makes Barrymore sweat.
In another scene, Lisa, wearing a dress (designed by Valentino) with a huge train that won't fit into a cab, has to walk 10 blocks to the Met Gala. "It's not crazy," she says to Herbert, who's holding her train, "It's Valentino."
"And Just Like That" isn't prestige TV. It's more important: it's addictive entertainment.
LGBTQ critics announce winners of Dorian TV Awards
Wanda Sykes, Jennifer Coolidge among honorees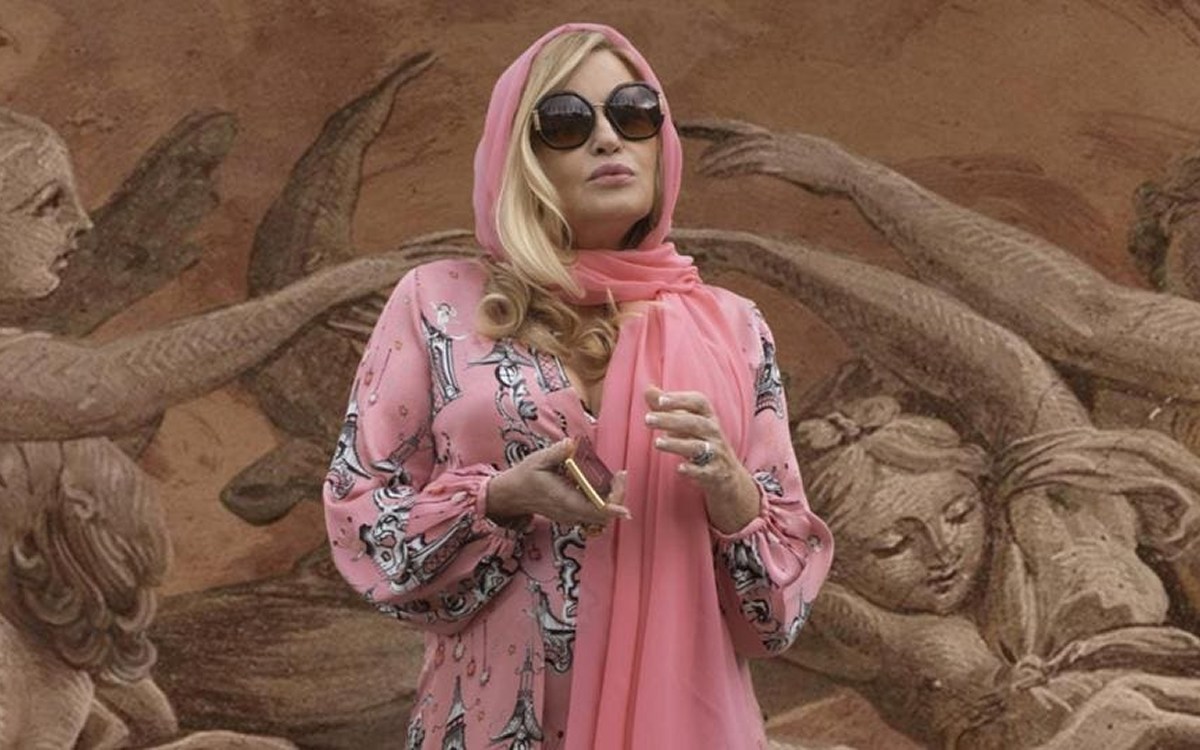 They don't get as much fanfare as the Emmys, but the Dorian TV Awards – presented annually by GALECA: The Society of LGBTQ Entertainment Critics – have been offering an important queer perspective on the best in the year's television for a decade and a half, and they've just picked their latest round of champions.
On June 26, GALECA announced a slate of winners for the 15th Annual Dorian TV Awards that represented an even mix of high-profile hits and under-the-radar gems. HBO's final season of "Succession" was a winner, taking the prize for Best Drama while series star Sarah Snook won Best Drama Performance. ABC's "Abbott Elementary," star Quinta Brunson's widely praised mockumentary following a clique of idealistic Philadelphia school teachers, took Best Comedy Series.
Less in line with mainstream Hollywood priorities, perhaps, many other awards went to an assortment of under-seen standouts. Amazon Freevee's audacious prank show "Jury Duty" was named Best Reality Show, with Max's absurdly snarky showbiz satire (and sadly, now-cancelled) "The Other Two" winning as Best LGBTQ TV Show and HBO comedies "Somebody, Somewhere" and "Los Espookys" taking Best Unsung TV Show and Best Non-English Language Show, respectively. Director Andrew Ahn's cinematic "Fire Island," Hulu's smart queer spin on Jane Austen's "Pride and Prejudice" penned by star Joel Kim Booster, scored as Best TV Movie or Miniseries.
GALECA voters seemed to favor dry-but-witty women in most of the performance categories; Bridget Everett of "Somebody, Somewhere" was awarded Best Comedy Lead, Jennifer Coolidge for Best Supporting Drama performance for her instantly iconic return trip to "The White Lotus," and Ayo Edebiri of FX on Hulu's restaurant comedy "The Bear" for Best Supporting Comedy performance. The trend extended to the award for Best TV Musical Performance, which went to Ariana DeBose for her well-intentioned but controversial rap tribute to Angela Bassett and other nominees at the BAFTA Film Awards last March.
Other noteworthy wins: Satirist Ziwe Fumudoh's (also recently cancelled) Showtime series "ZIWE," a mix of commentary, sketch and topical interviews, received the Dorian for Best Current Affairs Show – its third win in the category; HBO Max's female superhero series "Harley Quinn" was named Best Animated Program.
Horror was also a running theme, with Shudder's documentary "Queer for Fear: The History of Queer Horror" (from TV mastermind Bryan Fuller) taking the Dorians for both Best TV Documentary and Best LGBTQ Documentary, and HBO's apocalyptic limited series "The Last of Us" impressing GALECA voters as the year's Most Visually Striking TV Show.
Season Two of Apple TV+'s musical spoof "Schmigadoon!" was named as Campiest TV Show, an award unique to the Dorians, though that might go without saying.
In other honors, the GALECA membership gave Coolidge another win by naming her as TV Icon of the Year, an award whose past recipients include Christine Baranski and Cassandra Peterson (a.k.a Elvira). Elliot Page, whose superhero character Viktor Hargreeves came out as trans in the most recent installment of Netflix's "The Umbrella Academy," was named as the year's LGBTQIA+ TV Trailblazer, an award given to entertainment figures who create "art that inspires empathy, truth and equity." He joins the ranks of former winners Michaela Jaé Rodriguez and Jerrod Carmichael.
The Wilde Wit Award, designated by GALECA for "a performer, writer or commentator whose observations both challenge and amuse," went to Wanda Sykes, the venerable comedian whose year has included memorable roles in "The Other Two," Hulu's "History of the World: Part II," and Netflix's "The Upshaws," as well as voicing a charater in HBO Max's "Velma." After all those, she triumphed with a Netflix stand-up special – "Wanda Sykes: I'm an Entertainer," featuring her takedowns of everyone from Kyrsten Sinema to MAGA conservatives afraid of Critical Race Theory.
It's worth noting that out of the 18 programming categories, HBO (and Max) won nine, with Hulu (including FX on Hulu) and Shudder each grabbing two – a clear victory for streaming platforms over traditional network TV.
For those unfamiliar with the Dorians, in addition to its TV awards GALECA (originally founded in 2009) also honor the best in film and – starting this year – Broadway and Off-Broadway Theatre. They bring recognition to excellence in these three fields at separate times of the year, chosen from mainstream and queer+ content alike by a voting body of over 480 active critics and journalists. Via the Dorians, the group endeavors "to remind bullies, bigots and society's currently beleaguered LGBTQ communities that the world has long appreciated the Q+ eye on everything entertainment—not only on hair and clothes." The organization also advocates for better pay, access and respect for its members, especially those in its most underrepresented segments, and sponsors the Crimson Honors, a public college criticism contest for women or nonbinary students in the QTBIPOC rainbow that awards scholarship funds provided by film and TV review aggregate Rotten Tomatoes.
Entertainment and media fans can find out more and support the members and causes of GALECA by following @dorianawards on Twitter, Facebook and Instagram – and of course, by visiting GALECA.org.