March 26, 2019 at 12:13 pm EDT | by Mariah Cooper
Chicago prosecutors drop all charges against Jussie Smollett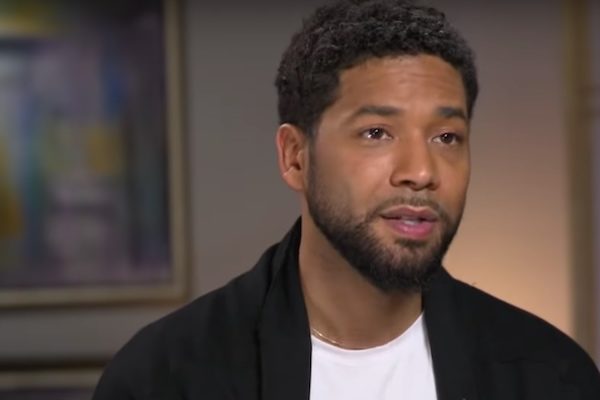 Prosecutors in Cook County, Illinois have dropped all charges against "Empire" star Jussie Smollett. On March 14, Smollett was indicted by a grand jury on 16 felony counts of disorderly conduct for filing a false police report. He pled not guilty.
Smollett was summoned to an emergency court hearing at 10:30 a.m. on Tuesday where State Attorney Kim Foxx told him that all charges against him had been dropped and his record expunged. Smollett forfeited his bond and Judge Steven Watkins also granted a motion to seal the case from the public.
The Office of Cook County State's Attorney released a statement saying: "After reviewing all of the facts and circumstances of the case, including Mr. Smollett's volunteer service in the community and agreement to forfeit his bond to the City of Chicago, we believe this outcome is a just disposition and appropriate resolution to this case."
Smollett's attorneys also released a statement saying: "Jussie was attacked by two people he was unable to identify on January 29th. He was a victim who was vilified and made to appear as a perpetrator as a result of false and inappropriate remarks made to the public causing an inappropriate rush to judgement. Jussie and many others were hurt by these unfair and unwarranted actions. This entire situation is a reminder that there should never be an attempt to prove a case in the court of public opinion. That is wrong. It is a reminder that a victim, in this case Jussie, deserves dignity and respect. Dismissal of charges against the victim in this case was the only just result. Jussie is relieved to have this situation behind him and is very much looking forward to getting back to focusing on his family, friends and career."
Smollett claimed in January that he was physically and verbally attacked by two men in an alleged homophobic and racist attack. After Chicago police began investigating the case, they claimed that Smollett orchestrated the attack because he was dissatified with his salary. Police said Smollett paid $3,500 to brothers Olabinjo ("Ola") and Abimbola ("Abel") Osundairo to fake the attack. Police also claimed that Smollett had sent a threatening homophobic and racist letter to himself at the studio where "Empire" is filmed. Smollett did write a check to the brothers for $3,500 but it was determined to be for physical training. The letter is also still under investigation by the FBI.
20th Century Fox TV and Fox Entertainment, the home network of "Empire," commented on the dropped charges saying, "Jussie Smollett has always maintained his innocence and we are gratified that all charges against him have been dismissed."
The "Empire" writers showed their support on Twitter. Smollett's character Jamal Lyon was cut from the final two episodes of the season due to Smollett's legal troubles.
😉 see y'all Wednesday. #empire #empirefox pic.twitter.com/jQUtsHcQBF

— Empire Writers (@EmpireWriters) March 26, 2019
Smollett spoke publicly about the case for the first time since his "Good Morning America" appearance shortly after his charges were dropped.
"I have been truthful and consistent on every single level since day one. I would not be my mother's son if I was capable of one drop of what I've been accused of," Smollett addressed reporters. "I want to thank my family, my friends, the incredible people of Chicago and all over the country and the world who have prayed for me, who have supported me."
Jussie Smollett: "I want you to know that not for a moment was it in vain. I've been truthful and consistent on every single level since day one." https://t.co/87KXvN5piM pic.twitter.com/5cj73oyOOm

— CNN (@CNN) March 26, 2019
The dismissal of charges sparked outrage among the Chicago PD, Chicago Police Department superintendent Eddie Johnson and Mayor Rahm Emanuel. They still believe that Smollett orchestrated the attack for publicity.
"Do I think justice was served? No," Johnson said of the case. "What do I think justice is? I think this city is still owed an apology."
Emanuel blasted the decision calling it a "whitewash of justice" and referring to the situation as a "hoax."
"From top to bottom, this is not on the level," Emanuel said. "Where is the accountability in the system? You cannot have, because of a person's position, one set of rules apply to them and one set of rules apply to everybody else."
First Assistant Cook County State's Attorney Joseph Magats, the prosecutor who dropped the charges, also maintained that he thinks Smollett is guilty despite the charges being dropped.
"Do you believe that he is innocent?" CBS reporter @adrianasdiaz asks First Assistant Cook County State's Attorney Joseph Magats about dropping charges against Jussie Smollett. "I do not believe he is innocent," Magats responds. pic.twitter.com/NEWZuD2aBe

— CBS Chicago (@cbschicago) March 26, 2019
The National Black Justice Coalition stood by Smollett and praised him for his advocacy work in the black and LGBTQ communities.
"While many have taken it upon themselves to stand as judge and jury by rushing to dismiss brother Jussie Smollett's allegations of a hate crime, it is important to remember that Black lesbian, gay, bisexual, transgender, queer and same-gender loving people people experience acts of hatred and bias more than other groups of people. While there are still details about the case that we may never know, it is an important reminder that we should never rush to judgement, especially people in power," the statement reads.
Smollett announced during his post-courthouse conference that he just wants to move on.
"I'd like nothing more than to get back to work and move on with my life. But make no mistakes, I will always continue to fight for the justice, equality and betterment of marginalized people everywhere," Smollett says.