March 29, 2019 at 11:10 pm EDT | by Thom Murphy
Debut album from Ben Platt is emotional, well paced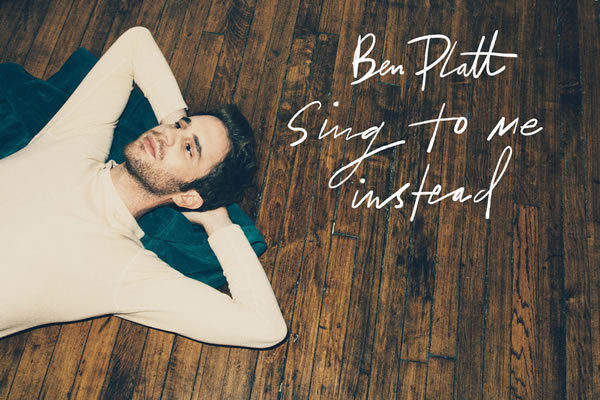 Needless to say, the bridge between Broadway and Music Row is well traveled. Sara Bareilles and Brendon Urie are only the most recent examples of pop artists who have gone on to work successfully in the world of musical theater. But Ben Platt is one of the rarer examples of someone taking the opposite direction — from Broadway to a pop album. His debut album "Sing To Me Instead" attempts to bring together these two very different worlds.
The 25-year-old openly gay Platt made his Broadway debut in "The Book of Mormon" as Elder Cunningham. He later starred as Evan Hansen in "Dear Evan Hansen" on Broadway, for which he won a Grammy (Best Musical Theatre Album) and a Tony (Best Actor in a Musical). Add to that the role of Benji Applebaum in the "Pitch Perfect" movie franchise.
Platt sits right at the happy junction of Broadway songwriting and gay pop performers. Gay pop artists are still something of a rarity, though their presence has been steading growing with performers like Troye Sivan, Years & Years, Jake Shears and Sam Smith. Yet Platt finds himself in the even smaller company of out singers who use gender-specific pronouns for their love interests.
The album opens with Platt accompanied by a slightly out-of-tune upright piano, singing the somber tune "Bad Habit." He sings in a clear, powerful baritone, resorting to falsetto in the final choruses. The reason for his extraordinary Broadway success becomes quickly apparent. And while no doubt he is an excellent singer, he has an incredible ability to communicate emotionally with the listener. Saying so seems banal, but Platt pushes this communication far beyond the regular boundaries of pop music.
So far four music videos have been released to promote the album, for singles "Ease My Mind," "Bad Habit," "Grow As We Go" and "Temporary Love." The video for "Ease My Mind" centers on the break up of a gay relationship, a theme Platt touches on in a number of the new tracks. It is a beautiful song, which could almost be categorized as gospel, complete with a blues organ and vocal humming. It may be the best song on the album. The videos already have almost five million views combined, a good start for a debut album release.
The single "Grow As You Go" is another great track, with an acoustic sound. One can't help but be reminded of recent tracks such as Family of the Year's "Hero." And the lyrics are especially touching: "If to change is what you need/you can change right next to me." Platt is one of the rare artists whose lyrics are completely absorbing.
The album has much in common with Sara Bareilles' 2007 album "Little Voice" with its piano-driven uptempo songs and numerous ballads, though "Sing To Me Instead" is lacking an equally chart-ready single like Bareilles' "Love Song." Platt's "Temporary Love" is perhaps the closest thing to a typical pop single on the album, a well-produced song about proving one's love to a partner. It's catchy, uptempo and soulful. And though decidedly baritone, Platt makes good use of his range and his falsetto has plaintive, breathy quality to it.
Some of the best tracks are saved for the tail end of the album. "Share Your Address" has a charmingly theatrical quality and it's almost hard it to picture it off-stage. "In Case You Don't Live Forever" is one of the best songs on the album. Like Platt's other songs, it is perfectly paced and has the remarkable yet rare capacity to take the listener on an emotional journey. The story-driven songs are both compelling and catchy.
Like songs from most contemporary Broadway, Platt appeals to the most universal human stories. And unlike so much of pop music, the relatability of his music does not come at the expense of their quality. If anything, he is lacking somewhat in the charisma one associates with a typical pop artist. But what he lacks in charisma, he makes up abundantly elsewhere.