March 30, 2019 at 11:53 am EDT | by Joey DiGuglielmo
Singer/actor Levi Kreis on his D.C. return cabaret concert April 3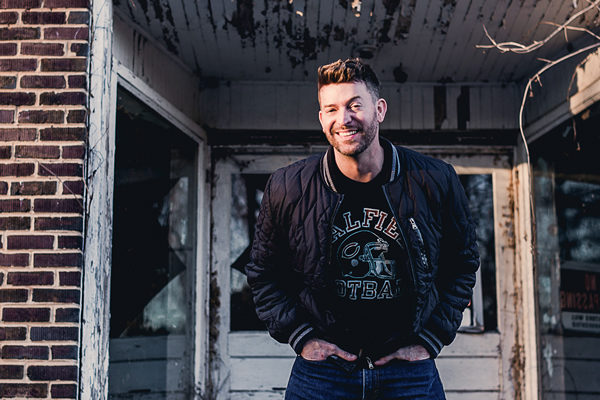 Levi Kreis
With guest Nova Payton
An Evening of Jazz, Soul and Storytelling
City Winery
1350 Okie St., N.E.
Wednesday, April 3
8 p.m.
$20-30 (VIP)
Americana singer/songwriter and actor Levi Kreis has fond memories of working in Washington. In 2014, he led the Arena Stage cast of "Smokey Joe's Cafe" along with actress/singer Nova Payton.
They reunite Wednesday, April 3 at City Winery for "an evening of jazz, soul and storytelling."
Kreis, perhaps best known for his Tony-winning role as Jerry Lee Lewis in "Million Dollar Quartet," spoke to the Blade by phone last week from Nashville. His comments have been edited for length.
WASHINGTON BLADE: What are you doing in Nashville?
LEVI KREIS: I'm from Tennessee so a lot of my musical connections are here. I'm developing and working on new music I'll be recording in Los Angeles next week.
BLADE: How and why did you come to make Chicago your home base?
KREIS: That's the second city where we played "Million Dollar Quartet." I found a home there for about a year and a half while we continued to further the story and prepare for Broadway. I just fell in love with the city so much. I also found my husband there which is pretty amazing so it holds a lot of really wonderful moments for me — the beginning of "Million Dollar Quartet," meeting my husband, getting sober, I'll be 10 years sober in May. Chicago has a great soul to it.
BLADE: You said you consider yourself a "pioneer of the out music movement" of the early 2000s. What do you mean?
KREIS: There weren't many of us beginning our careers as out. I got kicked out of my conservative Southern Baptist college in Nashville and dropped from a gospel music label. It took a lot of painful turns to come to terms with who I am and what my platform as an LGBT performer, especially one of the first people to contribute to the out music movement in the early 2000s. If it hadn't been for the challenges I encountered in Nashville, I don't know that I would have had the boldness to take the platform that I eventually took.
BLADE: What gospel label were you signed with?
KREIS: Myrrh
BLADE: Had you released anything with them?
KREIS: We were recording.
BLADE: Did you realize the ripple effect coming out would have?
KREIS: I didn't come out, actually. I had been in my sixth year of conversion therapy and I was sitting in my dorm room looking at different translations of scripture and Strong's concordance at every scripture that deals either directly or indirectly with homosexuality. My roommate was curious and he went to the student union to request prayer for me.
BLADE: Did you see "Boy Erased"?
KREIS: No, but I read the book.
BLADE: How did your primary scriptural research line up with others who've studied those passages?
KREIS: I have my own opinions about it but at the end of the day, I don't care what people believe about the scriptures. … For me, I have a clean conscience and no inkling of being broken, a mistake or needing any type of healing.
BLADE: Have you stayed in touch with Nova since "Smokey Joe's"?
KREIS: Yeah, we have. We've had a couple performances together. I have such respect for her talent. There's a real genuineness from her and that's rare in this world.
BLADE: What do you have planned for City Winery?
KREIS: I'm excited to bring a show that was voted by L.A. critics as the no. 1 cabaret show of 2017 and I can't put the show down because people continue to ask for it. I haven't had an opportunity to share it with D.C. but a lot of it chronicles what we're talking about — how does a small-town Tennessee boy navigate all these challenges and find himself in Times Square on Broadway with a very different life than what he grew up with? I reimagine Broadway classics and I do my originals too. … Also, I bonded with the musical theater world in D.C. so it's great to come back and I wish I could do it more.
BLADE: How was (your 2018 album of originals) "Liberated" received?
KREIS: That was a CD dedicated to my Kickstarter backers, my passion people who have been there for me since the beginning. A lot of it was super personal. We talk a lot about gay marriage but not much about gay divorce and I had a pretty brutal one. It was sort of wanting to take a microscope and look at all the bullshit and just find a patyway to forgiveness because I don't think we can really get rid of that stuff if you don't find a way of making sense of it that allows you to let go.
BLADE: Where are you musically and spiritually now?
KREIS: Spiritually, I feel like there's a common thread with everything so that's what I've been diving into now and asking how can I find the consistencies in that which I believe and make that a unifying force? Musically, I'm really excited this year to have a relaunch, a rebranding of sorts of stuff that takes me back to my roots of the gospel church music of the South, everything that I grew up listening to having had my start in black churches. We'r releasing some singles in July, then after that an EP but it's everything from early Southern, piano-centric music to early Ray Charles-type stuff that feels like coming home to me.
BLADE: How did you get all those names on your body on your "Imagine Paradise" album cover?
KREIS: My girlfriend Carrie, who took the photo, she painstakingly checked and double checked every name and wrote them on me in erasable Sharpie. We had to wash it all off and do it a second time to get it right. That was a lot.
BLADE: Did your family have a lot of gospel records in the house when you were growing up?
KREIS: Oh gosh, a ton. My grandaddy was my hero. He passed away not long ago and I've been going through a lot of his old records. One I rediscovered recently was Sister Rosetta Tharpe. …. She's the sweet spot for me between gospel and rockabilly. Growing up Brenda Lee was a friend of my family, so I got to be on the bus with her for several tours. She is a class act, always super professional. We had a lot of Mahalia Jackson and Andrae Crouch. Those were on repeat on a weekly basis.
BLADE: Black and white gospel didn't overlap much in the '50s, '60s and '70s. How did you end up singing in black churches and having all these gospel records?
KREIS: My grandfather worked at the post office with his best friend, Alice. I was just a kid and she said, "Leroy — you gotta get that boy singing in church," and she took me over to Mt. Sinai Missionary Baptist Church in Oak Ridge, Tenn., and that was my first time singing in church and other black churches followed. I was the only towheaded kid in the whole building.
BLADE: How did you and (partner) Jason (Antone) meet? Are you married?
KREIS: We've been together 10 years and we were married in November. We had the same publicist in Chicago. He was also an out artist. I knew of him from the Pride circuit but I'd never met him. At the time we met, he was leaving a 15-year relationship and I was divorcing and we just hit it off as friends but then like a month later we were like, "Wow, this is super easy and I like you a lot."
BLADE: You look so buff in some of your videos. Do you put on weight between projects?
KREIS: Oh gosh, I'm not in tip-top shape these days. Have you been on my Instagram lately? But as long as I'm under 185 and can fit into my suits, I'm OK to operate. My weakness is Keebler Grasshoppers. They're like crack.
BLADE: Having played Jerry Lee Lewis (who at age 22 married a 13-year-old cousin to much controversy), what do you think of the trend of reassessing historical figures and judging them by #MeToo/2019 standards?
KREIS: I don't think it's fair. I think it's dangerous, actually. I think it's more important to focus on our current responsibilities in shifting the consciousness of our culture. I believe we're all too ready to demonize every single person we possibly can. We've become like a bunch of church ladies. We enjoy looking for fault in people when more love is needed, more compassion is needed, more understanding is needed. I do think we need personal accountability too, I'm not saying that, but it's a balance, a spiritual balance.
BLADE: It sounds like Jerry Lee was really cool with you. What was it like hanging out with him?
KREIS: Well "Great Balls of Fire," was like my family reunion trick when I was 12 years old so he's kind of been the conversation around my household for my whole life. … He used to use a Bible verse, I wish I could remember it, to make the point to people who said he was doing the devil's music, so I had him sign my Bible right next to that verse. He was very funny and told me I was the best actor who'd ever played him. I'll never forget that.
BLADE: How's the rest of 2019 shaping up for you?
KREIS: I'm excited about this new music and a brand new team who is ready to introduce a new yet old side of me to the rest of the world. … I've been workshopping some new stuff. It's gonna be a year on the road. I'm excited.