March 21, 2019 at 6:17 pm EDT | by Mariah Cooper
Mary Gauthier on songwriting, book writing and her weekend D.C. show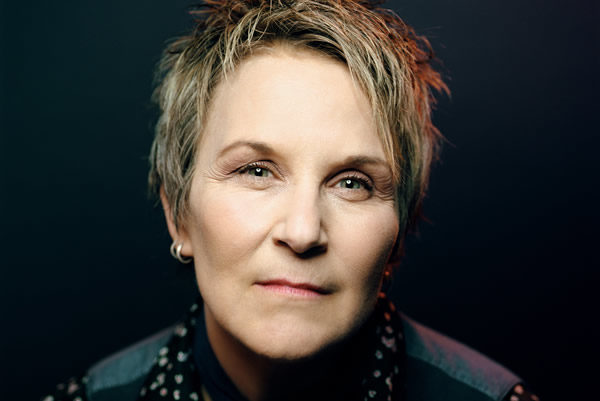 Mary Gauthier with Jamiee Harris
City Winery
1350 Okie St., N.E.
Sunday, March 24
7:30 p.m.
$22
Mary Gauthier is an expert on penning pain to paper but it took her longer to embark on her songwriting dreams than most musicians.
Gauthier was adopted by her parents, who lived in Louisiana, when she was one year old. She struggled with being adopted and in her younger years used alcohol and drugs to cope. In 1990, Gauthier opened Dixie Kitchen, a Cajun restaurant in Boston. On opening night she was arrested for drunk driving which marked the beginning of her long-term sobriety. After getting clean, she used her past issues with adoption trauma and alcohol and drug addiction to fuel her songwriting. Gauthier is now an accomplished singer/songwriter with 10 albums under her belt and a memoir/songwriting book on the way.
The singer, whose last album was nominated for a Grammy, spoke with the Washington Blade from Nashville on March 11, her 57th birthday, which she admits "is not a big day for me." She gave some songwriting 101 tips, teased her upcoming book and gave her thoughts on celebrities' coming-out announcements.
WASHINGTON BLADE: You got into songwriting much later on in life which isn't typical for most artists. What drove you to write your first song?
MARY GAUTHIER: I got sober in 1990. After I got sober, I looked up and saw myself parked right next to the Berklee College of Music. I owned a restaurant next door. My employees were all musicians and songwriters. I really got swept up into it. I had a lot of time on my hands after I got clean. I just got carried away with it and it became the thing I wanted to do more than anything. After awhile, I really started taking songwriting seriously and that remains true.
BLADE: Do you have a particular method to your songwriting? Do you do music or lyrics first?
GAUTHIER: It depends. I'm writing a book. It's so interesting in the middle of a process you don't know what you're doing. Years go by and you can reflect on the process and see, "Oh that was a pivotal moment." But when you're standing in the middle of a pivotal moment you don't know it's a pivotal moment. So in retrospect I can see that I developed a process over time that works for me but it wasn't something that I did consciously. I developed a relationship with the truth that has served me well in my songs. I'm not quite sure how I did that. But that's what I do. I tend to migrate towards the emotional truth and solve that in my writing so that the songs resonate with listeners in a way that is hopefully meaningful to them.
BLADE: You're writing a book about songwriting?
GAUTHIER: Yeah, it's a combination memoir/book on my songwriting process.
BLADE: When will that be released?
GAUTHIER: We're looking at 2020.
BLADE: What's the best piece of songwriting advice you have for someone just starting out?
GAUTHIER: Tell the truth.
BLADE: That's definitely what you do in your songs. You're very open about your struggles with adoption trauma and alcohol and drugs. I'm sure writing about it is cathartic but do you find some songs are too much to perform consistently?
GAUTHIER: Yeah, some songs I don't bring out to an audience. Some songs I bring out a couple of times and some songs I only bring out once. I think there's a fine line between enough and too much. That actually can change over time. I think that the challenge for me is to get myself in a place where I'm looking at a song to understand what the song wants to be and try to deliver it. Then I'll make those decisions after the song is written as to whether this one is for me or for the public or for a record. A lot of the songs from "The Foundling," where I worked through quite a bit of adoption trauma, I don't play them anymore because I don't want to relive that. I needed to write it and it was important to capture it. But I don't need to constantly talk about it. I'm past it in many ways. So the best thing for me to do with those songs is leave them where they are and let them find their audience without my help. They are doing their work without me having to do much. People find it when they need it.
BLADE: You've been out your whole career. Lately, a lot of actors and musicians make big, public coming out declarations to their fans. Do you think that's something you would have done if you weren't out?
GAUTHIER: It's hard to know how to come out if you've never been in. I don't know. I think the more people that are open about it in life, the general public will understand that being gay is kinda like the color of your freaking hair or eyes. It's something incidental. It's not defining of who we are. It normalizes it if people know gay people in their real life. "Oh, you guys are just like us except you're stumbling into the walls in same-sex relationships instead of heterosexual relationships." So, I think having people out is a good thing. However you come out is good I think and however you want to handle it. I've never been one to tell people to come out if they're not ready to come out. There was a time when people were outing people. I always thought that was something I wasn't comfortable with. I think we have the right to make that decision ourselves and based on the circumstances of our life.
BLADE: You're writing a book on songwriting and you used to own a restaurant. Any plans to write a cookbook?
GAUTHIER: Probably not. I've kinda moved on from food. I'm not real passionate about it anymore. The work it would take to do that is probably not time well spent for me. I'm trying real hard to write this other book and, let me tell you, I wouldn't recommend it. It's hard work. Writing a book is incredibly challenging. And I know for a cookbook you have to test everything over and over again and make sure you got the portions right and the timing right. You never know, but probably not.
BLADE: Your last album "Rifles and Rosary Beads" was a collaboration with veterans telling their stories. Where did that concept come from?
GAUTHEIR: I've been working with an organization that's a non-profit that pairs veterans with songwriters and I just collected songs over a six year period and the collection of songs grew to the point where I realized this is a body of work and I decided I should put a record of these songs. I feel like the songs are significant. They tell the story of so much of what the veterans in this country are going through right now. It was wonderful for me to be out there with a record that wasn't about me.
BLADE: How did the songwriting work on that?
GAUTHIER: The vets aren't songwriters so we just listened to their songs and captured what they say and put it in a song. The veterans had the authority to say, "Hey, that's not what I said" or "Can we change it a little different?" So they sign off on it but the songwriter does the writing. But it's their story. It's their life story.
BLADE: Do you have any upcoming music projects?
GAUTHIER: I'm always on the road. I'm always working. I travel the highways and bi-ways of the world. I love my job. I'm excited to play the City Winery in Washington. I've never played there before. I've played quite a few spots in the general vicinity but I've never played City Winery so I'm excited to come in and try a new venue.
BLADE: What can people expect from your show?
GAUTHIER: I'm gonna play the songs people are familiar with from my back catalogue and play some brand new songs and some songs off of "Rifles and Rosary Beads." It's 90 minutes of story and song.