March 21, 2019 at 3:53 pm EDT | by Joey DiGuglielmo
Pink Martini braintrust Thomas Lauderdale teams up with Meow Meow for new album, mini-tour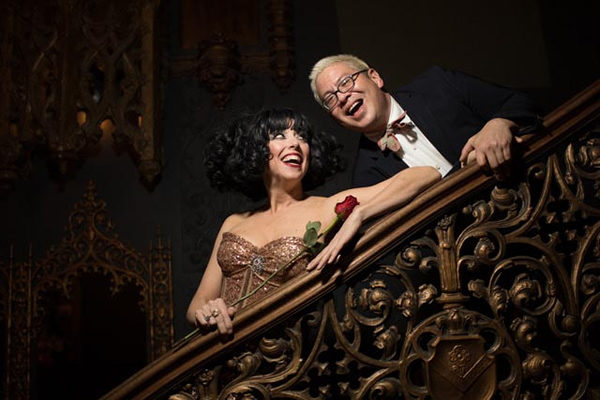 Meow Meow and Thomas Lauderdale
Monday, March 25
Lincoln Theatre
1215 U St., N.W.
8 p.m.
$35
Thomas Lauderdale (the Pink Martini bandleader) and musical gal pal Meow Meow go way back. Their new joint album "Hotel Amour" took about 10 years to make.
Out today (March 22) on Heinz Records, "Hotel" features originals and international standards in French, German and more, on a mood journey through bittersweet tragedy, humor, politics and more.
They opened a 10-city mini-tour this week in California and play Washington on Monday, March 25. Lauderdale, in his first interview with the Blade since 2013, spoke by phone Monday from his Portland home. His comments have been edited for length.
WASHINGTON BLADE: I understand you and Meow have been recording off and on for several years. How did it work out that now was the time for the record?
THOMAS LAUDERDALE: At the time we started recording this, people were still selling albums, selling CDs and records and of course, as the years have passed, that landscape has changed so we decided we were going to go ahead and release it before that goes any further, before the possibility of selling a single record is lost. Also the timing seemed right in terms of all the collaborations we hoped for. They kind of came together magically in the last year.
BLADE: Will there be a vinyl?
LAUDERDALE: There will be and hopefully we'll have the vinyl in hand by the time we hit D.C. It should be here any day now.
BLADE: Vinyl is pretty hot now. You really think the album form will eventually die?
LAUDERDALE: Yeah, I do. I think physical objects in our culture are becoming scarcer and scarcer and as the population shifts, the new generation is not used to touching things so there will be more virtual of everything. I feel like a dinosaur. All the things I like are disappearing.
BLADE: How many LPs do you own?
LAUDERDALE: I don't know. Thousands probably. I also have 78s. I'll take a photo and send it to you. … I much prefer records to CDs any day. This (album) sounds better on record. It was largely recorded on analog so it's gonna sound better on vinyl than any other medium.
BLADE: How would you characterize your musical chemistry with Meow Meow?
LAUDERDALE: I'm not a songwriter … but writing with Meow Meow is the easiest of all the collaborations I've ever had. We just sort of sit down and start writing. I come up with a melody and she comes up with lyrics and there's never any problem. It's just effortless and I totally trust her taste and her aesthetic. We have different tastes but somehow it comes together in a really great way and we save each other from our worst instincts.
BLADE: What do (Pink Martini lead singers) Storm (Large) and China (Forbes) think of this? Are they jealous?
LAUDERDALE: I don't know, I haven't asked. … Whenever we all perform together, it never feels like a competition. We all support each other and recognize each other's genius.
BLADE: Are you gonna perform the whole record?
LAUDERDALE: We'll mix in other stuff. There's a melancholy aspect to it, some are quiet and introspective, which is not really how Meow is in performance. A Meow performance is maybe the wildest and funniest show I've ever seen. People laugh so hard … but the album is more contemplative. If the album was like a Meow show, I think it would be like a disco record. It would have a certain shelf life.
BLADE: Is that a common concern? There are certainly raucous classic albums but what's streaming through your house on Pandora while you're cooking dinner isn't necessarily the cacophony you're down for at a live show.
LAUDERDALE: Yeah, it's a constant sort of quandary. Over the years, I feel like I've always been able to sort of slow things down in recording 'cause live, there's a tendency to play faster and louder. On a record, that can make the listener feel anxious. It's something I'm aware of. We need more beauty, not more noise to compete with.
BLADE: How did you and Rufus (Wainwright, who sings on the record) get so chummy?
LAUDERDALE: I met him in 1995 when he was doing his first show in Portland … and it's been amazing to watch him progress and become more himself as the decades passed. Whenever he comes to town, if I'm in town, we have a dinner party or a cocktail party or take him berry picking on the nude beach. He's such a genius.
BLADE: Are you still with Philip (Iosca)?
LAUDERDALE: No. Phil and I were together almost a decade. He would say I did too many drugs and I would say he was too mean to my friends so we were kind of incompatible. We tore out all the walls in my 1859 building in downtown Portland and built a new inside. This was a three-year process. At the end, he moved back in and that lasted just a few months and then he left. He won't speak to me.
BLADE: Are you with anyone now?
LAUDERDALE: Yeah, I have a new partner named Hunter Noack and he's a pianist as well. He's got an incredible project where he takes 9-foot Steinways out into the wild and people listen through wireless headphones and wander the landscape. It's really astonishing.
BLADE: Did you eve get a TV?
LAUDERDALE: No. Life is so interesting. If I turn on the TV in a hotel room, it sucks you in and there's nothing worthwhile except maybe an animal show.
BLADE: Don't you feel out of the loop culturally if everybody's talking about a hot show you've never seen?
LAUDERDALE: No. I don't think my friends watch TV either. There's so much to do, to read, who has time for TV?