FALL ARTS PREVIEW 2017: Bernstein centennial, WNO's 'Aida' among classical standouts
From straight-up opera to fun stuff like Pink Martini and the Gay Men's Chorus, area stages packed with talent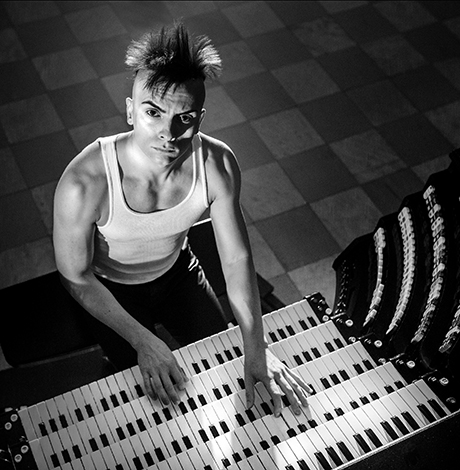 Washington National Opera has launched its season with Verdi's "Aida," the first time it's been in the Kennedy Center Opera House in 25 years. It continues through Sept. 23. Details at kennedy-center.org/wno. "Aida" will be live simulcast at Nationals Park on Saturday, Sept. 23 for "Opera in the Outfield."
Queer organist Cameron NatioCarpenter returns to the Kennedy Center Concert Hall where he's performed several times Sept. 28 and 30 for appearances with the National Symphony Orchestra  with performances of works by Aaron Copland and Leonard Bernstein and other American composers. Christian Macelaru conducts. It's part of the Bernstein at 100 series. Tickets range from $15-89.
Other highlights in the Bernstein (gay though married to a woman) at 100 series include an exhibit in the Terrace Gallery that runs through Nov. 5, a Bernstein on Broadway performance on Friday, Sept. 22, the NSO season opening gala concert on Sunday, Sept. 24 and more. Details at kennedy-center.org.
The NSO Pops presents "The Life Aquatic: a Tribute to David Bowie" on Friday, Sept. 29. Tickets are $25-89.
The gay-helmed Pink Martini performs with the NSO Pops and China Forbes on Saturday, Oct. 28 with a varied program. Tickets are $24-89.
Tickets for these and all Kennedy Center performances are online at kennedy-center.org.
The Library of Congress is also getting in on the Bernstein centennial with an exhibit of items from its collection related to the late composer (who died in 1990). Its concert series/fall season kicks off with concerts by Ensemble Signal performing works by composer Steve Reich (Oct. 18) and fusion band La Santa Cecilia (Oct. 19). Details at loc.gov.
The Washington Bach Consort opens its 40th season with a program celebrating the 500th anniversary of the Protestant Reformation (which turned out to be a good thing for gays though it took centuries to come to fruition) on Sunday, Sept. 17 at 3 p.m. at National Presbyterian Church (4101 Nebraska Ave., N.W.). Tickets are $10-69.
Other Consort performances are a chamber concert in which the ensemble will perform works from its inaugural season on Friday, Oct. 20 at First Congregational UCC and Bach's "Christmas Oratorio" on Sunday, Dec. 9 at National Presbyterian. Details at bachconsort.org.
As usual, the Baltimore Symphony Orchestra splits its time between Charm City and the Strathmore in Bethesda, Md. It's doing "Tchaikovsky Thrill Ride" this weekend and "Poetic Fire: from Hamlet to Don Juan" Sept. 22-24. Esperanza Spalding performs with the orchestra as part of its BSO Pulse series on Thursday, Oct. 19. Several other performances are planned throughout fall. Details at bsomusic.org.
The Alexandria Symphony Orchestra kicks off its season Sept. 23-24 with a program featuring Beethoven, Wagner and Strauss. Michael Rossi is guest conductor. Tickets range from $20-80. Details at alexsym.org.
Urban Arias, a local, gay-helmed, contemporary opera outfit, brings the life of architect Frank Lloyd Wright to the stage in "Shining Brow" by Daron Aric Hagen (music) and Paul Muldoon (libretto) Oct. 14-21 at Atlas Performing Arts Center. Tickets are $42 ($39 for students and seniors). Details at urbanarias.org.
In the "sorta" classical vein, the Gay Men's Chorus of Washington is recording a live album on Saturday, Sept. 30 at 3 p.m. at Foundry United Methodist Church (1500 16th St., N.W.) that's free and open to the public. The group is recording material it performed on its recent "Southern Equality Tour." Its fall fundraiser "ropeburn" will be held on Saturday, Oct. 7 at 7 p.m. in Dupont Underground. Tickets are $75. "It Takes Two," a duet show, is Saturday, Nov. 11 at Atlas (tickets are $39). Its annual holiday show is Dec. 9-17 at Lincoln Theatre. Full details at gmcw.org.
D.C. Different Drummers performs "D.C. Swing! Gig" on Sunday, Oct. 29 at 3 p.m. at Mr. Henry's (601 Pennsylvania Ave., S.E.). Its fall band concert is Saturday, Nov. 4 at 7 p.m. at Church of the Epiphany (1317 G St., N.W.). Details at dcdd.org.
Washington Concert Opera performs "La Straniera" (Bellini) on Sunday, Nov. 19 at 6 p.m. at Lisner Auditorium (730 21st St., N.W.). Tickets are $40-110. Details at concertopera.org.
The Strathmore's fall offerings include the Shen Yun Symphony Orchestra (Oct. 22), pianist Rachel Franklin (Oct. 26), Sol Gabetta performs Tchaikovsky with the BSO (Oct. 28), Pinchas Zukerman performs Bach with the BSO (Nov. 9), Black Violin on its "Classical Boom Tour" (Nov. 10), the National Philharmonic (Nov. 11), Renaissance chamber ensemble Sonnambula (Nov. 16), Andre Watts returns for "Rach 2" with the BSO (Nov. 18). Note some performances are at the Music Center at Strathmore; others are in the Mansion. Full details, times and prices at strathmore.org.
Young Artists of America present "The Sound of Music" on Sunday, Oct. 29 at 4 p.m. at the Clarice Smith Performing Arts Center (8270 Alumni Dr., College Park, Md.). Young Artists presents symphonic productions featuring young artists from the D.C. area performing alongside professional mentors. Details at yaa.org/fall-production.
Virginia Opera brings its "Samson and Delilah" (Saint-Saens) production to Fairfax Oct. 7-8 at George Mason. Tickets are $54-110. Its "Girl of the Golden West" (Puccini) will be in Fairfax Dec. 2-3. Details at vaopera.org.
And, of course, as always Washington Performing Arts has a wide spate of fall performances including:
• Aaron Diehl and Murray Horwitz in "Conversations in Music I: Rhythm" on Tuesday, Oct. 3 at McEvoy Auditorium (Tickets are $25)
• Sphinx Virtuosi on Sunday, Oct. 15 at the Kennedy Center Terrace Theater (Tickets are $35)
• Orchestra Dell'Accademia Nazionale di Santa Cecilia at the Kennedy Center on Wednesday, Oct. 25 ($45-115)
• Other highlights include A Far Cry/Luciana Souza (Nov. 4), Joshua Bell (Nov. 5), the Verona Quartet (Nov. 10), the Mariinsky Orchestra (Nov. 12), Nathan Lee (Dec. 2) and Denyce Graves (Dec. 4). Full details at washingtonperformingarts.org.
Every Friday at 12:15 p.m., free organ recitals are held at National City Christian Church (5 Thomas Circle). The church has one of the finest organs in the city and often attracts world-class performers. Out minister of music Rev. Michael McMahon programs the series. The church also has monthly LGBT Bible studies and happy hours. Details at nationalcitycc.org.
PHOTOS: High Heel Race
Spectators cheered along drag queen contestants for the 24th annual event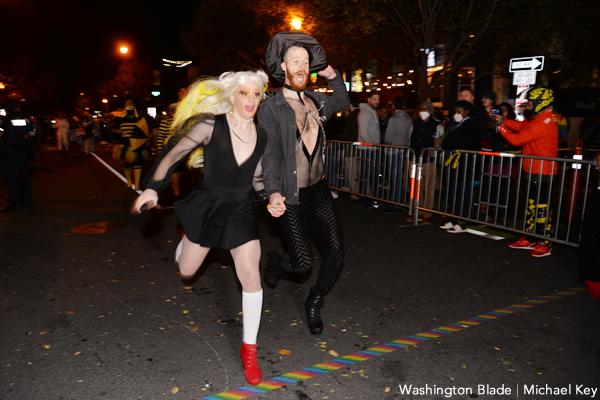 The 34th annual High Heel Race was held along 17th Street on Oct. 26. The winners this year were @dragqueenathena and "Dan." D.C. Mayor Muriel Bowser, D.C. Police Chief Robert Contee and members of the D.C. Council joined drag queen contestants and hundreds of spectators for the event.
(Washington Blade photos by Michael Key)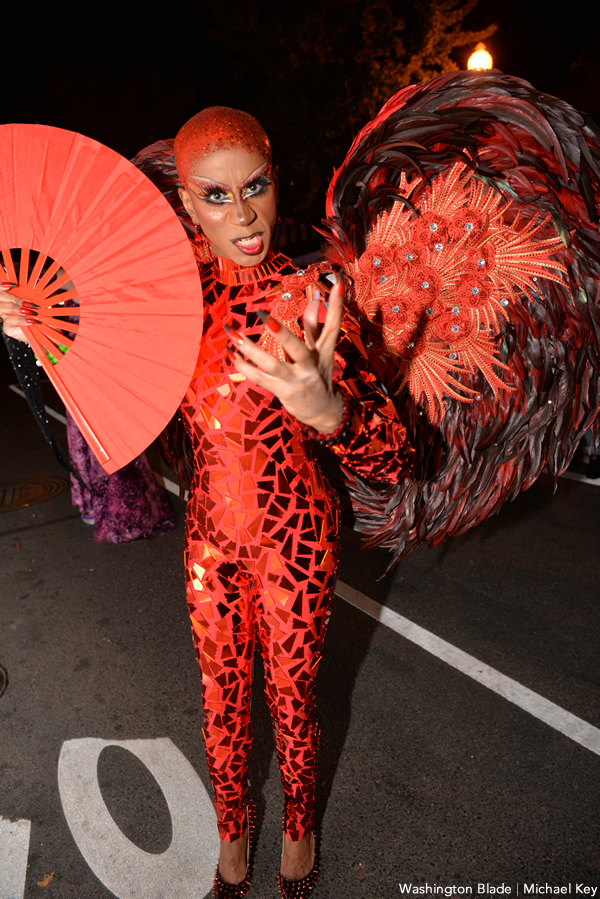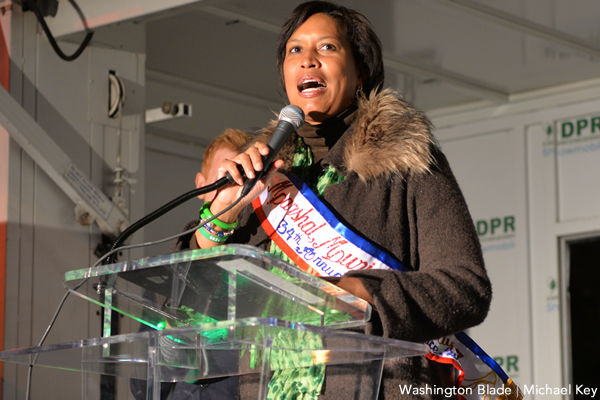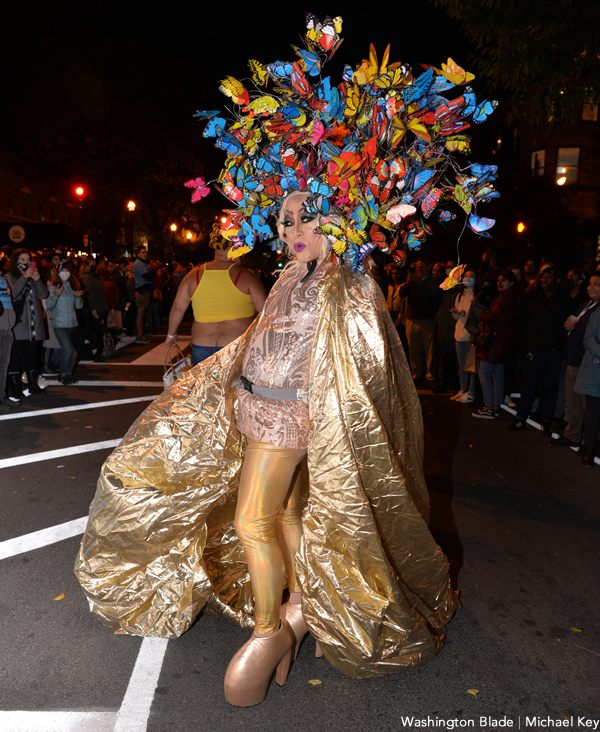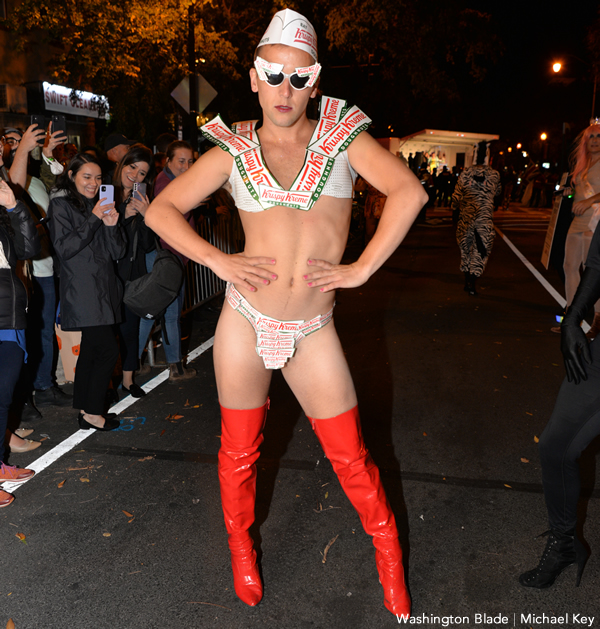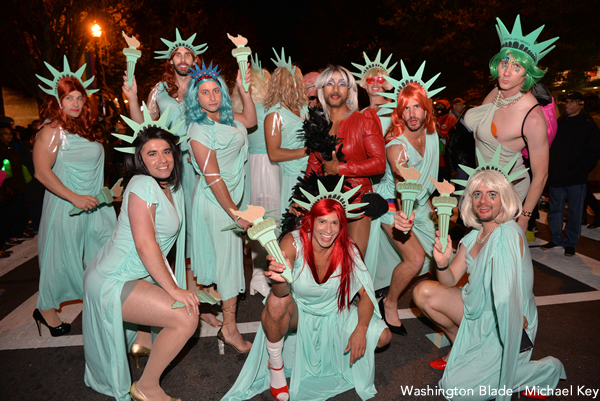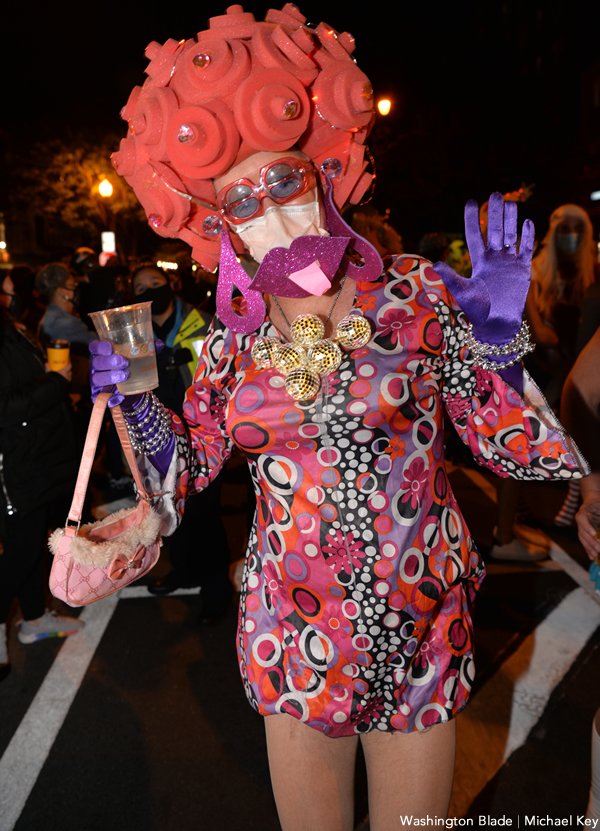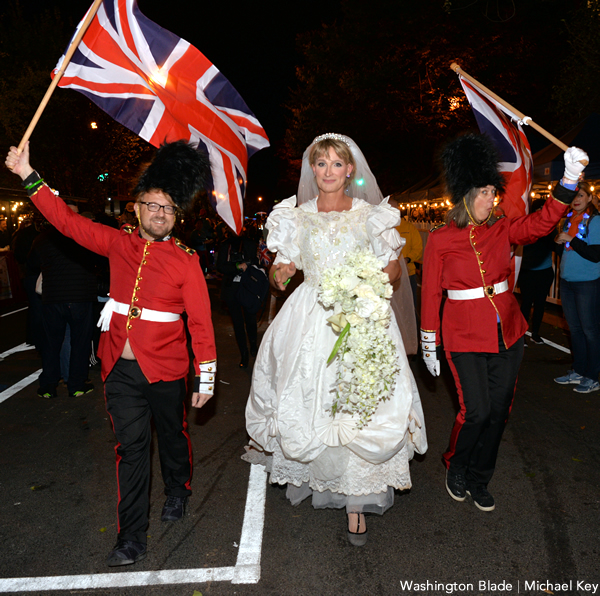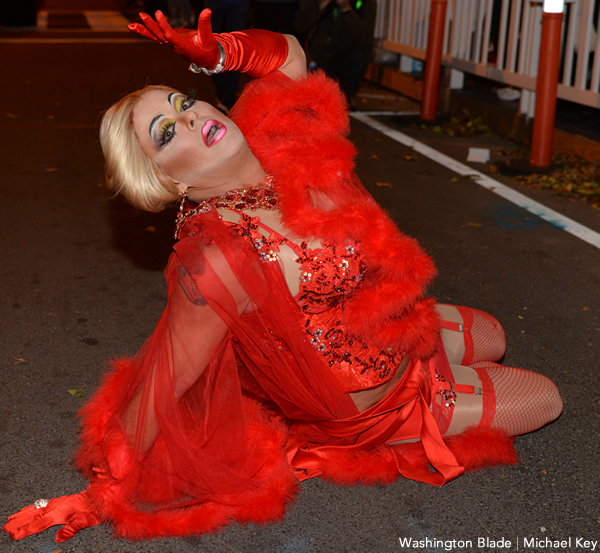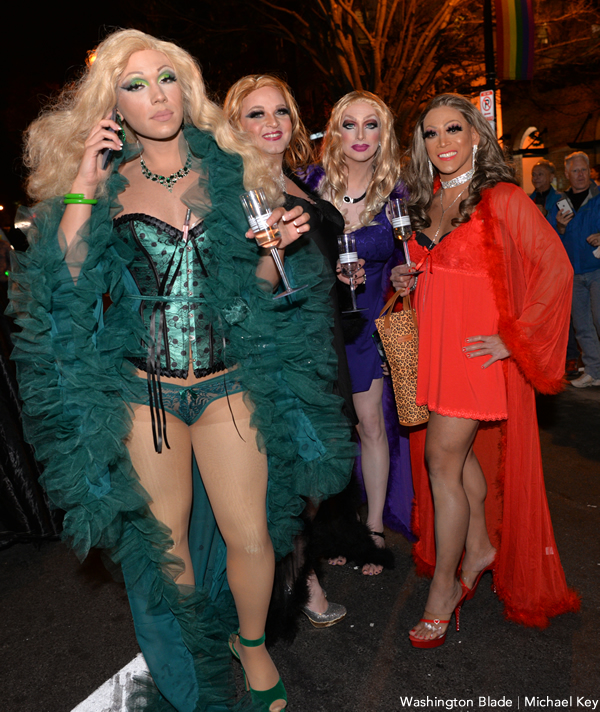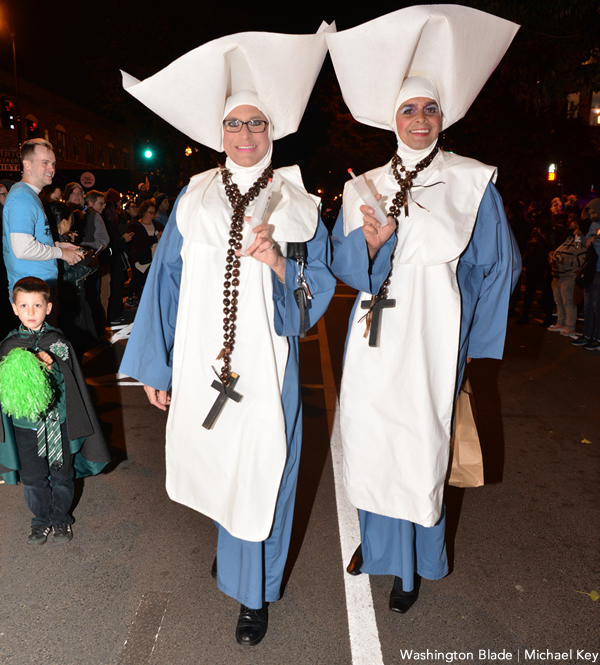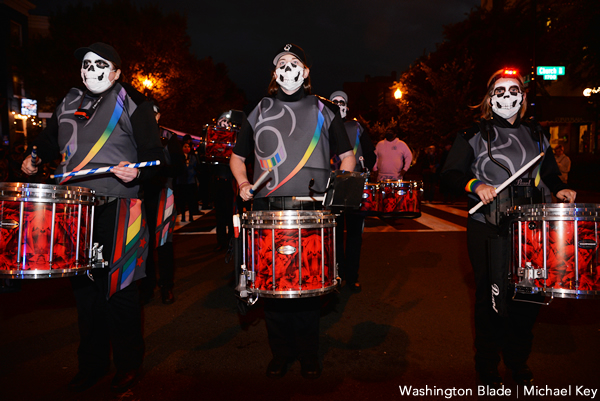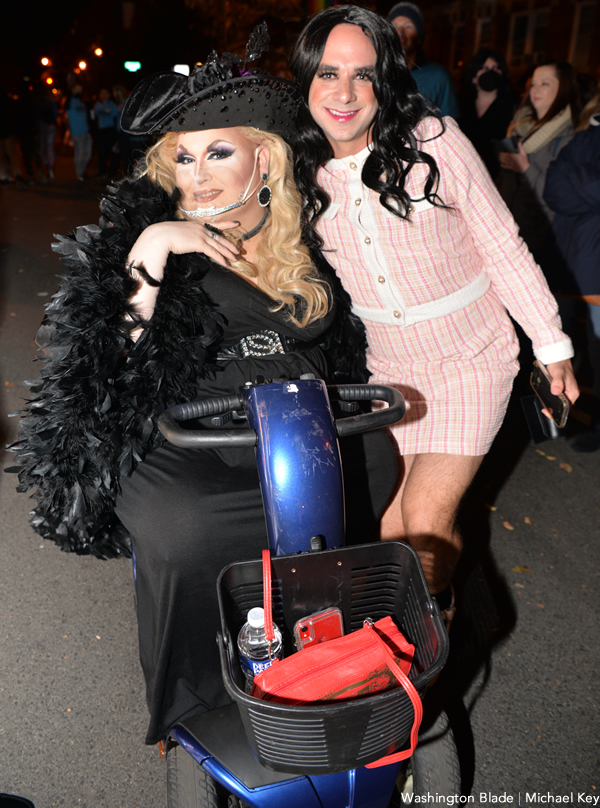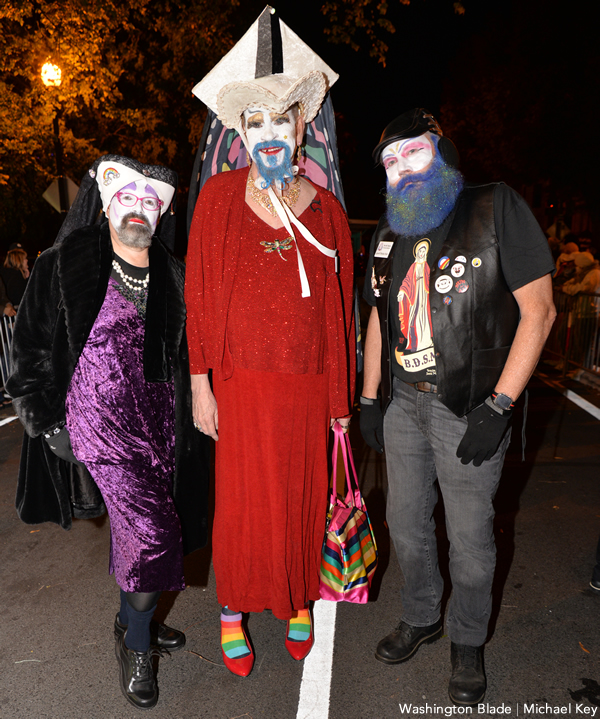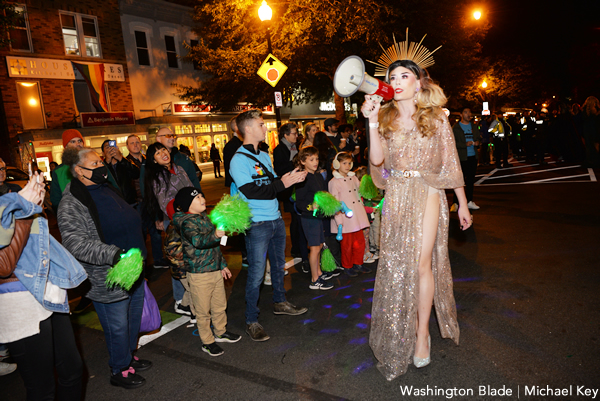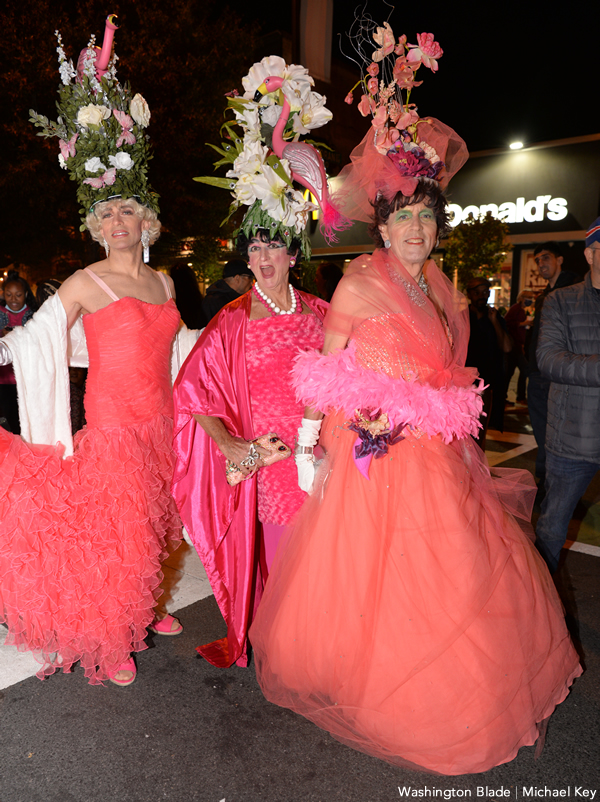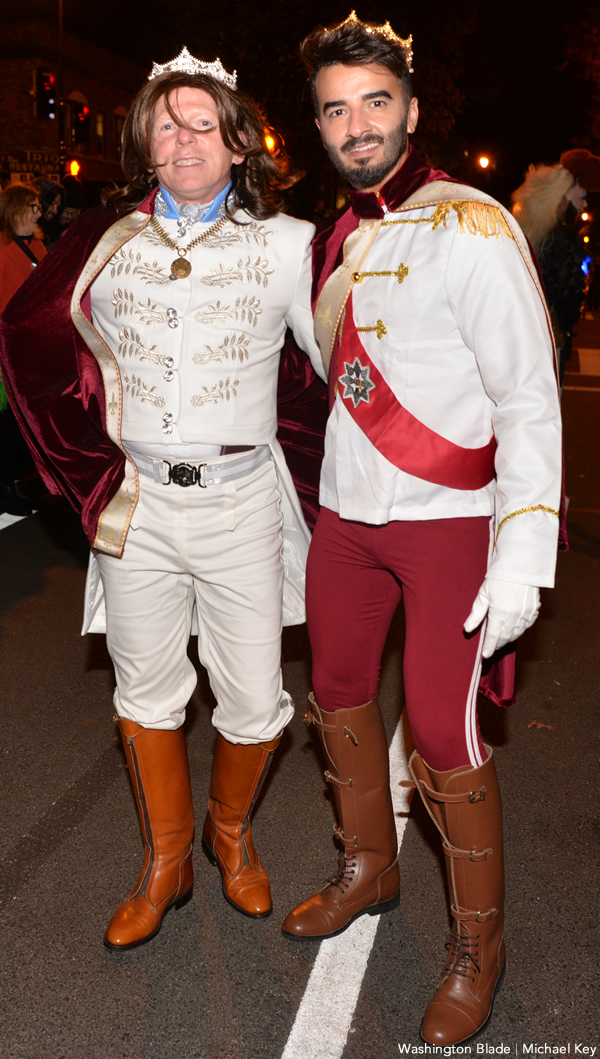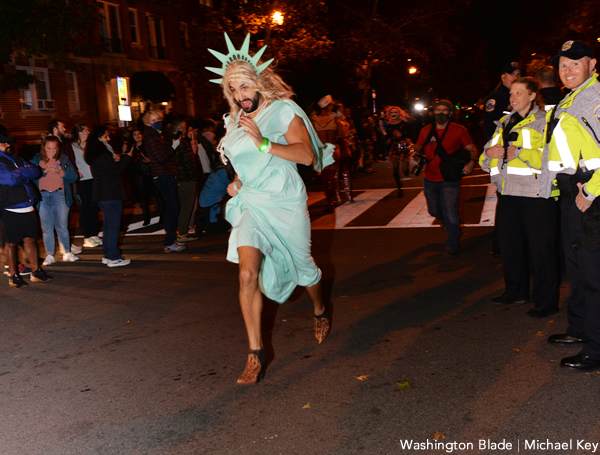 New music documentary is 'Velvet' perfection
A piece of pure cinema that exemplifies its genre while transcending it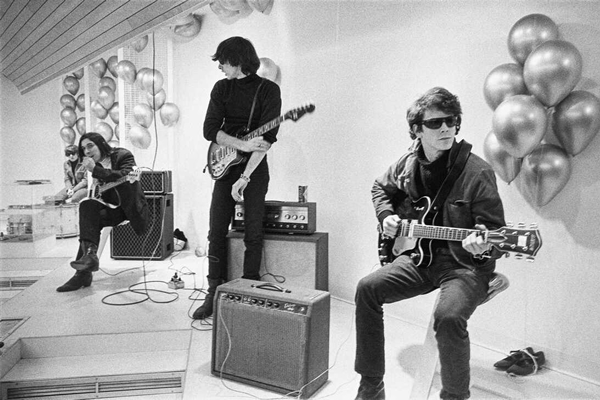 When it comes to great music documentaries – the ones that stick with you after you watch and make you want to come back to them again and again – there is one ingredient that stands out as a common thread: immediacy.
From D.A. Pennebaker's fly-on-the-wall chronicle of young Bob Dylan's 1965 tour of the UK in "Don't Look Back," to Martin Scorcese's joyful document of The Band's final concert performance in "The Last Waltz," to Jonathan Demme's thrilling cinematic rendering of the Talking Heads in performance at the peak of their creative genius in "Stop Making Sense," all of these now-revered films have endured – indeed, even grown – in popularity over the years because they captured the talent, the personality, and the power of their subjects on celluloid and preserved it for the ages, allowing generations of audiences, fans and soon-to-be-fans alike, to feel as if they were there.
But none, perhaps, have ever done it quite so viscerally as Todd Haynes' "The Velvet Underground." This is a remarkable feat when you consider that the films listed above, as well as most of the other highly regarded "rockumentaries" of the past, were all concert films, showing the performers at their center in the full bloom of their musical gifts, and Haynes' film is not that. It's something else, something singular, a piece of pure cinema that exemplifies its genre while transcending it entirely.
The basic outline of the band's story is well known, now. Coalesced in the early '60s New York art scene around a pair of charismatic geniuses (John Cale and Lou Reed), the Velvet Underground was swept into the orbit and under the wing of Andy Warhol, who turned them into the house band at his famous "Factory," added to their mix an exotic European chanteuse named Nico, and launched their record career by producing their first album – and designing an instantly iconic cover for it featuring a banana, to boot. They were, for a while, the darlings of the New York underground set, birthing a handful of additional albums across the latter years of the decade; but their sound, which was experimental, rough, and a far cry from the flower-power sound being embraced within the status quo of Middle American music fans, did not catch on. That, combined with the volatility of the relationships at its core, ensured an ignoble and unsung dissolution for the band; though its two front men went on to forge expansive solo careers on their own, the Velvets themselves remained a kind of blip, an ephemeral presence in the history of rock – and the history of New York – remembered by anyone who wasn't actually on the scene as nothing more than a buzzy band they never actually heard with a catchy name and a familiar album cover.
As one of the voice-over interviewees in Haynes' movie points out, however, the counterculture wasn't actually the counterculture – it was the culture. The rest of the world just didn't know it yet. Decades later the Velvet Underground is credited with, among other things, providing early inspiration for what would become the punk rock movement, to say nothing of influencing the aesthetic palate of (surely without exaggeration) thousands of musicians who would go on to make great music themselves – often sounding nothing like the Velvets, but somehow cut from the same raw, edgy, white-hot honest cloth, nonetheless. Yet in their moment, they were doomed before they had even begun to become a sideshow attraction, hurling performative realness in the face of a curious-but-disinterested glitterati crowd that was already embodying the superficial fakeness that would be so aptly monikered, both as an ethos and a watchword, as "Plastics" by Buck Henry and Mike Nichols in "The Graduate" barely a year after their first album was pressed.
Frankly, it's the kind of story that makes for a perfect rock 'n roll legend, and the kind of legend that deserves to be explored in a film that befits its almost mythic, archetypal underpinnings. There's nobody more qualified to deliver that film than Todd Haynes.
Haynes, of course, is a pioneer of the '90s "New Queer Cinema," whose body of work has maintained a consistent yet multi-faceted focus on key themes that include outsider-ism, dysfunctional socialization, and the fluid nature of sexuality and gender. Each and any of these interests would be enough to make him a perfect fit as the person to tell the story of the Velvet Underground, but what gives him the ability to make it a masterpiece is his ongoing fascination with music and nostalgia. Beginning with his controversial debut short "Superstar: The Karen Carpenter Story," the musical landscape of his formative years has been inseparable from his milieu, and films such as his glam-rock fantasia "Velvet Goldmine" or his post-modernist Dylan biopic "I'm Not There" have dotted his career like cornerstones. Likewise, his painstaking recreation of the past in period pieces like "Far From Heaven," "Carol," or "Wonderstruck" has proven his ability not just to capture the look and feel of a bygone era, but to transport audiences right back into it.
In "The Velvet Underground," it's more like he transports the era to the audience. His comprehensive chronicle is not just the story of the band or its members, but the story of the time and place that allowed them to exist, in which a generation waking up from the toxic artificiality of their parents' "American Dream" took creative control of the future through an unprecedented explosion of art and culture. Art was a by-any-means-necessary endeavor that now demanded a fluency across various forms of media, and a blending together of any and every thing that worked to get the message across. And yes, sometimes the media itself was the message, but even within that depressingly superficial reality was room for an infinite layering of style and substance that could take your breath away.
That description of the era in which the Velvet Underground thrived, in which Andy Warhol turned the shallow into the profound (whether he knew it or not), in which music and film and photography and poetry and painting and every other form of expression blended together in a heady and world-changing whirlwind, is also the perfect description of Haynes' film. Yes, there are famous veterans of the age sharing their memories and their insights, yes there is copious archival footage (including the godsend of Warhol's filmed portraits of the legendary faces in his orbit), yes we get to hear about Lou Reed's struggle with his sexual identity – and it's refreshing that Haynes makes no effort to categorize or finalize that aspect of the rock legend's persona, but merely lets it be a fact. But even though "The Velvet Underground" checks off all the boxes to be a documentary, it's something much more. Thanks to Haynes' seamless blend of visuals, words, history, and – always and above all – music, it's a total sensory experience, which deserves to be seen in a theater whether you subscribe to Apple TV or not. It puts you right in the middle of a world that still casts a huge shadow on our culture today.
And it's unforgettable.
PHOTOS: Best Of LGBTQ DC party
Blade's 20th annual awards celebrated at Hook Hall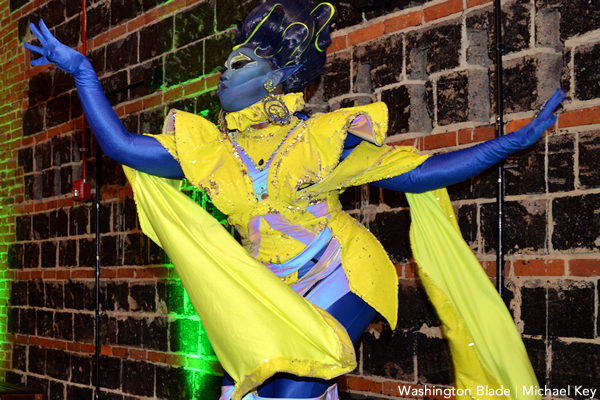 The Washington Blade presented the 20th annual Best of LGBTQ D.C. Awards at a party at Hook Hall on Thursday, Oct. 21. To view this year's winners, click here.
Event sponsored by Absolut, DC Brau and Washington Regional Transplant Community.
(Washington Blade photos by Michael Key)