September 14, 2017 at 12:57 pm EDT | by Joey DiGuglielmo
FALL ARTS PREVIEW 2017: HRC dinner, High Heel Race, Youth Pride among upcoming events
Some events don't fit in our other fall arts categories. Here are a few to note. If no URL is given, search for the event on Facebook for details.
Washington Improv Theater's "Rise Up!" event opened this week and continues through Sunday, Oct. 1 at the D.C. Arts Center (2438 18th St., N.W.) in Adams Morgan. Several LGBT performers are involved. Details at witdc.org.
The sixth annual Chefs for Equality event will be held Tuesday, Sept. 19 at 5:30 p.m. at Dock5 at Union Market. Tickets are $200. Details at hrc.org.
The Latino GLBT History Project has its 12th annual Hispanic LGBT Heritage Awards on Friday, Sept. 22 at 6 p.m. at HRC Headquarters (1640 Rhode Island Ave., N.W.). Admission is free but donations will be accepted. Details on Facebook or at latinoglbthistory.org.
The 10th annual Downtown Hyattsville Arts Festival returns to its usual three-block site in Hyattsville, Md., on Saturday, Sept. 23 from noon-6 p.m. Details at hycdc.org.
Story District is celebrating its 20th anniversary season with several events including "I Did It For the Story: a Tribute to 20 Years of Storytelling" (Sept. 23) at Lincoln Theatre; "Best of Real to Reel" (Oct. 4) at Arlington Cinema & Drafthouse; a monthly storytelling event held the second Tuesday of each month at Town and more. Story District plans a bilingual, LGBT event on National Coming Out Day on Tuesday, Oct. 10. Full details at storydistrict.org.
Comedian and author Jen Kirkman plays the Howard Theatre (620 T St., N.W.) on Sunday, Sept. 24 at 8 p.m. Tickets are $22.50-40. Details at thehowardtheatre.com.
"The Ask Rayceen Show" has its usual fall events. Rayceen's Reading Room will be at the Shaw Neighborhood Library (1630 7th St., N.W.) on Monday, Sept. 25 at 6 p.m. to kick off D.C. Public Library's Banned Books Week. Admission is free. Upcoming shows are Wednesday, Oct. 4 (talent competition) and Wednesday, Nov. 8 (season finale). The show is held at the Human Rights Campaign Equality Center (1640 Rhode Island Ave., N.W.). Doors open at 6 p.m. It's free. Details at askrayceen.altervista.org.
Pride Outside offers "The LGBT Community and the Outdoors" event on Wednesday, Sept. 27 at 7 p.m. at Patagonia Store (1048 Wisconsin Ave., N.W.) to "shine a light on the LGBT community and the outdoors."
The Northern Virginia Pride Festival 2017 is dubbed "Declare Yourself" and is Sunday, Oct. 1 from 11 a.m.-6 p.m. at Bull Run Special Events Center in Centreville, Va. Details at novapride.org.
Baltimore Black Pride week is Oct. 2-9 but events are planned all month.
The Capitol Hill Arts Workshop (CHAW) has several events for fall including Capitol Jazz Foundation Conference (Oct. 5), "She Rode Horses Like the Stock Exchange" (Oct. 5-14), We Happy Few Presents "Dracula" (Oct. 30) and more. Full details at chaw.org.
Youth Pride Day was bumped this year from its usual May date. It will be held on Saturday, Oct. 7 from noon-5 p.m. in Dupont Circle.
A discussion about LGBT suicide prevention is part of the "One Love for a City" event at Hillcrest Children and Family Center that runs Oct. 8-15. Details at hillcrest-dc.org.
Real-life lesbian married couple Cameron Esposito and Rhea Butcher bring their "Back to Back" stand-up show to the 9:30 Club on Saturday, Oct. 7 at 8 p.m. They're known as the first gay married couple to co-create and star in their own TV show ("Take My Wife"). Look for the event on ticketfly or at 930.com for details.
The 50th annual Dupont Circle House Tour is Sunday, Oct. 15 at noon.
No information yet, but the Gertrude Stein Democratic Club will likely hold its 41st annual Leadership Awards in mid-to-late October.
The OutServe-SLDN sixth annual LGBT Military Community Conference is Oct. 19-21 at Dupont Circle Hotel.
The Blade will hold its 16th annual Best of Gay D.C. Awards on Thursday, Oct. 19. Details pending.
The Maryland Renaissance Festival continues through Oct. 22 in Annapolis. Details at rennfest.com.
The 31st annual High Heel Race will be Tuesday, Oct. 24 on 17th Street.
The National LGBTQ Task Force has its October planning meeting for the Creating Change conference on Wednesday, Oct. 25 at 6 p.m. at National City Christian Church (5 Thomas Circle, N.W.).
The 21st annual HRC National Dinner is Saturday, Oct. 28 at the Washington Convention Center (801 Mt. Vernon Pl., N.W.). Tickets are $400. Details at hrcnatinoaldinner.org.
The Walk & 5k to End HIV, the 31st anniversary of AIDS Walk Washington, will be held earlier this year on Oct. 28-29. The walk/run is on Saturday in Freedom Plaza; a brunch will be held on Sunday. Details at walktoendhiv.org.
The 20th annual SMYAL Fall Brunch is Sunday, Nov. 5 at the Marriott Marquis (901 Massachusetts Ave., N.W.) at 10:30 a.m. Details at smyal.org/brunch.
The annual wreath laying for LGBT veterans is Saturday, Nov. 11 at noon at Congressional Cemetary.
Local drag legend Shi-Queeta-Lee celebrates her 53rd birthday with "Decades of a Queen" at Town on Sunday, Nov. 12 from 6-10 p.m.
Trans Breast Cancer Awareness is Saturday, Nov. 18 at the D.C. Center.
Trans Day of Remembrance is Monday, Nov. 20 at Metropolitan Community Church of Washington at 5:30 p.m. (474 Ridge St., N.W.). Details at thedccenter.org or on Facebook.
Joey DiGuglielmo is the Features Editor for the Washington Blade.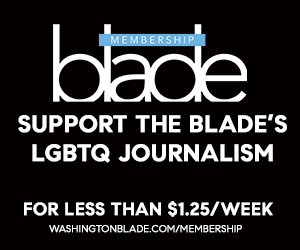 Sign Up for Blade eBlasts