April 3, 2019 at 5:00 am EST | by Kathi Wolfe
Thank you, Mayor Pete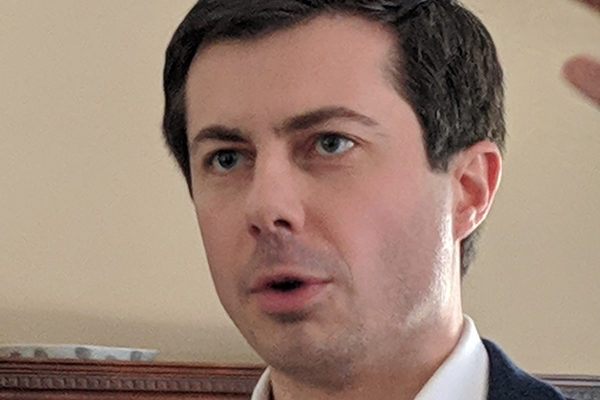 Dear Mayor Pete:
A few years after the Stonewall uprising, as a college student, I struggled to make sense of my sexuality and of "Ulysses" by James Joyce. Yet my younger self, a kid who couldn't wait to escape from South Jersey, understood what Joyce meant when he wrote, "Think you're escaping and run into yourself. Longest way round is the shortest way home."
Back then, I'd never have thought I'd find this Joyce quote in your memoir "Shortest Way Home." Or that you, mayor of South Bend, Ind., would be the first out gay Democratic presidential candidate. I wouldn't have guessed that, as I write this, an Axios headline would say "2020 election polls: Pete Buttigieg's surge is the biggest polling story of the week." According to Axios, you've gone from 1 percent to 4 percent in the Quinnipiac Poll. Though the jump is small, CNN's Harry Enten says it's "likely statistically significant."
Back in the day, there were few openly LGBTQ folks: Rita Mae Brown, Truman Capote – James Baldwin. Someone leading a city, let alone running for the highest office in the land, would have seemed more improbable than flying cars. (We'd seen flying cars on the "Jetsons.")
"History," Stephen Dedalus says in "Ulysses," " is a nightmare from which I am trying to awake."
Thankfully, though only 0.1 percent of elected officials in the United States are openly LGBTQ, according to a recent Victory Institute report, we're emerging from this nightmare. Out queer politicos have been elected as state legislators, congressional representatives and senators as well as governors.
It would have been unimaginable as recently as 2008. Yet, now it would be unthinkable for any of the many Democratic presidential candidates to oppose marriage equality or the Equality Act. Even so, your campaign is historic! I wouldn't dare try to predict how many LGBTQ people would vote for you. But, I'd wager that most of us, whether we agree with you on political issues and policies, are cheering for you! For the first time, everyone from a trans middle-schooler in the Midwest to myself, a queer woman in Virginia, can see someone from our community competing for the top prize in the political arena.
You remind me so much of Barack Obama! Especially of Obama when he first ran for president in 2008. Like Obama's memoir "Dreams of My Father: A Story of Race and Inheritance," your memoir "Shortest Way Home" is interesting and smart. Unlike most political memoirs (which help me sleep), your book kept me up.
Though some might scoff at your youth (if you won, you'd be our youngest president), I think, at 37, you've done more than most of us would ever do if we lived to be 100. In "Shortest Way Home," you take us through your years at Harvard, as a Rhodes scholar at Oxford, your election and reelection as mayor of South Bend and your deployment in Afghanistan.
I was moved by your understated account of your deployment and by your stories of coming out and falling in love. Realizing that you had to have "a meaningful personal life," you came out when you ran for reelection for mayor.
You'd have to have a heart of stone not to be touched by your account of your first date with Chasten, the man who would become your husband. "Nothing in my life, from shaking hands with a president to experiencing my first rocket attack," you wrote, "matched the thrill of holding Chasten's hand for the first time."
You've been seeking support from LGBTQ organizations and called out Mike Pence for his anti-gay record. Yet, you're working hard to not have being gay define you. I applaud this. All of us are more than our sexual orientation and gender identity. Your campaign is centered around "intergenerational justice" and issues ranging from climate change to health care to national security.
You're facing tough odds, but I wish you luck. You're one of the few grown-ups in the room. Thank you, Mayor Pete, for throwing your hat in the race.
Kathi Wolfe, a writer and a poet, is a regular contributor to the Blade.