April 2, 2019 at 5:00 am EDT | by Richard J. Rosendall
Time to check out of Trump's madhouse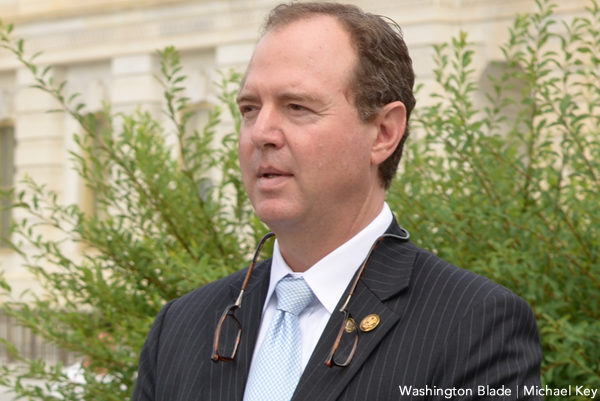 After House Intel Chair Adam Schiff's blunt response to Republican colleagues' demand for his resignation on March 28, it should have been as clear to them that they had prematurely celebrated the still-unreleased Mueller report as when an NFL player spikes the football at halftime.
Here is an excerpt from Schiff's litany of Trump wrongs: "You might think it's okay that the campaign chairman of a presidential campaign would offer information about that campaign to a Russian oligarch in exchange for money or debt forgiveness…. You might think it's okay that that campaign chairman offered polling data to someone linked to Russian intelligence…. You might think it's okay that the president himself called on Russia to hack his opponent's emails, if they were listening. You might think it's okay that later that day, in fact, the Russians attempted to hack a server affiliated with that campaign. I don't think that's okay."
Schiff concluded, "I think it's immoral, I think it's unethical, I think it's unpatriotic and, yes, I think it's corrupt — and evidence of collusion."
Despite even Attorney General William Barr's four-page summary saying Mueller had not exonerated Trump of obstruction, a chorus of know-it-alls, many of them conservative, had quickly told Democrats to take their lumps and move on. They said it was time to change the focus to solving the nation's problems—as if Democrats are not already working on that, as if they cannot multitask, and as if Trump's corruption and incompetence are not among our chief problems.
Turning from DOJ to Foggy Bottom: the State Department announced plans to cut aid to El Salvador, Guatemala, and Honduras over the flow of migrants to our border. That will only make it worse, which is why Trump is doing it. He specializes in creating chaos, whose handmaiden is ignorance. On March 31, Fox & Friends Weekend ran a banner stating, "Trump Cuts U.S. Aid to 3 Mexican Countries." Geography is not this crowd's strong suit.
Trump inhabits an alternate realm where the arsonist poses as a firefighter. He surrounds himself with enablers. His education secretary, Betsy DeVos, defended Trump's proposed elimination of Special Olympics funding; then, when public outrage caused him to reverse himself, she said how glad she was that he agreed with her. This is an entire administration of Baghdad Bobs.
Trump's abuse of his office includes meddling in court cases like that involving actor Jussie Smollett, where the facts of his alleged staging of a hate crime remain unclear. Chicago Mayor Rahm Emanuel and his police superintendent were outraged by the dismissal of charges against Smollett, despite having expressed no similar outrage over their police shooting Laquan McDonald in the back or raiding a child's birthday party with guns drawn. In 2018, Chicago spent over $113 million on police misconduct lawsuits. Spotting an opportunity to sow discord, Trump promised to have the FBI and Justice Department investigate the Smollett case, calling it a national embarrassment. This is supposed to distract us from 45's own daily embarrassments.
Happily, Trump has encountered resistance from courts. Just last week, a federal judge overruled his order opening Arctic waters to oil drilling. Another blocked his Medicaid work requirements for low-income people. A third struck down his small-business health insurance plan as an "end run" around Affordable Care Act protections.
Reality is something to be overcome in Trumpworld. Vice President Pence declared the urgent need to resume landing people on the moon, replacing NASA's scientific mission with photo ops. Laura Ingraham had a guest who said transgender people want to create a new half-human, half-machine species, resistance to which is presumably futile. Alex Jones of InfoWars, in deposition footage released by opposing attorneys, blamed "psychosis" for his conspiracy theory calling the 2012 Sandy Hook Elementary massacre a "false flag" attack.
Unless we wish to take up residence in this madhouse, we have no choice but to resist it vigorously as Rep. Schiff has done.
Sen. Lindsey Graham quipped in 2017 that he doubted the charge of collusion with the Russians because "Trump can't collude with his own government." (Hat tip: George Conway.) That would make a fine 2020 campaign slogan.
Richard J. Rosendall is a writer and activist. He can be reached at rrosendall@me.com.
Copyright © 2019 by Richard J. Rosendall. All rights reserved.