West Hollywood Aquatics doc slated for D.C. screening
'Light in the Water' follows gay swimmers during AIDS tragedy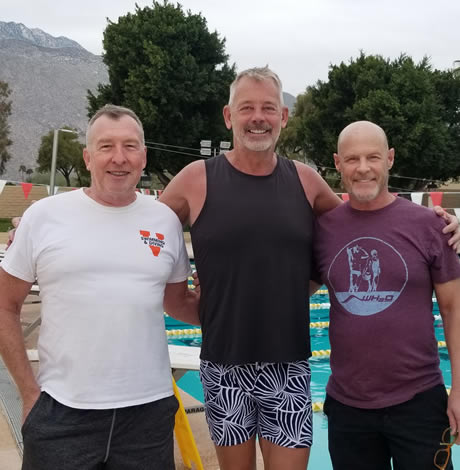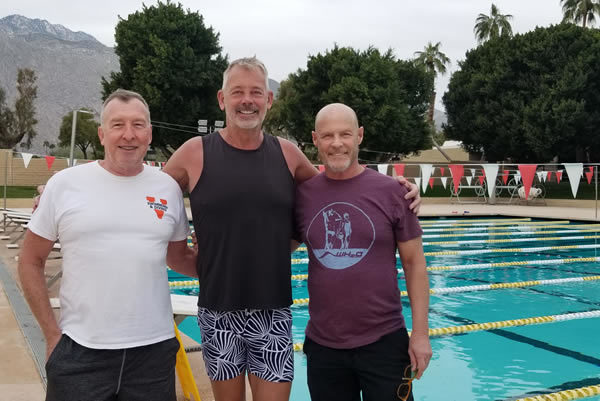 After the inaugural Gay Games in 1982, a group of gay athletes from West Hollywood formed a swim team and water polo team that would eventually be renamed West Hollywood Aquatics. It was the same year that AIDS surfaced in the gay community and it became part of the teams.
With their teammates dying around them, the athletes rose above the darkness using the power of sports and community to build a foundation that many of them are still leaning on today.
The film "Light in the Water" debuted with a shortened version on the Logo Network last June to critical acclaim. It chronicles the journey of the West Hollywood teams and offers a glimpse of what it was like to be gay and an athlete in the 1980s.
Not only is it a story about swimming, water polo and the HIV/AIDS crisis, it is a story about hope, perseverance and the battle for acceptance.
"Swimming helped because in a way, it was a distraction," says West Hollywood swimmer Jim Ballard in the film. "If you could swim, you could live. Or at least you were alive for that moment. At one point in time, there was a funeral every week."
After the Logo debut, "Light in the Water" began running a different, longer version at film festivals and screenings all over the world. Just two weeks ago, the film picked up a Daytime Emmy nomination from its screening on Logo.
It will be screened in Washington (but is sold out) on Thursday, April 11 at 7:30 p.m. at AMC Georgetown 14. The event is being co-hosted by LGBT-based District of Columbia Aquatics Club. A panel discussion will follow.
Appearing on the panel will be director Lis Bartlett, cast member Charlie Carson from Team New York Aquatics and Jack Markey, co-founder of District of Columbia Aquatics Club. Both Carson and Markey were also at the swim training camp last week which is hosted annually by LGBT-based Team New York Aquatics.
Bartlett moved to Los Angeles in 2011 to pursue filmmaking. A swimmer since middle school, she chose LGBT-based West Hollywood Aquatics over the many straight teams in the area to continue her swimming.
Over time, she began to realize the team was a microcosm for the city of Los Angeles. It made her think about what everyone has in common as athletes and what they share from the experience of exercising.
She pitched the idea of a documentary with Nathan Santell, a film producer and West Hollywood swimmer, and began the process of interviewing surviving long-time members.
"My first interview was with Jon Bauer and he really allowed himself to be vulnerable during our filming," Bartlett says. "When I realized how powerful the team was for him during that time, I knew it was going to be a multi-layered project."
Jon Bauer has been a member of the team since 1988 and was a pioneer as a dentist in Los Angeles for treating patients with AIDS. He reflects on that first interview with Bartlett.
"We were talking about swimming and then they shifted gears and asked about AIDS. I was ripe for the question," Bauer says. "I was in the trenches as a dentist and it was overwhelming. I actually treated the very first person in Los Angeles that we are aware of that died from AIDS in 1978. We didn't know why he died; he was very young and healthy and six months later he was gone. I have lost hundreds of patients, partners, my brother — there was a lot there and the question went deep."
Both Bauer and Ballard are still swimming and reaping the benefits that result from being active and part of a greater community. Just last week they attended a seven day training camp in Palm Springs with 70 LGBT swimmers from around the country.
"The film is an exquisite opportunity to experience what we have been through and to bring up opportunities to heal. To relate that to healing from swimming and what exercise did for me, and to share that, was a gift," Bauer says. "People want to be heard and to know that they have been seen. Lis and Nathan did an incredible job capturing stories and they reflect beautifully on every aspect of life."
"These people who I swim with every day have been through so much, yet they are so joyful," Bartlett says. "They have become my family and my community. I think the reason the film has resonated with different types of people is because it touches on the many things that we all have in common including loss, adversity, perseverance and hope."
Tickets for Light in the Water can be purchased here.
The trailer for Light in the Water can be seen here.
Vulgar anti-gay slur halts championship final soccer match
The league has written rules and guidelines that call for the referees on the field to halt game play if fans ignore warnings
DENVER, CO. – The Confederation of North, Central America and Caribbean Association Football, (CONCACAF) league's final match in the Mile-High City Sunday was halted after fans disrupted the game play by shouting a homophobic chant directed at players on the field.
ESPN reported the pause occurred during the final moments of the second half before the game went to extra time in the U.S. men's national team's 3-2 win. Referee John Pitti resumed the match after three minutes as players on both sides pleaded with the crowd to stop using the chant.
The league has written rules and guidelines that call for the referees on the field to halt game play if a warning to the spectators by the announcer over the stadium's public address has already warned the crowd to cease and desist. Should the crowd not stop, then the referee has the authority to send the players to the locker rooms and can also call for the match to be abandoned.
ESPN also reported that this was the second tournament match to be halted due to anti-gay chants at Empower Field at Mile High. Mexico's semifinal win over Costa Rica was also briefly paused. That match also saw several fans ejected from the stadium.
Outsports Webzine reported this past Spring that the disgraceful "puto" chant —a vulgar slur for male prostitute — is ubiquitous at Mexican soccer matches, and up until recently, Soccer's governing body, Fédération Internationale de Football Association or FIFA, has been ambivalent towards its eradication. The organization has punished Mexico at least 12 times for the chant since 2015, and yet, it hasn't disappeared.
In March, FIFA opened an investigation into anti-gay chanting by Mexico supporters during an Olympic qualifier against the Dominican Republic ESPN noted.
WATCH: USA Beats Mexico FULL MATCH [CONCACAF Nations League Final] | from CBS Sports. Game play is halted at the 1 hour thirty seven minute mark on the YouTube video:
Niners kick-off Pride with NFL's 1st-ever gender-neutral gear
The team hopes to score another win for its diverse fanbase Thursday with a new retail line that isn't limited by binary gender styles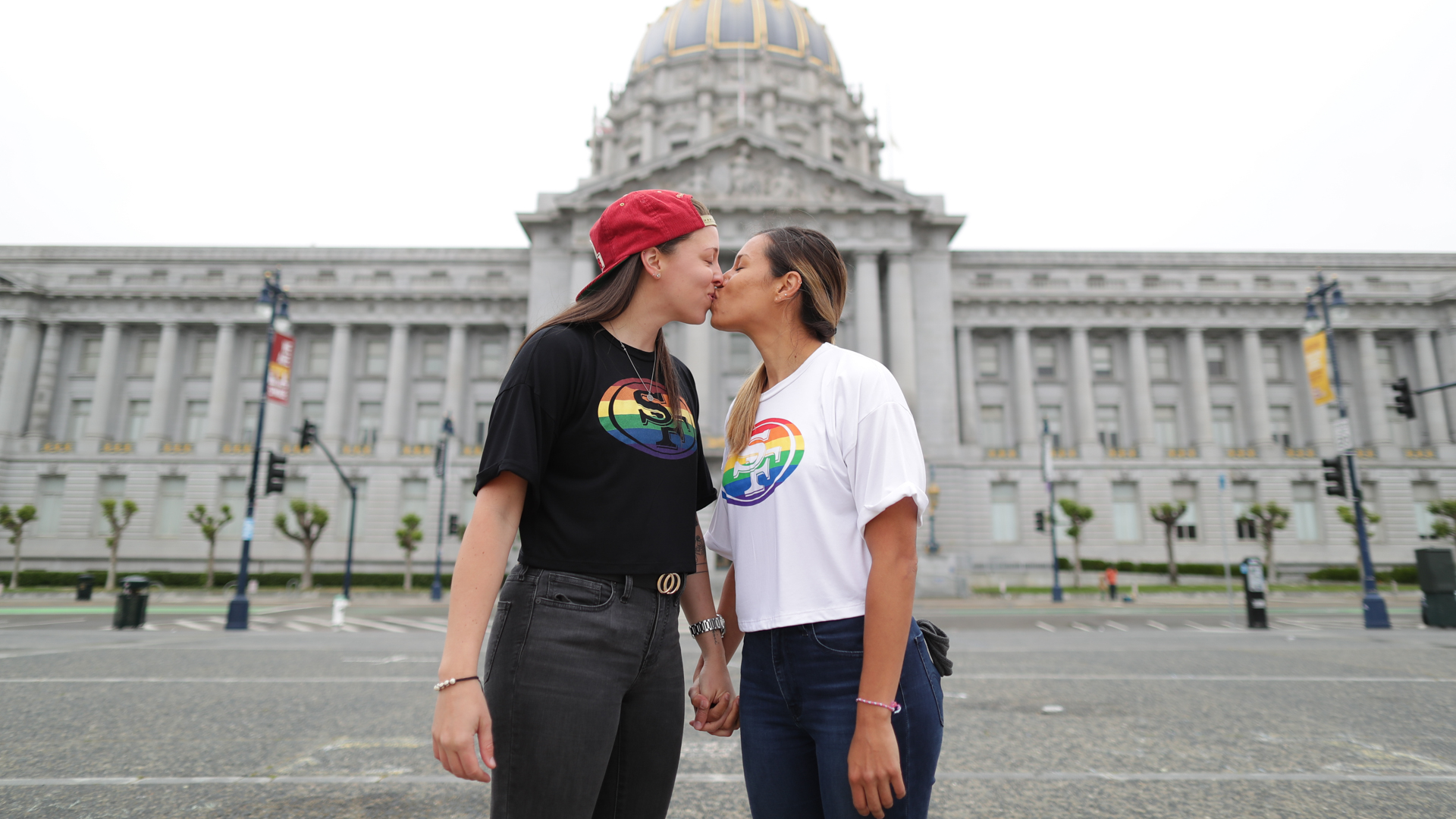 SANTA CLARA, CA. – The San Francisco 49ers have announced month-long plans for the organization's annual celebration of June LGBTQ+ Pride month. Led by 49ers PRIDE, the official fan club of 49ers Faithful who identify as LGBTQ+ and allies, the 2021 celebration will be highlighted by the 2021 49ers PRIDE Collection.
Every fan can feel seen
The San Francisco 49ers call their new retail line of rainbow-logo'd tops, tees and jackets "genderless." We think you'll call them cool- two years after the San Francisco 49ers led the NFL with the first official community for LGBTQ fans and allies, back in May 2019, the team hopes to score another win for its diverse fanbase Thursday with a new retail line that isn't limited by binary gender styles.
The new array of team-branded and Pride-themed clothing is the league's first and only "genderless" collection, according to a news release from the Niners. The threads are by Fanatics and the team promises 100% of the proceeds from this collection will benefit the San Francisco LGBT Center, the Oakland LGBT Center and The LGBTQ Youth Space: San Jose.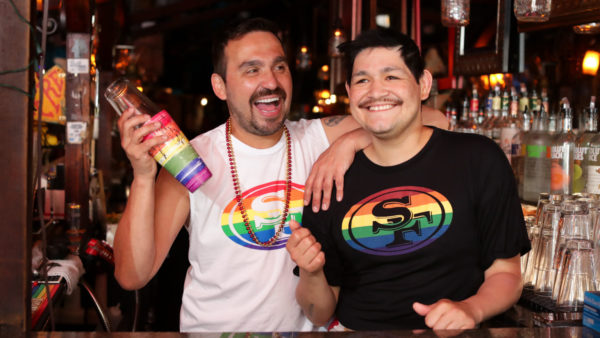 "Supporting the LGBTQ+ community in sports is a priority for the 49ers organization because sport has not always been inviting," the 49ers' Hannah Gordon told the Los Angeles Blade. Gordon is entering her tenth season with the 49ers and third as chief administrative officer and general counsel.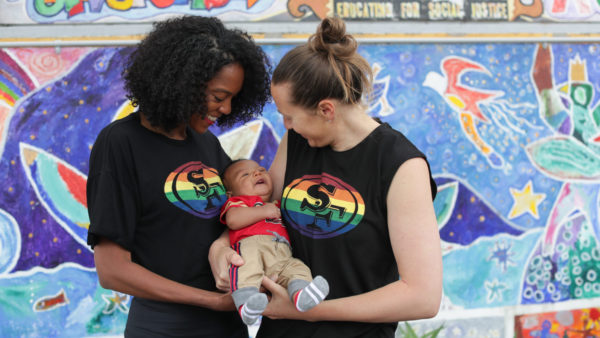 "We created 49ers PRIDE to make space for all of our LGBTQ+ fans and allies and it quickly became an incredible community. This year, we designed the first genderless retail line by an NFL team because we don't want there to be 49ers fan who wants gear but doesn't feel seen. If you want to support the Niners, we have something for you."
There will still be items available that fans who prefer a feminine cut can purchase at the team's online store, but the 2021 Pride collection is specifically geared toward Niners fans who aren't interested in reinforcing gender stereotypes when they support their team and fly their Pride colors.
"With this line, we have pieces that were designed so that however you identify, you can find a fit and any two people can express different styles with the same piece," said Gordon. "I love seeing how our fans wear these pieces and express their style. Doing it your own way is faithful to the Bay."
Click here to view the collection and find out more about 49ers Pride.
Pro rugby player comes out
Devin Ibañez played with New England Free Jacks pre-pandemic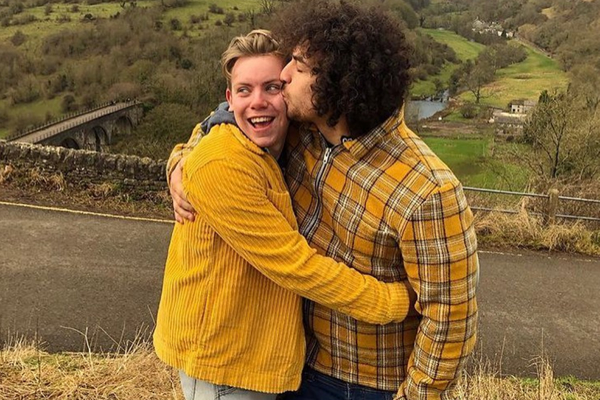 Major League Rugby player Devin Ibañez came out as a gay man on his social media platforms on Tuesday. Sharing pictures of embracing and kissing his partner Fergus Wade, the former New England Free Jacks athlete stated, "as of now I am the only openly gay rugby player to earn a contract with an MLR side. I hope that I will meet others like myself playing a high level of rugby and hoping to inspire the next generation of proud LGBTQ rugby players. So I will proudly call myself 'that gay rugger' in hopes that one day it won't sound strange in men's rugby"
Ibañez shares on his new Instagram account @thatgayrugger, "as 2020 comes to a close I took the time to reflect on my life and what aspects I could control and make positive changes to that would impact my day to day life and happiness."
He continues, "I want to start 2021 by celebrating the love of my life and my partner @ferguswade who has been with me through the highs and the (very) lows of the last three years."