April 4, 2019 at 4:45 pm EDT | by Kevin Majoros
West Hollywood Aquatics doc slated for D.C. screening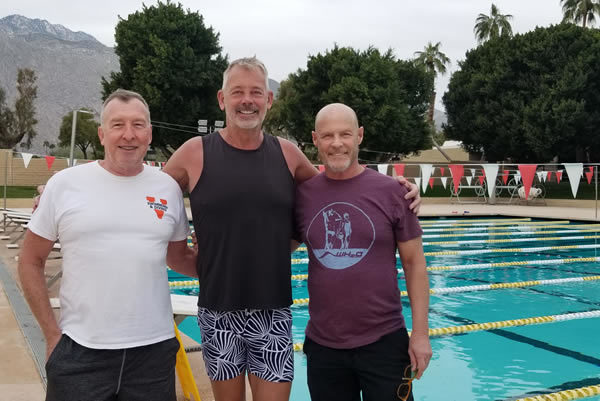 After the inaugural Gay Games in 1982, a group of gay athletes from West Hollywood formed a swim team and water polo team that would eventually be renamed West Hollywood Aquatics. It was the same year that AIDS surfaced in the gay community and it became part of the teams.
With their teammates dying around them, the athletes rose above the darkness using the power of sports and community to build a foundation that many of them are still leaning on today.
The film "Light in the Water" debuted with a shortened version on the Logo Network last June to critical acclaim. It chronicles the journey of the West Hollywood teams and offers a glimpse of what it was like to be gay and an athlete in the 1980s.
Not only is it a story about swimming, water polo and the HIV/AIDS crisis, it is a story about hope, perseverance and the battle for acceptance.
"Swimming helped because in a way, it was a distraction," says West Hollywood swimmer Jim Ballard in the film. "If you could swim, you could live. Or at least you were alive for that moment. At one point in time, there was a funeral every week."
After the Logo debut, "Light in the Water" began running a different, longer version at film festivals and screenings all over the world. Just two weeks ago, the film picked up a Daytime Emmy nomination from its screening on Logo.
It will be screened in Washington (but is sold out) on Thursday, April 11 at 7:30 p.m. at AMC Georgetown 14. The event is being co-hosted by LGBT-based District of Columbia Aquatics Club. A panel discussion will follow.
Appearing on the panel will be director Lis Bartlett, cast member Charlie Carson from Team New York Aquatics and Jack Markey, co-founder of District of Columbia Aquatics Club. Both Carson and Markey were also at the swim training camp last week which is hosted annually by LGBT-based Team New York Aquatics.
Bartlett moved to Los Angeles in 2011 to pursue filmmaking. A swimmer since middle school, she chose LGBT-based West Hollywood Aquatics over the many straight teams in the area to continue her swimming.
Over time, she began to realize the team was a microcosm for the city of Los Angeles. It made her think about what everyone has in common as athletes and what they share from the experience of exercising.
She pitched the idea of a documentary with Nathan Santell, a film producer and West Hollywood swimmer, and began the process of interviewing surviving long-time members.
"My first interview was with Jon Bauer and he really allowed himself to be vulnerable during our filming," Bartlett says. "When I realized how powerful the team was for him during that time, I knew it was going to be a multi-layered project."
Jon Bauer has been a member of the team since 1988 and was a pioneer as a dentist in Los Angeles for treating patients with AIDS. He reflects on that first interview with Bartlett.
"We were talking about swimming and then they shifted gears and asked about AIDS. I was ripe for the question," Bauer says. "I was in the trenches as a dentist and it was overwhelming. I actually treated the very first person in Los Angeles that we are aware of that died from AIDS in 1978. We didn't know why he died; he was very young and healthy and six months later he was gone. I have lost hundreds of patients, partners, my brother — there was a lot there and the question went deep."
Both Bauer and Ballard are still swimming and reaping the benefits that result from being active and part of a greater community. Just last week they attended a seven day training camp in Palm Springs with 70 LGBT swimmers from around the country.
"The film is an exquisite opportunity to experience what we have been through and to bring up opportunities to heal. To relate that to healing from swimming and what exercise did for me, and to share that, was a gift," Bauer says. "People want to be heard and to know that they have been seen. Lis and Nathan did an incredible job capturing stories and they reflect beautifully on every aspect of life."
"These people who I swim with every day have been through so much, yet they are so joyful," Bartlett says. "They have become my family and my community. I think the reason the film has resonated with different types of people is because it touches on the many things that we all have in common including loss, adversity, perseverance and hope."
Tickets for Light in the Water can be purchased here.
The trailer for Light in the Water can be seen here.