April 14, 2019 at 6:48 pm EDT | by Richard J. Rosendall
Would you like a wedge with that?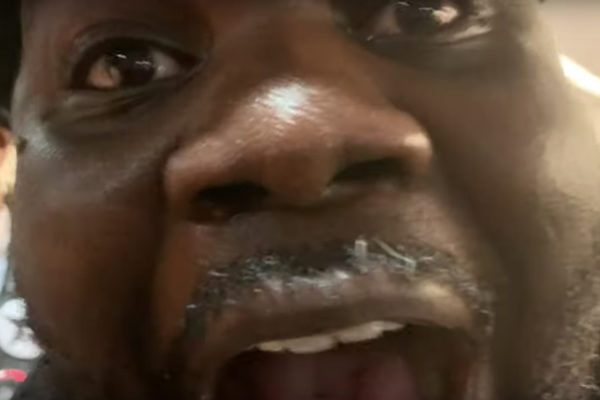 Our ever-projecting president, being (as he fancies) a law unto himself, has declared himself exonerated and his opponents treasonous. To deflect attention, he gets his personal consigliere (a.k.a. Attorney General Barr) to assert that the previous administration spied on his campaign, when in fact his operatives showed up on surveillance tapes only because they were consorting with Russia, a top American adversary.
Trump promises a pardon to the head of Customs and Border Protection if he is jailed for violating immigration law. He laments that border guards cannot get "rough" with migrants, whom he considers subhuman. Rather than work with the existing network of nonprofits for the placement of asylum seekers, he wants to weaponize the latter against sanctuary cities.
Meanwhile, Trump ally Franklin Graham, chummy with Putin's Russia because of its anti-gay zeal and authoritarianism, feels duty-bound to impose his faith dictates on the rest of us in the name of—get this—religious freedom, while Trump all but encourages Bibi Netanyahu to annex the West Bank, which is doubtless the fault of a liberal Muslim congresswoman from Minnesota. Welcome to Holy Week.
But you knew all that. Allow me to fill you in on something that may have flown under your radar.
If "hashtag movement" sounds like an oxymoron, consider the strange circumstance that, even as I write, one such social media creation is on the verge of getting a black media figure fired.
My friend Rev. Mark Thompson, morning drive host at SiriusXM Progress and a frequent MSNBC commentator, was suspended on April 9 after defending himself when accosted in Newark by professional provocateur Thomas "Afrika" Ibiang. The hashtag movement #ADOS, which stands for American Descendants Of Slaves and has been attacking Thompson for months, is defending Ibiang and exploiting the incident to get Thompson fired.
ADOS, like Thompson, supports reparations, but from a very different angle. Co-founder Yvette Carnell, as musician and social activist Talib Kweli Greene writes, "has videos titled 'Why Is Everyone So Afraid of Steve Bannon' and 'Trump Is Right About Black Poverty.' … She has tweets … about how Trump is correct about birthright citizenship. She uses her Twitter account to push anti immigration propaganda, and she uses nazi slogans like 'blood and soil.'" Carnell is also a board member of white nationalist think tank PFIR.
If all of this sounds bizarre, I feel you. Just understand that Carnell is deliberately driving a wedge between descendants of slaves and other black Americans. Thus Sen. Kamala Harris, of Indian and Jamaican heritage, has her authenticity questioned. But the malign fruits of four centuries of American racism hit all black people regardless of how or when their ancestors got here.
One more eccentric fissure in the progressive ranks would mean little by itself. Bruce A. Dixon of Black Agenda Report calls ADOS "a shrunken, shrill, shriveled and tribal version of reparationist politics." But ADOS is not progressive; and remember that Twitter was used in the 2016 election to confuse and divide. ADOS targets include Joy Ann Reid, Ta-Nehisi Coates, Roland Martin, Malcolm Nance, and Rev. William Barber. If Thompson is purged on such a thin basis, it will encourage further mischief.
Mark and I were brought together by coalition politics. I served on the NAACP-DC Metropolitan Police and Criminal Justice Review Task Force that he set up in 1997, which won restoration of independent police review in the District of Columbia. Mark began broadcasting in 1988 under Radio One founder Cathy Hughes. He supports LGBT equality. I have been a regular guest on his show Make It Plain (SXM's first talk show) since the 2000s. His extensive movement credentials include emceeing the Million Man March and the annual Bloody Sunday commemoration in Selma, Alabama. He is a progressive bridge builder. ADOS, contrastingly, builds bridges to white supremacists.
Mark was targeted in part for joining critics of SXM's December 2017 decision to hire former White House Chief Strategist Steve Bannon as a host, which was rescinded a month later. Why would the black activists of ADOS defend the likes of Bannon and Trump? As we are warned in Matthew Chapter 7 about false prophets, "Know them by their fruits."
Richard J. Rosendall is a writer and activist. He can be reached at rrosendall@me.com.
Copyright © 2019 by Richard J. Rosendall. All rights reserved.